ROYALS
Meghan Markle Claims Baby Archie Wasn't Going To Be Given Security, There Were Conversations About His Skin Color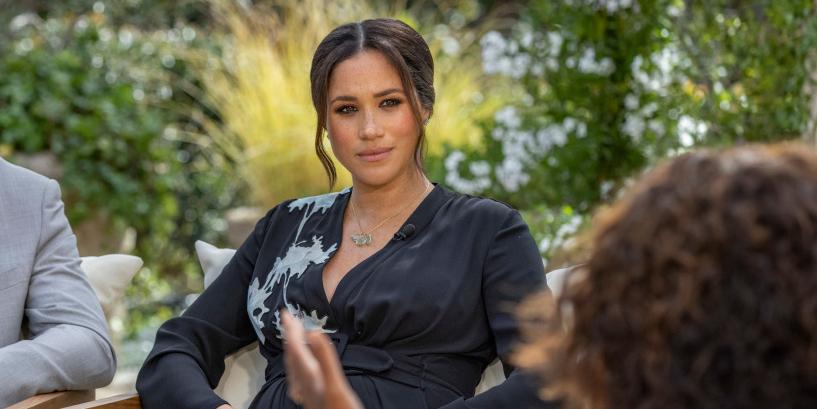 Meghan Markle is telling Oprah Winfrey everything and holding nothing back. On Sunday, March 7, the Duchess of Sussex dropped a bombshell, claiming that her and Prince Harry's son Archie was not going to be given security and that conversations were had regarding the color of his skin and "what that would mean."
When explaining to Oprah that she was told Archie wasn't going to be given the title of "prince," she said that she was most concerned about his security and his well-being.
Article continues below advertisement
"They didn't want [Archie] to be a prince," the 39-year-old claimed. And because he wouldn't have a title, "he wasn't going to receive security. This went on through the last few months of our pregnancy."
When Oprah asked the reasoning behind the royals' decision, Meghan replied, "There is no explanation. There is no version. I heard a lot of it through Harry and other parts of it with conversations with family members, and it was a decision they felt was appropriate."
"The idea of our son not being safe and the idea of the first member of color in this family not being titled in the same way that other grandchildren would be..." she continued. "It's not their right to take it away, and so I think even with that convention, they want to change the convention for Archie. Well, why?"
Oprah then asked Meghan if they withheld the title because of his race.
Article continues below advertisement
"In those months when I was pregnant ... there were also concerns or conversations about how dark his skin might be when he's born. There's several conversations ... with Harry. And what that would mean or look like," Meghan claimed.
When Oprah asked Meghan who was involved in those conversations, she vaguely replied, "I think that would very damaging to them. That was relayed to me from Harry, those were conversations family had with him and it was really hard to be able to see those as compartmentalized conversations."
When Harry joined his wife for the second half of Oprah's interview, the TV titan also questioned the red-headed royal about the conversations of race held regarding his son.
However, when pressed about the conversation, he told Oprah that he was "never going to share" the details.
He added, "At the time, I was a bit shocked."
But he reiterated, "I'm not comfortable sharing that." He concluded, "There was signs before we got married that this [relationship] was going to be very hard."