ROYALS
Meghan Markle Reveals She 'Didn't Want To Be Alive Anymore': Inside Her 'Very Clear' Suicidal Thoughts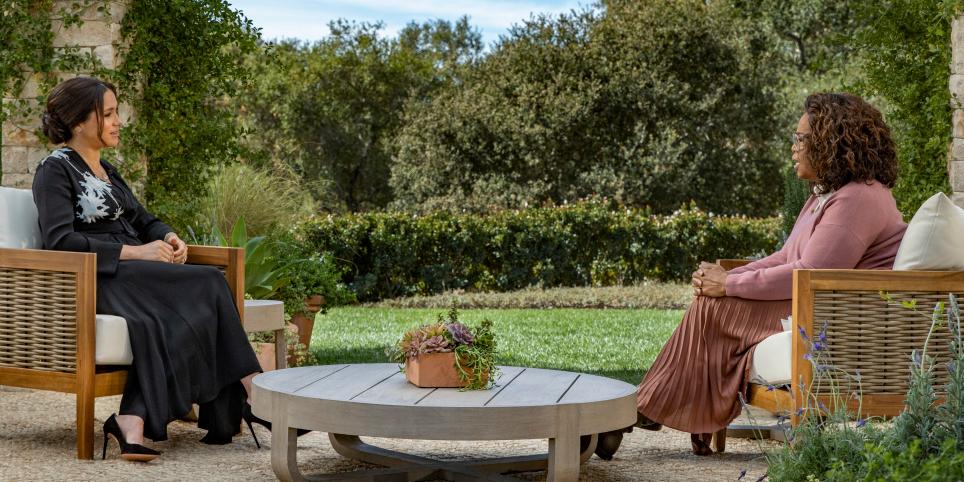 Meghan Markle may have seemed to have it all, but on the inside, the Duchess of Sussex said that she was crumbling and that her mental health was on the serious decline.
Talking to Oprah Winfrey in a stunning no-holds-barred interview, the 39-year-old confessed to having "very clear and very scary" suicidal thoughts.
Article continues below advertisement
When Oprah asked the 39-year-old about how her new royal life felt "unsurvivable," Meghan slowly started to reveal her deep and dark mental health struggle.
"I just didn't see a solution," Meghan told Oprah about living life at the palace. "It's almost worse when you feel it through the expression of my mom or friends. Like, 'Meg, they're not protecting you.'"
She said the constant abuse she felt at the hands of the media and never-ending tabloid fodder was happening "just because I was breathing."
At this point, it seemed that the former Suits star had hit a wall. Still, she was hesitant to confide in her husband, Prince Harry. "Look, I was really ashamed to say it at the time and ashamed to have to admit it to Harry, especially, because I knew how much loss he suffered. I just didn't want to be alive anymore, and that was a very clear and real and frightening constant thought. And I remember how he just cradled me."
Article continues below advertisement
"I went to the institution, and I said I needed to go somewhere to get help. I was told that I couldn't, that it wouldn't be good for the institution."
Meghan explained that the "institution" is made up of "several people" but that she went to "one of the most senior people to get help."
She added, "I share this because there are so many people who are afraid to voice that they need help."
Meghan said that her suicidal thoughts were "very clear. Very clear and very scary." She said, "I didn't know who to turn to in that. One person who I reached out to was one of my husband's mom's best friends. One of [Princess] Diana's best friends. Who else can understand what it's like on the inside."
Article continues below advertisement
Still haunting her, she said, is one specific moment involving a photograph someone had sent her.
"We had to go to an official event," Meghan told Oprah. "We had to go to an event at the Royal Albert Hall. A friend said, 'You looked great,' and what I saw was the truth of what that moment was. I had just had that conversation with Harry…"
Meghan explained that moments before, she had just told Harry that she was having suicidal thoughts "in the middle of the night." When Harry suggested she not go to that event, Meghan insisted, "I can't be left alone."
Meghan continued, "We went. If you zoom in [on that picture], what I see is how tightly his knuckles are gripped around mine. We are both just trying to hold on. Every time the lights went down in that royal box, I was weeping."
She concluded, "You have no idea what's going on with someone behind closed doors."