NEWS
Newly Single Rebel Wilson Makes Surprise Appearance At Super Bowl LV, Strutting Slim Figure: Photo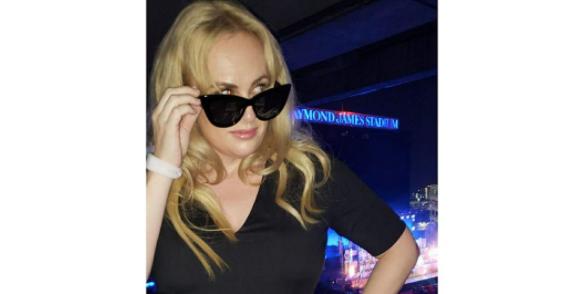 Newly single Rebel Wilson made a surprise appearance in the stands at Super Bowl LV, showing off her slim figure in a chic all-black ensemble.
"What a Weekend!" she captured the pic following The Weeknd's halftime show on Sunday, February 7, at sport's biggest evening.
Article continues below advertisement
Article continues below advertisement
According to her caption, Wilson seemed to enjoy The Weeknd's performance at the Super Bowl halftime show. However, many did not.
One tweeted, "I swear I never liked The Weeknd. This performance didn't change that one bit," while another simply said, "lol weeknd more like the weekday."
The Pitch Perfect star spilled the beans that she was unattached after a hot-and-heavy romance with Jacob Busch via an Instagram on February 2.
"Lots on my mind...aghhhhhh...#single-girl-heading-to-Super-Bowl!" the 40-year-old captioned a photo of herself sporting a denim dress with a yellow cardigan and white shoes.
Article continues below advertisement
"They talked all throughout the holidays and had excellent communication, but then, all of a sudden, she got really quiet and broke up with him via text message about two or three weeks ago."
Busch is said to be "really upset" by the split. "It was very hurtful," the insider said, but the 29-year-old has "no ill-will towards her."
Wilson — who declared 2020 the "Year of Health" — never revealed when she started seeing Busch, but said he was supportive of her weight loss journey.
"He's a very private person, so I don't like to give away too much in that department," she dished. "But I will say we dated before I started any of this health journey, as well as now. So that goes to show you, ladies: you don't have to be a certain size to get a boyfriend."