NEWS
We Love Lucy! Inside The Inspiring & Daring Life of Legendary Comic Lucille Ball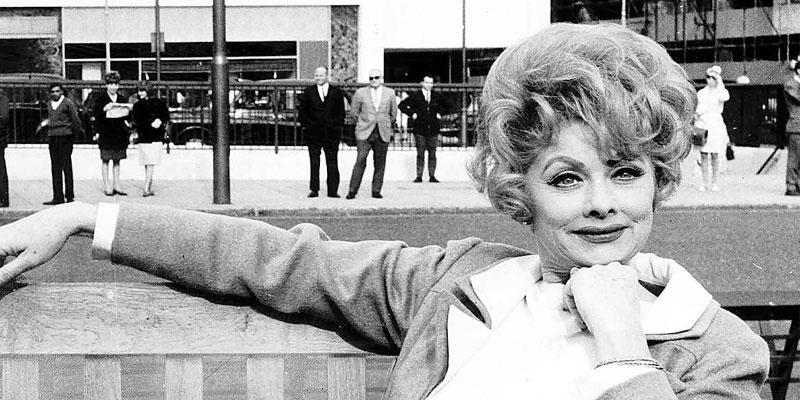 The actress, comedian, model, and producer — known for her iconic role in I Love Lucy — was not only a woman of many talents but Lucille Ball was an inspiration to comedians today for her daring acts, her pushback of systematic gender roles, and unique personality, which changed the rules of television as we know it.
Article continues below advertisement
In the REELZ exclusive episode, Lucille Ball: We Love Lucy, comedians Carol Burnett, Lily Tomlin, Debra Messing, and Suzanne Somers reveal how they were inspired by the comic genius and the lasting impact that the legendary Ball left behind.
Article continues below advertisement
While her public persona was at odds with her drama-filled personal life — she married the Cuban-born bandleader Desi Arnaz after meeting on the set of Too Many Girls in 1940 and later married her second husband, the young stand up comedian, Gay Morton — the one thing she kept certain was her desire to be more than a funny girl but also a transformative figure in the Hollywood world.
Article continues below advertisement
The New York native was not only given two stars on the Hollywood Walk of Fame but was also a four-time Primetime Emmy Award winner and was one of the first recipients of the Women in Film Crystal Award. The redheaded icon also received the Golden Globe Cecil B. DeMille Award, the Lifetime Achievement Award from the Kennedy Center Honors and was inducted into the Television Hall of Fame and National Women's Hall of fame, just to name a few of her accomplishments.
The trailblazer established her own production company, Lucille Ball Productions, in 1968 — making her the first woman to run a production company without a man. Ball was before her time in so many ways — between promoting the first biracial couple on American TV, of her and her first husband, to being one of the first to display pregnancy on TV — breaking down the barriers for so many women after her.
Article continues below advertisement
Article continues below advertisement
Watch REELZ on DIRECTV 238, Dish Network 299, Verizon FiOS 692, AT&T U-verse 1799 and in HD on cable systems and streaming services nationwide. Find REELZ on your local cable or satellite provider at reelz.com/get-reelz/