PHOTOS
2020's Top YouTube Earners Brought In An Estimated $211M: See The Full List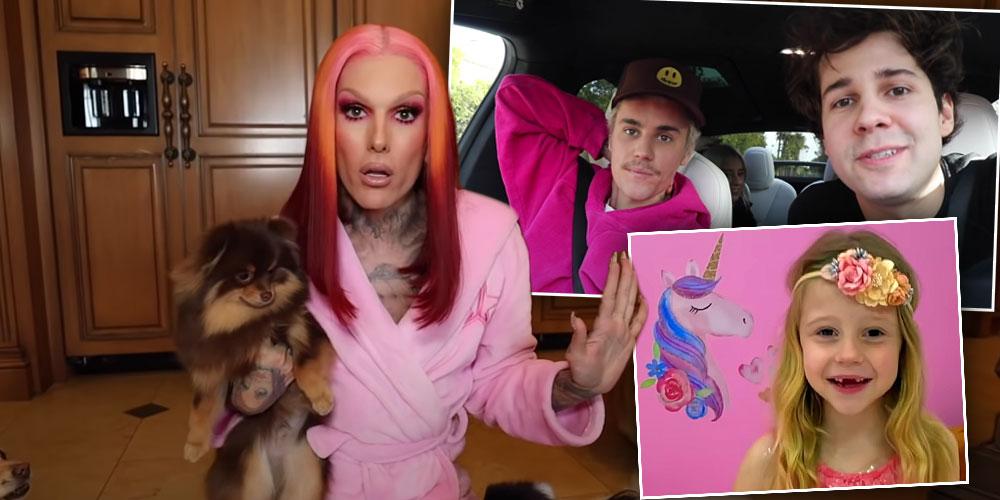 While the world has been on lockdown for 10 months, people from around the world have turned to the internet for entertainment — and YouTube stars couldn't be happier.
The top YouTube earners, between the ages of 6 and 43, have received a 30 percent increase in earnings from last year, securing an estimated $211M in total earnings from June 1, 2019-June 1, 2020, according to Forbes' list of The Highest-Paid YouTube Stars of 2020.
Article continues below advertisement
And while none of the virtual stars can really compete with Kylie Jenner's whopping $590 million in earnings from her self-titled cosmetics line from their YouTube careers alone, $29.5M is nothing to sneeze at. That's how much 9-year-old Ryan Kaji made in a year from the internet video platform.
Scroll through to meet the ten highest-paid YouTube stars of 2020.
Jeffree Star
At #10, the beauty star has made $15M for his videos, which have garnered a total of 600 million views within the past year. The 35-year-old has also been known for his feud with fellow YouTuber James Charles over business endeavors. Apart from his YouTube channel success, where he has 16.9 million total subscribers, Star launched his own beauty company, Jeffree Star Cosmetics. One of his most recent collections, Bloody Money, launched last year and reportedly sold over $1M worth of eyeshadow palettes in 30 minutes.
Article continues below advertisement
David Dobrik
At #9, Dobrik has earned $15.5M this year for his over-the-top and comedic content. With 18 million subscribers and 2.7 billion views, the comedian will stop at nothing to keep his viewers laughing. Whether it be driving a convertible through a car wash or surprising his best friend by marrying his mom (don't worry, his mom was in on the joke and they got a divorce one month later), the 24-year-old knows what his audience wants to see. Dobrik's success has even led to his own clothing business called Clickbait.
Article continues below advertisement
Blippi (Stevin John)
At #8, Blippi is a 32-year-old child entertainer who dresses up in whacky clothing while educating younger generations. The YouTube creator has earned $17M for his channel — which he launched in 2014 — and has a total of 27.4 million subscribers and 8.2 billions views on his channel. Blippi (aka Stevin John) even launched his own merchandise line, which features his iconic orange glasses and blue-and-orange beret for kids at big box retailers. His videos can also be found on Hulu and Amazon.
Article continues below advertisement
Nastya (Anastasia Radzinskaya)
At #7, the six-year-old Russian YouTuber has earned 18.5M this year with a total of 190.6 million subscribers and 39 billion views on her channel. Her colorful and playful videos feature Nastya and her father as they play with legos, do chores around the house and discuss viruses. While Nastya, whose real name is Anastasia Radzinskaya, only joined YouTube last year, she is making her name known on another social media platform, TikTok. The Russian cutie has already garnered three million followers, which is most likely just the beginning of her TikTok success.
Article continues below advertisement
Preston Arsement
At #6, Arsement explores the world of Minecraft in his successful videos, which earned him $19M this year. The 26-year-old's channel has 33.4 million subscribers and 3.3 billion views in total. Arsement explores animated cosmos and even created some of his own Minecraft servers, where users pay to explore the worlds he created.
Article continues below advertisement
Markiplier (Mark Fischbach)
At #5, Markiplier has earned $19.5M this year for his extremely popular content, where he breaks down video games. With 27.8 million subscribers and 3.1 billion views on his channel, the 31-year-old decided to go even further and create a second YouTube channel with fellow gamer Ethan Nestor (aka CrankGameplays) called Unus Annus.
Article continues below advertisement
Rhett and Link
At #4, two of YouTube's long-standing creators, Rhett, 43, and Link, 42, earned $20M this year after starting their "Good Mythical Morning" nerdy talk show in 2012. Last year, the duo added a sketch comedy channel to their Mythical Entertainment Co., which cost them $10M. Rhett (aka Rhett James McLaughlin) and Link (Charles Lincoln III) also provide access to exclusive content to their VIP fan club, who have monthly dues of $10-$20. The duo received 1.9 million views and have 41.8 million subscribers for their chilled-out talk show channel.
Article continues below advertisement
Dude Perfect
At #3, the five brothers, Coby Cotton, Cory Cotton, Garret Hilbert, Cody Jones and Tyler Toney, took in $23M this year for playing kid games that most adults have grown out of. On their channel, which has 57.5 million subscribers and 2.77 billion views, the brothers play with lightsabers, Nerf Guns, paintballs and more. Their highly praised videos have led to a national tour, which grossed close to $6M, and their own documentary, 'Backstage Pass.'
Article continues below advertisement
Mr. Beast (Jimmy Donaldson)
At #2, Mr. Beast has earned $24M and garnered 3 billion views for his mixture of crazy stunts, hilarious content and videos where he gives away a bountiful amount of cash. From freezing himself in ice to riding a Ferris Wheel 1,000 times for a laugh, Donaldson will do about anything to keep his viewers entertained. YouTube's biggest new star also uses his channel, which has 47.8 million subscribers, for his own merchandise line.
Article continues below advertisement
Ryan Kaji
At #1, the nine-year-old seems to be having a good year after earning $29.5M for his videos of science experiments with his siblings, family story time and reviews of new toys. This is Kaji's third year as top YouTube earner for his Ryan's World YouTube channel. Most of Kaji's earnings come from licensing deals for Ryan's World products, which includes bedroom decor, toys and more and can be found at Target, Amazon and Walmart. The young star even reached new heights of success, as he became the first YouTube star to be featured in the Macy's Day Parade with his very own float based on his superhero alter ego. Kaji has 41.7 million subscribers and 12.2 billion views on his channel and has a new Nickeloden series called 'Ryan's Mystery Playdate.'