PHOTOS
Arie Luyendyk Jr. And Fiancée Lauren Burnham Share Update On Their Baby-To-Be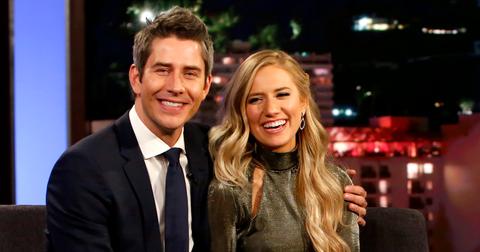 Dec. 27 2018, Updated 7:57 p.m. ET
View all comments
Arie Luyendyk Jr. and his pregnant fiancée Lauren Burnham gave fans a special Christmas surprise with a big update on their baby. On their unborn baby's new Instagram account, the Bachelor couple revealed the current size of their bundle of joy.
Article continues below advertisement
The couple revealed their child is currently the size of a turnip (or pomegranate). "Turnip it's Christmas! My 17 week b-day falls on Christmas and I've been getting so many presents! So this week I'm the size of a turnip or a pomegranate," they captioned a photo of Lauren flashing her bump in a red dress.
Article continues below advertisement
They wrote, "I like to think of myself as a turnip this week because I think of the leaves as hair and that makes me laugh. Yesterday Mom's friend had a baby and we went to see him, don't know if I'm looking forward to the whole birth thing yet but I have time to warm up to it."
Arie and Lauren continued, "So if you're wondering what I've been up to I grew a lot this week and now my little skeleton is forming from cartilage into bone and getting harder. I'm moving around more and more."
Article continues below advertisement
"Mom felt me kick for the first time and I'm planning on doing that some more, gotta stay active ya know? That's all for now but I want to say Merry Christmas to everyone out there and talk to you next week," the caption finished.
Lauren is due to give birth in June 2019.
Have any possible baby names for Arie and Lauren? Drop them in the comments below!