PHOTOS
Beckham Gives Rise to Underwear Sales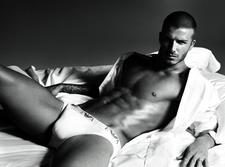 Selfridges of London is battling more than its fair share of 'lookie-loos.' Fans are reportedly flocking to the store in Oxford Street to gawk at wall-mounted black-and-white photographs featuring David Beckham spread eagled in skin tight briefs.
The soccer icon is the new model for Emporio Armani, which this week launched its new line of mens underwear. According to Britain's The Telegraph, the ads have sparked an astonishing 150% rise in sales of mens briefs at Selfridges — and that was after the first day's sales.
Article continues below advertisement
"David is still Britain's number one male icon," said head of menswear at Selfridges, David Walker Smith. "The combination of a semi-naked David Beckham and a new style of Emporio Armani underwear is a golden match."
Beckham's wife and Spice Girl, Victoria Beckham, has been notoriously open about her husband's physique. When questioned recently about the larger-than-life posters of her hubby she said, "I am proud to see his penis 25 foot long."