NEWS
'Dancing With the Stars' Cast Competes to Rehearse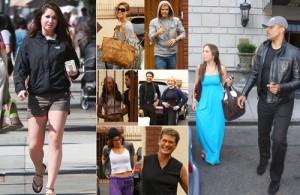 The new cast of Dancing With the Stars is already hitting rehearsal hard. Bristol Palin, Audrina Patridge, Derek Hough, Brandy, Maksim Chmerkovskiy, Corky Ballas, Florence Henderson, Jennifer Grey, David Hasselhoff, Cheryl Burke and Rick Fox were all seen heading to rehearsal on Wednesday!
OK! NEWS: BRISTOL PALIN ON DWTS — "MY MOM'S EXCITED FOR ME"
The competition is tough! The majority of the group was heading to rehearsal in L.A. and it looks like they're already getting into DWTS shape.
Article continues below advertisement
OK! NEWS: DANCING WITH THE STARS SEASON 11 CAST REVEALED!
Former Dancing With the Stars contestant Erin Andrews spoke with OK! on Wednesday at Kraft Food's Huddles to Fight Hunger event in NYC about the rumors on whether she was starting up a reality show of her own.
"We've gotten a few people who have reached out to my sister and I actually of maybe doing a little spin off with my sister and I, that's really all of it," Erin explained to OK!, but she's not sure if she'd actually do it.
OK! NEWS: GOOD MORNING AMERICA ANNOUNCES DANCING WITH THE STARS PAIRINGS
"I don't think we're as funny as the Kardashians. Definitely don't think we're as wardrobe savvy or as fun," she told OK!, but then changed her mind. "Oh wait I think we're as fun, we actually are pretty funny but I don't know. I can't imagine people seeing what my life is like behind the scenes. I think they would think I was pretty boring."
And as a professional she may not be fit for another reality TV series.
"I don't think ESPN would like that too much if they were following us around seeing the behind the scenes," she added. "But my sister and I, we talk to each other in Beavis and Butthead voices, I don't know how much America would like to see that, but people have come out and reached out to us to talk about it."
Reporting By Rachel Levine