PHOTOS
Drew, Justin Make 'Grey Gardens'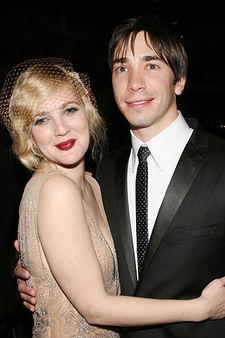 Justin Long waves off questions with a smile before on/off girlfriend Drew Barrymore vamps it up for her Grey Gardens premiere held Tuesday at NYC's Ziegfeld Theater.
"I think right now in the world of ?fashion things are safe," the Alberta Ferretti-clad star, 34, says. "What people wear on the red carpet? as opposed to the runway at a fashion designer show – there's just a? massive discrepancy there. And the sad part is that people get people get annihilated if people don't like what they're wearing, so then they dress so that people do not get annihilated and then that's boring."
Article continues below advertisement
She adds, "I don't care what people say. I want to have fun with fashion."
SEE PHOTOS FROM THE 'GREY GARDENS' PREMIERE:
Darling Drew plays Little Edie in the HBO biopic about the eccentric aunt (Jessica Lange) and first cousin of Jacqueline Kennedy Onassis. They withdrew from NYC society by taking shelter at their Long Island home.
What would Little Edie say of her portrayal?
"I only care about if she thinks that I did right by her," Drew says. "I went away for three months, and I cut off myself from the rest of the world to literally understand what really being isolated is like. To not be in the world of technology, to not have friends and family surrounding me, and I just kept thinking 'I just want to honor you, I just want to honor you.'"
She adds, "I think one of my favorite things about her is her lack of sensoring – and maybe it's a character flaw – but I find it wonderful that she's not afraid to show her emotions. She's not afraid to be childlike, she's not afraid to be angry, she's not afraid to be vulnerable and quiet and calm and sad, and to have that level of range was interesting."
Why did she lock herself away?
"I have love all around me," Drew explains. "It was important for me to understand what it's like to be lonely and not have love, but luckily I had one person … I had the love of my life kisses Jessica Lange.
Article continues below advertisement
Drew admits "I've never been so terrified in my life" about pulling off the prosthetic face she wears in the film.
SEE PHOTOS FROM THE 'GREY GARDENS' BIOPIC:
Jeanne Tripplehorn portrays Jackie O. "I locked myself away and watched movies and looked at images and documentaries and tried to marinate in her," she says of her research.
SNL's Kristen Wiig and Ashleigh Banfield move through.
Oh look, it's Michelle Obama's dress designer Jason Wu. Will he design a frock for First Puppy Bo? "I'm always up for a challenge," he tells me. What would he do? "I can't say I'm the most experienced, so we would have to see about that," he says.
Here comes twice-divorced former NYC mayor Rudy Giuliani.
Any thoughts on Mel Gibson's impending split?
"My only advice is that we pray for him and his wife and his family, and hope it all comes out all right," he says. "God bless him."
Grey Gardens debuts on HBO April 18.