PHOTOS
The Duggars Are In DC Fighting For Pro-Life Legislation — & Fans Aren't Happy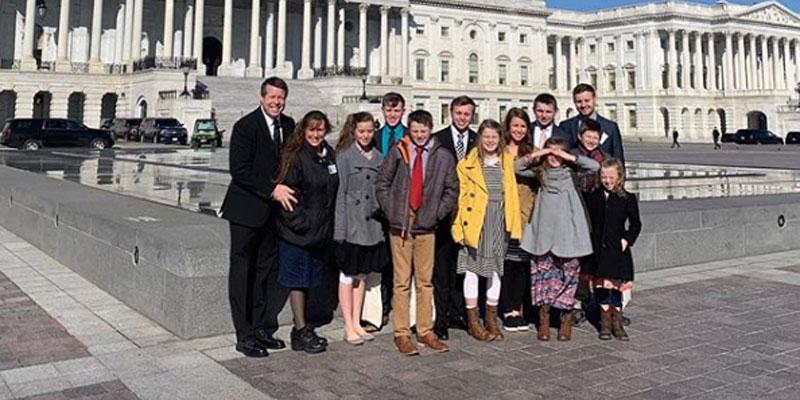 The Duggars are famous for leading a conservative lifestyle, but fans would rather the family keep quiet when it comes to their political leanings. When the family revealed via Instagram that they were in Washington, DC, fighting for pro-life legislation, fans slammed them in the comments section.
For more Duggar news, listen to our Dishin' on the Duggars podcast below.
Article continues below advertisement
"We are having a great time in DC visiting our Senators and Members of Congress with a ministry called Capitol Connections," they captioned the photo, as well as additional photos they shared on Facebook.
Article continues below advertisement
"We appreciate all those that serve trying to make a difference in our great county and those working hard to protect the unborn!" they wrote.
Fans in the comments were less than pleased with the Duggars' message. "I don't know if you're aware, but there's a separation of church and state," one commented.
Article continues below advertisement
"Protect the unborn but cut health, food and housing programs...gtfoh," slammed another.
Others wanted the Duggars to divert their energy elsewhere. "There's more important things in this world than ppl having abortions though…what about the homeless and the children that are already here??" asked a follower.
Article continues below advertisement
Some fans thanked the Duggars for their visit. "Thank you for fighting and caring about those precious baby's!" said a fan.
A few followers simply used the comments section to throw shade. "Did you call Ashley Madison while you were there?" a fan asked, referring to Josh Duggar's cheating scandal, which eventually lost the family their TLC show 19 Kids and Counting.
Article continues below advertisement
What do you think about the Duggars' visit to Washington? Sound off in the comments below.