PHOTOS
Erika Jayne Teases 'Drama & Conflict' In Season 10 Of 'The Real Housewives Of Beverly Hills'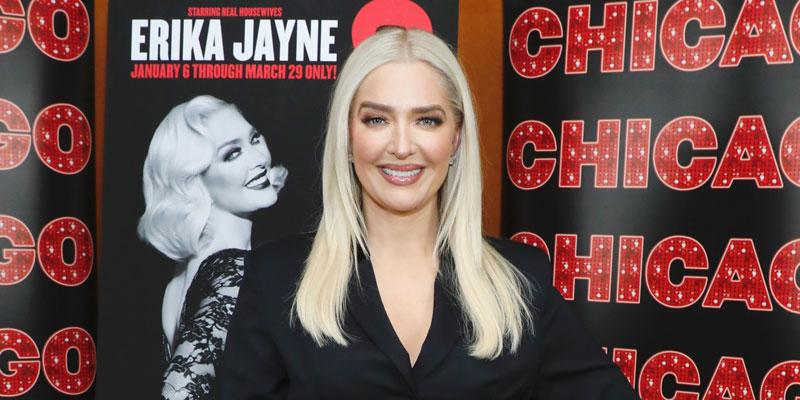 Erika Jayne is ready to step out of The Real Housewives of Beverly Hills spotlight and head to the Broadway stage. In a new interview with Entertainment Tonight Canada, the reality star dished on her stage debut and the upcoming "conflict"-filled season 10 of the show.
Article continues below advertisement
Erika, 48, has been hard at work prepping for role as Roxie Hart in Broadway's musical, Chicago. She is set to make her debut on January 6, 2020 in New York. She spoke to the publication about fulfilling her dream as a stage performer and what RHOBH has in store for fans.
"Everyone expected us to have a smooth season and we have anything but that," the "Roller Coaster" singer said. "It's emotional, it's beautiful, we go to Rome and have a lot of fun. Then there's some hard knocks along the way. Our show definitely has conflict. Women are very interesting creatures in terms of behavior and surviving. Sometimes you think you know someone and you don't. I'll leave it right there!" Erika exclaimed.
Article continues below advertisement
The mother of one added that RHOBH opened many doors for her professionally and the hardest part of filming is fighting with her friends. "The greatest part is all these opportunities that Housewives brings," she continued. "Then the hard stuff is when you care about people and get into disagreements with them. That hurts. There are moments you get embarrassed or put your foot in your mouth. Those things are hard to watch, but overall, there have been more pluses than minuses."
Erika has been a a part of the RHOBH cast for five seasons, starting in 2015.
Article continues below advertisement
Erika then touched on her Broadway debut and how she grew up wanting to be on stage. "I grew up performing and it's on every performer's list to do Broadway, so this an incredible opportunity in an incredible musical," she said. "Roxie Hart is tons of fun. I think everybody identifies with Roxie. She's fun, raw, sassy. It's fun to play with those devilish parts of yourself. I think what I relate to most is her survival skills, her hope and never letting go of her dream, even though it was attained in a very strange way. She's an optimist."
Erika is also excited to have her Real Housewives of Beverly Hills cast cheer her on in the audience. However, she's enjoying her time away from the cameras. "A lot of focus on the show is on the drama and conflict," Erika revealed. "So, it's nice to be away from that and just indulge my creative senses and focus on becoming the best I can be in this role."
Article continues below advertisement
The next season of The Real Housewives of Beverly Hills will premiere sometime in 2020.
Are you excited for season 10 of RHOBH? Sound off in the comments below!