PHOTOS
Un-Farrah-lleled! Farrah Abraham Is Breaking Instagram With Nude Pics And Confidence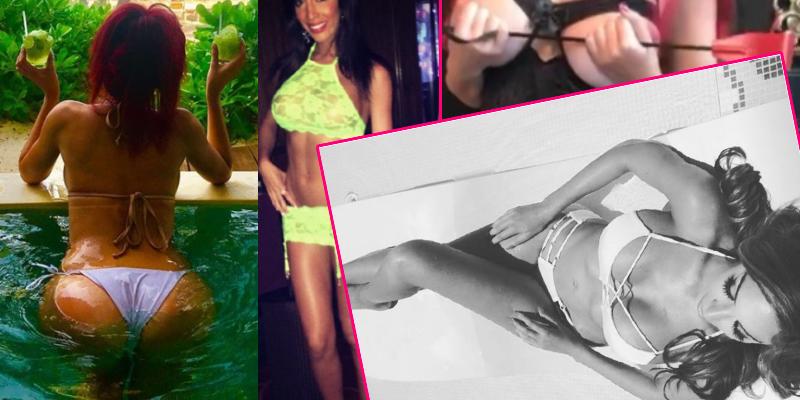 Article continues below advertisement
From raking in $5 million in a lawsuit against Viacom for allegedly being "sex-shamed" and wrongfully fired from MTV's Teen Mom OG for doing porn to becoming a big Instagram star, Farrah Abraham has gained more than 1.2 million Instagram followers, in part because of her nude pics. The Teen Mom star has absolutely no problem with putting it all out there on social media, and why on earth should she have a problem with that?
Article continues below advertisement
Farrah, we see what you did there. The video is not even focused on her eyes, and why should it be?! Show 'em how it's done, Queen!
Dressed or naked, Farrah Abraham exudes sheer confidence and can't care less about her haters. Who said that you can't be both classy and hot at the same time? Just look at this photo of Farrah in that risqué outfit on her bed. No one does it like Farrah!
Article continues below advertisement
Just a casual video of Farrah Abraham putting her enviable body on display. Because a sensational figure should never been hidden beneath thick layers of clothing (especially when you're on a beach).
A wonderfully beautiful woman posing as Wonder Woman. If Gal Gadot ever gets fed up with the role of Diana, princess of the Amazons, DC Comics knows who to cast as the next: Farrah!
Article continues below advertisement
We hope Kim Kardashian is not resting on her laurels because Farrah is definitely coming for her "Best Instagram Booty" crown! With videos (and procedures) like this one, it's only a matter of time before Farrah dethrones Kim.
As Farrah discussed her date with some guy, the camera kept sliding down from her eyes to the chest area. Not sure if it was done on purpose or accidentally. Either way, her followers aren't complaining!
Article continues below advertisement
Blonde hair looks good on Farrah, and so does this revealing white top. She knows exactly what she's doin'!
Farrah Abraham dazzled her more than a million Instagram followers when she paraded her assets in a revealing blue top while inviting her followers to go grab some brunch.
Article continues below advertisement
Farrah in Farrah-dise! What a fantastic waterfall behind her, but the photo isn't only about that sublime view (and Farrah made sure of that at the end of the video).
It's never a bad moment to promote a lollipop on Instagram when you're Farrah Abraham, even when you're in a car in the middle of your ride.
Article continues below advertisement
Free the nipple! Sort of… Farrah tricked us all by exposing her nipple on camera. She had us all Farrah-lyzed for a second there!
Taking a nude mirror selfie in your bathroom and want to send a message/promote something at the same time? Learn from the—Farrah Abraham!