PHOTOS
Get Glam With Gretchen: Go Behind-the-Scenes of Gretchen Rossi's Gatsby-Themed Halloween Party!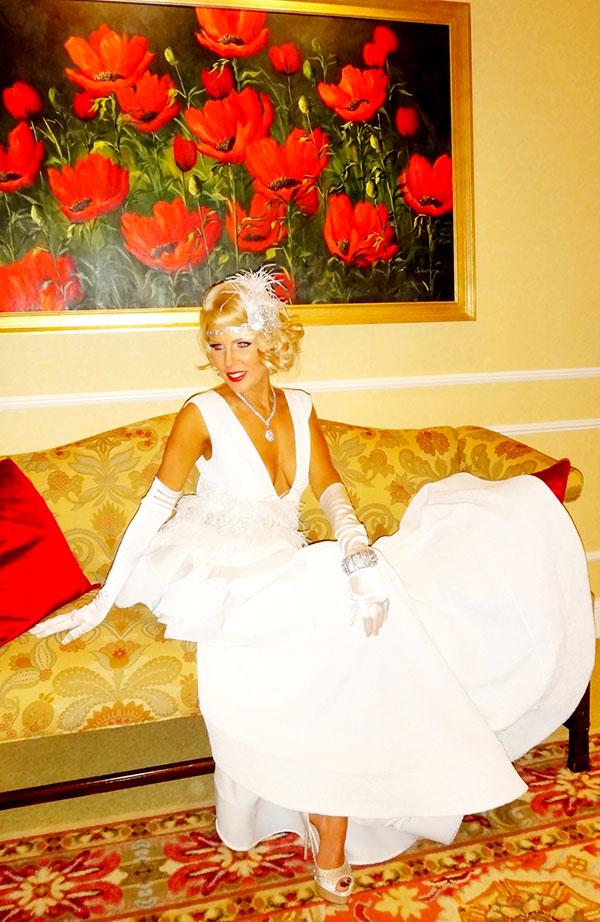 I am thrilled to be OKMagazine's.com new Lifestyle Contributor! I have always been a fashionista since I was little and my parents still joke that I came out of the womb with high heels, lipstick, and a boa on. Since being on The Real Housewives of Orange County, I have received many emails asking for my style advice, so needless to say I am excited to be sharing my tricks and finds with you in Get Glam With Gretchen! Please feel free to tweet me any questions you have and I look forward to bringing you guys the best fashion and beauty tips a girl could ever want. Now onto the fun stuff...like my Halloween party.
Article continues below advertisement
Party People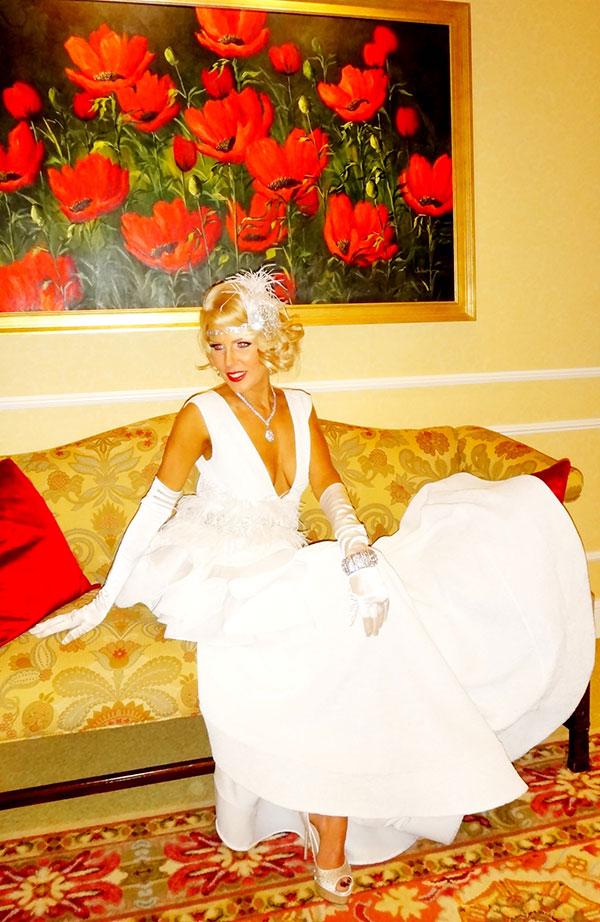 Halloween is my favorite time of year! I might be a little biased because it's also the day after my birthday and therefore I always get to have a themed birthday bash. This year I hosted a Great Gatsby Halloween party in LA and it was a blast! Everyone came dressed to the nines and being the host of the party, I went a little more glam with my outfit wearing a long gown instead of a typical shorter number. That Era is one of my favorites and I often wish I lived back then just so I could wear all the pearls, diamonds, furs, and fabulous outfits they had. Of course the movie this past year also helped my inspire my costume. For me, dressing up is fun because I always want to leave a party having had a made an impression with my fashion.
To Make my Pumpkin Candy Suckers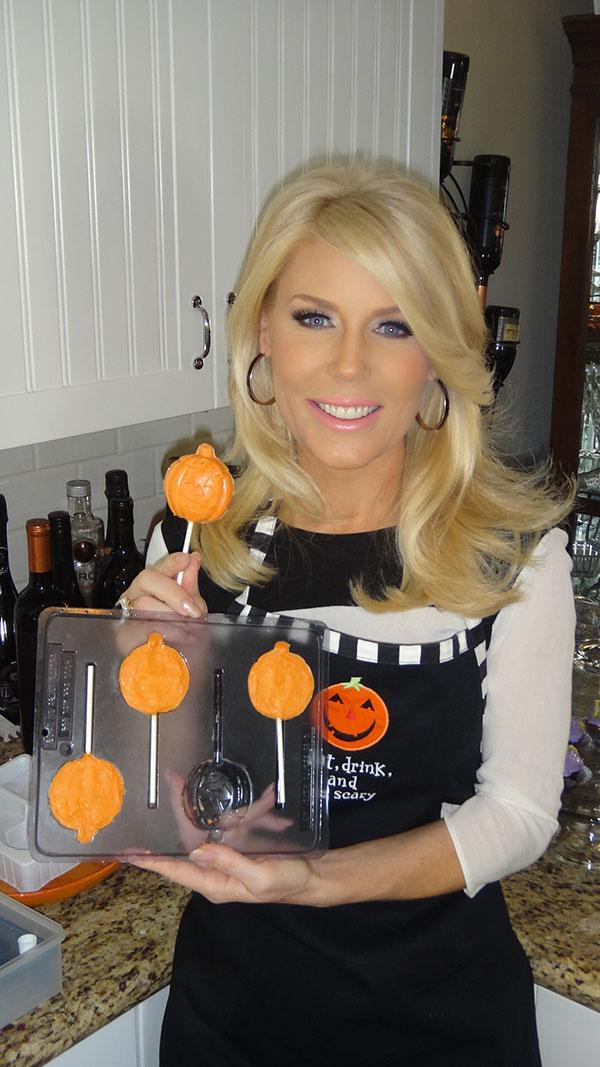 I love making pumpkin candy suckers because it reminds me of when I used to come home from school in the afternoon and make them with my mom before Halloween. They are easy, fun and a great party favor for guests. Plus, this is a great way to get the kids involved with baking and crafts too!
Article continues below advertisement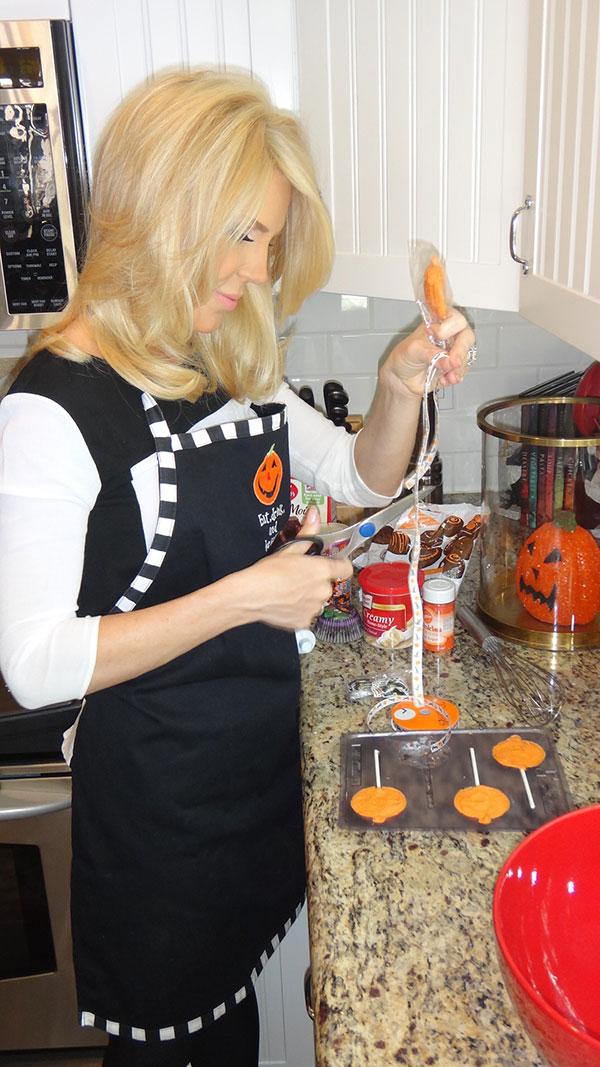 To make the suckers:
-Pick up molds and colored chocolates from any local craft store (I found mine at Michael's)
-Heat candy on stove on low, but be sure not to burn it by constantly stirring the chocolate.
-Pour chocolate into the mold trays (I got pumpkins, but you can do any fun Halloween mold—witches, ghosts, etc.)
-Use a toothpick, or wet paper towel to clean around the edges of the mold.
-Lightly tap the mold on the kitchen counter once you pour the chocolate in so that it disperses evenly.
-While the chocolate is still hot, place a stick in the middle of each sucker.
-Let them sit in the fridge for a couple of hours or overnight to harden.
Article continues below advertisement
Finished Product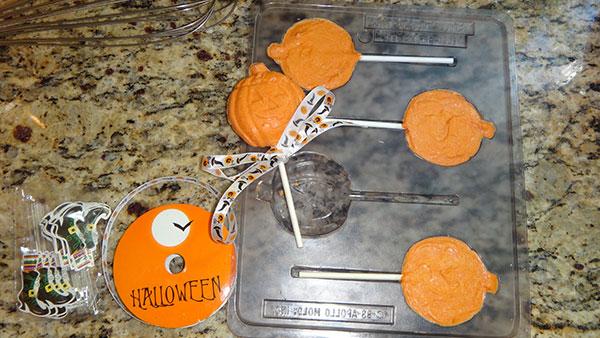 -Easily remove them from the tray and wrap in cellophane and tie with a cute Halloween bow.
-Put your suckers in a basket at the front door as a party favor for your friends and family as they come and go for all the Holiday festivities.
Article continues below advertisement
Cupcake Ingredients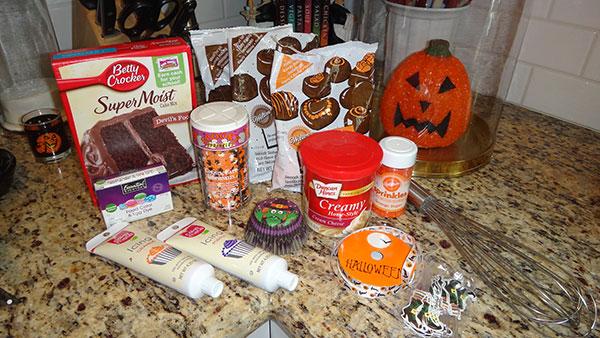 Article continues below advertisement
Making the Batter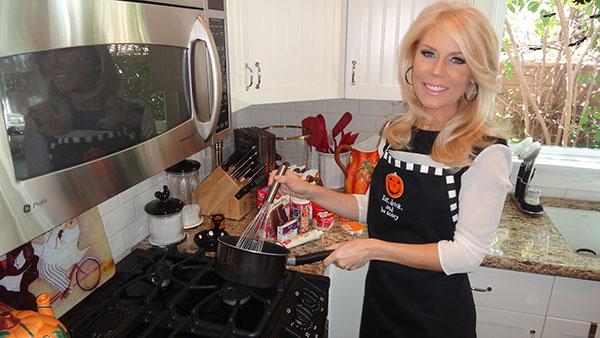 You don't have to be a fabulous chef to create a super-cute themed treat. Go to your local craft store for inspiration and the rest is easy! I love baking and Slade loves me for it.
-Find a decorating kit at your local craft store (I found mine at Michael's), or be creative and find some cute design ideas throughout the store.
-Get a box of your favorite cake mix from your local grocery store.
-Make the cake mix (I made my favorite chocolate cupcakes).
-Pour the batter into a cupcake dish and bake.
-Place the batter into cute decorative cups and use a small spreading knife to put a fun colored frosting on top.
-I used purple and made it using red and blue die in my white cream cheese frosting.
Article continues below advertisement
Cupcakes are Ready!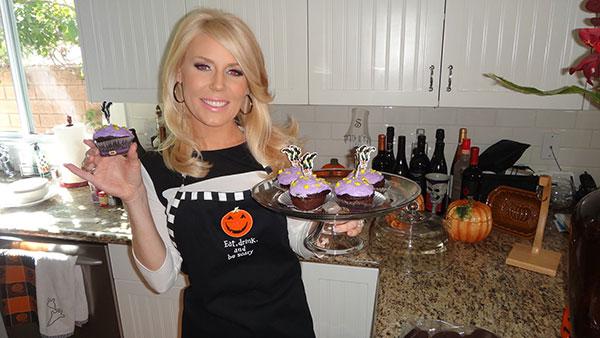 -Top with décor from craft store (stars) and finish them off by placing the witches feet upside-down on the top of cupcake.
-It only takes a half hour to create this fun treat and everyone will think you're a superstar baker!
Article continues below advertisement
How to Get the Costume Look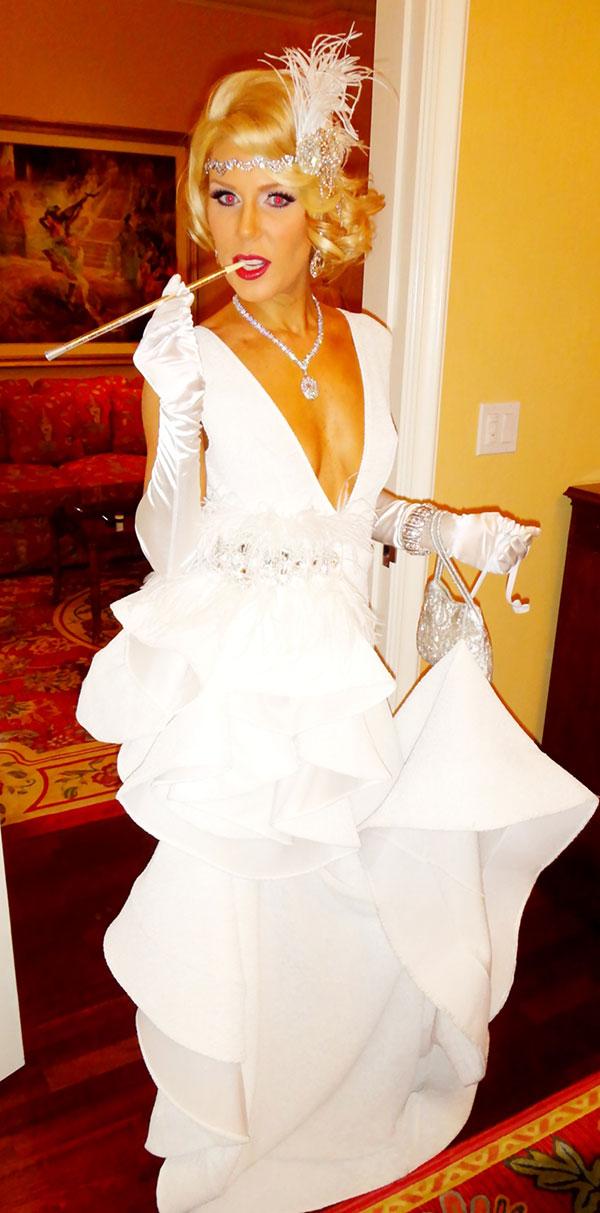 Now onto my costume... Here's a breakdown of my look:
-Couture Dress by Michael Costello
-Hair Piece by What a Betty Designs, available at The Victor Paul Salon
-Gloves and fake long cigarette from Halloween costume store
-Necklace by The Fame Boutique
-Bracelet and earrings from Couture New York boutique store
-Shoes by Valentino
-Purse from a boutique purchased along time ago
Article continues below advertisement
With Slade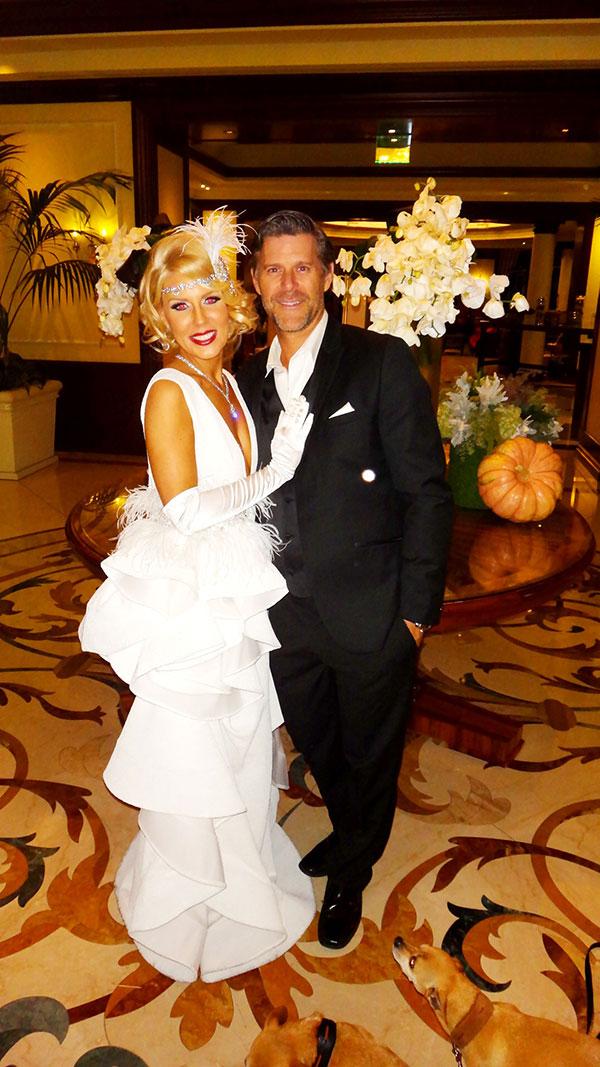 Every Daisy needs her Gatsby...
Article continues below advertisement
Get the Makeup Look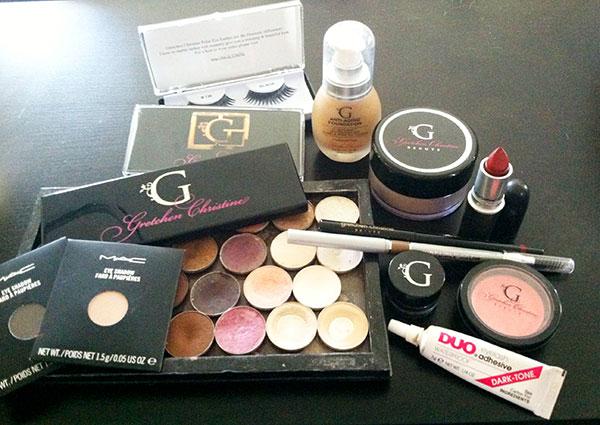 Here's the makeup we used, which was done by Flawless Faces:
Two sets of Gretchen Christine False Lashes on top and false lashes on the bottom
The smoky eye was created with purples and a beige creamy color on the middle of lid. (A mix of MAC and GC colors.)
Dark purple shadow on the lower lash line (MAC Shadowy Lady)
Soft pink blush and only a little bronzer (Cheecky by GC and bronzer by MAC)
A deep red color for the lips (Dubonnet from MAC)
GC Gel Eyeliner in Raven
GC Blondi Eye Brow Pencil
GC Anti-Aging Foundation-Balanced
GC Loose Powder
Article continues below advertisement
Get the Nail Look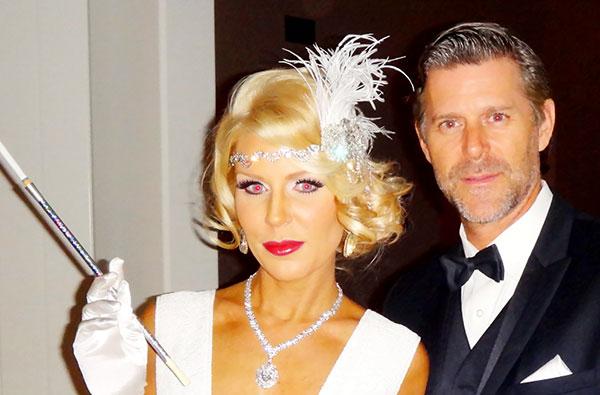 Although you can't see my nails under my gloves, I did a dark black maroon color called 'Royal Rajah Ruby' by OPI. I'm in love with it! My new favorite color for fall.
Article continues below advertisement
How to Get the Hair Look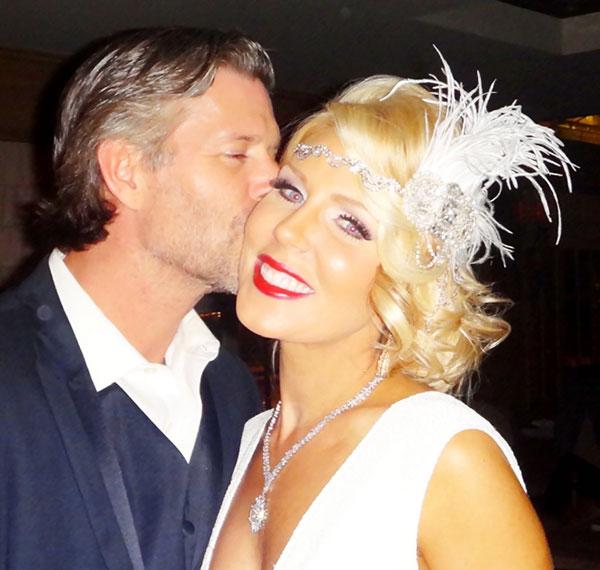 My hair was done by Victor Paul at The Victor Paul salon and is 1930's-inspired. We curled my hair with a one-inch curling iron, then pinned it all up to create this "short" 'do. I love changing up my look with simple tricks like pinning my hair up.
HAPPY HALLOWEEN!