PHOTOS
Inside Beyonce's Private World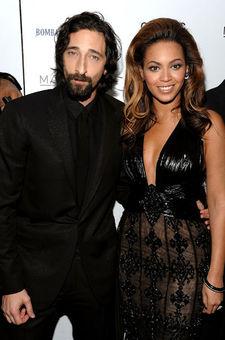 All eyes are on Beyonce during her Cadillac Records premiere held at AMC Loews 19 in NYC. It's great to see the Destiny's Child songbird in the musical drama about Chess Records, where Ralph Bass, the grandfather of OK!'s fabulous Shauna Bass, worked. (He was inducted into the Rock and Roll Hall of Fame for his accomplishments there.)
The Single Ladies sensation grants costars a peck on the cheek when she mingles pre-screening, but one VIP guest is noticeably missing. Hubby Jay-Z, donning nerd glasses, makes a separate entrance with Ne-Yo long before his leading lady hits the floor.
Article continues below advertisement
For Beyonce, one perk of playing Etta James is stepping into someone else's shoes.
"I learned so much about myself," Beyonce, who has a slight Southern accent, says. "The most fun thing was that I could use all the profanity I wanted, and I couldn't get judged for it because I was playing Etta."
For the role, Beyonce packed on 15 lbs. How did she lose it?
"Well, if you've seen the video Single Ladies, it has a lot of choreography. That helped!"
Stylist Ty Hunter says it took the singing sensation only 30 minutes to choose her dress and get ready tonight. What styling tips does he give her?
"For a woman to know her body and know what really works for her, I think that's a plus," he tells me. "Some people just throw things on and they're not so sure what works for them."
He says she lost the weight by working out and cutting back on food.
Article continues below advertisement
Hey, look! It's the always-affable Diddy, and here's the cuddling Kelly Ripa and hubby Mark Consuelos. Whoops! A reporter asks whether Rosie O'Donnell and Barbara Walters should bury the hatchet. "Oh my gosh, I'm not answering that," the mom of three shoots back. Rrr. They're rushing Adrien Brody through. No questions.
Emmanuelle Chriqui calls Beyonce's performance "incredible."
"She really tapped into her essence. She went for it and really transformed. It's astonishing."
But don't expect the Entourage star to start wearing '50s fashion. "I'm not a very buttoned-up person, but it would be a fun look. It depends."
What makes someone beautiful?
Gabrielle Union offers up a decent blind item.
"I've seen probably the world's most attractive people -- until they open their mouth," Gab says. "You need to have what comes out of your mouth match the visage. You get so ugly if you talk smack, or say awful things. I prefer no double negatives, but that's just me -- not everyone has that hang up."
Article continues below advertisement
The walls go up when it comes to the ultra-private Beyonce and Jay-Z.
"I know them both," Mos Def, who plays Chuck Berry, says. "But I don't want to talk about it." He calls Beyonce "dedicated, professional and hard-working."
Eamonn Walker doesn't want to go there either. "I don't know her husband, really. What husband? Where? No, I admire both of them very much. I don't know. Flummoxed."
Akon calls Jay-Z "a nice guy," but admits, "No one knows too much about their personal life. Not even me."
Luckily, Beyonce's performance has the blessing of Etta James, 70, who attended the L.A. premiere.
"Etta was lovely, she was frail, but I could see that she had been captured," Eamonn says. "She felt that her life had been captured and honored by this movie."
Of Beyonce's fuller figure in the film, he cautions, "You won't notice her weight. You'll notice how good of an actress she is, because at the end of the day, she throws down no matter what size she is. You've never seen Beyonce act better."
Article continues below advertisement
PARTY TIME: OK!'s Oliver Coleman reports that Beyonce and Jay-Z couldn't have been more different from Adrien and his girl Elsa Pataky during the afterparty held at Marquee. While Adrien and Elsa can't keep their hands off each other, B&J keep it G-rated by dancing in their seats and chatting cheerfully. Psst! Leonardo DiCaprio makes an appearance. He chats with Kevin Connolly while Russell Simmons puts the moves on Marisa Miller.
Plug time: Why should we see this film?
"It's going to introduce a whole new generation to this time and this music, and make people understand that this is the music that influenced Elvis Presley, The Beatles, The Who – all these great bands you know and love," Eamonn says. "They all got their inspiration from this. You should see this film because if you don't know the beginning, you won't know the end."
Cadillac Records is in theaters now.