PHOTOS
Jamie Lynn Spears Shares Photo Of 'Angels' Who Saved Daughter Maddie's Life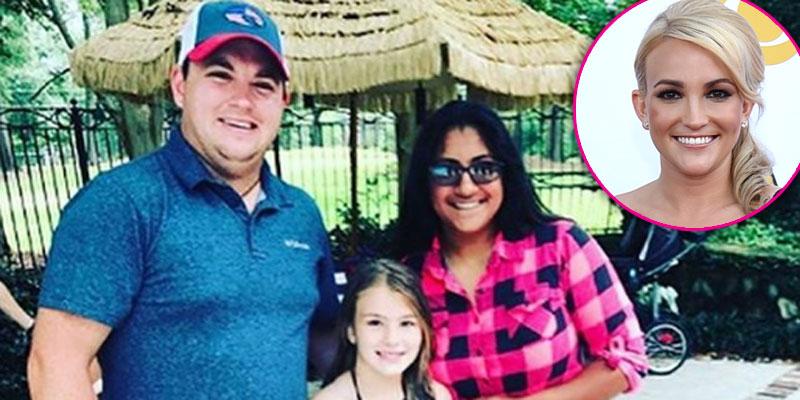 Jamie Lynn Spears has extra reason to be grateful this holiday season! 10 months after her daughter Maddie Aldridge's terrifying ATV accident in February, the nine-year-old is doing well and thriving. And Jamie Lynn took to Instagram to honor those "angels" who helped Maddie miraculously recover and leave the hospital just five days after her serious accident.
Article continues below advertisement
"The hardest milestone me and my family have ever faced was almost losing our beautiful Maddie," Jamie's post began, "but thanks to God and the two angels in this picture we were able to celebrate Maddie turning 9 years old all together." "This milestone became a true miracle, and we are forever grateful for that," Jamie added.
Jamie previously posted this pic of two of Maddie's "angels," John and Victoria, alongside her at her pool birthday party back in June. "John and Victoria are the first responders, who literally saved Maddie's life," Jamie wrote at the time. "Thank God for these amazing people."
Article continues below advertisement
The post is part of Jamie's Instagram countdown to Christmas. The singer has been posting pics celebrating milestones in her life and using the hashtag "#12DaysOfJLS."
Back in February, Maddie's family feared the worst when her ATV flipped over on their Kentwood, LA, property. The then eight-year-old was reportedly submerged under water for several minutes before being airlifted to the hospital.
Article continues below advertisement
Miraculously, Maddie was released from the hospital just five days later. Jamie called the experience "a mother's worst nightmare" and thanked fans for their prayers and "the miracle it created." We are beyond blessed, and we will NEVER forget y'all," she wrote on Instagram in March.
What do you think of Jamie's post? Sound off in the comments below.