PHOTOS
Jason Aldean Returns To Vegas With Pregnant Wife After He's Slammed For Choosing 'SNL' Performance Over Victims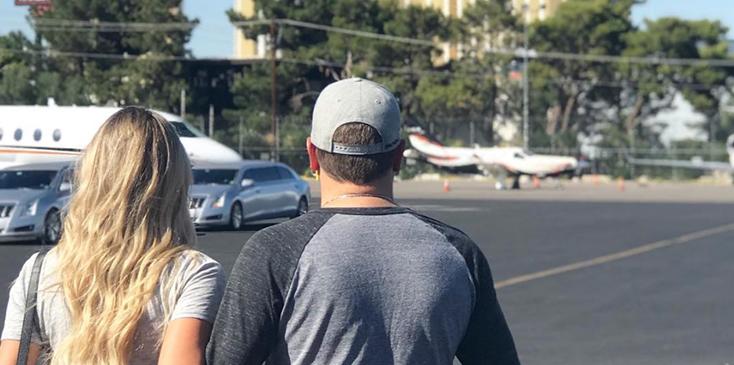 Article continues below advertisement
"Feels surreal being back in Vegas today," Brittany captioned a photo of her and Jason outside the hotel where the shooting happened. "Visiting some of the strongest people we have ever met... fighting the toughest battle of them all... for their lives. You have helped us try to begin the healing process by seeing the strength each one of you have. Thank you for today. We will never forget. #vegasstrong ??"
In another emotional post about the mass shooting, Brittany wrote that as the bullets were flying past her and her friends, all she could think was "I never even got to hold my baby." Then, she said they all told one another they loved each other and ran for cover, waiting to see if there'd be another shooter. "We were the lucky ones," she wrote.
Article continues below advertisement
"Tonight has been beyond horrific," Jason wrote the night of the massacre. "I still don't know what to say but wanted to let everyone know that me and my crew are safe. My thoughts and prayers go out to everyone involved tonight. It hurts my heart that this would happen to anyone who was just coming out to enjoy what should have been a fun night. #heartbroken #stopthehate"
Jason was recently slammed for performing on SNL, rather than for the victims and first responders of the Vegas shooting. UFC President Dana White asked Jason to perform at an event in Vegas the same night as SNL, and Jason said he was "too rattled" to perform live, according to the Daily Mail. "F*** you Jason Aldean. Stay out of Vegas," Dana said after seeing Jason on the late night show.
Article continues below advertisement
Jason hasn't responded to Dana's criticism. In another post after the shooting, Jason wrote that he had "gone through lots of emotions. Fear, anger, heartache, compassion and many others. I truly don't understand why a person would want to take the life of another. Something has changed in this country and in this world lately that is scary to see. This world is becoming the kind of place I am afraid to raise my children in. At the end of the day we aren't Democrats or Republicans, Whites or Blacks, Men or Women. We are all humans and we are all Americans and its time to start acting like it and stand together as ONE!"
What do you think about Jason performing on SNL and not in Las Vegas? Let us know in the comments section.