PHOTOS
Jenni 'JWoww' Farley Opens Up About Her 'Heartbreaking' & 'Exhausting' Divorce From Ex-Husband Roger Mathews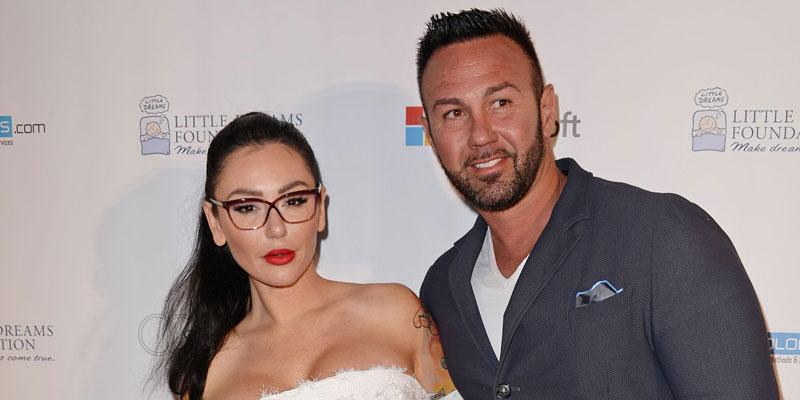 Article continues below advertisement
"Angelina and I were talking about regrets earlier. I've been thinking about the biggest one," Jenni, 33, confessed to Snooki, 31. "Roger?" Nicole asked.
"Yeah," Jenni said. "I'm going through it with the divorce. It's been almost a year since I filed. When you get divorced, you're supposed to be celebrating and start a new chapter, but it's really heartbreaking. And it's stressful, the up and down battle of figuring out custody issues. I just don't know when it gets better." Snooki replied, "He's the f***ing worst. But you always knew it wasn't right."
Article continues below advertisement
Roger, 44, and the mom of two were married for three years before calling it quits in 2018. JWoww filed for divorce in September 2018, but it wasn't finalized until almost a year later. The pair share daughter Meilani, 5, and son Greyson, 3.
The MTV star then filed for a restraining order against Roger in December 2018 after an alleged domestic violence incident at their New Jersey home.
Article continues below advertisement
Jenni also admitted in the episode that her children give her strength and helped her through the divorce. "It's just really hard. They're my bliss as I'm suffering....It's more than exhausting. It can mentally break someone. I just want peace," she sobbed.
Article continues below advertisement
But JWoww and Angelina put their differences aside and tried to squash their beef. During the same episode, the two spoke about their feud and reconciled. "I appreciate the fact that she's trying to olive branch it," Jenni told Snooki about following their talk. "I'm tired of fighting with her all the time. She's sorry, and I'm sorry, and I'm ready to move on."
What are your thoughts on what Jenni had to say? Sound off in the comments below!