PHOTOS
Watch! Nicole 'Snooki' Polizzi Works The Pole & Twerks At The Strip Club With Her 'Jersey Shore: Family Vacation' Castmates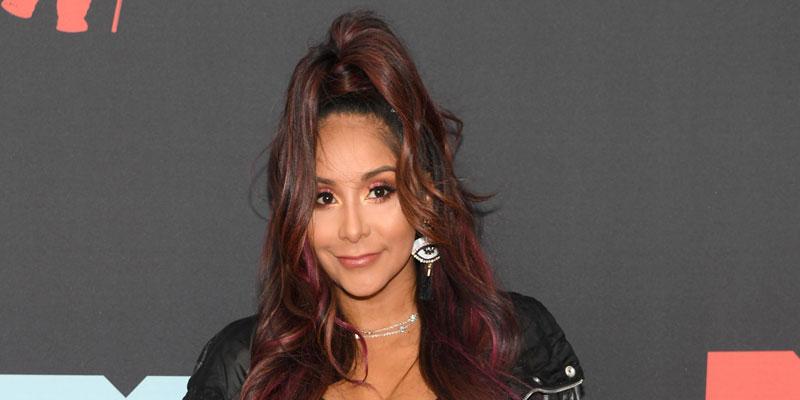 Article continues below advertisement
Snooki, 32, was the one who came up with the idea to go to the strip club. "I enjoy strip clubs. I love a good stripper, so Pauly give me some singles," she said. After making it rain on several of the dancers, Snooki decided it was her turn to take the stage. "Snooki is feeling it right now. This is the Snooki that I've been missing," Pauly D said. At one point, Snooki twerked on a trash can next to the pole. "Only in Jersey do you twerk on trash cans in the strip club," Vinny joked.
"Nicole's dancing, Deena is giving out money. We're having a meatball day right now in the strip club and it's fun," Vinny said in his confessional. The group was gathered in anticipation of Mike "The Situation" Sorrentino's release from prison, but they learned after getting together that his release date had been pushed back.
Article continues below advertisement
MORE ON:
Jersey Shore: Family Vacation
"The girls made a messed up speech. The girls were mean to her. The speeches they gave weren't respectful. It was disrespectful," a source told RadarOnline.com, noting that fellow guests "booed" the MTV stars.
Article continues below advertisement
Snooki recently shocked by fans by announcing she was leaving Jersey Shore after this season to spend more time with her kids. She discussed her decision on the December 6 episode of her podcast It's Happening With Snooki and Joey. "I'm thankful for Jersey Shore and my fans. I love you so much and don't hate me for my decision, but I have to do what's best for me at the moment, and I am retiring from Jersey Shore. I just can't do it anymore. Literally, leaving my kids to film it is really hard on me. I try and quit every single day. I just hate being away from the kids. I don't like partying three days in a row. It's just not my life anymore. I want to be home with the kids," she said.
She continued, "Our show, Jersey Shore, is about family and making fun of each other and having a good time and laughing and just knowing that it's all in good fun. Lately, everything is so serious. Fans are against one another when it comes to a cast member. I don't want that. I'm not leaving my kids for days on end to film this show when that's the result of it. I don't like the turnout of it. I don't like the person I'm portrayed as."
Article continues below advertisement
What do you think of Snooki's pole dancing skills? Sound off in the comments below!