PHOTOS
Jill Duggar Shuts Down The Haters With PDA Pic Of 'Best Hubby Ever' Derick Dillard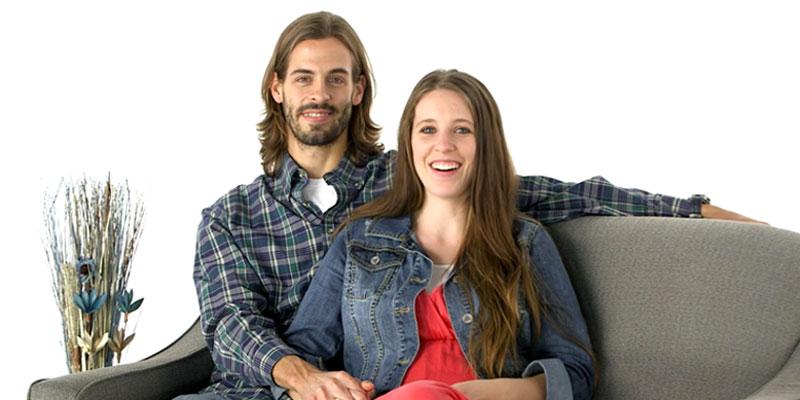 Jill Duggar doesn't seem to care that her husband Derick Dillard's controversial comments got them kicked off the family's show Counting On. The former TLC star took to Instagram to post a PDA pic with her hubby of four years to shut down the haters—but some fans didn't buy it.
Article continues below advertisement
Jill posted this black and white, close-up pic of her and Derick sharing a kiss. "@derickdillard you're my fave! Can't imagine my life without you! #sogratefultoGod #soinlove #besthubbyever #bestpapaever," she captioned it.
Some fans loved the PDA pic, while others felt Jill was faking a perfect married life for social media. "I swear to god the constant lip locking is nothing but trying to prove to someone - themselves maybe - that they are 'in love,'" one fan wrote.
Article continues below advertisement
Others were disappointed Jill was sticking by Derick's side despite his transphobic Twitter rant against fellow TLC star Jazz Jennings in November 2017. "I find it ironic how you will stand by a man who has proven himself to be a homophobic and transphobic narrow minded idiot. This shows your true heart. Not good," one fan slammed Jill.
Another fan seemed to defend Jill and Derick, writing, "They can believe what they want," but then added, "But publicly shaming people is not Christian."
Article continues below advertisement
Jill's PDA pic implies she has no issues with her husband, even though he may have cost the family a hefty paycheck. One fan even accused of her "ignoring what kinda person she married." With no TLC income, fans have been wondering how the family has been paying their bills, especially now that Derick announced he's starting law school.
What do you think of Jill's PDA pic? Do you think she is trying to prove something to her followers? Sound off in the comments below.