PHOTOS
John, Freddy Deal With Family Drama During 'Holidays'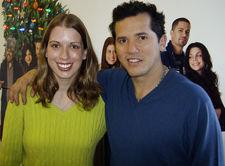 John Leguizamo, Freddy Rodriguez and Debra Messing light up the silver screen in Nothing Like The Holidays, which is in theaters now.   
The Christmas flick centers on family drama – something we try to avoid at all costs in the Nome home. So, why is it taboo to break bad news during the holidays?
"It's like talking politics," John tells me. "You never talk politics at a dinner because you know it's going to end up in a fight. At the holidays, you've got to try not to bring up issues because you know it's going to be a war."
Article continues below advertisement
The father of two, 44, who is married to wife Justine, hasn't been so lucky. "One time they got me drunk and then they used me as a whipping post. They said 'How dare I talk about things in public that are personal? Who am I? The arbiter of the family?' I don't blame them. I think they were right. If somebody else would've called the people by their names., I would've been upset too."
John continues, "Every family, every holiday is a reason for families to get together and have issues. It just comes naturally. A few drinks, and all of a sudden things come back from the past to bite you."
Freddy, 33, who has two children with wife Elise, has avoided trouble during this time of year.   
"I think it happens during the holidays because people are together, first of all," he tells me. "During the year, people are so busy with their own lives and they finally get together for three or four days. And people drink. There's just this element of ease during the holidays, and they all want to get what's off their chest."  
He adds, "I think we all have a certain degree of dysfunctionality within our families, but my family is pretty functional."
Nothing Like The Holidays is in theaters now.