PHOTOS
Josh Lucas Returns To His Roots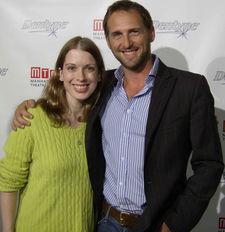 Josh Lucas revisits his past during Dentyne and Manhattan Theatre Club's REALationships playwrighting event held at New York City Center's Stage II.
The Arkansas-born actor, 37, who is dating Rachel McAdams, got his start with the theater company in the mid-1990s. Since then, he's appeared in big-screen success stories including Sweet Home Alabama, Hulk, Glory Road, Empire Falls and Management.
Why is arts education important to him?
Article continues below advertisement
"I consider myself someone who is deeply involved in what it is to be putting forth some element of literature and story-telling, and hopefully painting, and all sorts of elements that I think theater really does," he tells me. "Manhattan Theatre Club is where I got my break, so the idea of watching these kids go through this, and be honored the way that they are is something that I felt similar twelve years ago, and it was magical for me."
Did he dream he would live the Hollywood life?
"I always felt like I knew it was meant for me. Did I know how difficult it was gonna be? I didn't. And did I know how rewarding it was gonna be? I didn't. And did I know the highs and lows of the whole experience? You go into it blindly. In a sense, you throw yourself off a cliff because you're naïve enough. I think that's how you have to be. And so the idea of being here, and watching that same level of vibrance, I think is what it is, I think somehow you get attracted to. You want to be pulled back into."