PHOTOS
Kailyn Lowry & Chelsea Houska's Dad SLAM Jenelle Evans For Dissing Baby Lux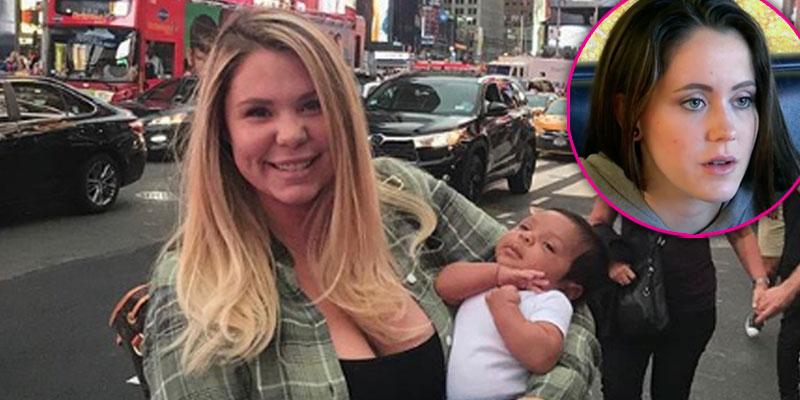 Kailyn Lowry is fed up with Jenelle Evans! Just one month after Jenelle sent Kailyn a cease and desist letter, demanding that she stop posting articles about her and her family, Kailyn is accusing Jenelle of doing the exact same thing. After Jenelle posted an article questioning the paternity of Kail's son Lux, Kail slammed her co-star for spreading the story. And she wasn't alone — Chelsea Houska's dad Randy took to Twitter to voice his support for Kail and blast Jenelle, too!
Article continues below advertisement
Jenelle posted an article claiming that Chris Lopez may not be baby Lux's real father, and a fan brought it to Kail's attention on Twitter. "Is this true?! Your fans need to know!" the person tweeted.
Kail replied, slamming the article and Jenelle's decision to share it, writing, "Jenelle don't ever f**king try to scare me with a cease and desist when you're posting this BULLS**T."
Article continues below advertisement
She continued, "How do you violate your own cease and desist?"
After a fan pointed out that Jenelle "said it's not 'HER' posting those articles so it's allowed," Kail responded, "Ok so how does she send me one for the same thing... if it's not me, why am iiiiiiii getting the c&d?"
Article continues below advertisement
Randy Houska, the dad of Kail's co-star Chelsea Houska, then joined in, tweeting, "That is so much bulls**t. 'I have nothing to do with the stuff posted on my page.' Eff that." Chelsea was also sent a cease and desist letter from Jenelle in November.
A source close to Kailyn told RadarOnline.com exclusively that Jenelle still hasn't responded to Kail's tweet or apologized for sharing the article, but said Kail has no plans to hit Jenelle with a cease and desist letter of her own.
Do you think Jenelle owes Kail an apology? Are you surprised Chelsea's dad joined in the conversation, too? Sound off in the comments below!