PHOTOS
The Kardashians Take Armenia! See The Latest Photos From Kim Kardashian, Kanye West, North And Khloe's Getaway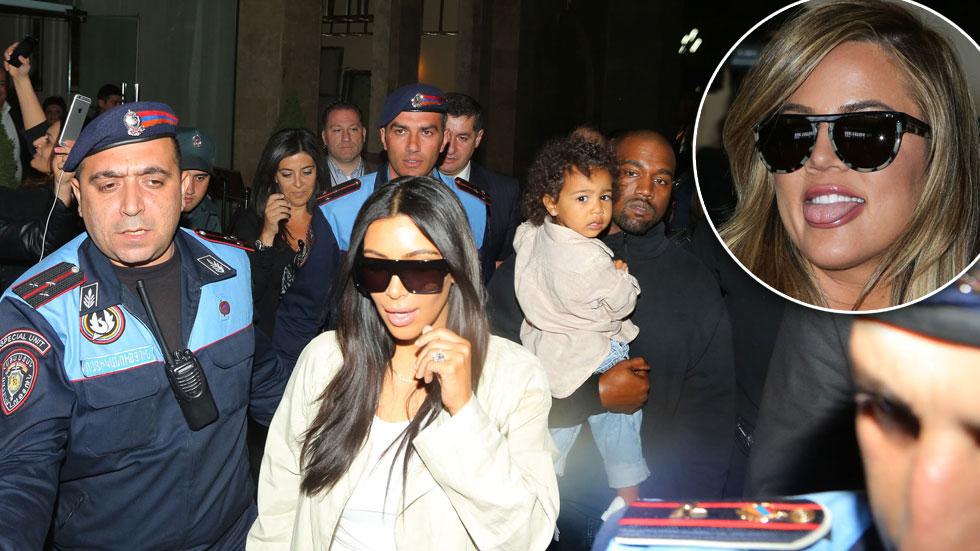 kardashians-armenia-vacation (1)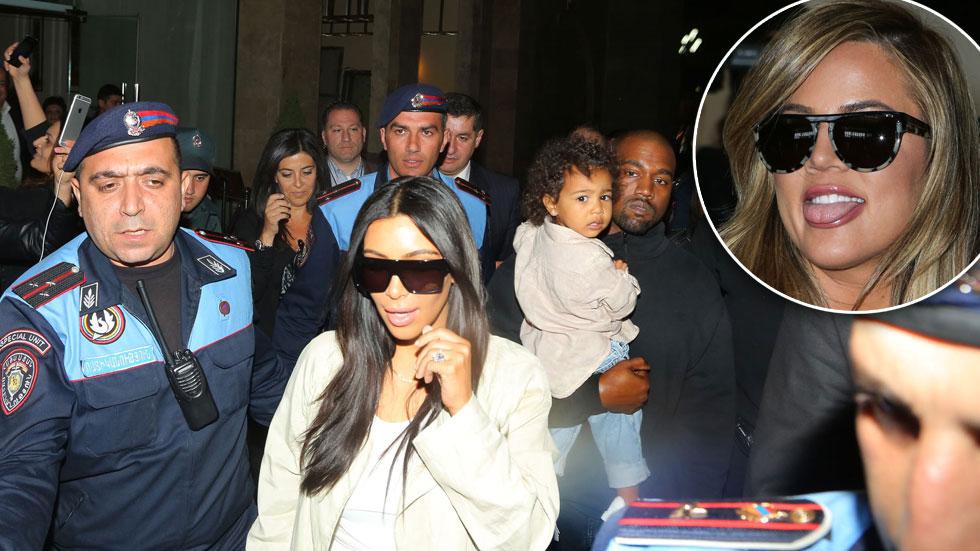 The Kardashians have travelled all over the world – but their latest getaway is by far the most meaningful! Kim and Khloe Kardashian landed in their late father's homeland, Armenia, on April 8 to learn about their ancestors with Kim's hubby Kanye West and daughter North. Click through to keep up with the latest photos from the famous family's getaway!
Article continues below advertisement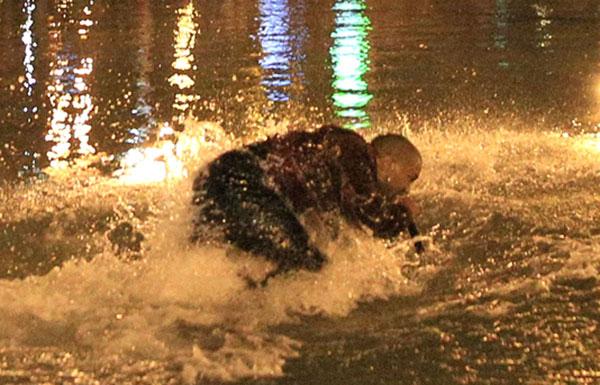 Kanye ended the trip with a free concert – and a dip in a lake! "What a crazy night," Kim wrote on Instagram. "Kanye wakes me up & says he's doing a free concert in Yerevan, Armenia! I throw on sweats & we head out! Thousands of people were there! Kanye jumped in swan lake to be closer to the crowd on the other side & so many people jumped in too! It was such an exciting crazy night! So happy I got to rock out with everyone in Armenia on our last night here!!!!"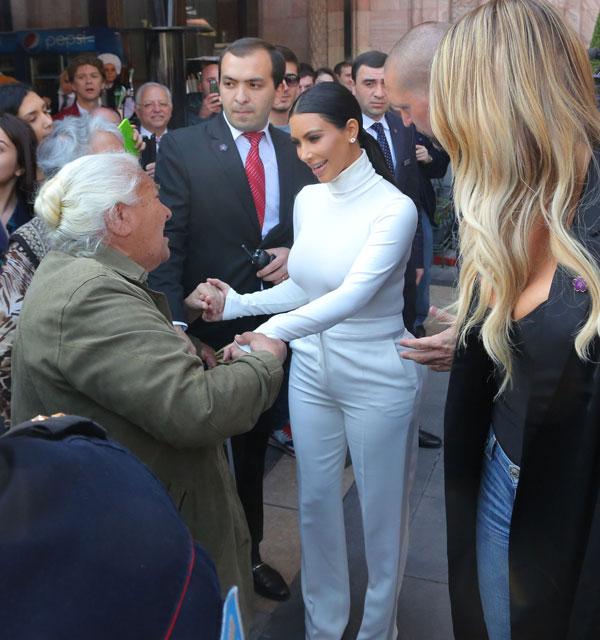 Meet Kim's No. 1 – and oldest! – fan! The woman waited 12 hours a day to meet the Kardashian sister. When she finally did, the woman hugged Kim and gave her a flower.
Article continues below advertisement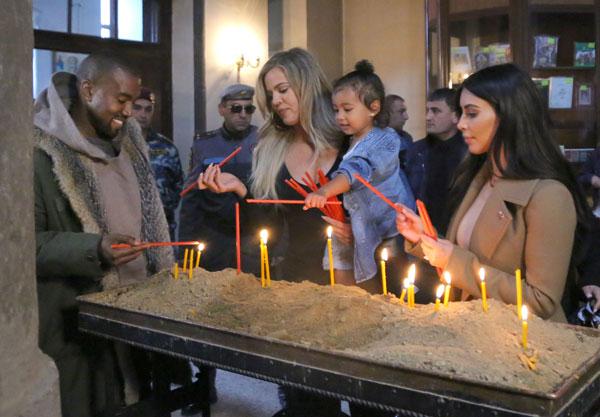 Mommy's little helper! The one-year-old was all smiles as she assisted her mom, dad and aunt in lighting candles at a church.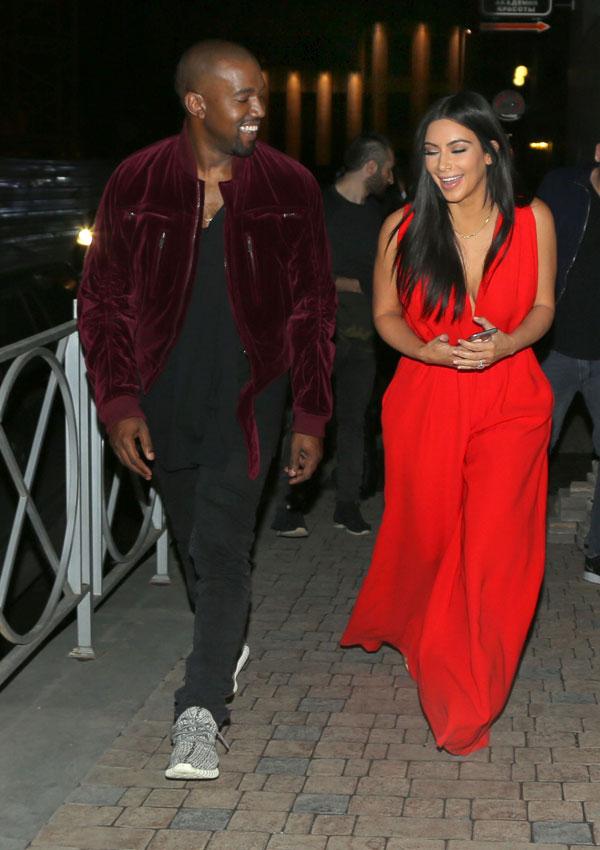 Still going strong! Kanye and Kim looked more in love than ever during a date night at Province restaurant on April 10. Kim looked red hot in a plunging jumpsuit, as her hubby rocked a velvet maroon jacket.
Article continues below advertisement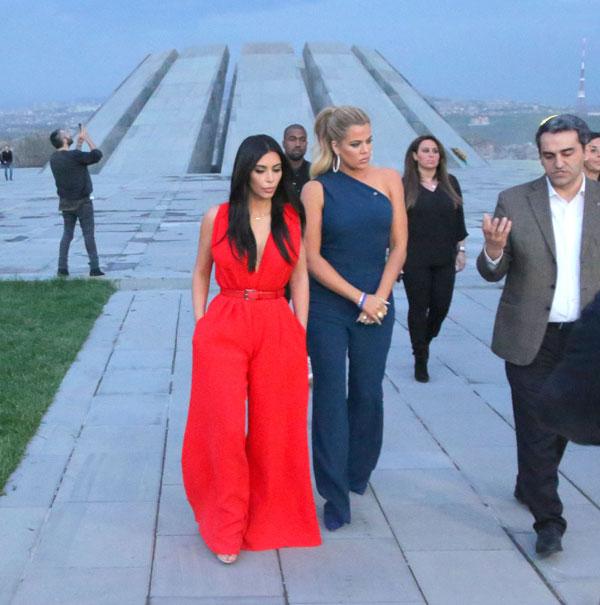 Before the night out, Kim and Khloe visited the Armenian Genocide Museum. "An emotional day at the genocide museum," she captioned a photo of the sisters placing roses by a memorial.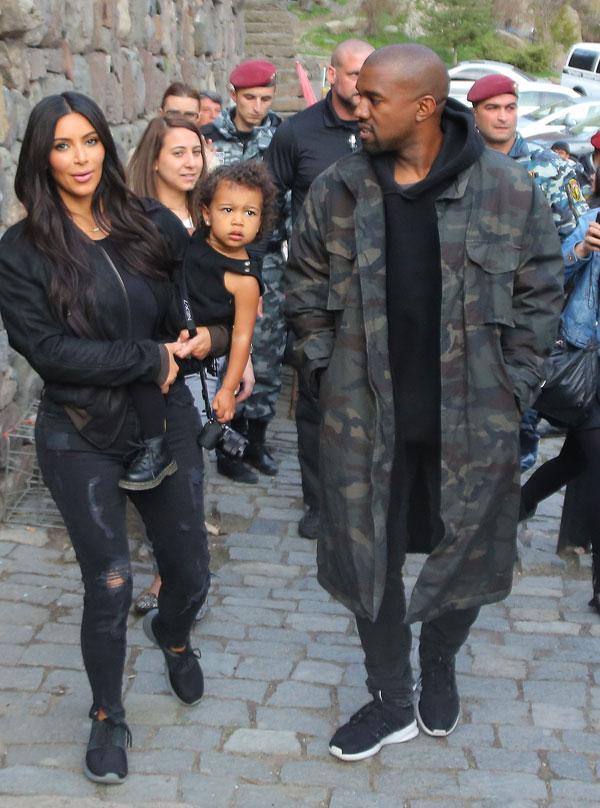 Family fun! The brood took in the Geghard Monastery on April 9.
Article continues below advertisement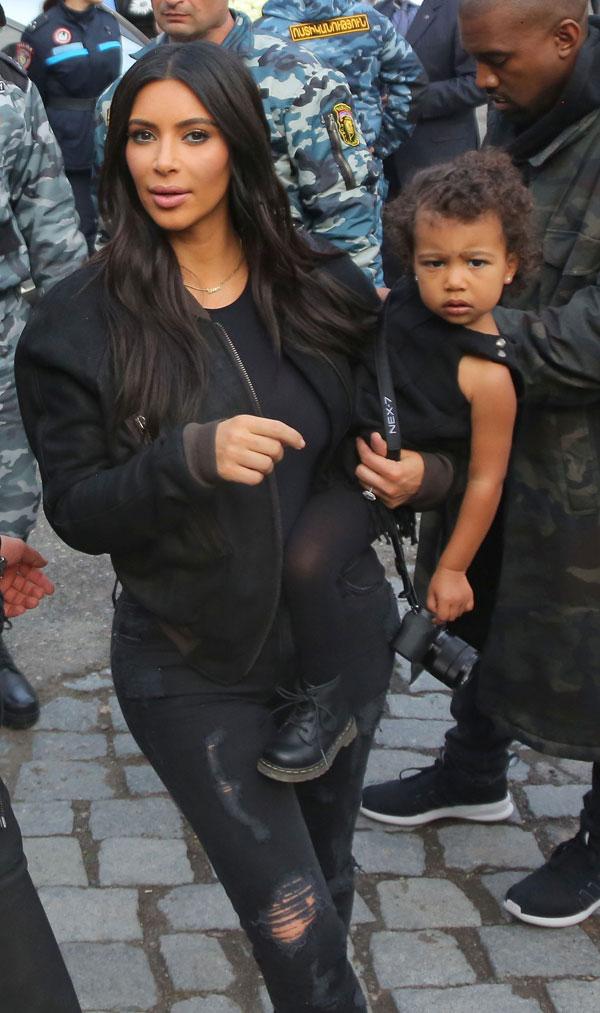 North debuted a new hairstyle in Armenia, as she flaunted her natural curls. The one-year-old let her hair down with her mom while visiting the monastery.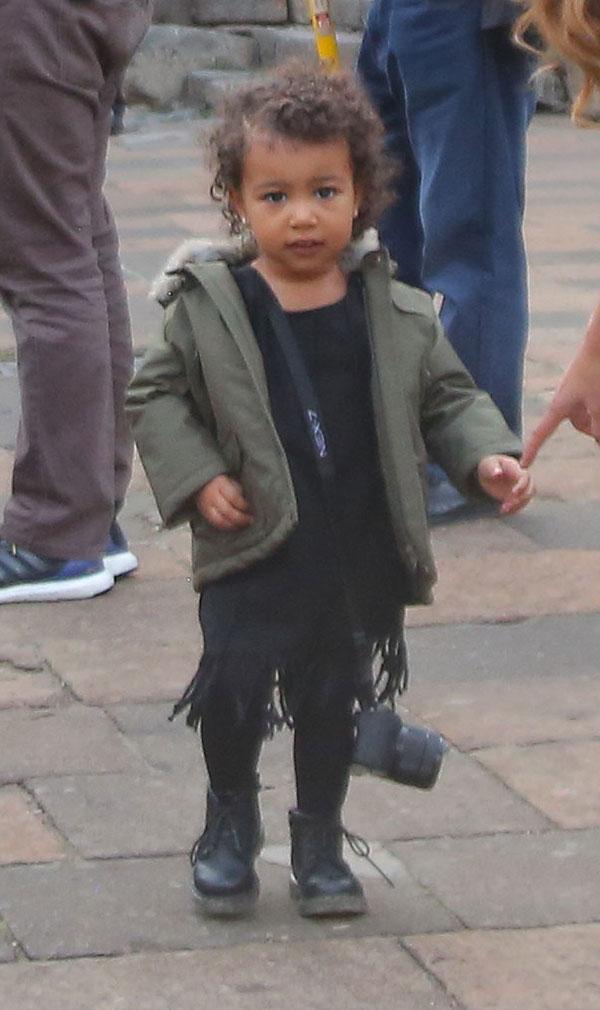 Tiny tourist! Nori was spotted carrying around a Nex-7 camera that is close to $1,000. Hopefully the tot snapped a lot of shots!
Article continues below advertisement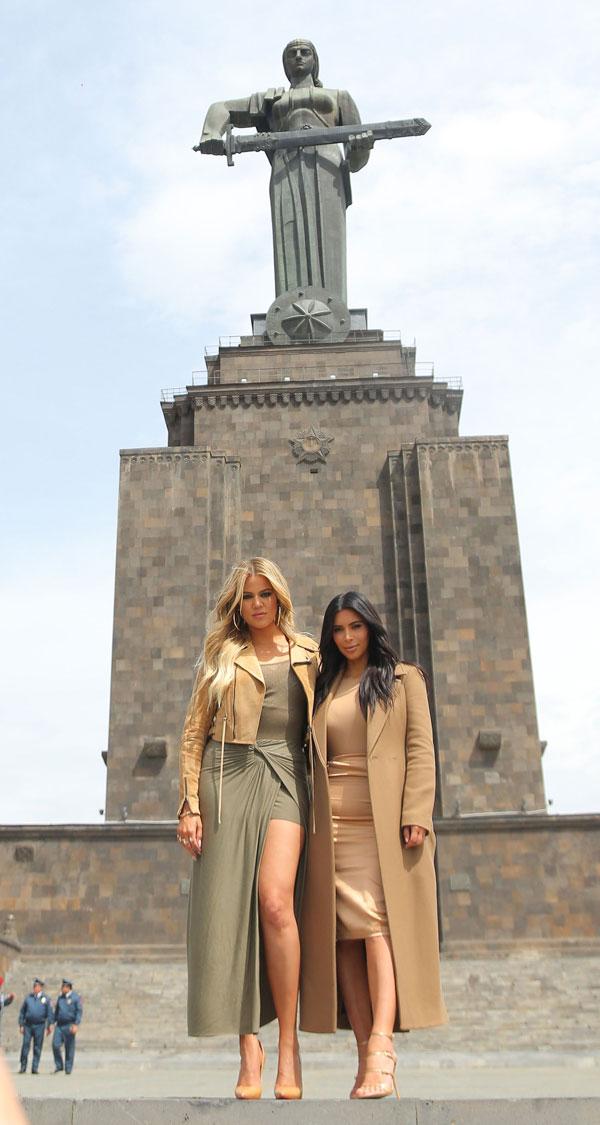 Trendy tourists! The Kardashians kicked off their second day in Armenia with sightseeing. Kim rocked a figure-hugging, camel-colored dress with a matching coat while Khloe flaunted her long legs in a chic green dress! Khloe wrote on Instagram, "Visiting the Mother Armenia statue today in Yerevan. The Mother Armenia statue symbolizes peace through strength. It can remind viewers of some of the prominent female figures in Armenian history. Who took up arms to help their husbands in their clashes with Turkish troops and Kurdish irregulars. I am woman hear me roar! Blessed to be here!!!"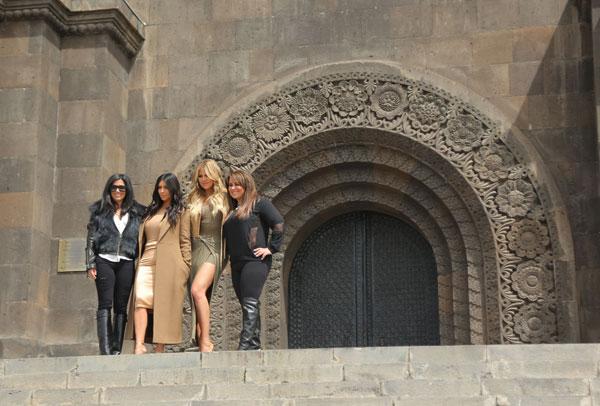 Kim and Khloe's two cousins joined the sisters on the trip – and they both have names that start with a K! "Khloe & I brought along our cousins Kourtni & Kara Kardashian. We miss you Krista! Yes we have 3 cousins who are sisters that all start with a K too! LOL," Kim wrote on Instagram
Article continues below advertisement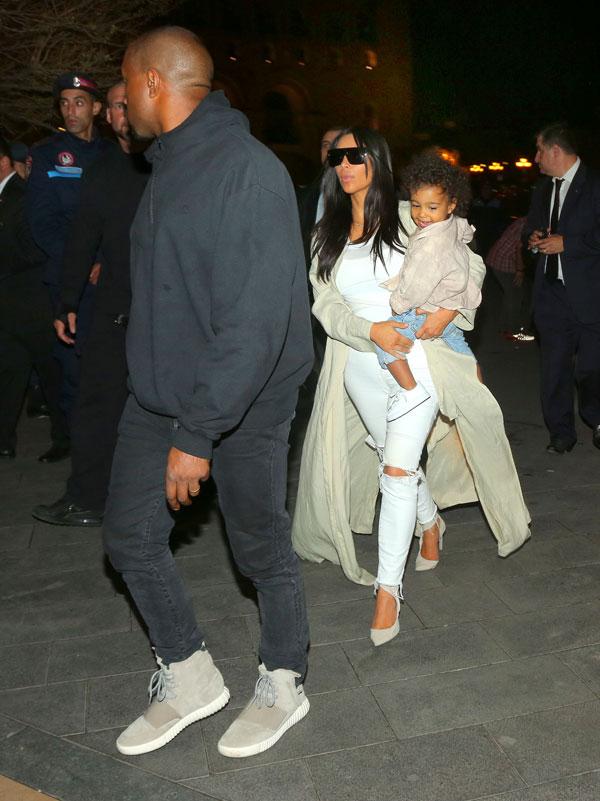 But before they took in the sights, the family celebrated their arrival with an Armenian dinner.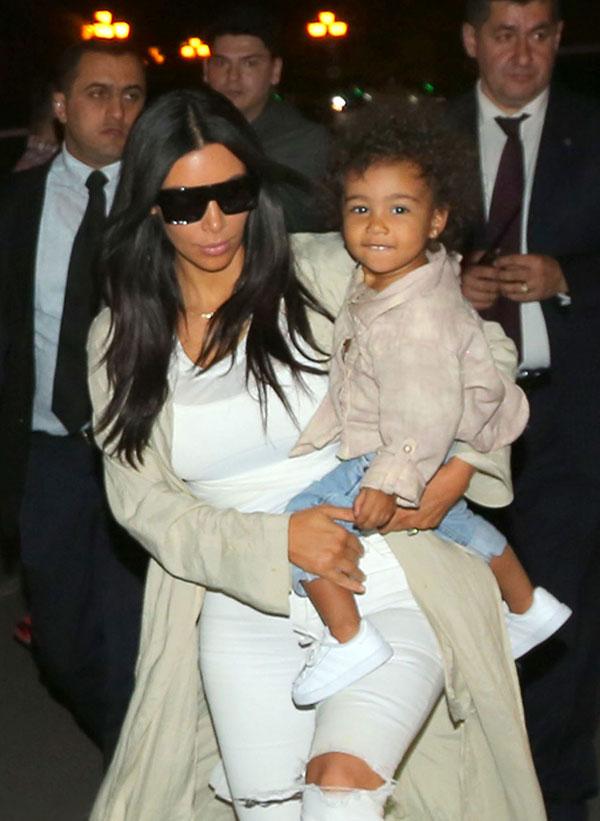 Look at that face! No one is enjoying the family vacation more than North – she can't stop smiling!
Article continues below advertisement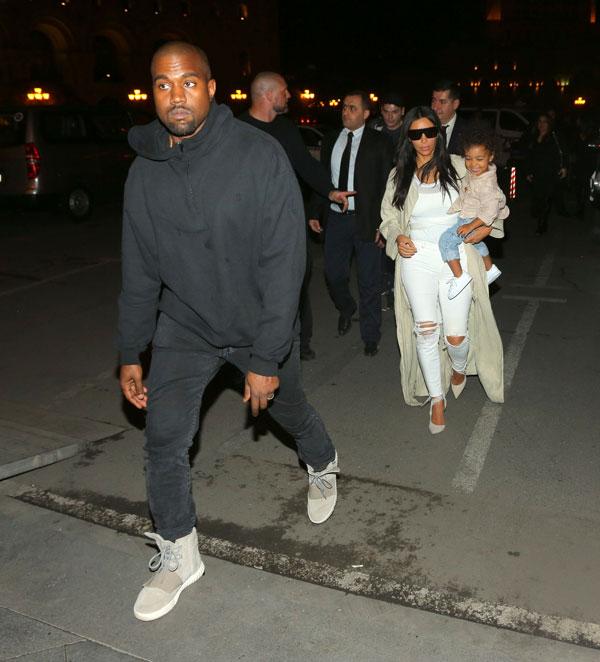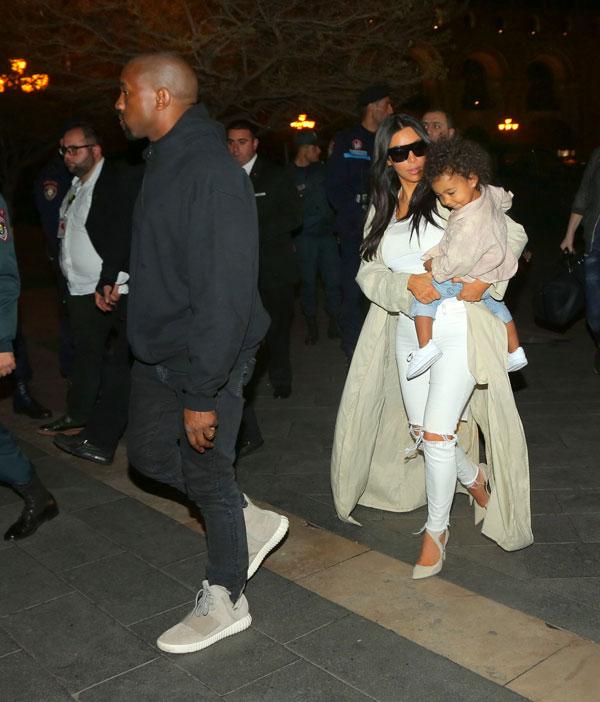 "My husband and daughter came to Armenia as well to see my heritage and learn about my ancestors," the mother of one posted. "My cousins came along too! So excited I can't sleep."
Article continues below advertisement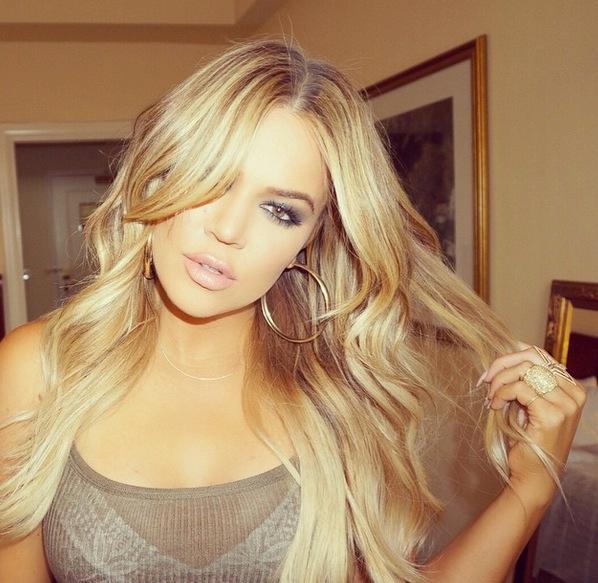 Khloe also turned to Instagram to express her excitement (and show off her ever-changing blonde hair!). "The love and welcoming to Armenia has been overwhelmingly beautiful," the reality star wrote. "I wholeheartedly, can't believe all of you Angels who are outside our hotel with flowers and smiles. Im incredibly eager to get some sleep and see Armenia in the day light! I hope I'm able to sleep. I'm so excited to be here!!"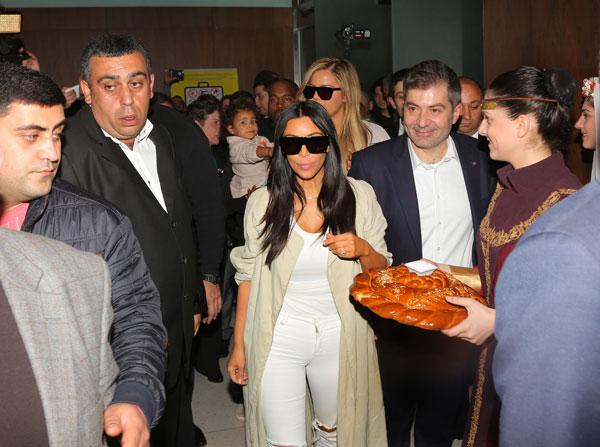 When the Kardashians stepped off the plane, they were greeted with flowers, champagne and some traditional bread. We know Kim is all about watching her figure, but having a cheat week in Armenia is totally worth it!
Article continues below advertisement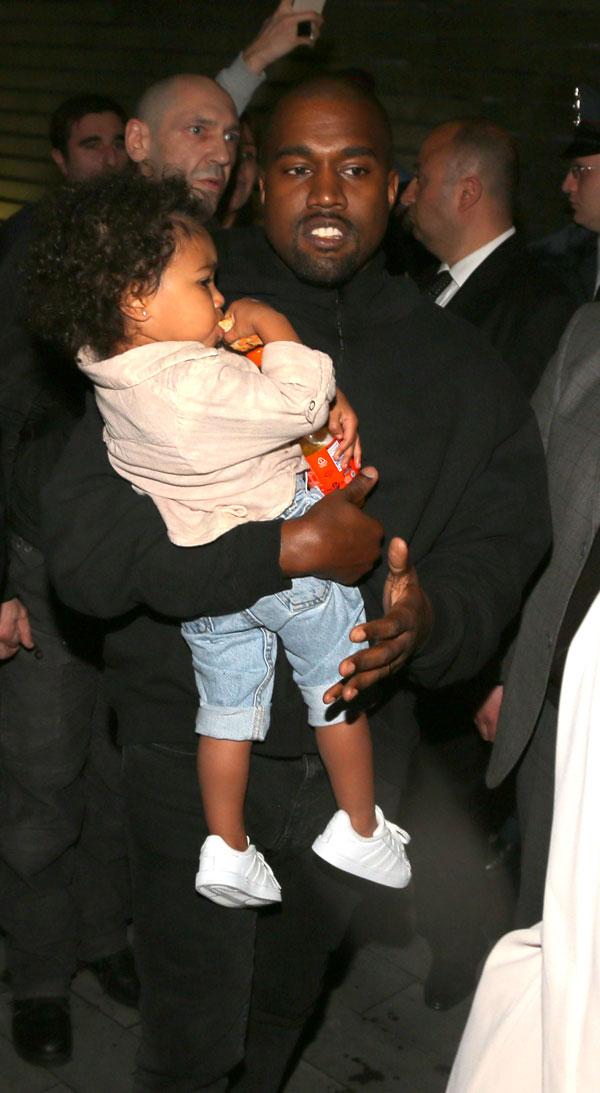 Yum! Nori munched on the snack, as her doting father carried the one-year-old through the airport.
Kim Kardashian, Kanye West, North West and Khloe Kardashian depart at LAX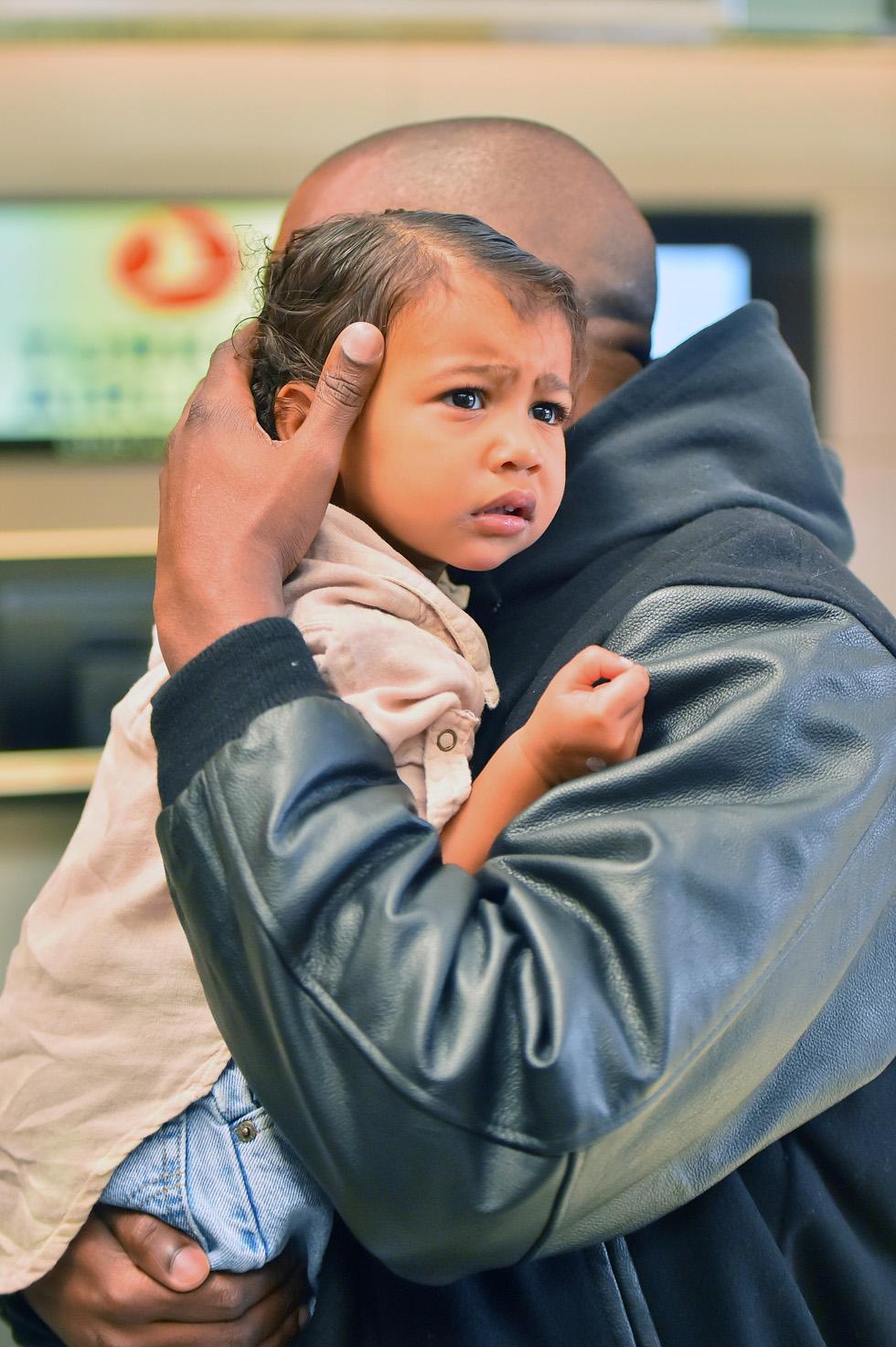 Although the tot was all smiles when she arrived in Armenia, she was a bit grumpy at LAX when her parents woke her up from her nap!
Kim Kardashian, Kanye West, North West and Khloe Kardashian depart at LAX