PHOTOS
Lindsay's Ex Denies Sex Tape Rumors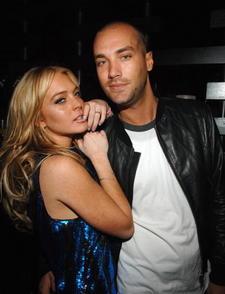 For the second time in a week, the Internet is aflame with reports of a potential new A-list sex tape. This time, it's permanent scandal magnet Lindsay Lohan making the headlines, as blurry photos claiming to show the actress in a very intimate scene with ex-boyfriend Calum Best are popping up everywhere.
So... Is it her?
No one can say for sure yet, and La Lohan's people have yet to comment on the matter. However, a rep for British party boy Calum, who is rumored to be the source of the racy pics, tells OK! it's definitely not their client who was caught on camera.
Article continues below advertisement
"Calum knows nothing about a sex tape," the rep explains to OK!. "It is not him in the picture."
This denial sounds oddly similar to the one issued earlier in the week by Sex and the City star Kristin Davis' people, after a handful of pornographic images alleged to be the actress ended up online. Yet despite that denial, some sources are still claiming that it is indeed the 43-year-old star in the photos and that a disgruntled former lover is responsible for their being leaked.