PHOTOS
Matthew & SJP Reveal New Twins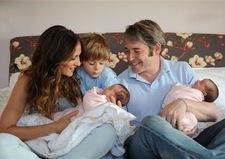 As much as we would love to have featured the first photos of Sarah Jessica Parker and Matthew Broderick's new twin daughters in the pages of OK!, we're still thrilled to see this adorable pic of the happy family.
In the photo released by the actors, SJP is holding little Marion Loretta Elwell Broderick while Matthew cradles Tabitha Hodge Broderick. The couple are already parents to 6-year-old son James Wilkie Broderick.
MORE ON:
Matthew Broderick
Article continues below advertisement
Marion Loretta and Tabitha Hodge were born on June 22 via a surrogate mother at East Ohio Regional Hospital. Matthew and Sarah Jessica announced the happy news in April. "We're very excited!" he told <em>OK</em>! at the time.
<img src="https://farm3.static.flickr.com/2524/3674044715_0b08be79ee_o.jpg" width="400" />