PHOTOS
Meet The Hottest New Fitness Model On The Web — Ally Courtnall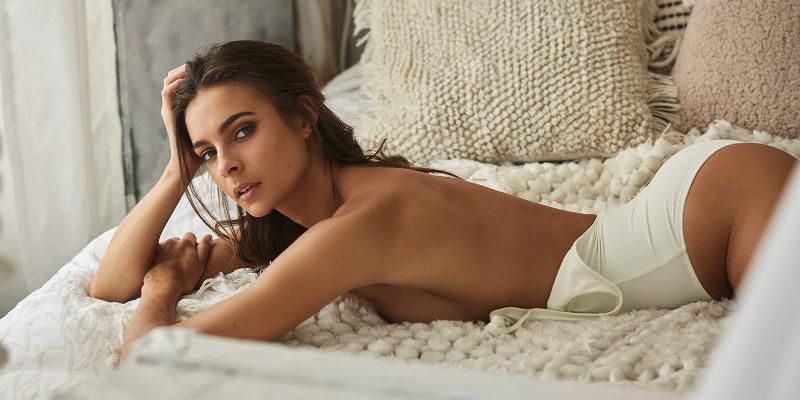 Ally Courtnall may not be a household name just yet, but the fitness model is creating quite the buzz. One look at her Instagram page and you can see why she has quickly racked up 62K followers … and counting. Not only is she gorgeous, but she is also approachable and fun as she gives her followers a glimpse inside of her life of fitness and clean eating.
Ally started her career at UCLA where she was a 2 sport athlete (soccer and track and field) for the university. Since graduating, her natural beauty has made her modeling career explode appearing in campaigns for Lululemon, Adidas, H&M, Nike, Athleta and Asics.
Article continues below advertisement
More: Jennifer Lopez Shows Off Her Abs Amid 'No Sugar, No Carbs' Diet
From her trip to Tulum with her boyfriend, Minnesota Vikings linebacker Eric Kendricks, to her booty blasting workouts, Ally loves connecting with her fans and sharing tips that she has learned along the way. "I love sharing as much as I can without taking away from being present in my relationships in real life," she tells OK! "Fitness is my passion, so I always enjoy sharing my workouts!"
Ready to get to know the hottest new fitness model on the web? Check out 7 things to know about Ally Courtnall!
She Is A Kick-Ass Athlete
Ally is an amazing athlete. She created quite a name for herself representing UCLA in both soccer and track and field. In fact, she led the UCLA soccer team to its first ever national championship, where she received defensive MVP of the entire tournament!
She was equally as impressive in track and field, as she is 8th all-time in the 800 meter for UCLA.
Since graduating, she has kept up her physique through her intense workouts, which she loves sharing with her fans. Her current favorite workout? "Boxing! I love it. It gets all my stress and bad energy out and it's an amazing workout."
Article continues below advertisement
She Isn't a Fan of Overdone Makeup
Ally's look is fresh and natural, without overdone contouring or a 10-step makeup routine.
"Less is more!" she says. "I love using my Nars concealer to even out the face, and then adding a nice natural glow with my Chanel bronzer. Curl my lashes and brush the brows. Then I will finish with a little blush and gloss."
She also takes great care of her skin and sees a facialist regularly. "My mom has been seeing the same lady for over 20 years and looks amazing, so I go to the same person once a month."
Article continues below advertisement
She Loves to Cook
Ally loves sharing her favorite recipes and meal ideas, as is evident by her feed that is full of mouthwatering pictures.
What does she typically eat in a day?
"My usual morning starts with a protein shake with vegan powder, almond milk, maca, cinnamon, a date and peanut butter. That is my go-to!" she says. "Lunch is usually a salad with protein."
"Dinner is where I love to get creative, so it could be anything from healthified enchiladas or pasta to teriyaki bowls," she reveals. "If I'm not trying to spend a lot of time on dinner, I usually will just do chicken, sweet potato and broccoli."
Article continues below advertisement
She's Authentic
Ally has connected so easily to her fans because she shares things she is truly passionate about.
"I think it's really important to find your voice and really focus on what you want your brand to be," she says.  "But don't forget to really be authentic, because right now I see this transition where people are having less patience for bulls--t. They want someone real. I have noticed more people opening up on their platforms, which is amazing."
Article continues below advertisement
Sports & Hollywood are in her DNA
Sports run in her family! Ally got her athleticism from her dad, Russ Courtnall, and her uncle who both played in the NHL for 16 years.
Her mom, Paris Vaughan, is an actress and appeared in shows such as Buffy the Vampire Slayer and The Fresh Prince of Bel-Air. Not to mention her grandmother, Sarah Vaughan, who was the famous jazz singer.
Article continues below advertisement
She Brushes Off the Haters
Ally admits it can be hard to open up her life — she knows that being in the public eye can lead to criticism and judgements.
"It's definitely hard to find that balance. The more you keep from people the less opportunity they have to judge and criticize. I love sharing as much as I can without taking away from being present in my relationships in real life," she says.
She admits that it is sometimes tough to brush off the trolls who make hateful comments.
"I try to not let it get to me, but sometimes it hurts and I will never understand why someone goes out of their way to try and make a stranger feel small," she says. "I really feel sorry for those people, honestly. Misery loves company so you've just got to brush it off and keep it moving because I refuse to let someone who doesn't even know me bring me down."
Article continues below advertisement
The One Item She Currently Is Obsessed With
"I love Moroccanoil for my hair!' she says, referring to the cult-favorite argan hair oil.
"But my favorite thing right now is the Revlon One Step Hair Dryer. It will change your life."
We are "adding to cart" as we speak!
Check out Ally Courtnall's Instagram to follow this hot new fitness influencer!