PHOTOS
Melania, Barron Trump Share Mommy-and-Me Time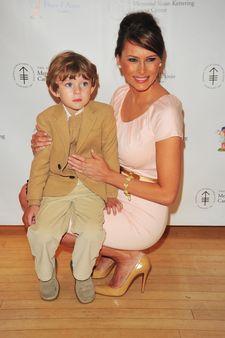 Barron Trump is living a kid's dream during The Society of Memorial Sloan-Kettering Cancer Center's Bunny Hop held Tuesday at FAO Schwarz in NYC.
Wearing a sharp beige suit, the 2-year-old son of Donald and Melania Trump gets a kiss on the lips from mom, who wipes his face of her lipstick. He brings her a toy.
"Look mommy, I've got a taxi," he says, blue eyes sparkling. "Here's the sign."
Ivanka's littlest brother returns with a swirled lollipop.
Article continues below advertisement
"So you want that, too?" she coos, crouching down.
Melania, 38, cherishes every moment with her young son, who is eager to get into the party, which includes a wildlife expert surprising kids with exotic creatures like a hedgehog, iguana, cockroaches and a tree frog.
What's the best thing about motherhood?
"The way he's growing, the way he's talking, the way he says 'I love you,'" Melania says with her lilting Slovenian accent. "The way he says 'mommy, would you like some food? Would you have some ice cream as well?' The questions, the talk, the love … everything!"
What advice would the former model give busy moms-to-be?
"Sleep as much as you can, because once you have a baby, you will not."
For Barron's third birthday on March 20, the family will head to Mar-A-Lago in Palm Beach, Florida. Turns out, their family tradition is togetherness.
"We always spend birthdays together, always for Christmas, for Thanksgiving – always, always together," she says.
What's one thing she would ask her hubby, 62, who cannot be here tonight?
Article continues below advertisement
"What would you like for your birthday? That's what I'd like to ask Donald. It's always tough to buy something."
As young Barron pulls her away, Melania laughs. "He's keeping me in shape."
And what a party it is inside the legendary toy store: Stations serving Dippin' Dots, burgers and fries, pasta, chicken nuggets, bunny-shaped cheese sandwiches and chicken-and-shrimp velvet fritters dot the second floor. Kids decorate their own cupcakes at a display hosted by Susie's Supper Club. Families eye the karate demonstration, and partake in a magic show.
Gift bag time! Guests receive a boy-or-girl stash of surprises. For girls, it includes Vera Bradley stationery and pencils; Trump golden chocolate bar; and an invitation to the Papo d'Anjo trunk sale. Nice. What lucky kids.