PHOTOS
OK! Look of the Day: Julianne Hough Travels to The Tonight Show Starring Jimmy Fallon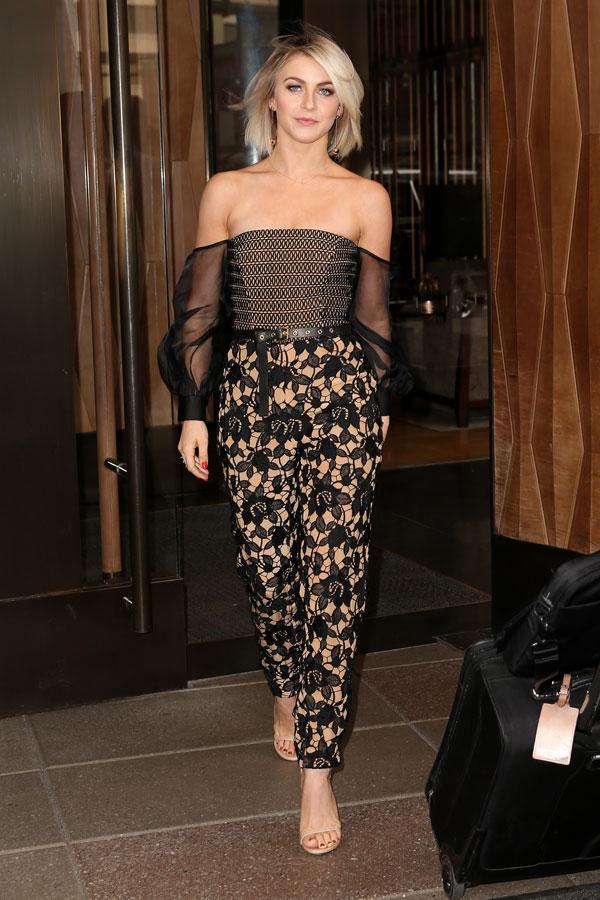 Don't know what to wear tomorrow? Grab some fashion inspiration from one of our many celebrity style stars. Whether it's Kim Kardashian rocking yet another crop top, Jennifer Lawrence making the red carpet rounds in Dior, or Emma Stone in studded Valentino heels, we'll be bringing you the hottest, most talked about outfits around.
Article continues below advertisement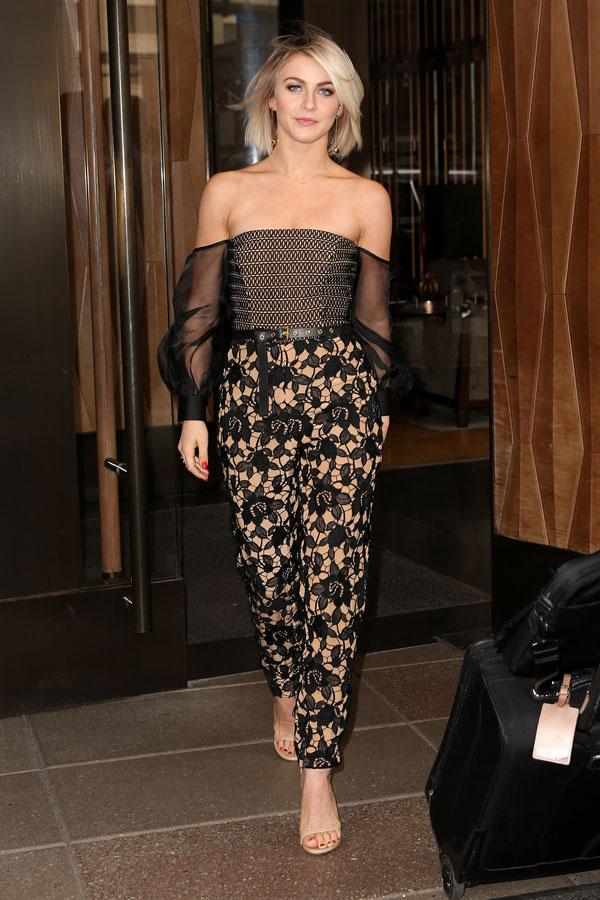 Julianne Hough's jumpsuit could pass as a Dancing With the Stars costume—and we'd be more than happy to wear it on or off the dance floor. The actress wore this printed off-the-shoulder item with nude strappy sandals to her appearance on The Tonight Show With Jimmy Fallon. The look wouldn't be the same without those sheer sleeves. It's all in the details!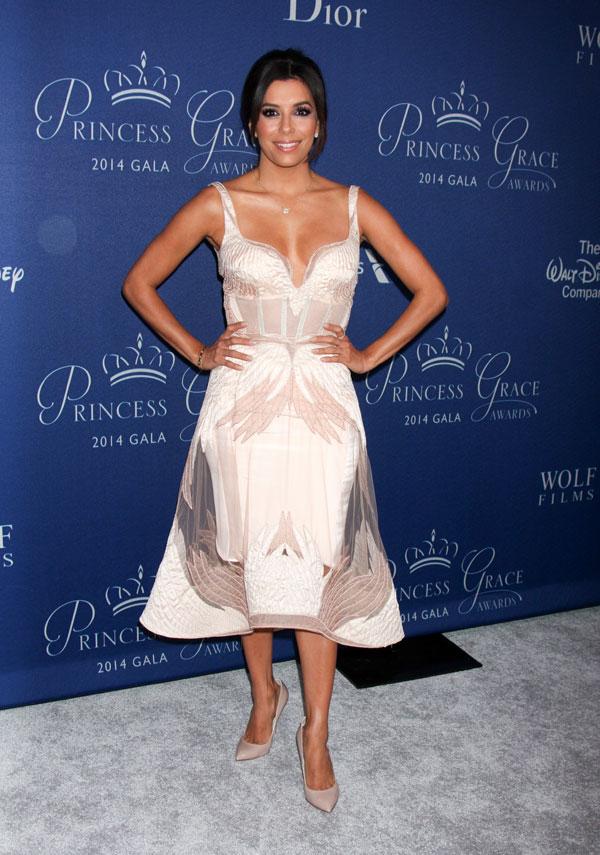 Looking like a royal, indeed. Eva Longoria attended the Princess Grace Awards Gala last night in a feminine and delicate A-line dress by Gabriela Cadena. The dress had texture, pearl embellishments, and highlighted her itty-bitty waist. This is a bit more princess-like than Eva Longoria's usual garments, but that doesn't mean she shies away from dramatic gowns. Most of her red carpet looks include lots of volume, intricate detailing, and flattering silhouettes.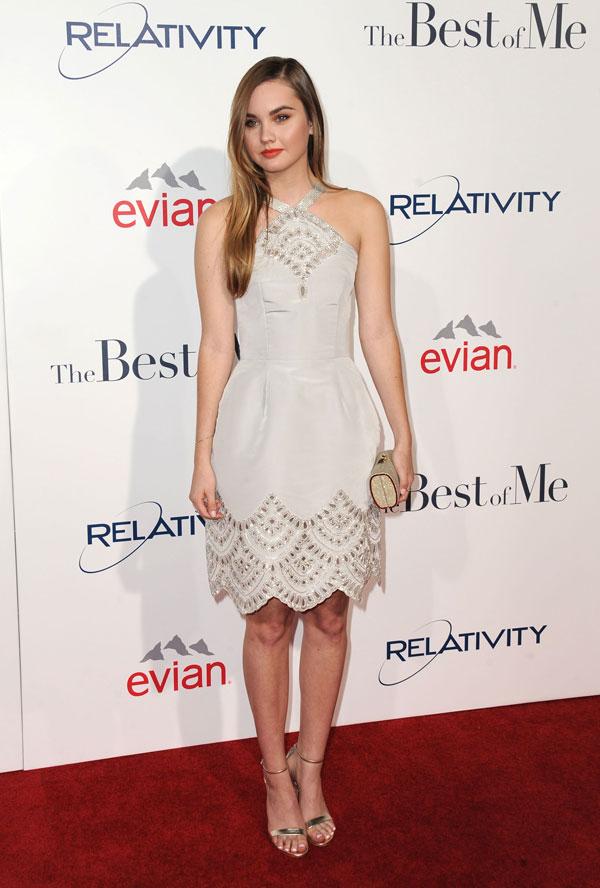 You better be ready to watch this lady skyrocket into fame! Cool girl Liana Liberato is one to watch, especially in her role in the new Nicholas Sparks flick, The Best of Me. The actress stepped out at the movie's premiere in a pretty Oscar de la Renta dress with a scalloped hem and eyelet details. We loved the outfit, obviously, but were really impressed with that orange-red lipstick shade she chose. Beautiful!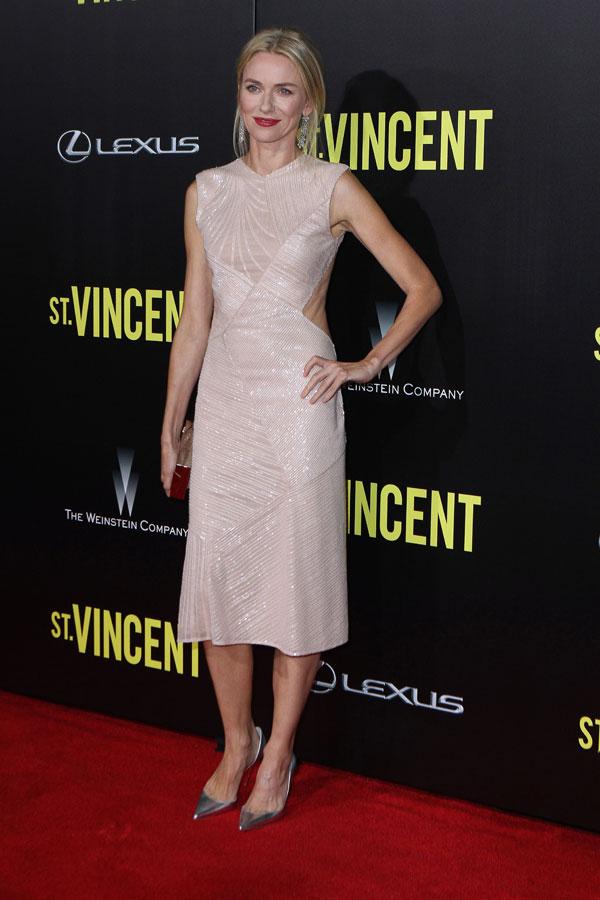 Naomi Watts stepped onto the red carpet at the St. Vincent premiere looking polished and pretty in her structured pale pink Jason Wu sequin shift. The tea party-like dress featured a backless silhouette that continued into sexy side cut-outs. With pointy-toe pumps, dangly earrings, and a red lip, it was a perfectly balanced equation for a premiere event.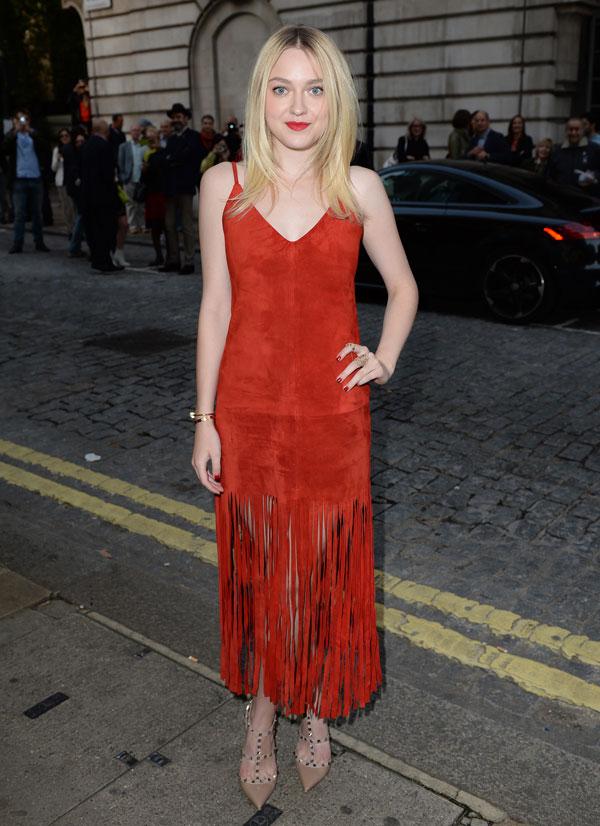 Dakota Fanning just brought one of fall's biggest clothing trends to the red carpet. Debuting a western meets black-tie look, the actress showed up to the Effie Gray movie premiere in London wearing a red suede slip dress with a dramatic fringe skirt by Valentino. She styled it up with a red lip and a pair of those Valentino studded ankle-strap heels you've seen on just about every celeb imaginable.
Into it? Let us know!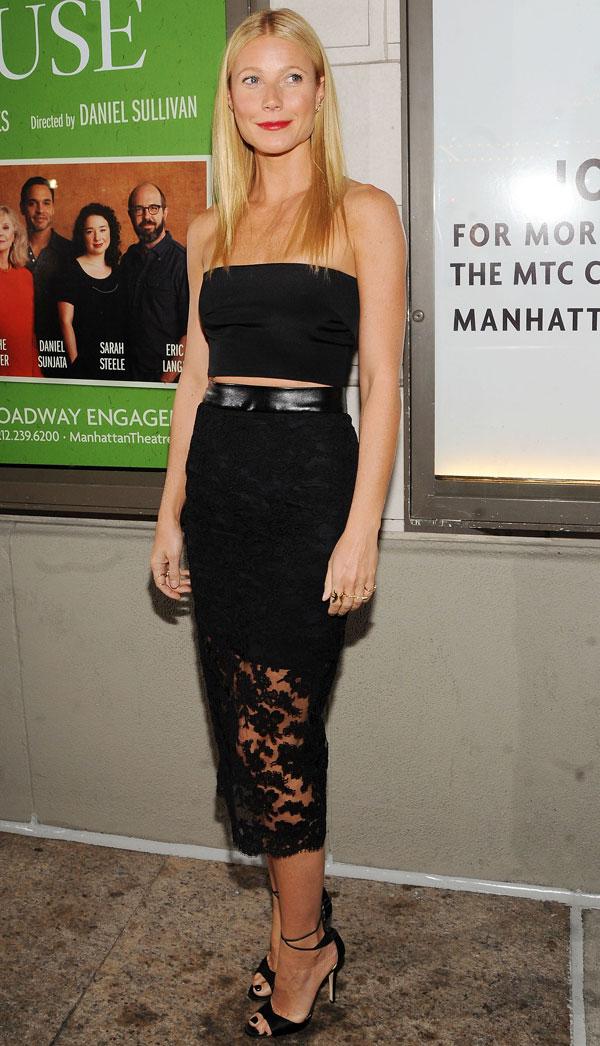 When mom is on Broadway, you dress your best and show up to support her—at least that's what Gwyneth Paltrow did last night.
Gwyneth attended the Broadway opening night of "The Country House," a play her mother Blythe Danner is currently starring in, wearing a not-so-typical outfit. Showing the tiniest bit of midriff, Gwyneth rocked a black bandeau top and a high-waisted black pencil skirt with a sexy lace overlay, both by designer Monique Lhuillier. Her hair was expectedly styled in a super straight and sleek fashion, and she added a subtle hint of color with her lipstick.
What do you think about her look?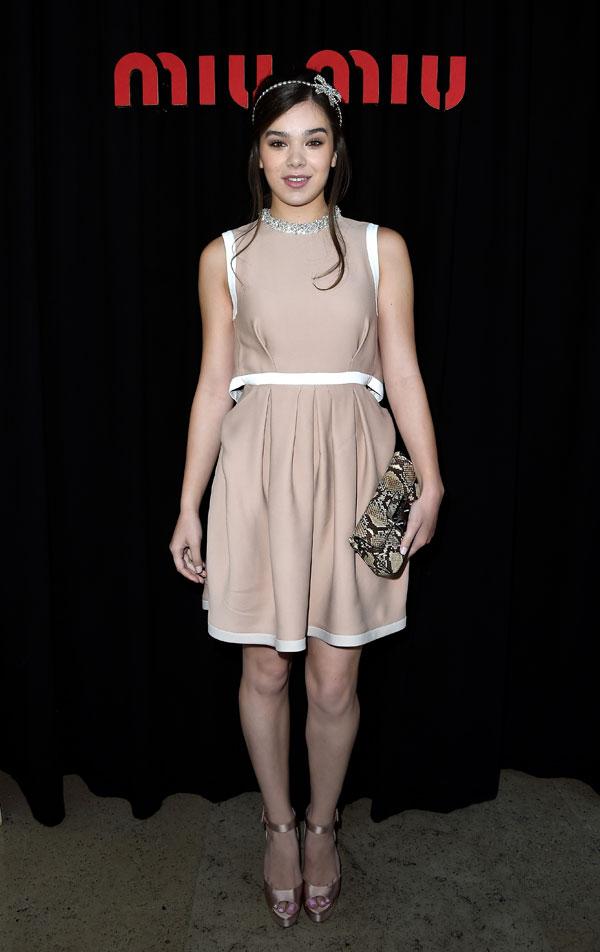 Wish you could go back in time and change your Sweet 16 outfit? If that were a possibility, you'd probably ask Hailee Steinfeld if she wouldn't mind you borrowing the pretty in pink ensemble she wore to the Miu Miu show at Paris Fashion Week.
Decked out in a pale pink sleeveless dress with subtle pleating, pink satin platforms, and a sparkly headband (complete with a girly girl bow, of course), Hailee looked age-appropriate, feminine, and chic.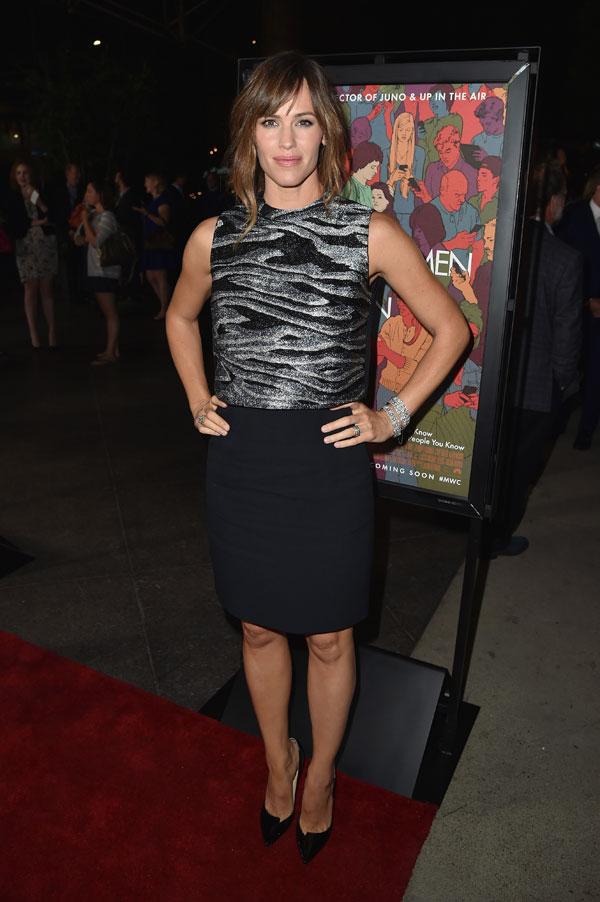 Take a break from swooning over Ben Affleck (and his performance in Gone Girl) and turn your attention to his gorgeous wife Jennifer Garner, please! The actress and mommy-of-three attended the premiere of her new movie Men, Women & Children wearing a sparkly little number that really drew attention to her toned biceps. She paired a sparkly black and grey printed top with a standard black skirt for a simple, sophisticated, and flattering red carpet outfit. Adding a casual element to the entire look, Jen styled her hair in a deconstructed 'do with loose waves layered around her face.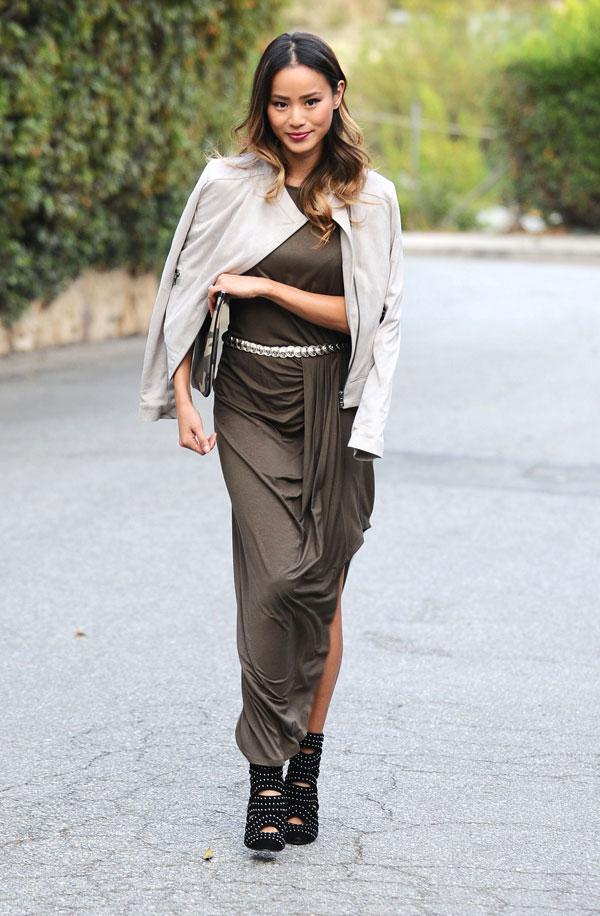 Photo shoot chic! Jamie Chung was spotted in Brooklyn leaving a photo shoot project wearing an outfit we hope was featured in the pics! The style icon rocked a draped army green maxi dress with dramatic heels (a pair we could only assume Kim K would envy) with a Elie Tahari DesigNation faux-suede moto jacket over her shoulders.
The edgy item is available only at Kohl's and retails for $130.
Continuing her streak of best-dressed moments, Modern Family's Sarah Hyland showed up to the Teen Vogue Young Hollywood Party decked out in a brightly colored DKNY design. This star last caught our eye for her surprising Christian Siriano crop top moment on the Emmys red carpet!
This red and blue mod look, styled by celebrity stylist Brad Goreski, was complemented with a bouffant-like ponytail and pointy red pumps.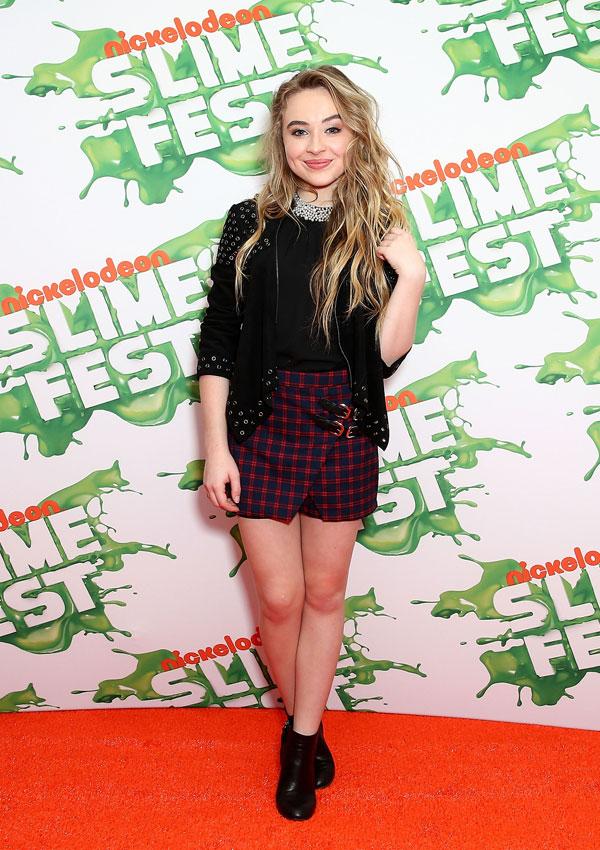 Apart from the BFF Award, Girl Meets World's Maya and Riley would most definitely take home the Best-Dressed yearbook superlative. Sabrina Carpenter, the actress who plays Maya on the hit Disney Channel show, attended the Nickelodeon Slimefest event sans her TV bestie wearing a puck-inspired outfit that we can totally see popping up on the show. She styled up a plaid mini with a rocker booties and a grommet-embellished jacket over a blouse with a bedazzled collar.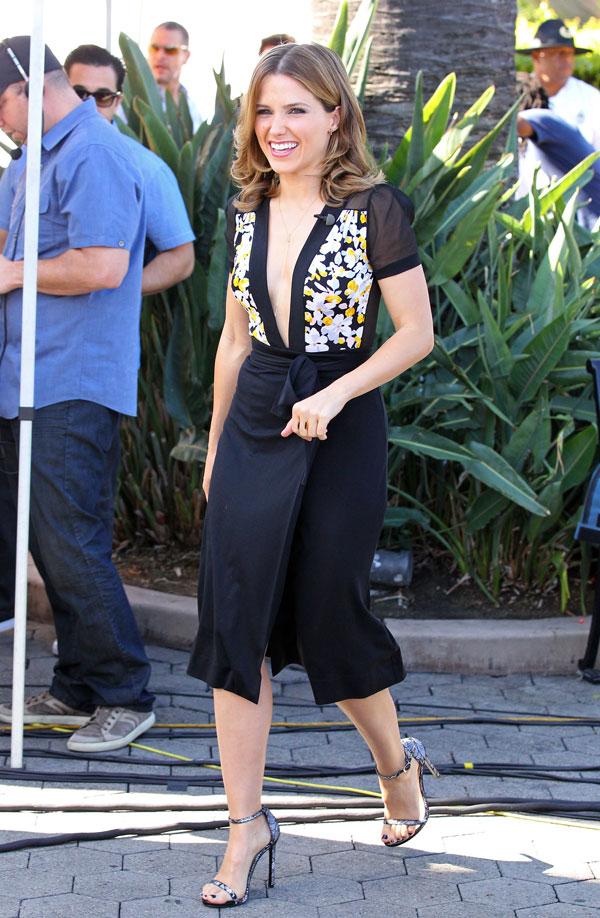 Check out Sophia Bush! The gorgeous celeb showed up to her Extra interview wearing a floral and black deep-V wrap dress with printed strappy sandals and a refreshing layered 'do. The best accessory of the entire look, though? That would be her always-endearing smile.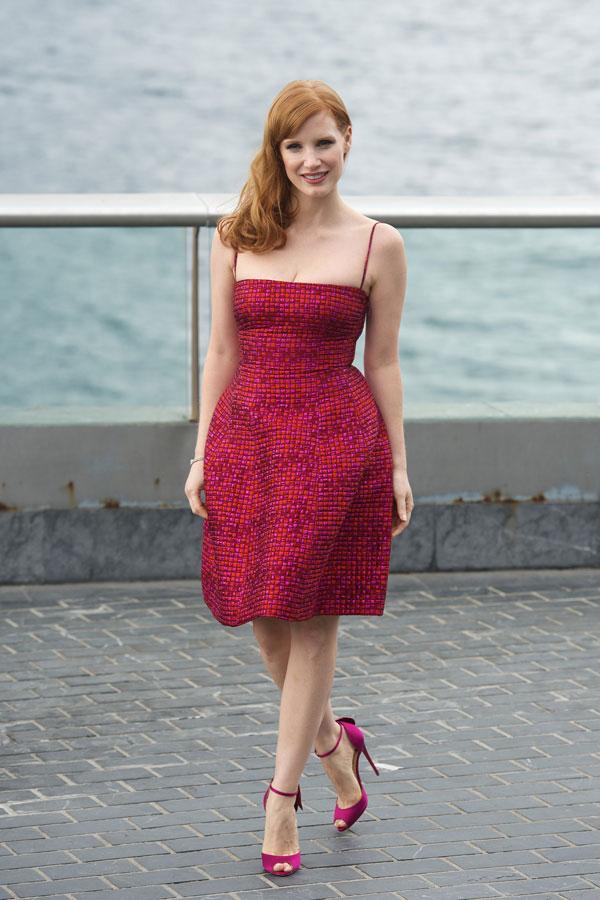 Making girly girls around the globe squeal with wardrobe jealousy, Jessica Chastain stepped out at the 62nd San Sebastian Film Festival for the photocall of her new movie, The Disappearance of Eleanor Rigby, wearing a printed pink, purple, and orange A-line dress by Dsquared². The spaghetti strap number was complemented with magenta peep-toe heels decorated with a floral applique on the ankle.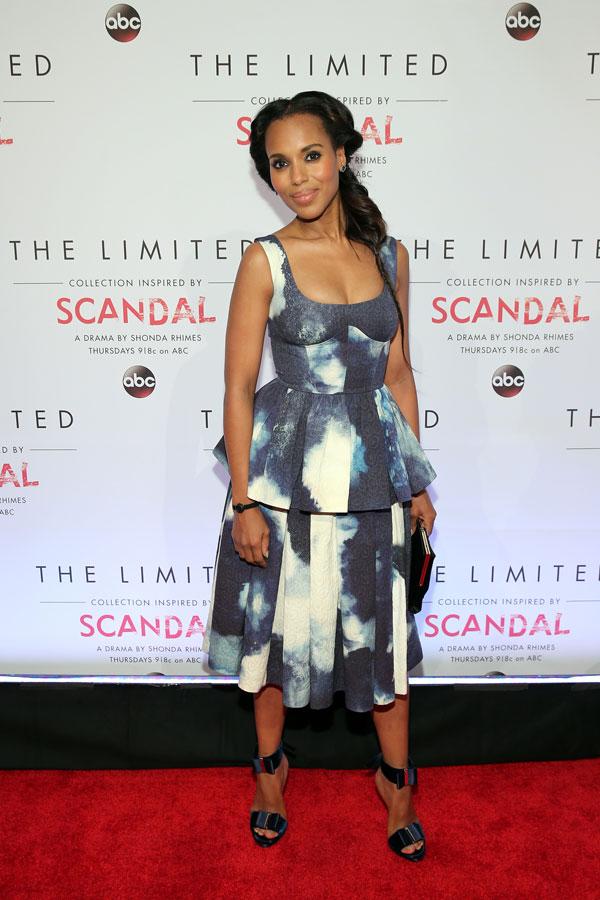 It's time to locate your peplum tops—Kerry Washington is bringing the look back. The actress was spotted at the launch event for The Limited's Scandal Collection, a line based off Olivia Pope's always-chic ensembles, in a printed Giles Deacon peplum dress that highlighted her tiny waist and a sultry bit of cleavage. We also couldn't help to notice that intricate braid—and her chiseled biceps! Send along any fashion and exercise tips you may have, Kerry. We're totally interested!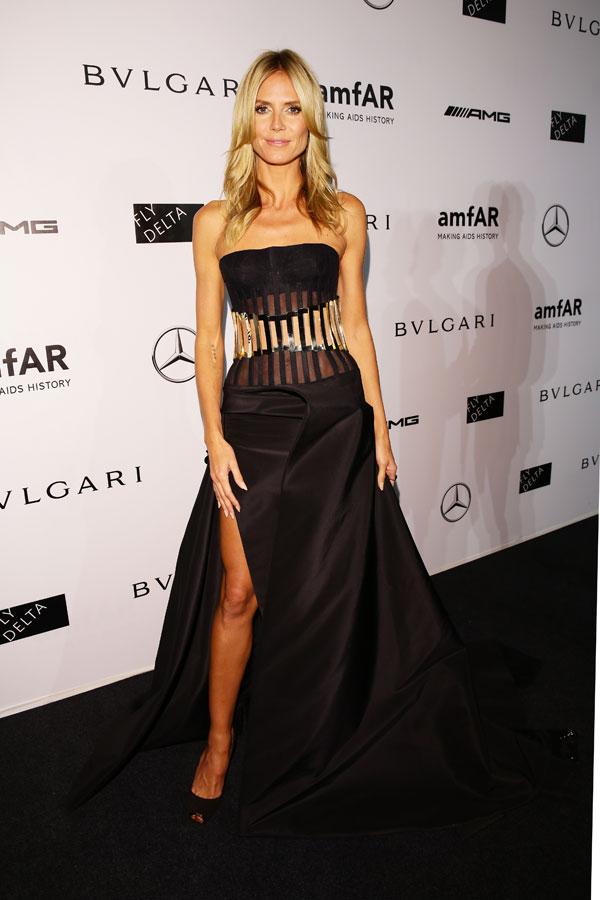 Only Heidi Klum could pull off a see-through bodice and a high-slit. And as the host and a judge of Project Runway, she's definitely used to some surprising garments! The supermodel turned TV personality rocked this Atelier Versace gown at the Milano amfAR Gala—an event attended by some of the biggest names in the biz.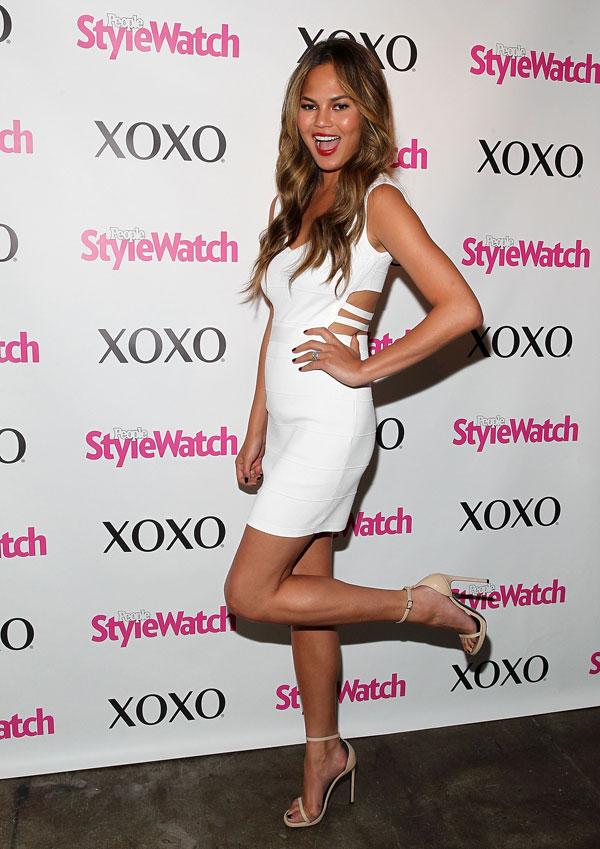 No white after Labor Day? Yeah, we're going to pass on that rule! Chrissy Teigen rocked a custom XOXO little white dress with sexy back cut-outs to the brand's campaign launch party at The Brickwood—and it was worth breaking that sartorial regulation. The supermodel is actually the face of the brand's fall campaign. She embodied the XOXO girl vibe perfectly with this carefree and cheery pose.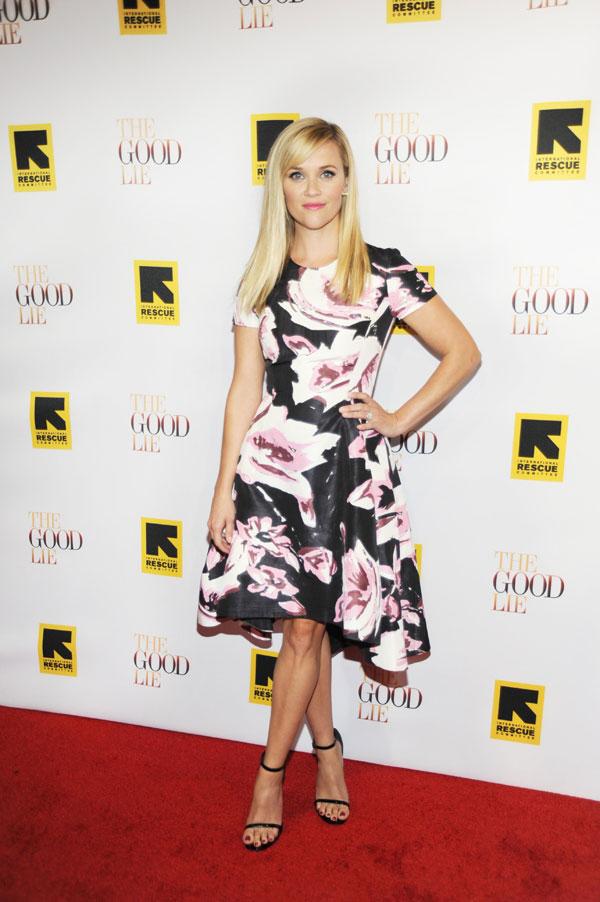 Looking like she was ready to go have tea with the Queen and Kate, America's sweetheart Reese Witherspoon showed up to The Good Lie premiere in Washington D.C. in a floral Christian Dior A-line dress. What impressed us about this look? The pretty pink blossoms looked like they had been painted on the black fabric!
She finished off her ladylike ensemble with a pop of pink lipstick to match and simple black shoes for a less is more approach.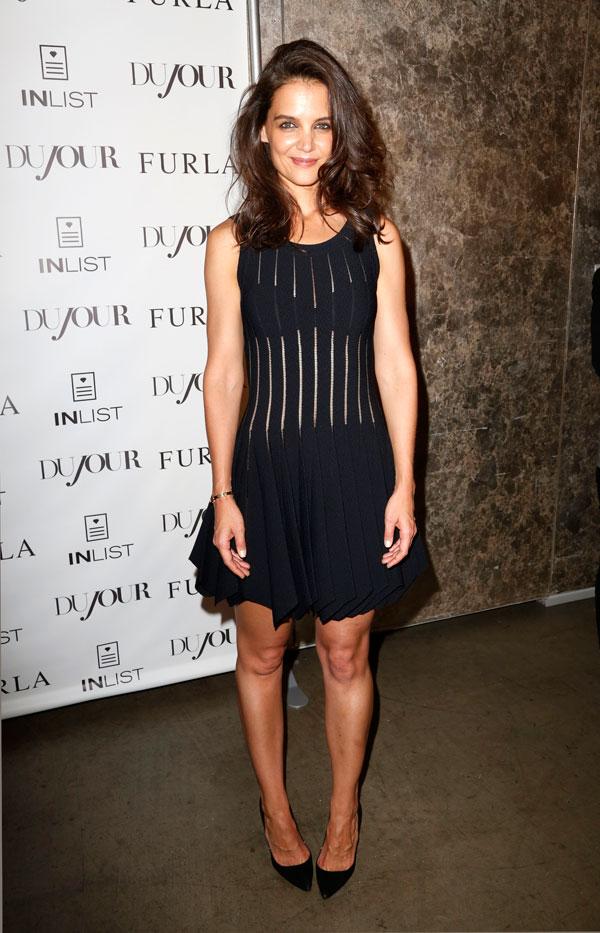 The girl next door just spiced up the LBD. Katie Holmes attended a Dujour Magazine celebration party wearing a fit-and-flare Azzedine Alaïa dress with major sex appeal. The design featured sheer and super thin vertical panels that tastefully showed off some skin (and the celeb's bra!). She paired the ensemble with wavy hair (spill on your fave Alterna hair care products, Katie) and black pumps.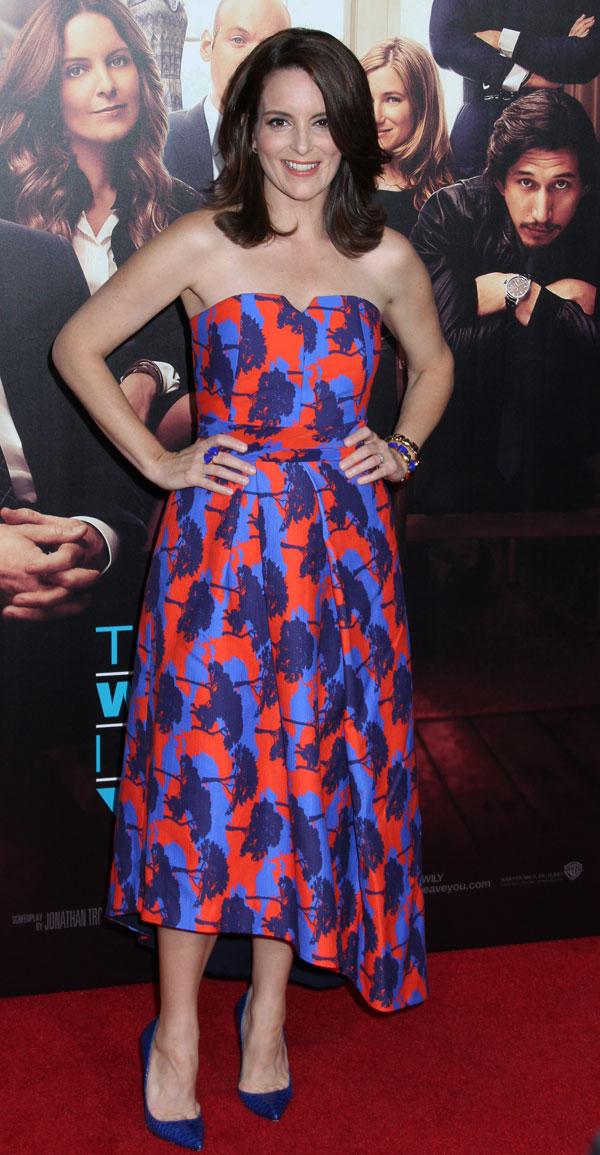 Funny girl Tina Fey (who basically has biceps of steal, we might add) showed up at the This Is Where I Leave You premiere wearing a pretty printed strapless dress à la the designer Osman.
Her flippy hair paired with the tea-length dress gave the look a feminine, 50s feel.
These comedians sure know how to make a red carpet impression.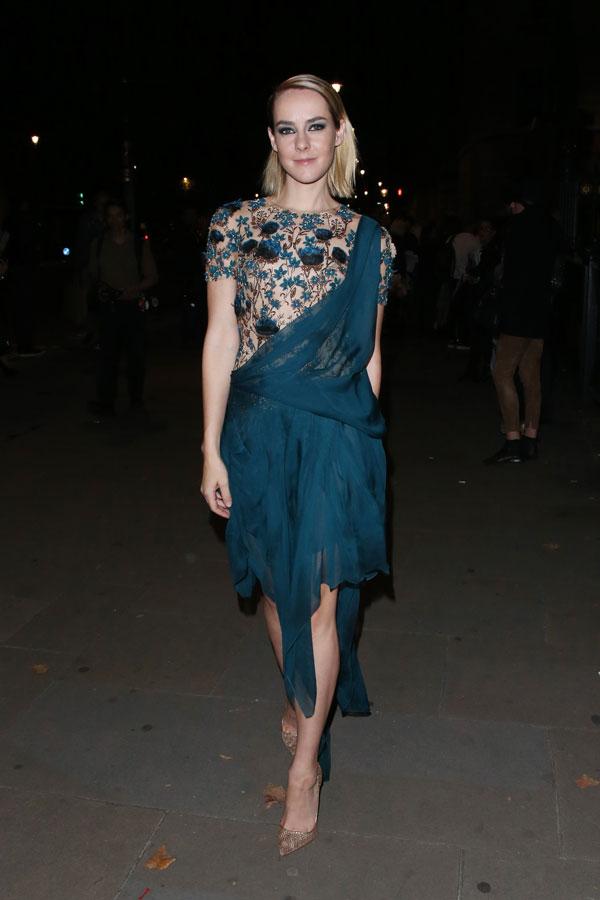 Much like NYFW's Monique Lhuillier show, London Fashion Week's Marchesa Spring/Summer 2015 debut rounded up some super stylish celebs in the most beautiful, feminine gowns you've ever seen. The Hunger Games' Jena Malone sat front row at the designer show sportin' a draped turquoise dress with intricate and elegant floral details.
But she wasn't the only celeb who showed up to the much-anticipated runway event. Rita Ora, Anna Wintour, and Olivia Palermo all donned their best for this moment in London Fashion Week.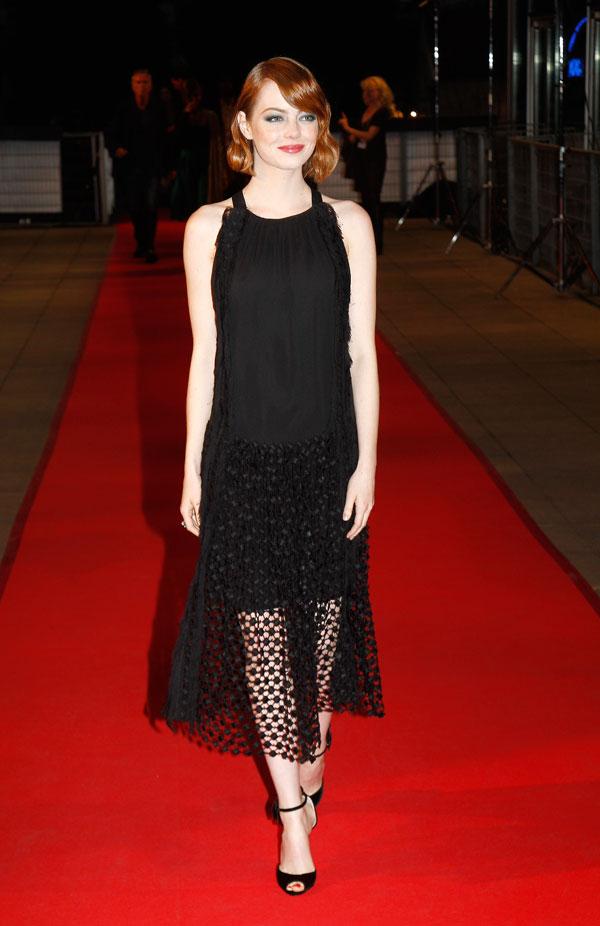 Maybe it's the haircut or just the time period of her new flick, but Emma Stone's outfits have been giving off major 20s vibes. Her look at the premiere of Magic in the Moonlight was basically what you'd expect a lady of the Golden Age to wear to a black-tie ball. She walked down the red carpet in a LBD, with a netted drop-waist skirt, by Chloé and peep-toe pumps. Without the netted skirt, this look could have been a bit too costume-y.
We have to imagine even Daisy would be jealous of this one.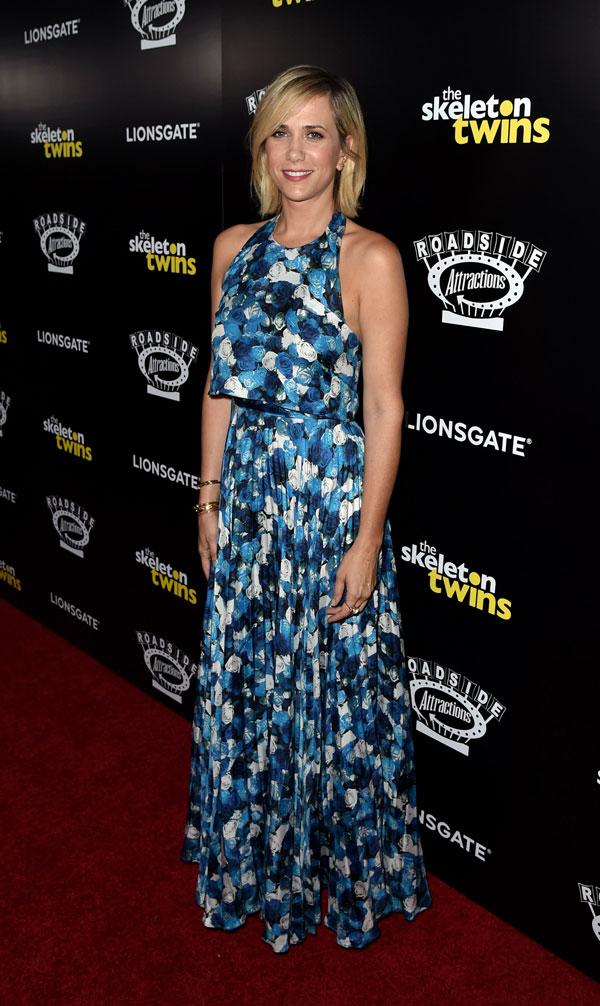 Big fan of Kristen Wiig's sketches? The girl can do prints, too. The celeb has been super busy this month promoting her new movie The Skeleton Twins, and most of the outfits she's worn out and about have consisted of bold geometric shapes and extravagant floral motifs in a broad range of rich colors. At the premiere of The Skeleton Twins, the celeb walked the red carpet in a Peter Som dress that looked like a pretty watercolor painting. The flowery print in calming blues is just the sort of thing you'd want to wear out to dinner on a fancy tropical location.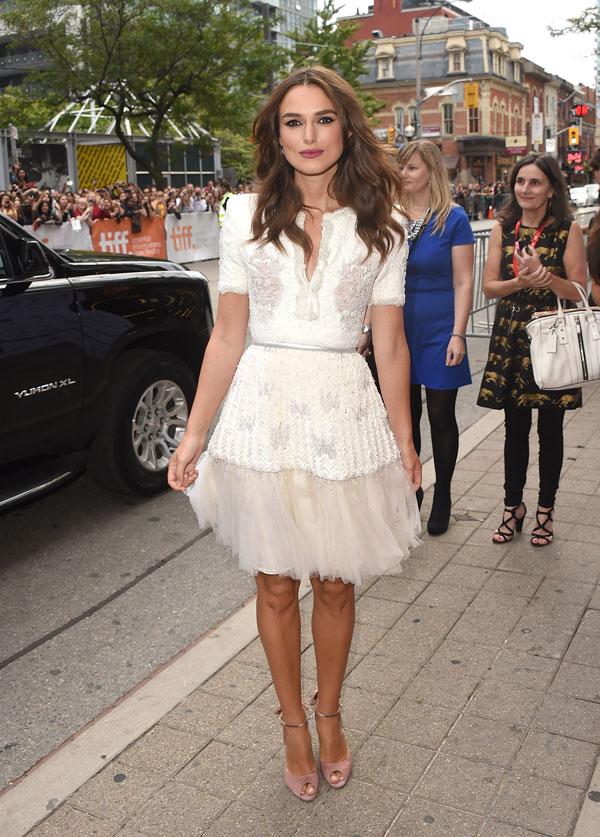 Move over, NYFW. TIFF is making moves with celebrity red carpet looks. Actress Keira Knightley showed up to the press conference for The Imitation Game wearing a shockingly beautiful Chanel Couture dress fixed with delicate and dainty lace and a tiered tulle skirt. With beaded embroidery, lots of texture, and a waist-cinching belt, this dream might be one of the best-dressed outfits Keira Knightley has ever owned. She played up the look with soft waves, a soft smoky eye created with multiple Chanel eye shadow hues.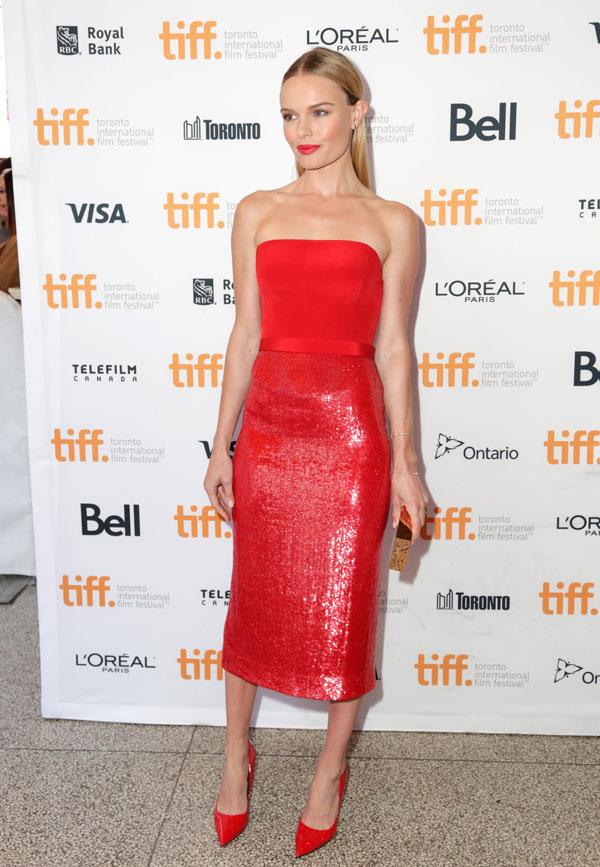 Kate Bosworth showed up to the Still Alice premiere at the Toronto International Film Festival decked out in the color of love. With slicked back strands and a bold lip, Kate Bosworth worked the cameras wearing a strapless Hugo Boss dress drenched in iridescent scarlet sequins. The silhouette of the design seems pretty standard, right? Not exactly. When the celeb turned around, she revealed that the bodice of the dress dips back with crisscrossing red panels to show off her toned back.
It's hot. Red hot.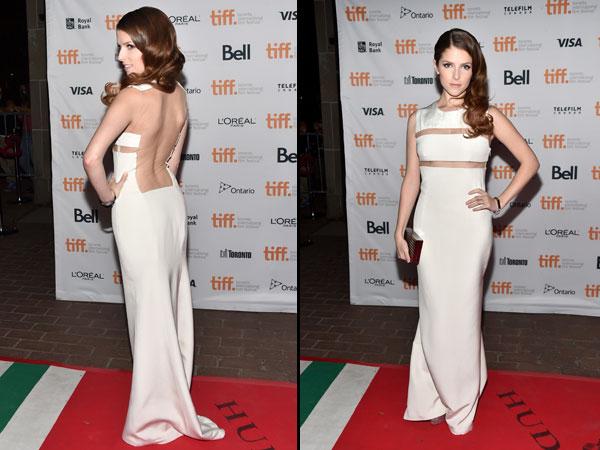 All those deep V dresses don't have anything on Anna Kendrick's backless number! The celeb attended The Last Five Years premiere at the Toronto International Film Festival this weekend wearing a creamy sheath gown that featured horizontal sheer panels on the front and an entirely open back that was quite the surprise. She paired her crisp ensemble with a sultry smoky eye look and Brian Atwood pumps! 
gisele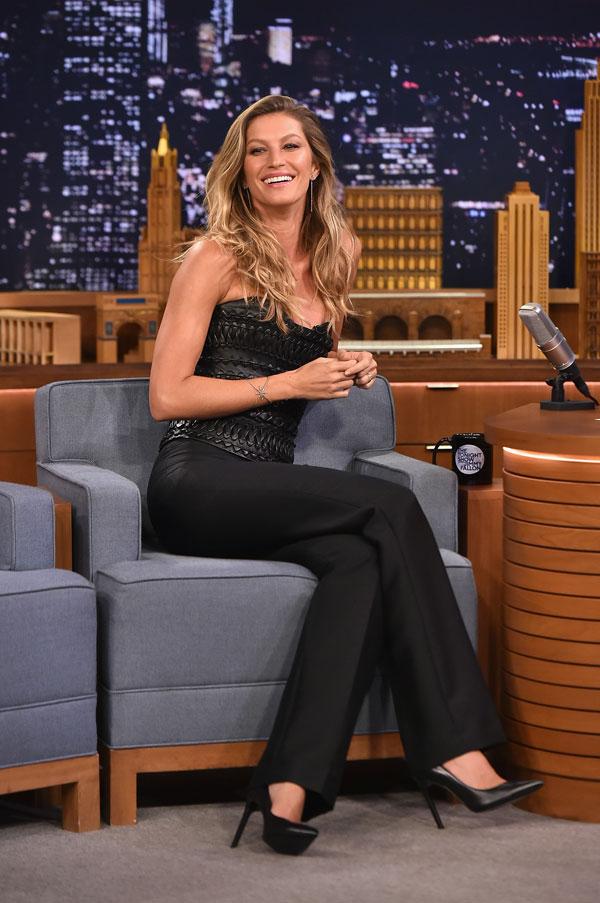 Worried that you'll look a little Emma Stone à la Easy A wearing a bustier in public? If you rock it like Gisele Bundchen you'll have nothing to worry about. The supermodel appeared on The Tonight Show Starring Jimmy Fallon rocking an Alexandre Vauthier black leather woven bustier from the designer's Spring/Summer 2014 Couture collection with black tailored slacks and black stilletos. It was a lesson in making business-appropriate pants into something steamy. She also did planks wearing this outfit, so there's that. 
Article continues below advertisement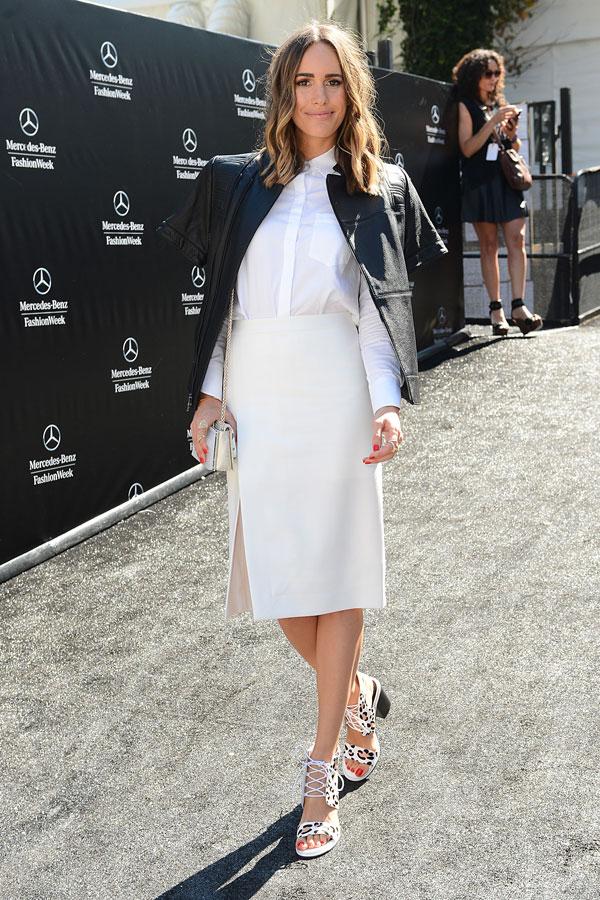 The steamy New York City weather didn't stop Louise Roe from wearing a leather jacket—or long sleeves for that matter! As New York Fashion Week kicks off, keep your eyes peeled for stylish, expressive, and sartorially genius outfits on all your favorite celebs, whether they're working the catwalk or not! The TV personality entered the tents at Lincoln Center wearing a white mid-length skirt with a tailored shirt and a leather short-sleeve jacket draped over her shoulders.
The outfit was clean and crisp but wasn't void of an added surprise. She rocked a pair of laced animal-print sandals that WILL be on our spring and summer shopping lists next year.
Article continues below advertisement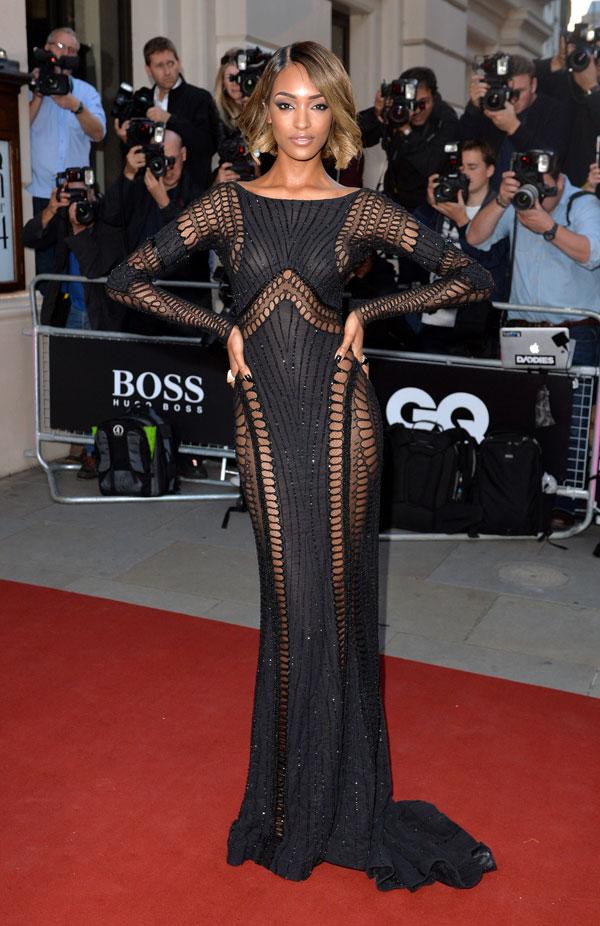 What's a red carpet without a few scandalous risks? At the GQ Men of the Year Awards, celebrities like Kim Kardashian (i.e. that latex bodysuit) and Jourdan Dunn decided to give sexy mesh and netted fabrics a spin. The young model showed up in a Zuhair Murad black slinky gown featuring see-through netted details up and down the long-sleeve dress. We couldn't help but think it was slightly reminiscent of that show-all slit moment Kendall Jenner wore earlier this year.
These models have no fashion fear.
Article continues below advertisement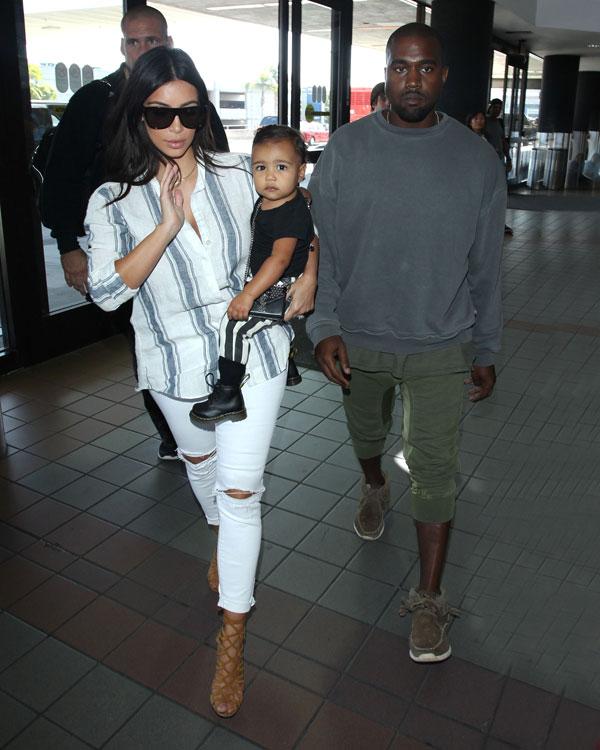 Kim Kardashian and North West clearly have a sweet sartorial spot for mother-daughter coordinating ensembles. Instead of becoming total twinnies in matching monochromatic outfits, Kim and her baby both incorporated stripes into their laidback travel looks. And let's be real, Kim had to know what she was doing when she picked out North's clothes. While the reality TV star paired her ripped skinnies with a blue and white striped button-up, little North rocked black and white vertical stripe pants with her solid black tee.
Both celebs looked adorable, as per usual. 
Article continues below advertisement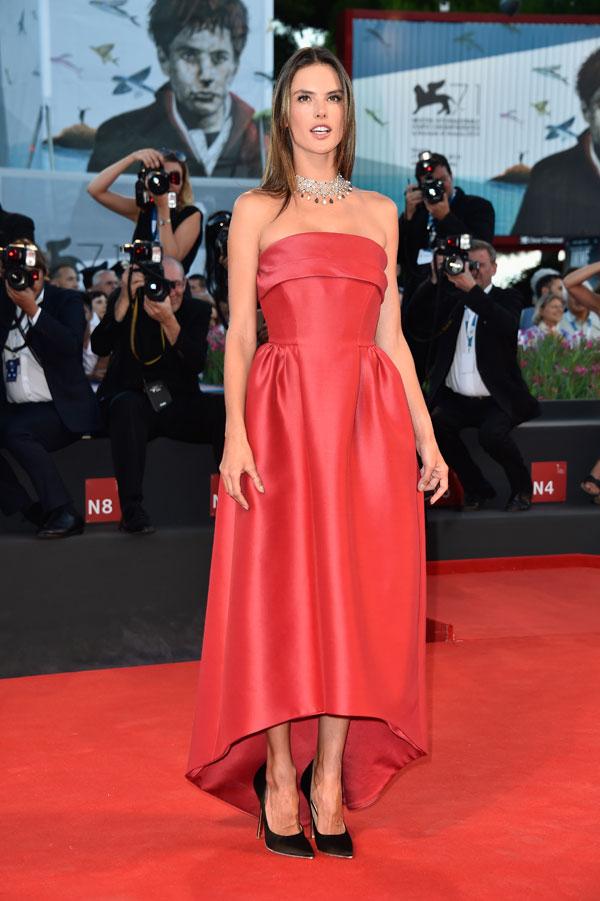 The Emmys inclined us to believe that red was going to be the color to watch this year at A-lister events. Victoria's Secret model Alessandra Ambrosio made that style forecast that much more reliable when she walked the carpet at the 71st Venice Film festival wearing a strapless Alberta Ferretti gown in a vintage glam silhouette with the statement choker of your dreams. The A-line skirt highlighted her tiny waist, while the subtle asymmetrical hem gave the world at peak at her slim stems and her classic black stilettos.
Article continues below advertisement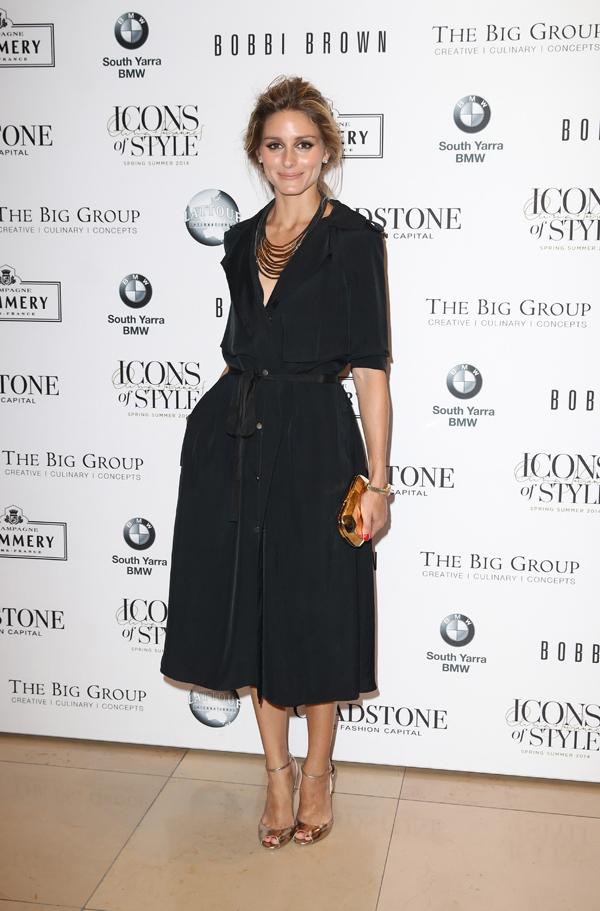 Fashion show attire is Olivia Palermo's specialty. Ever seen her around NYFW? The girl can dress. The star attended a runway show in Melbourne with her hunk of a husband Johannes Huebl wearing a relatively casual LBD with glam accessories. The celeb contrasted her ladylike dress with an undone, voluminous ponytail, smoky eye makeup, and a black multi-strand necklace. Her gold peep-toe shoes added the pop of metallic the ensemble needed.
Article continues below advertisement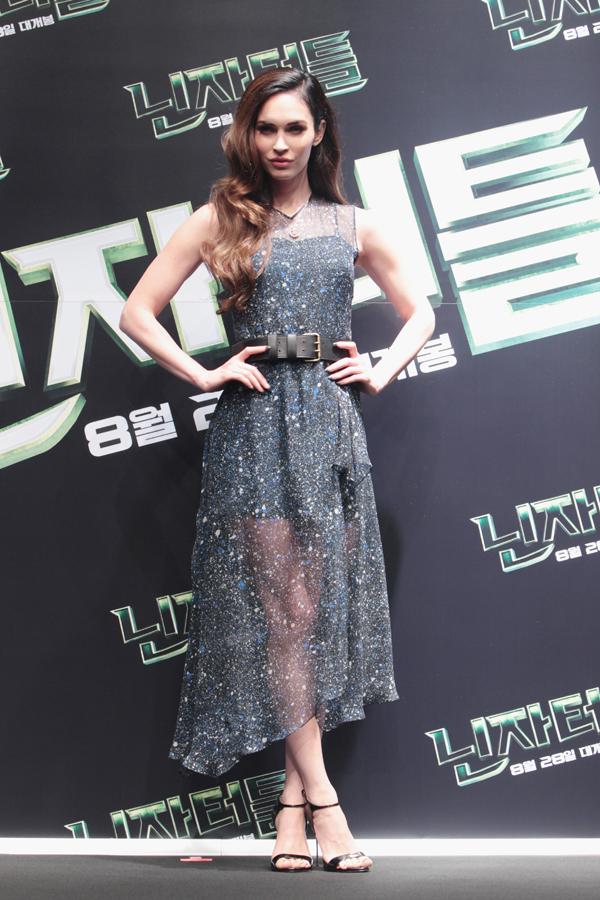 Star light, star bright—where in the world do we get Megan Fox's sparkly midnight sky-like dress? The Teenage Mutant Ninja Turtles star, who has been killin' lately with her red carpet looks, chose this shimmering design for a press conference appearance for the new superhero flick. The see-through overlay (combined with her glam 40s waves) dressed up the relaxed, day-to-day silhouette. We'd suggest this pretty little number for a rooftop affair, don't you think? 
Article continues below advertisement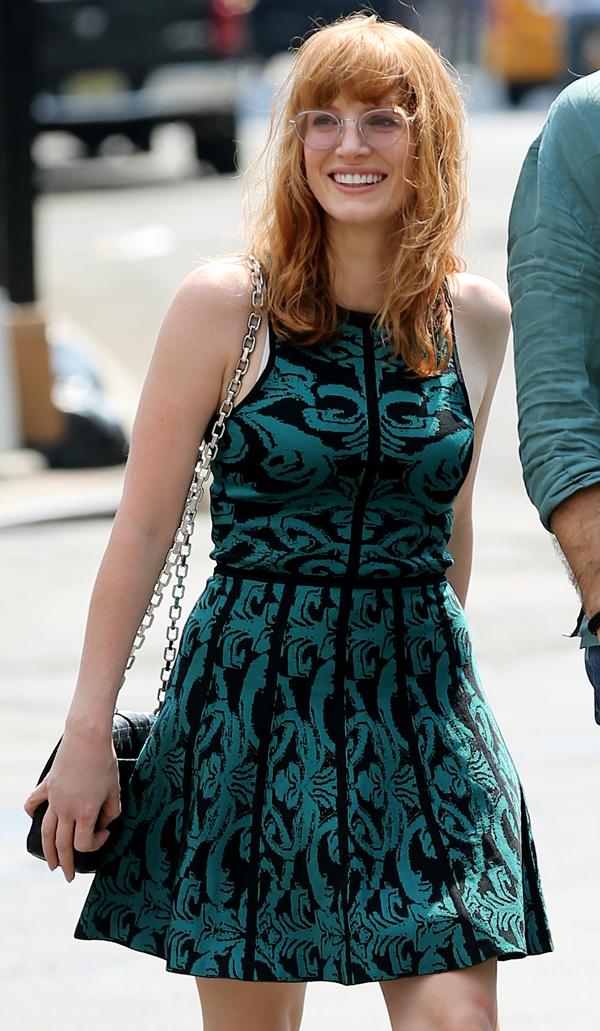 The days of summer are winding down, and we're going to make sure to copy Jessica Chastain's relaxed look before the warm weather leaves us behind. The redheaded actress was spotted looking laidback and leisurely, wearing a printed A-line sundress through the city. She accessorized her flattering statement dress with a quilted leather carry-all and rose-tinted sunnies. Cheery, bright, and so on-trend.
Article continues below advertisement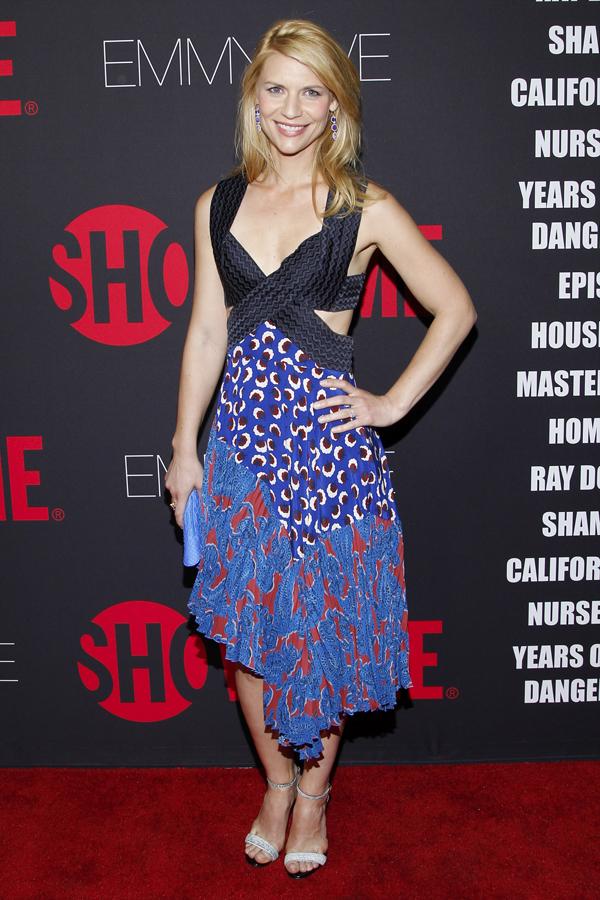 How do you preface an Emmys gown? With a relaxed printed dress that practically asks for a few spins on the dance floor. Homeland's Claire Danes attended the Showtime 2014 Emmy Eve Soiree in a multi-print Stella McCartney dress. With a playful asymmetrical hem and sexy side cut-outs, this is just the dress to kiss summer goodbye in. The blonde beauty accessorized her outfit with Irene Neuwirth jewels and simple sandals. What do you think she'll wear tonight? 
Article continues below advertisement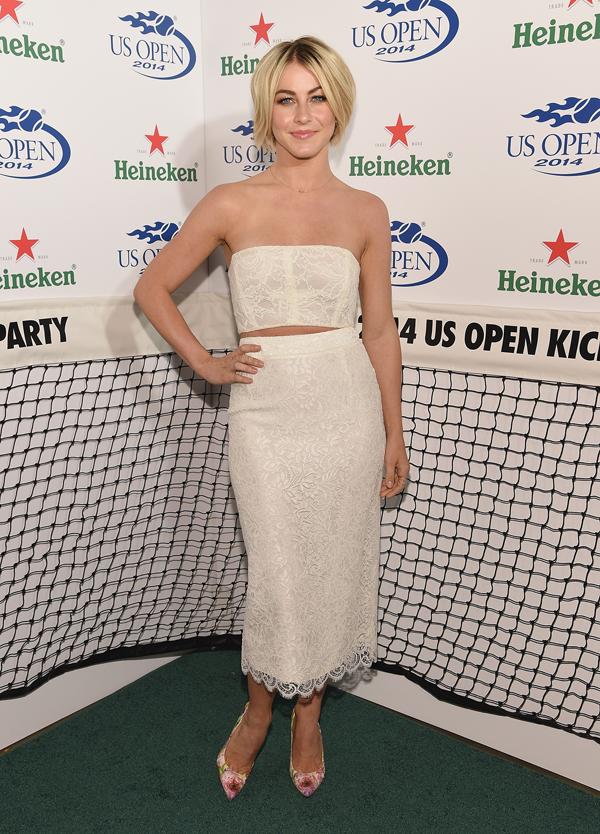 Julianne Hough aced it when it came to her girly girl look at the Heineken US Open Kick Off Party last night. The glowing celeb, looking seasonally appropriate, showed up to the sporting event launch in a sweet Monique Lhuillier lace strapless crop top and midi skirt. Her exposed dark roots and undone hairstyle gave the look some contrast, while her floral pumps pulled the entire ensemble together. If there's one thing this outfit does, it's that it shows off her long, lean dancer limbs! Move over, Jess Biel. Check out Julianne's biceps!
Article continues below advertisement
rihanna3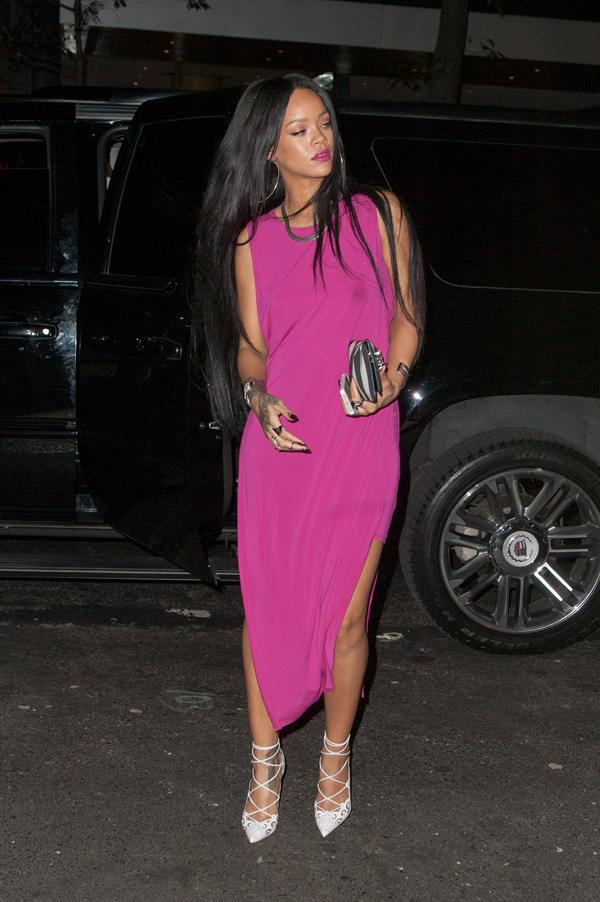 When you have the overwhelming urge to wear something hot pink (even if it's not Wednesday), reach for a neon shift like CFDA Fashion Icon recipient Rihanna. She even paired her sexy high-slit dress with silver hoop earrings. Take that, Regina George. Bad Gal RiRi dressed up her simple Helmut Lang shift with multiple cuffs, a sleek 'do, and razor-cut white lace-up stilettos. Because what other shoes would you even expect Rihanna to pair with this designer moment?
Article continues below advertisement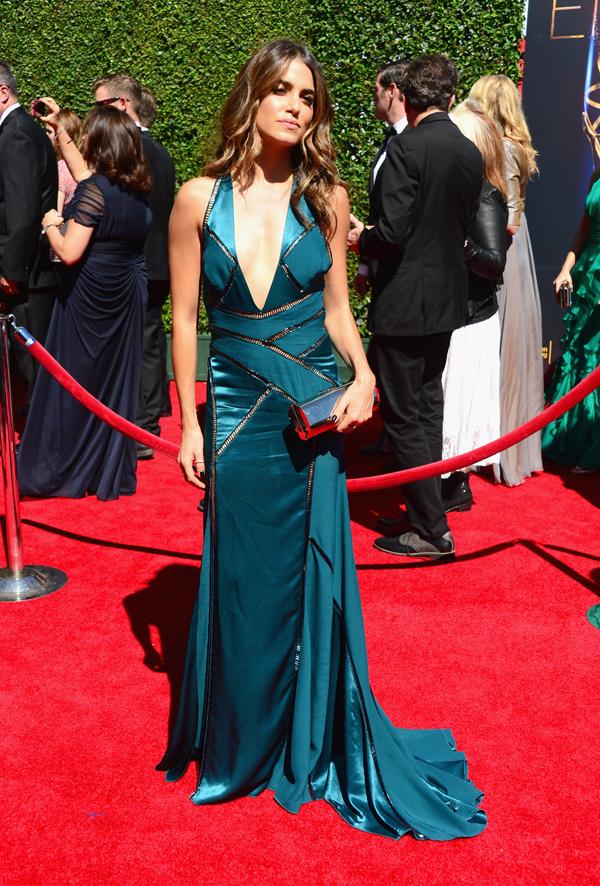 Everybody wants to be Nikki Reed right now. She's making major career moves in H-Wood, dating one of the hottest men on the planet (we do love you, Ian Somerhalder), and wears deep V dresses (like that little moment above) by Versace. Yeah, that life sounds A-OK with us!
The actress attended the Creative Arts Emmy Awards yesterday and walked the red carpet in a silky teal evening gown by Versace with sexy see-through detailing. Her beachy waves and smoldering eye makeup finished off the look.
Article continues below advertisement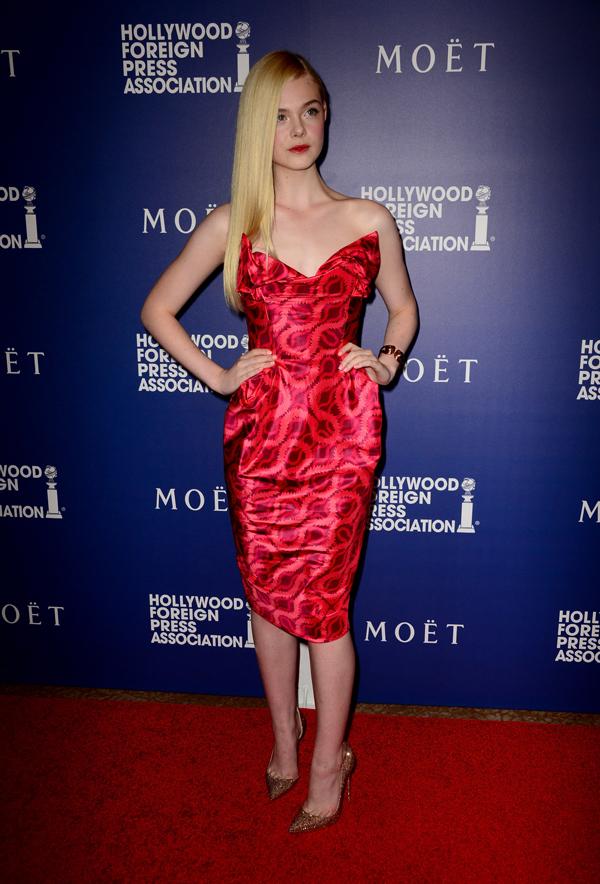 It was always difficult not to notice Elle Fanning's innate sense of style, but the Maleficent press tour really confirmed that this H-Wood youngster has fashion smarts beyond her years. We've yet to see Elle in your typical LBD.
The 16-year-old (that means she owns a 1998 date of birth, people) attended the Hollywood Foreign Press Association's Grants Banquet wearing a strapless red Gold Label squiggle dress by Vivienne Westwood and metallic pointy-toe pumps. As per usual, she wore her long blonde hair in straight style and chose a minimal makeup look with a blush, rosy cheek.
Article continues below advertisement
rachel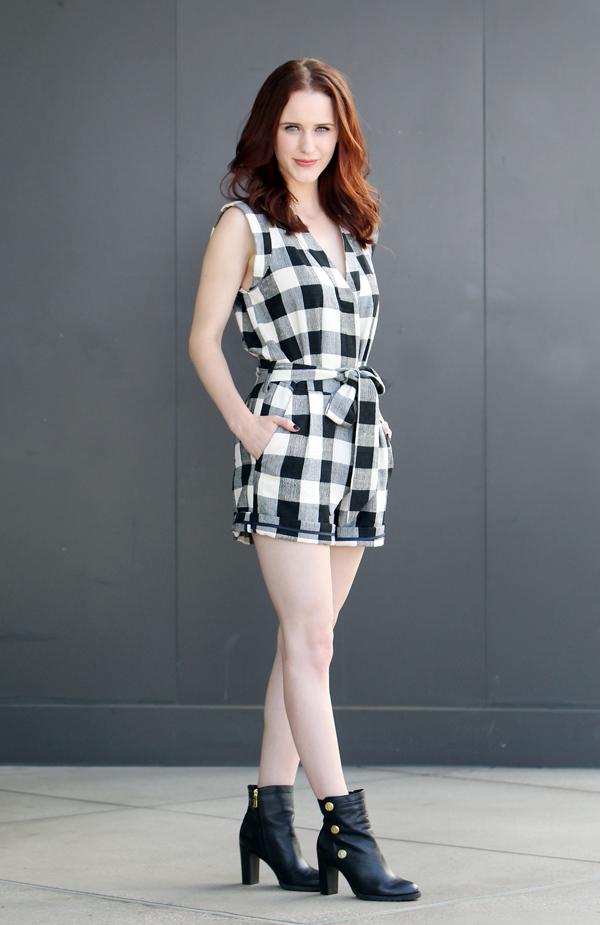 House of Cards' Rachel Brosnaham took a walk on the edgy side for her EXTRA interview with Renee Bargh. The actress, who you might also know from the movie Beautiful Creatures, wore a black and white checkered romper that accentuated her waist with a matching sash.
Instead of pairing the one-piece with pumps or dressy stilettos, Rachel went for a rock star approach with black leather closed-toe booties. The neutral color palette made her rich red locks pop against her flawless complexion.
Article continues below advertisement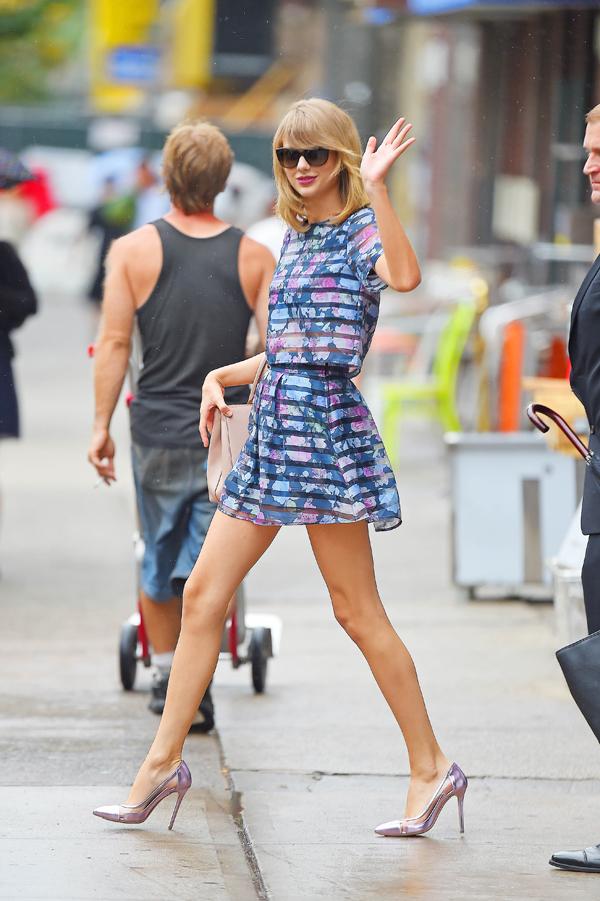 Oh, an affordable celebrity fashion moment makes any style-obsessed gal feel all warm and fuzzy inside. Taylor Swift was spotted yesterday out and about (as well as at her press conference for The Giver) in a floral and striped crop top and skater skirt combination that was from none other than one of your very favorite shopping destinations—H&M! Each item in this pastel and printed outfit can be mixed and matched to create a countless amount of looks, from a structured black trouser with the top to a button-up blouse with the flirty skirt.
Throw on a pair of oxfords and you'll be decked out in T-Swift-approved clothes!
Article continues below advertisement
rosie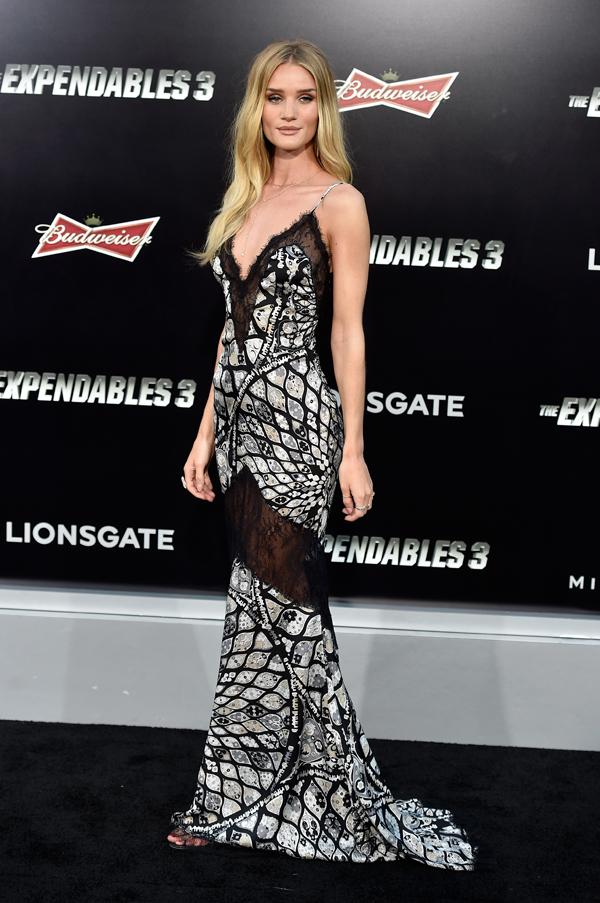 Rosie Huntington-Whitely's look at The Expendables 3 premiere was the hottest negligee-meets-evening gown combination we've ever seen. You know that 13 Going on 30 scene where Jennifer Garner walks out of the house in a nightie?
This is the red carpet version of that sexy moment.
Rosie's lacy number was designed by Emilio Pucci, a design house known for their playful, 60s prints. The dress was complemented with a delicate body chain and subtle makeup.
Article continues below advertisement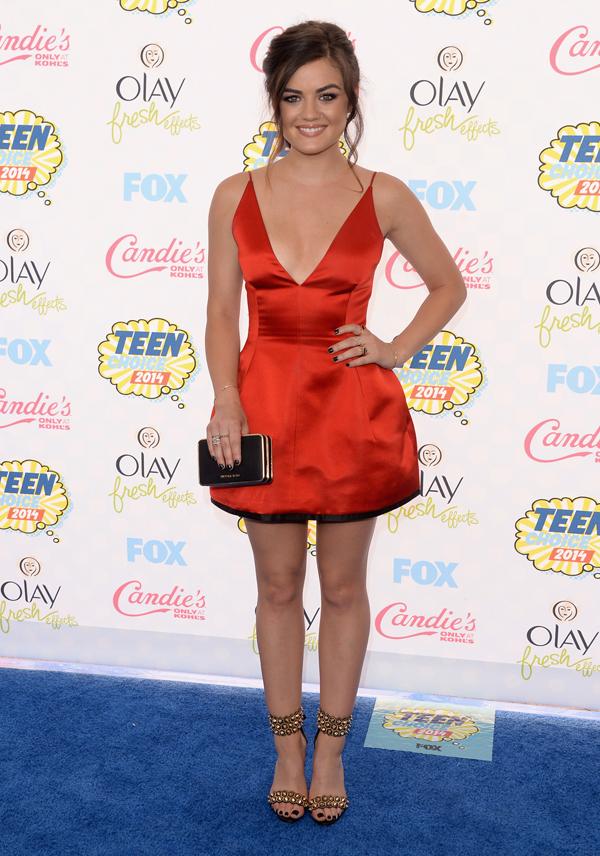 Continuing her streak of success, Lucy Hale took home the Best Actress in a drama series for Pretty Little Liars at the Teen Choice Awards. So what did she accept the big Surfboard honor in?
A scarlet red satin Christian Dior mini that couldn't have hugged her super fit bod better. The sultry number (did you see that deep V?) was paired with studded Brian Atwood pumps and a deconstructed braid. The look had depth, sass, and totally fit Lucy's gleaming personality.
Article continues below advertisement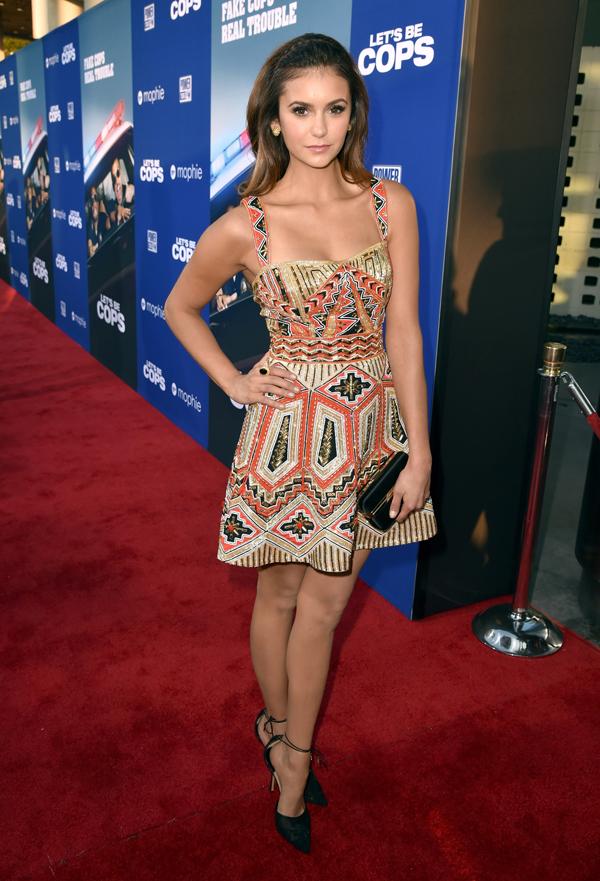 You may have realized that Nina Dobrev's press tour has brought a lot of attention to the men in her life. Yes, we can confirm that all her guy friends are SUPER hot, but we think it's about time to give the fellows a break and talk fashion.
After all, her dress at the Let's Be Cops premiere was steamy enough! The actress walked the red carpet in an embroidered tribal print mini by Zuhair Murad. The A-line dress featured geometric designs of warm oranges, browns, and golds, all of which were constructed out of beads.
Adding a playful element to the look, she styled her locks in loose waves with a single braid.
Article continues below advertisement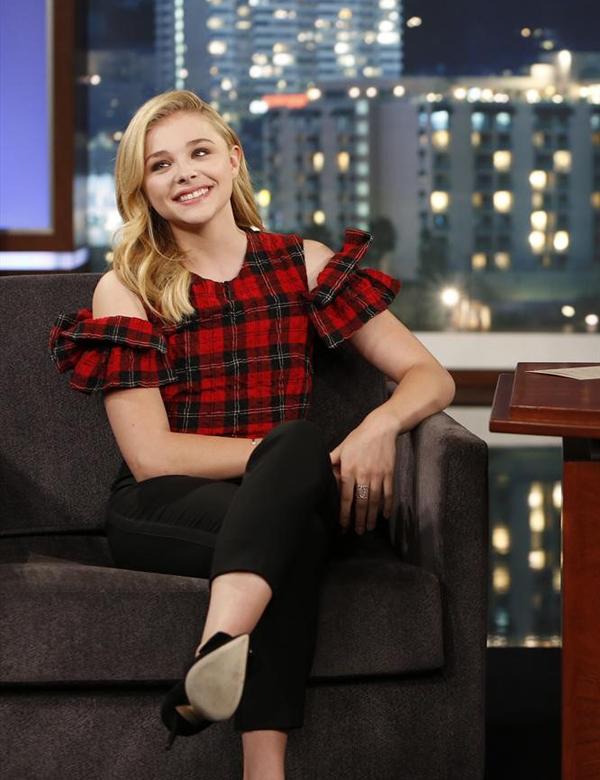 It might have been a tad holiday, but Chloe Moretz made it work. The young style star made an appearance on Jimmy Kimmel Live! wearing a plaid crop top with frilly, shoulder-baring sleeves and high-waisted tailored slacks. She paired the outfit with a bit of bling on her pumps—shoes that looked strikingly similar to those heels that Sex and the City's Carrie Bradshaw leaves in the closet Mr. Big built her. Right?
Article continues below advertisement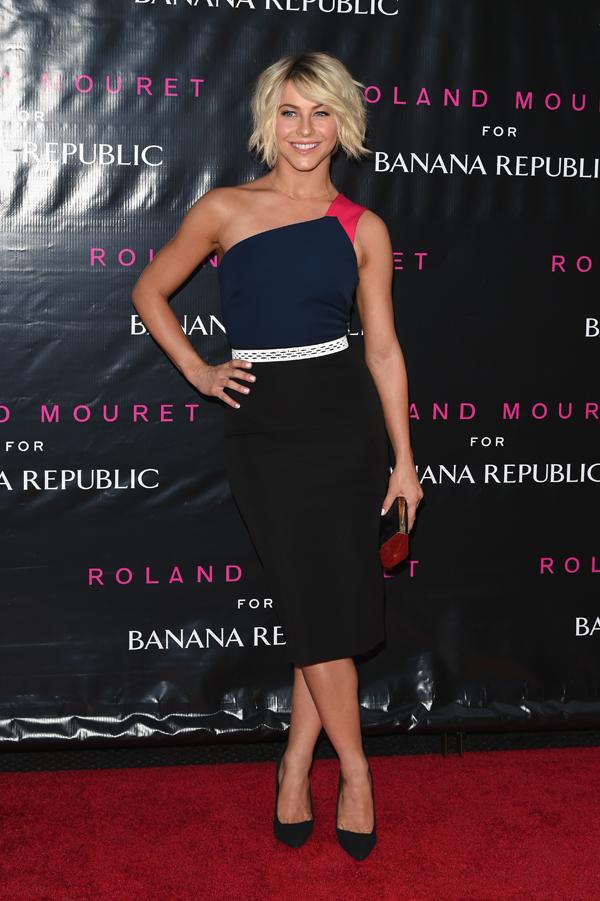 Designer Roland Mouret has teamed up with Banana Republic to create a collection of his signature mid-length dresses that are designed to highlight and flatter the female body. Oh, and the celebs are diggin' it.
At the launch event, a very sophisticated Julianne Hough was spotted wearing the one-shoulder color-blocked number with a contrasted tousled 'do.
The dresses, which are available in color stories from back and white to navy blue and pink, also don't top $165!
Affordable and celeb-adored. Sign us up.
Article continues below advertisement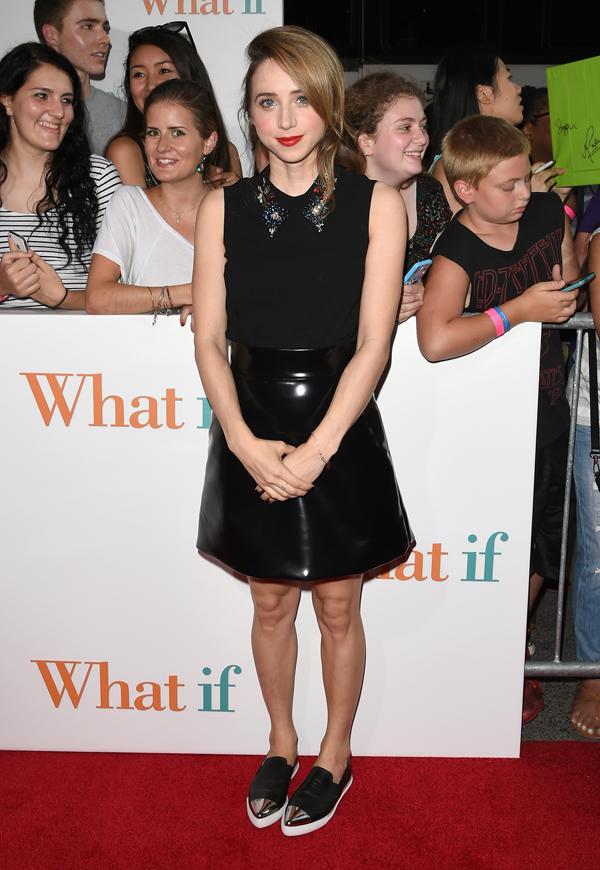 The red carpet doesn't usually get visited by flats, so when we find that a celebrity passed on a pair of pumps, we check things out. Zoe Kazan walked the carpet at the premiere of her new movie, What If, in silver cap-toe loafers (perfect for fall, we might add!) instead of your average heel.
Wearing a leather A-line knee-length skirt and a tank with an embellished collar, Zoe's look combined a fun mix of preppy silhouettes and rock star edge. 
Article continues below advertisement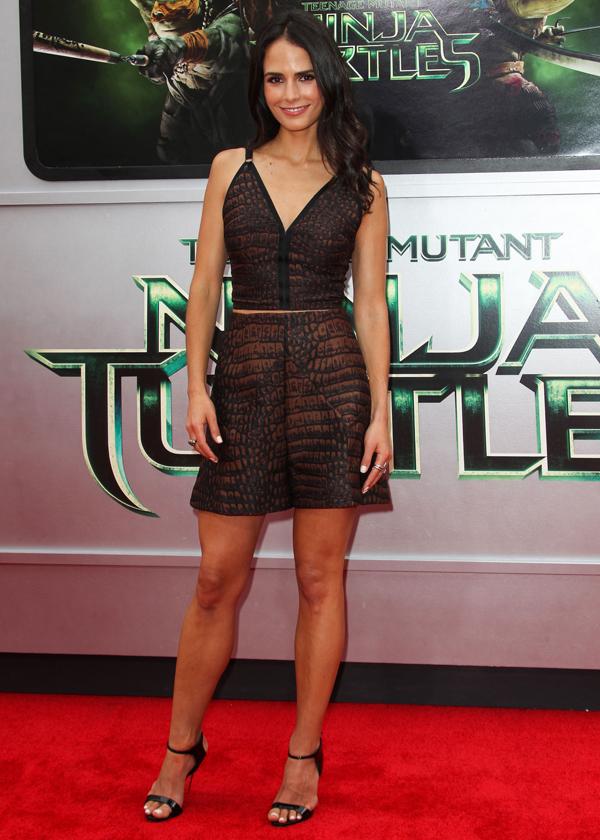 Working a reptile-inspired shorts set, Jordana Brewster really showed her support for the Teenage Mutant Ninja Turtles movie. She rocked the red carpet in the black and brown high-waisted shorts that she wore with a matching textured V-neck crop top that showed off the tiniest bit of midriff.
The look is a tad dramatic, so she toned it down with simple black sandals and loose waves.
Article continues below advertisement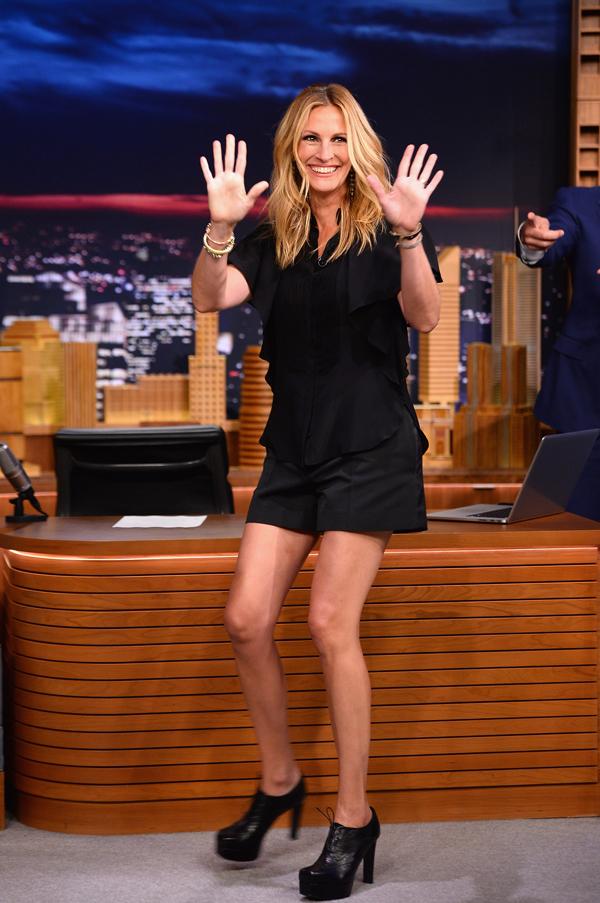 Julia Roberts emits a cool girl vibe—this we know. Ever since the days of Pretty Woman, we've been in love with her perfectly textured locks and that day-brightening smile. But what we've really picked up through the years (and countless red carpet arrivals later) is that Julia Roberts has a specific, simple, and clean-cut fashion sense that is uniquely her own.
She doesn't lean towards a whole lot of sequins or embroidery, as it's usually a structured, well-fitting neutral she chooses to display.
Last night, Julia Roberts appeared on The Tonight Show Starring Jimmy Fallon in just that. While chatting it up with Jimmy, she rocked black shorts (those legs!), a black short-sleeved tailored top, and chunky black booties. Her hair had that rock star feel, while her makeup was reminiscent of her glowy personality.
Article continues below advertisement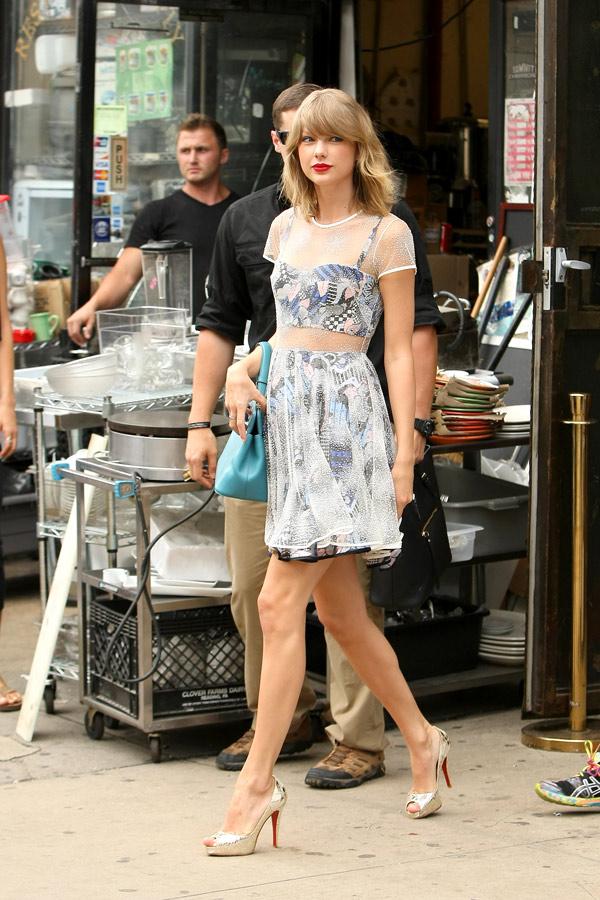 Not into crop tops? No problem. You don't have to completely bare your midriff—you just need to call up your girl T-Swift and ask her about that flirty Novis NYC dress. The singer was seen strolling through New York City yesterday in what appears to be a matching crop top/skirt combo but it's really a designer dress that's topped off with a short-sleeve sheer and sparkly overlay.
The illusion of an outfit was paired with what appear to be metallic peep-toe Louboutins (because why NOT add more sheen?) and a structured BVLGARI tote bag.
Article continues below advertisement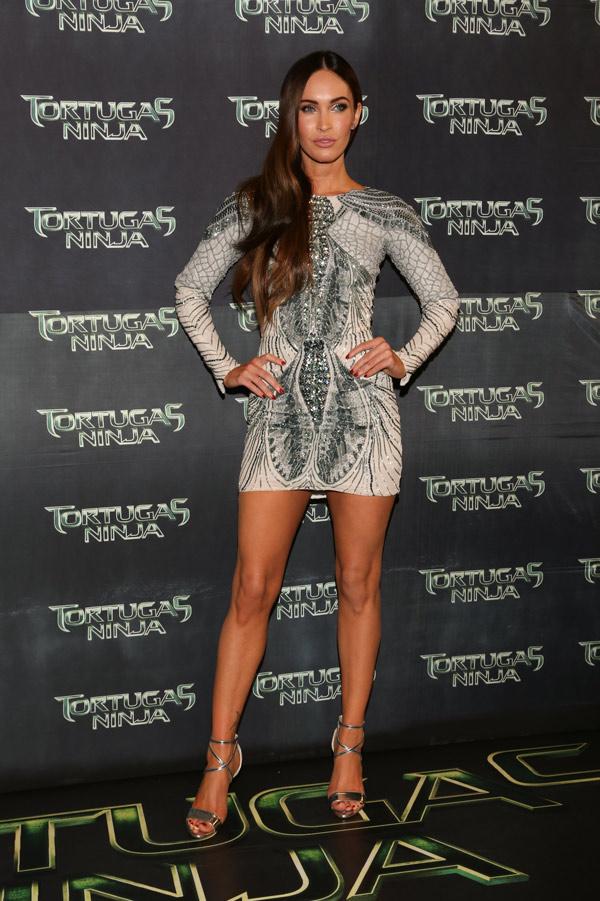 Has Megan Fox ever worn anything that wasn't sexy? But like, ever? The celeb, who, prior to this, was seen wearing a black leather bondage skirt WITH a matching crop top, showed up at the Mexico City premiere of the Teenage Mutant Ninja Turtles movie in a long-sleeve silk Zuhair Murad mini dress that was intricately decorated with beaded embroidery and sequins.
It actually kind of resembled the marking on an amphibian's skin, which is actually kind of perfect considering the flick's plot. She paired her mini with strappy silver sandals and wavy, luscious locks. 
Article continues below advertisement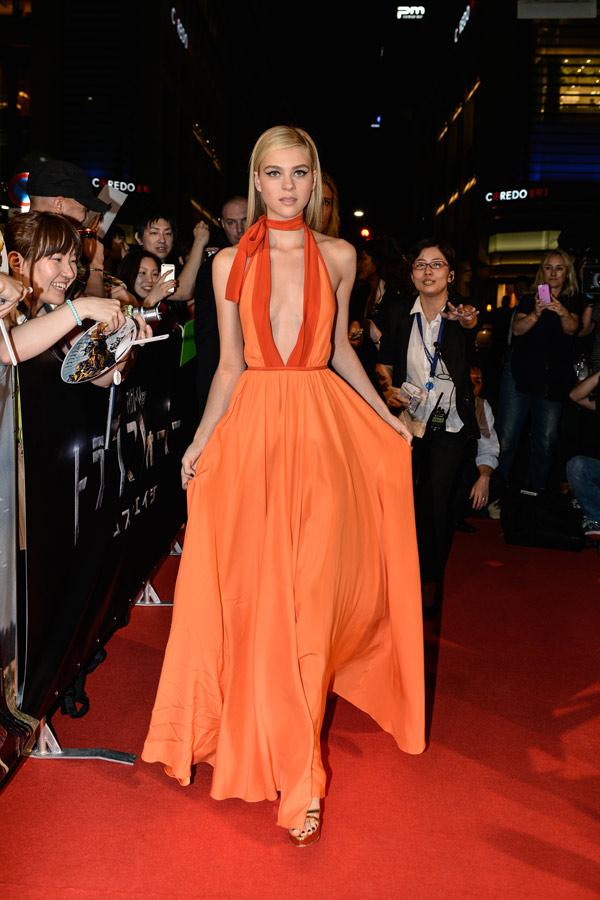 Her Transformers press journey has landed her in hot leather minis, crop tops galore, and now, one of the most daring, intriguing red carpet silhouettes of our time.
That's right. Nicola Peltz broke out the deep-V gown—and in a vibrant orange shade at that. The celebrity, decked out in a retro cat-eye, worked the carpet in a Prada gown that cut down to right above her naval. The dress, which was also had a super sexy open-back, fastened around her neck in a girly bow.
At only 19, Nicola is making style moves that celebs wait decades to attempt. Wondering when she's going to land a Vogue cover? Yep, us too.
Article continues below advertisement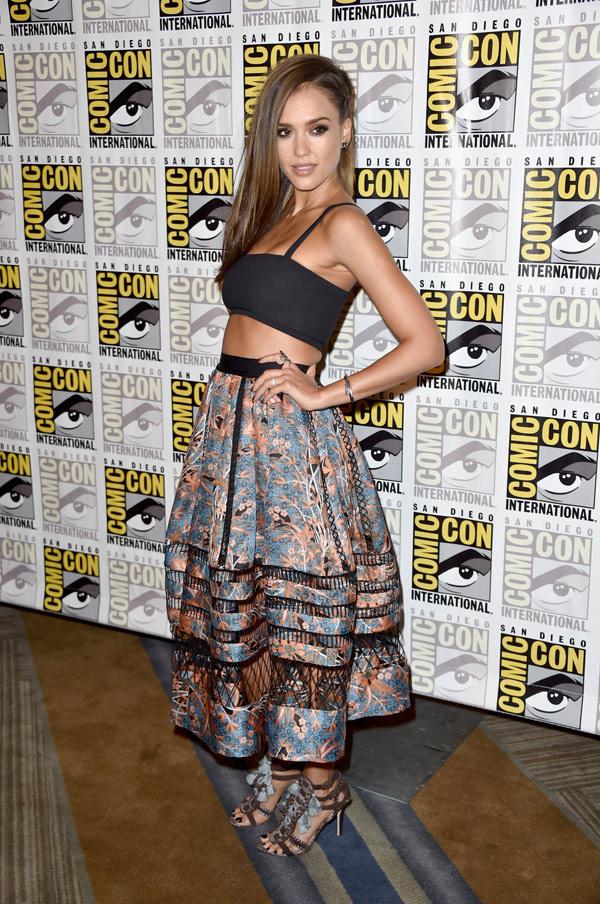 Wondering how to transform a classic midi skirt to something a bit sexier? Jessica Alba's latest look should do it! The star showed up to promote her latest Sin City movie at Comic-Con wearing a printed Zimmerman midi skirt with tiers of mesh horizontal panels that subtly showed off her lean legs. She paired the voluminous skirt with a black bandeau top and statement sandals.
She added even more drama to the ensemble with her edgy 'do—one that featured an extreme side-part decorated with rock star braids.
Article continues below advertisement
rosie huntington-whiteley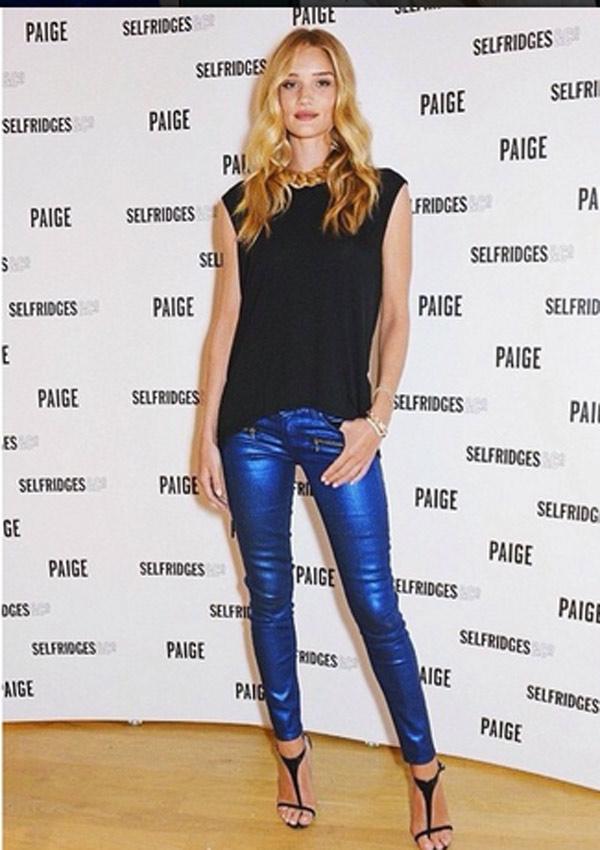 Rosie Huntington-Whiteley just gave the phrase "blue jeans" an entirely new meaning. The celebrity showed off her legs for days in a pair of Paige Denim's Indigo Zip jeans coated in an electric 'Blue Galaxy' finish. No wonder Harry Styles is so smitten with this pretty lady.
The model paired the statement motorcycle-esque pants with a black shell, black stilettos, and a chunky gold chain necklace.
Article continues below advertisement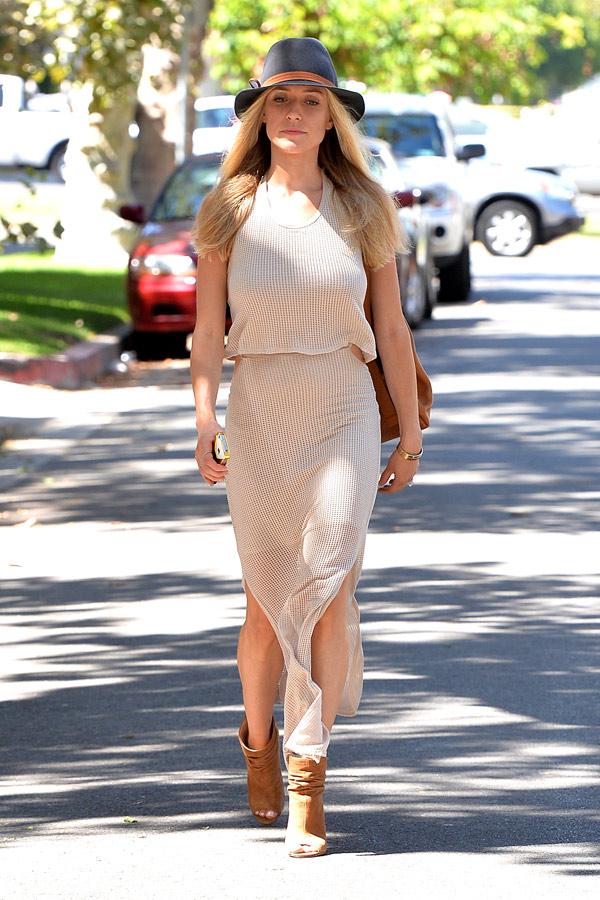 For an easy, breezy summer style done right, turn your head to celebrity mom Kristin Cavallari! The star, who gave birth to baby number two just weeks ago, was spotted wearing a draped and perforated cream maxi dress that showed off her lean legs via two subtly sexy slits on each side.
Her wealth of shoe knowledge led her to a pair of peep-toe Kristin Cavallari by Chinese Laundry booties that gave the outfit a boho vibe—that and the wide-brim hat, of course.
Article continues below advertisement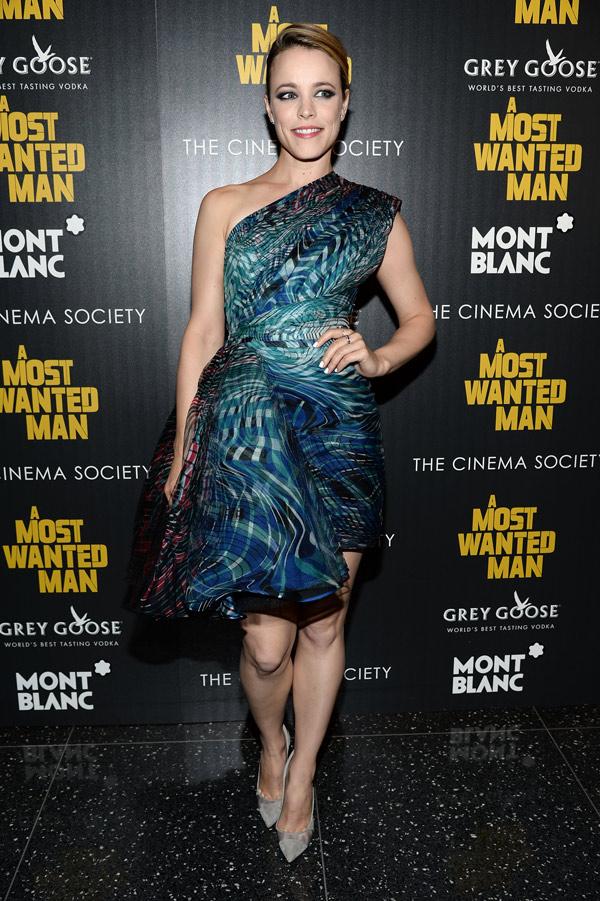 To pick one element of Rachel McAdams' Zuhair Murad dress to fawn over would be a disservice to the design. This one-shoulder cocktail number is one of the best articles of clothing she's ever (and we mean EVER!) worn. The silk dress features a multi-colored (see the pink on the side?) printed textile that looks like something you'd find in a whimsical, aquatic dream. Ariel would totes be jealous.
It includes multiple asymmetrical elements, including a gathered overlay that flares into a flirty shape. She paired the dress with grey understated pumps and an alluring eyeliner look. 
Article continues below advertisement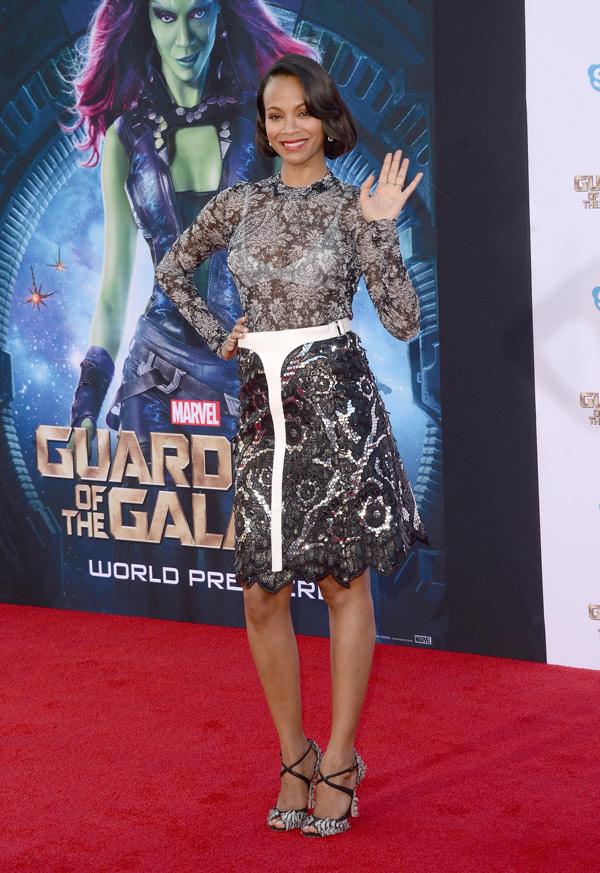 She's not nearly the first celebrity to indulge in a see-through blouse for a red-carpet, paparazzi-attended occasion, but hey, better late than never! Right? Zoe Saldana shocked many when she attended the Guardians of the Galaxy premiere in a printed and see-through blouse that completely revealed her white bra. It was clearly intentional, for those of you who are still wondering why she didn't remember to pick up the nude undergarment for the big day. She tucked the blouse into a knee-length skirt decorated with silver and black sequins and what looks to be white leather detailing around the waist.
Finishing off the Louis Vuitton outfit of multiple textures, Zoe grabbed a pair of feathered black and white pumps!  
It's a bold look, but it's a trend you better start watching! 
Article continues below advertisement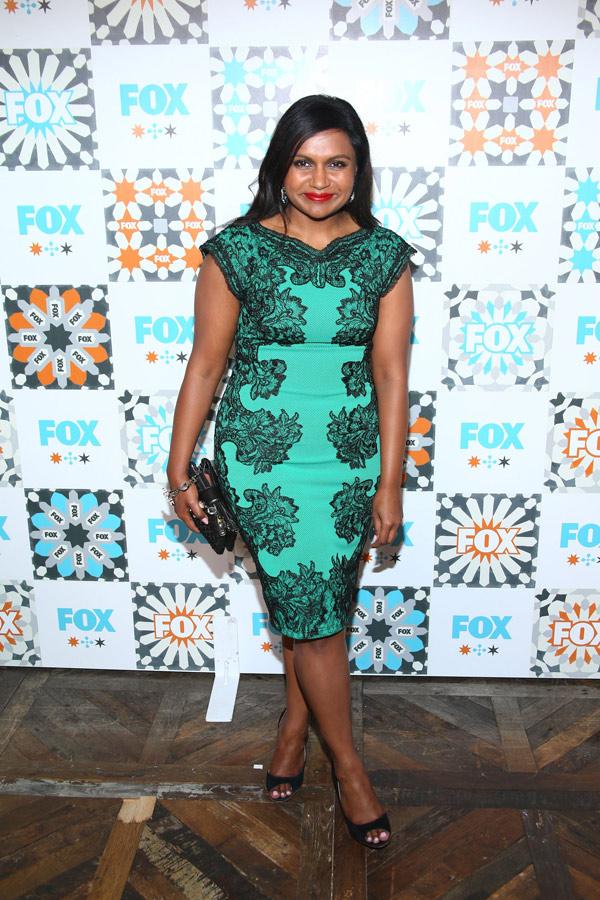 An All-Star she is, indeed. The Mindy Project's Mindy Kaling stunned at the FOX Summer TCA All-Star Party in a green shift dress with a detailed black lace overlay. The Tadashi Shoji dress, which hugged her bod without flaw, was minimally accessorized with black peep-toe pumps, silver earrings, a simple black clutch, and a red lip. Simplicity is sometimes the chicest! 
Article continues below advertisement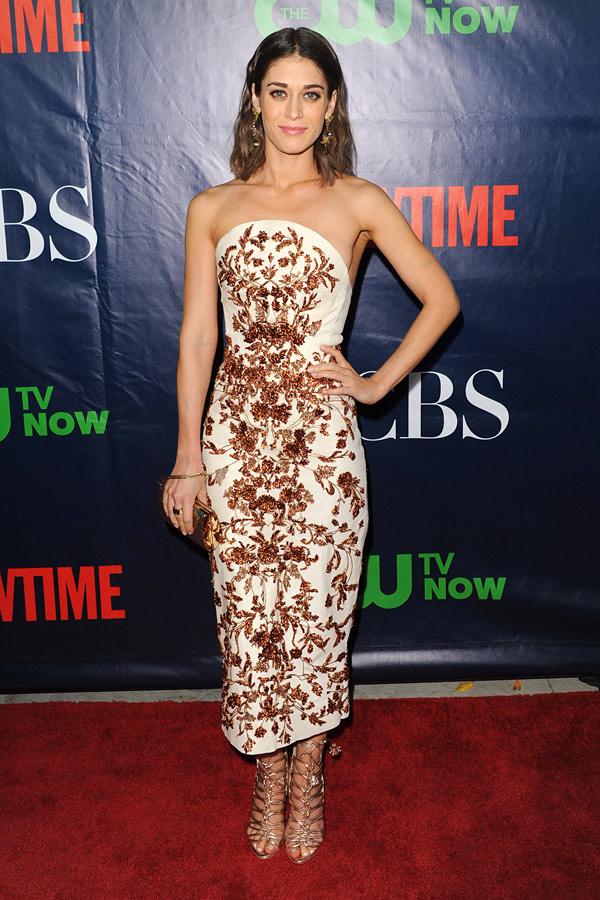 Mean Girls is ten-years-old, but Lizzy Caplan's wardrobe is fresher and more daring than ever. The Masters of Sex superstar attended the CW and Showtime party during TCA in California wearing an embroidered Marchesa dress and metallic laced sandals. It's a daring look—all that intricate embroidery, the modern neckline, the ankle-length hem—but Lizzy pulled it off like a champ.
Unlike many other Marchesa dresses of the past, this number is relatively bold, edgy, and rocker-esque! With that being said, we can't wait until the next designer creation shows up on the red carpet. What's it going to be, ladies? 
Article continues below advertisement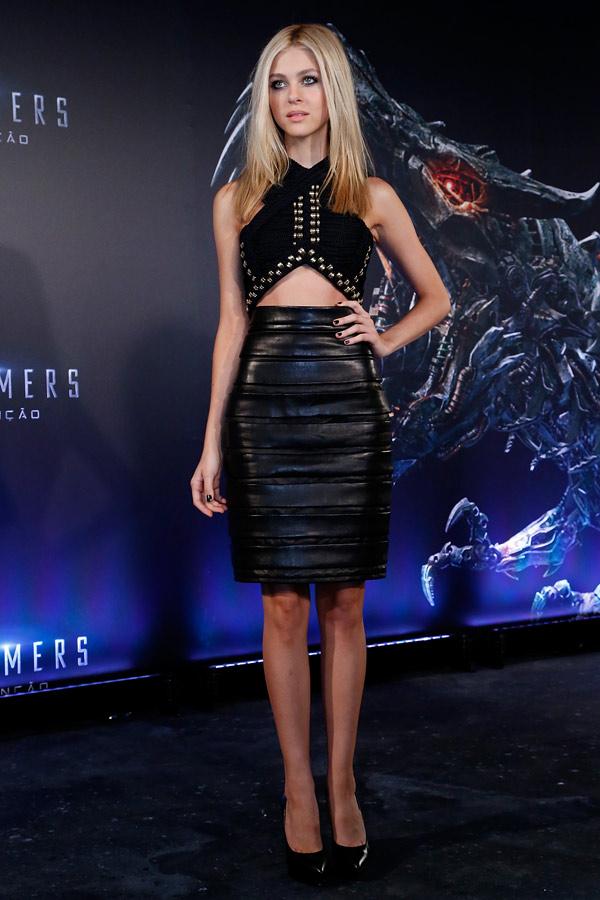 Nicola Peltz's awesomeness isn't just wrapped around the fact that she was once in a Miley Cyrus music video. Her onscreen talent speaks for itself (she landed a role in the new Transformers flick, after all) and her ability to confidently flaunt fashion-forward ensembles is way beyond her years.
Yesterday, at the Rio de Janeiro premiere of Transformers: Age of Extinction, the celeb walked out in an outfit that was a combination of edginess and everything cool. Nicola rocked an embellished Balmain crop top with a paneled leather pencil skirt, appropriately matched up with an intense smoky eye and tousled waves.
SO. AMAZING. 
Article continues below advertisement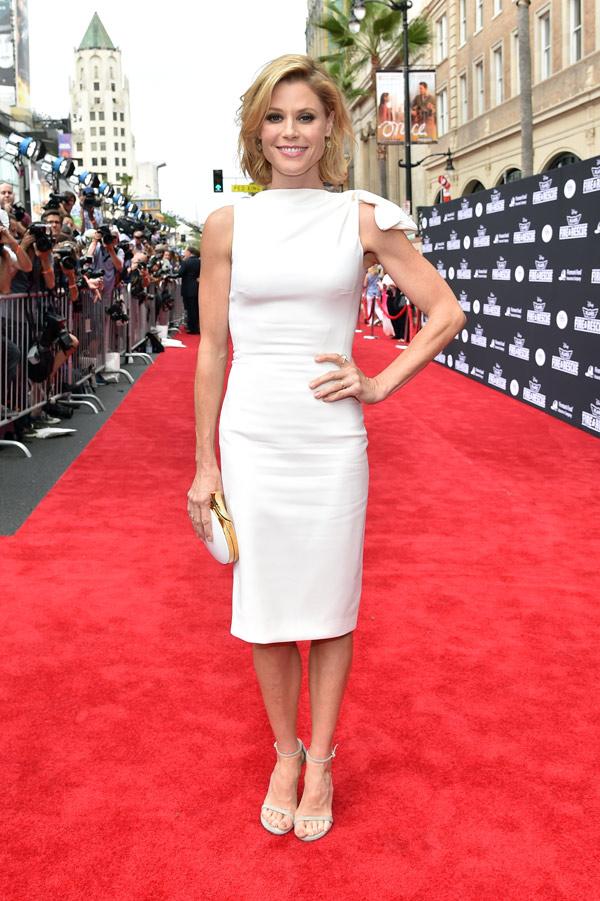 Modern Family star Julie Bowen rocked the red carpet at the Planes: Fire & Rescue World Premiere in a dress that literally could not be more flattering. The white body-hugging, mid-calf dress totally highlighted her figure, which, if you didn't know before, is unbelievably fit. 
Seriously, though.
The DSquared2 dress, featuring playful details on the shoulders, was accented with simple nude strappy sandals and dainty gold jewels. Bravo, Julie. Bravo. 
Article continues below advertisement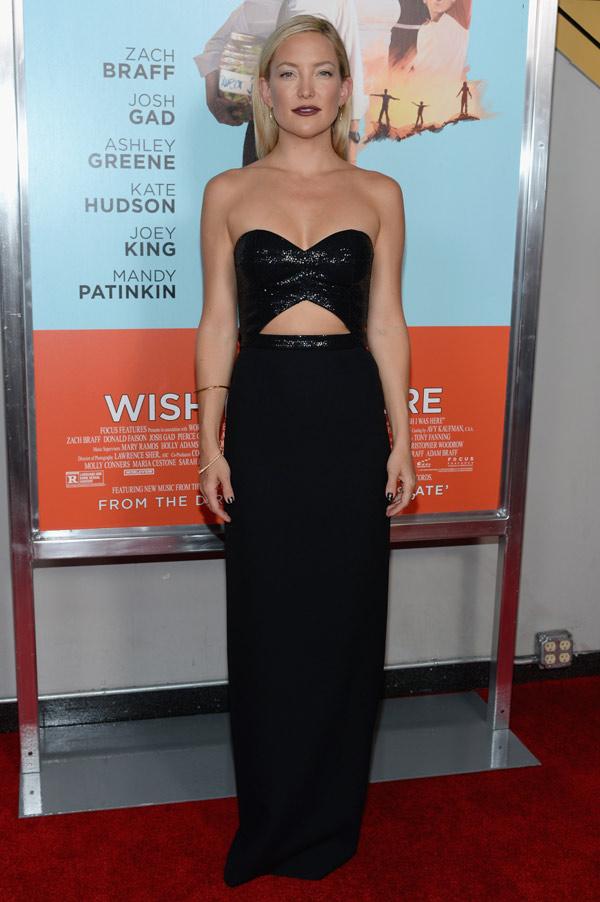 Kate Hudson has this way of showing skin in the subtlest, sexiest of ways. At the Oscars, she debuted a deep-V that fashion girls raved about for weeks. And who could forget that yellow dress in How To Lose a Guy in Ten Days? Perfection. At the Wish I Was Here premiere last night, the Hollywood beauty rocked a sultry look once again in a Michael Kors black evening gown with cut-outs along her rock-hard abs.
The sparkly sweetheart bodice was attached to a long matte black skirt and added elegance to the flashy ensemble. She finished off her look with a sleek hairdo and a vampy lip. See, Kim K isn't the only girl giving dark lipstick a moment of sweet, sweet summertime.
Article continues below advertisement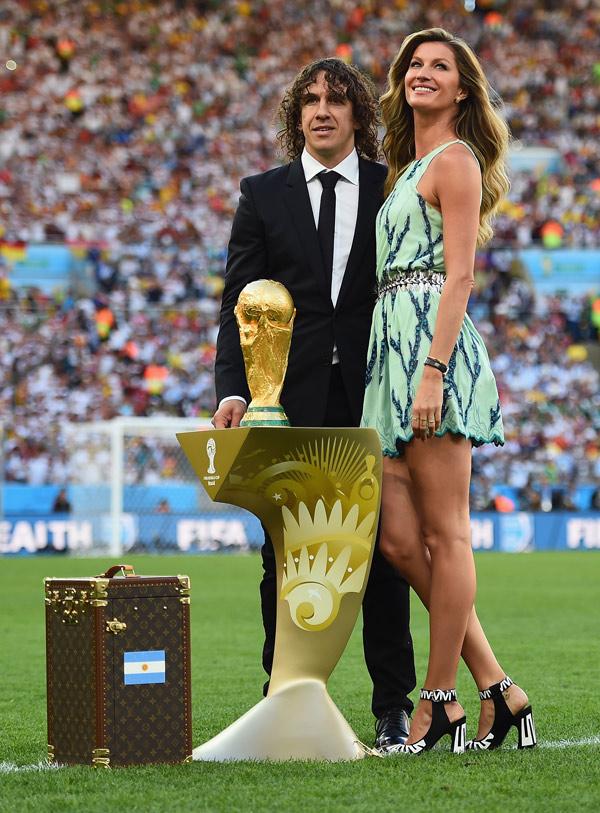 It's not essential to wear a jersey to a sporting event. Gisele Bundchen didn't! In fact, she showed up to one of the most talked about athletic events this year in a Louis Vuitton mini dress and heels.
The celebrity attended the World Cup Final, where she resented the final trophy along with Carles Puyol in a soft green mini dress with embroidered details and black and white graphic sandals to match. The Pantene spokeswoman let the wind blow through her long beachy waves, reminding us that she does, in fact, have the best head of hair in all of Hollywood. 
Article continues below advertisement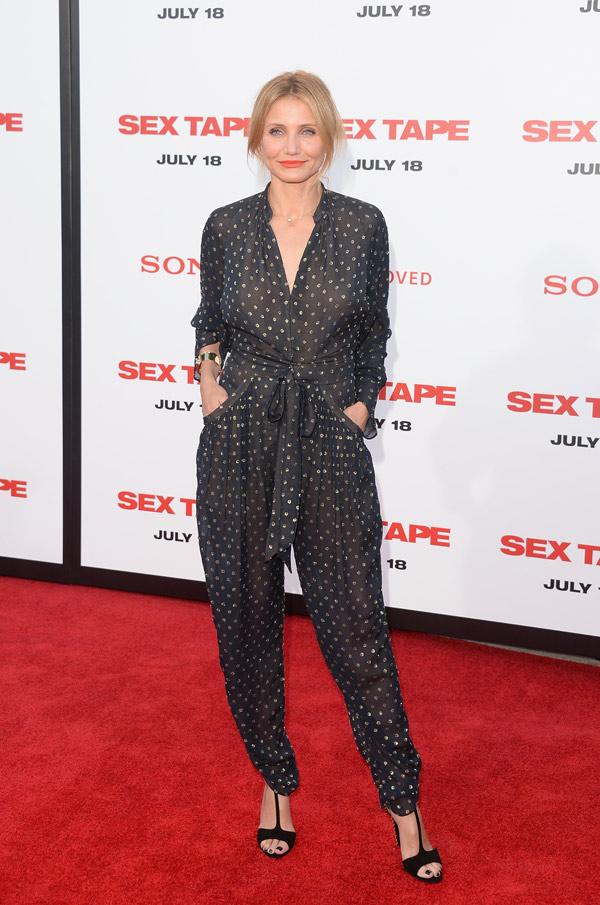 Red carpet dressing goes way beyond the designer, often couture, gowns we see at the Oscars. The ladies of Hollywood rock crop tops, tailored shorts, mini skirts, and even jumpsuits at their A-lister events. And really, why not switch it up a bit? The world can only use so many LBDs. 
Cameron Diaz, the star of the new movie Sex Tape, showed up at the film's premiere wearing a blouse-y polka dot jumpsuit by Stella McCartney that kind of reminded us of last year's oh-so popular pajama trend. She pulled her hair back into a tousled coif and added coral lipstick to finish off the breezy look. 
Article continues below advertisement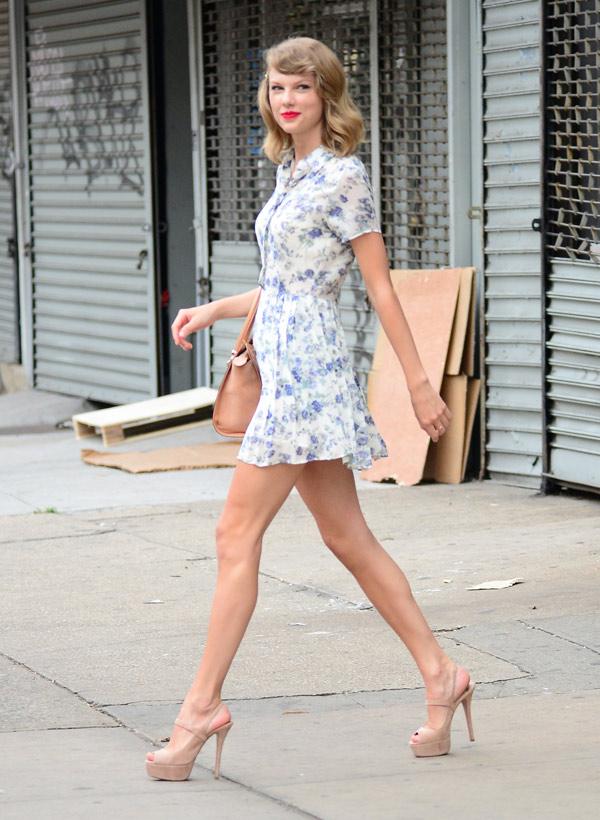 There are plenty of things T-Swift does well. Singing love songs that you can't get out of your head, rocking a red lip, and throwing a stellar Fourth of July bash are just a few of her many talents. Did you see that slip n' slide?!
But if we're just talking about her sartorial skills, platform pumps and floral mini dresses definitely top of her favorites list.
You try walking around the Big Apple in oxfords with a 5-inch heel.
The celebrity was spotted walking out of the gym after a workout session wearing a pastel mini dress and nude pumps, finishing off the look with flawless 40s waves and a friendly smile. Keep it up, Tay. Keep it up. 
Article continues below advertisement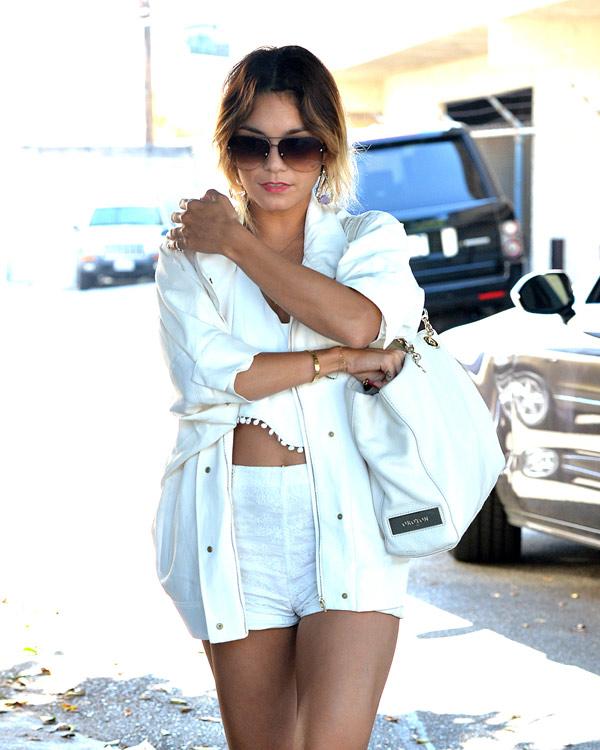 Free spirit, boho dressing is Vanessa Hudgens thing. And with a dedication to crop tops and floral hair accessories, her wardrobe has made her the celebrity style icon for all those music fest-obsessed gals of the world.
But while she loves a printed maxi, Vanessa Hudgens was spotted giving the textile trend a break with a white-on-white outfit that was just as refreshing as it was seasonally appropriate—not that we listen to that old "no white after Labor Day" rule, anyway.
V-Hudgens paired her girly crop top with white cut-off shorts and a white jacket that lined up with the hemline of the shorts. She donned a white tote and aviators with a deconstructed 'do.
Article continues below advertisement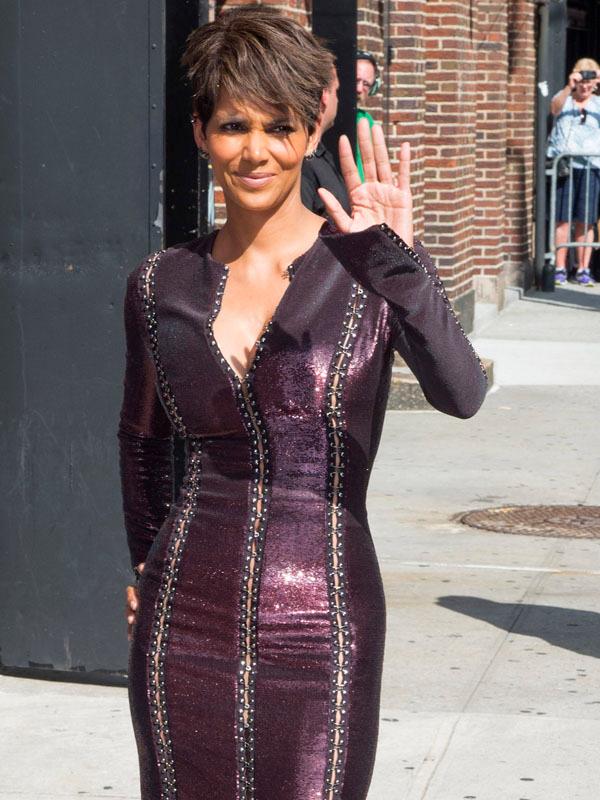 Um, how has this woman birthed two children? Halle Berry showed off her to-die-for curves in a shiny purple Atelier Versace dress with Ruthie Davis's Lourdes pumps during her appearance on The Late Show With David Letterman. Halle's been promoting her new CBS show, Extant, all week long, and her fashion choices for the press tour have not dissapointed us even once. Someone give Halle's stylist a raise, stat.
Article continues below advertisement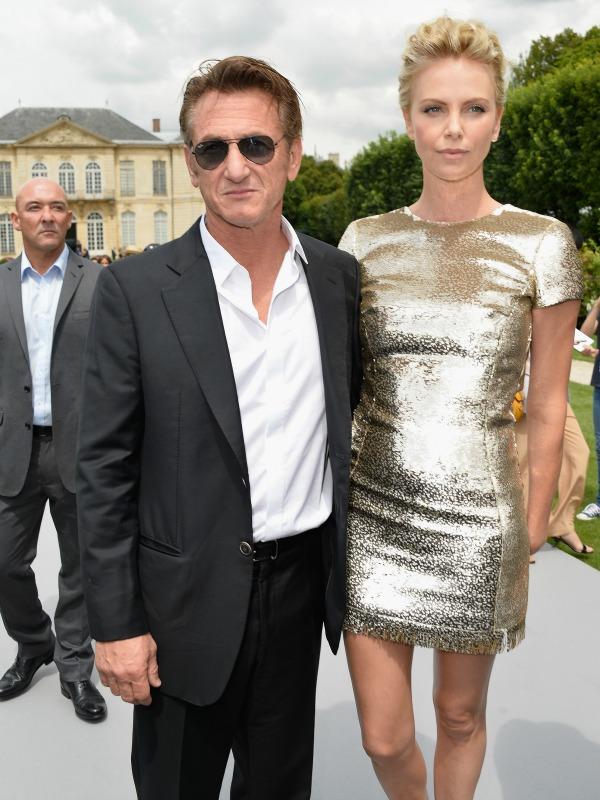 Charlize Theron is one of the most impossibly gorgeous women on the planet. And if you looked like her, wouldn't you constantly wear glittery gold dresses? You would. Which is why this little sheath is so perfect!
Charlize sat front row at the Dior Haute Couture show this weekend in Paris. She's a Dior spokesperson and is always dressed in gold in their commercials, so she kept it very on-brand with this shimmery number.
Oh, and she had beau Sean Penn very publicly on her arm for one of the first times ever. Way to remind the world that you are a star, girl! We bow down.
Article continues below advertisement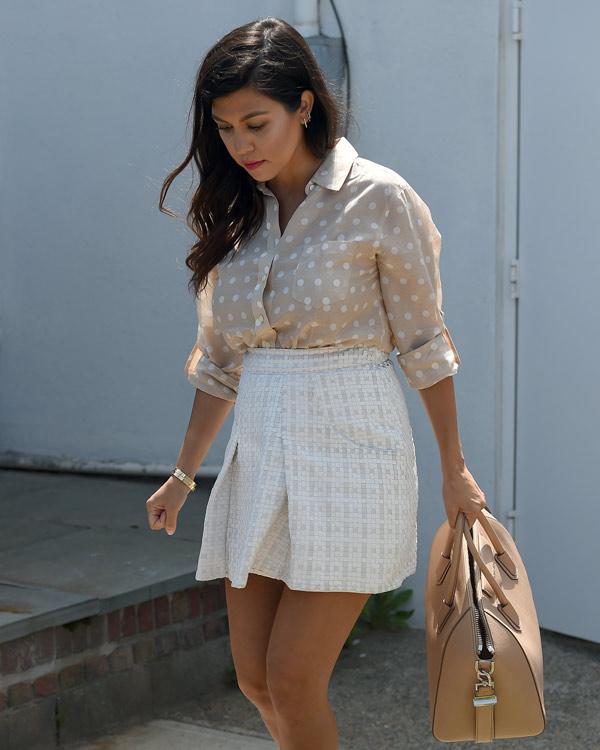 Kim favors strappy Hermes heels for the Hamptons, but her big sis Kourtney Kardashian? She's been hitting up the beach town in all things preppy—and T-Swift would likely be a fan.
We're talking polka dot blouses, pleated tweed skirts, and heeled oxfords, which is exactly what she was wearing when she was spotted leaving Isaac Mizrahi's store in Southampton, along with a nude satchel and a matte rose-hued lip.
Baby Penelope is going to LOVE to go through her mom's closet. No doubt about it.
Article continues below advertisement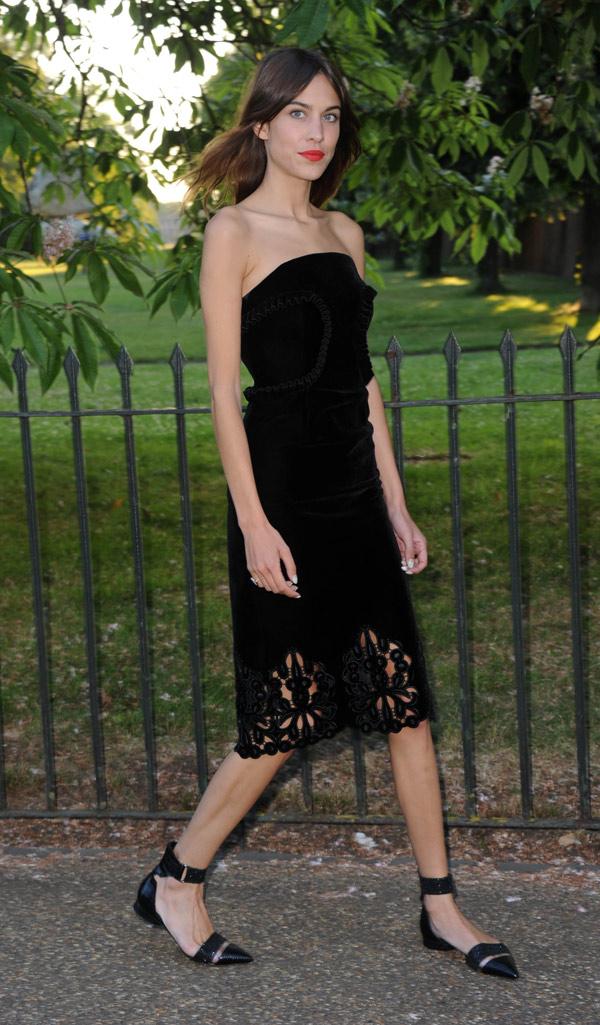 Want to wear flats to your next dressy affair? Do it. Alexa Chung did—and that girl defines style. The fashion icon, known for her nod to 90s fashion and fluttery eye lashes, attended the Serpentine Gallery Summer Party in a strapless LBD with a short black slip and crochet-like details near the hem, which showcased some leg.
What we're really obsessed with? Those black ankle-strap flats. They make you want to shop. 
Article continues below advertisement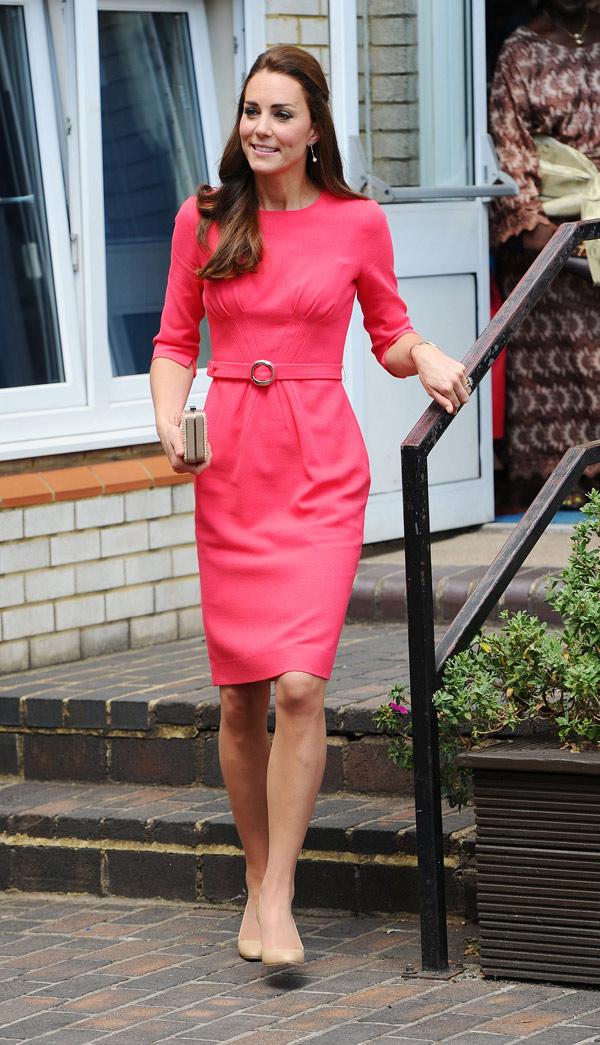 Looks like you have your outfit idea already planned out for tomorrow. Yep, a rose-colored fitted dress, cinched waist and all, it is! Kate Middleton donned this ladylike garment with nude heels while visiting a school in London. The celeb pulled her hair back in a half-up, half-down 'do and, once again, brightened our day with her cheery disposition. Prince George's mom has style. 
Article continues below advertisement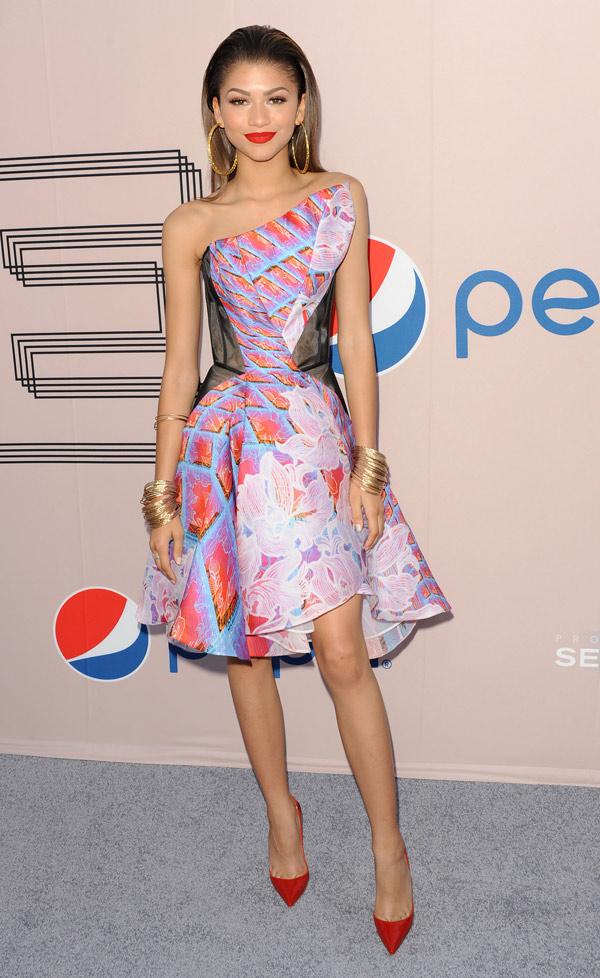 Bangles on both arms? Sounds like a plan. Zendaya didn't hold back in the bling or beauty department at the Pre BET Awards Dinner, rocking stacked gold bangles and bracelets on both wrists, dramatic gold hoop earrings, and a crimson red lip look. These accessories brought even more attention to her architectural strapless dress by Peter Pilotto. The sheer-paneled and floral number featured an A-line silhouette and a funky asymmetrical hemline. 
Article continues below advertisement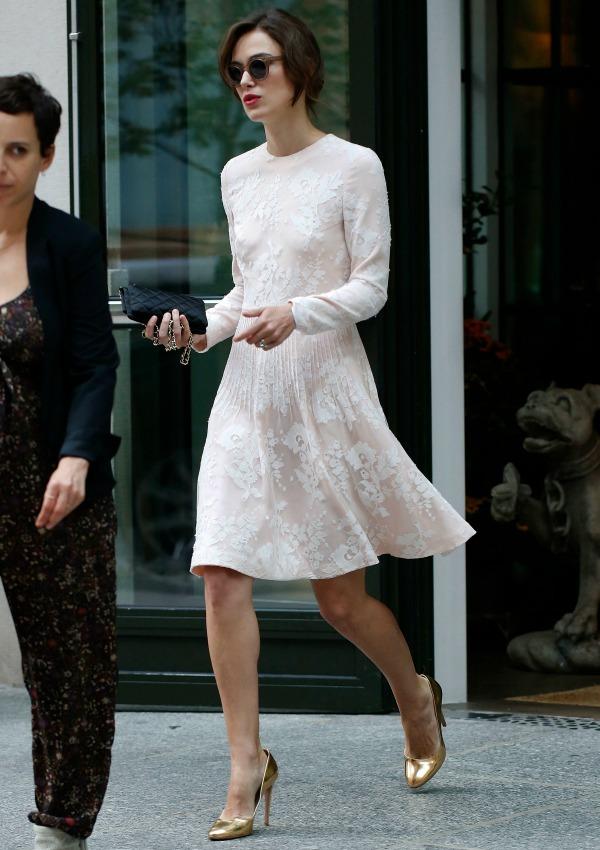 Keira Knightley is in New York City promoting her new movie Begin Again, and she left her hotel yesterday looking like the chicest woman on this planet. Why is this look so cool? Is it the subtle blush pink color? The unexpected red lip? The interesting sunglasses? or the exclamation point of the gold shoes? It's a mystery. 
Article continues below advertisement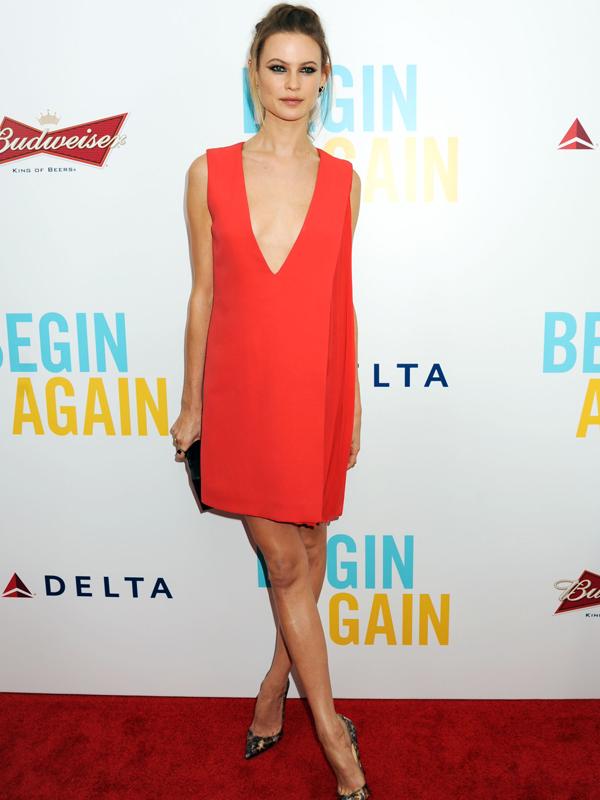 Aw, what a supportive fiance! Behati Prinsloo looked red hot at the premiere of her beau Adam Levin's new film, Begin Again, last night in NYC. Her sheath dress was simple and understated, almost so as not to distract from the man of the hour, and her hair was in a casual pony. We're dying over her perfect smokey eye, too! If Behati looks good on a daily basis, can you just imagine what she'll look like on her wedding day?!
Article continues below advertisement
It's a lot easier to rock a white bustier dress when there isn't a shark trapped in a tornado haunting your existence. Sharknado star Cassie Scerbo stepped out at the 5th Annual Thirst Gala in a white lace two-piece ensemble and an effortless topknot, one of those simple updos that you've been trying to perfect for the past three summers. The spaghetti strap crop top and fitted skirt looks strangely similar to the dress that Kim Kardashian rocked at her birthday party in Las Vegas. Either way, we're into it. 
Article continues below advertisement
A mix of a crop top silhouette and shiny red fabric doesn't always yield a sartorial result that belongs in a 1999 Britney Spears music video. Just take a look at Teen Wolf star Holland Roden on the red carpet at The Leftovers premiere! The star aced the of-the-moment matching ensemble by Paper London. Little details, like her flirty ponytail, gold Rupert Sanderson Elba pumps, the pleated panels of her high-waisted shorts, and that geometric Halston Heritage clutch, make the look. 
Article continues below advertisement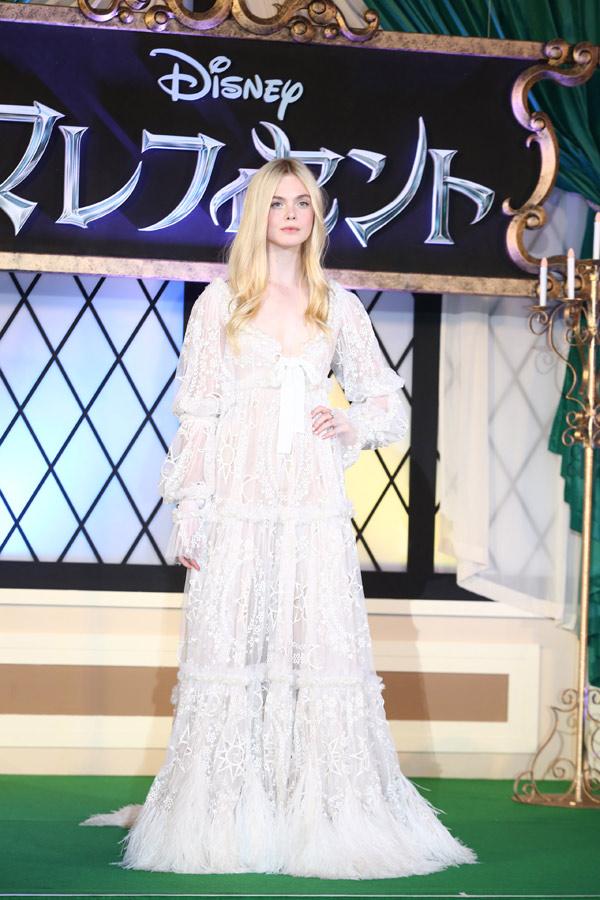 Feathers, tulle, cut-outs, ribbon, and embroidery in one dress seems like it could go down as a pure catastrophe, but on Elle Fanning it's a like a fairy tale—and very fitting considering she plays a princess in Disney's Maleficent.
The star stepped out on the red carpet at the movie's premiere in Japan in this flowy tiered and sheer gown by none other than Alexander McQueen. The cream boho dress features star and floral-shaped cut-outs and a hem decorated with white feathers. It's a lot to take it, but no one could work it better than the long lost princess. 
Article continues below advertisement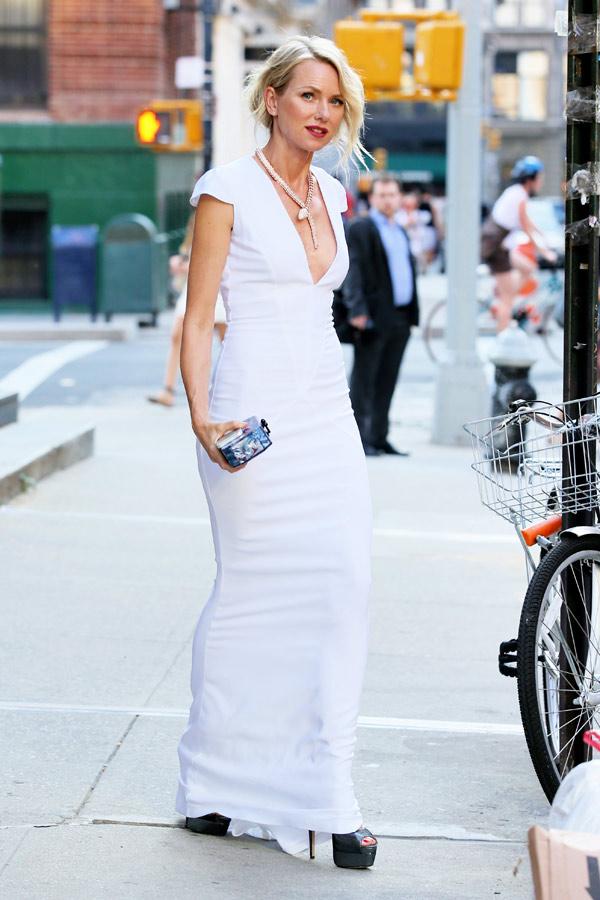 Sometimes an accessory makes an outfit—and you'll know it when it happens. Naomi Watts had one of those moments when she paired a luxe diamond snake necklace with her crisp white evening gown and Brian Atwood platform sandals. Even though this is just a paparazzi picture with perfect timing, the contrast of her elegant outfit and the city background makes this snapshot look like the result of an editorial haute couture photoshoot.
Article continues below advertisement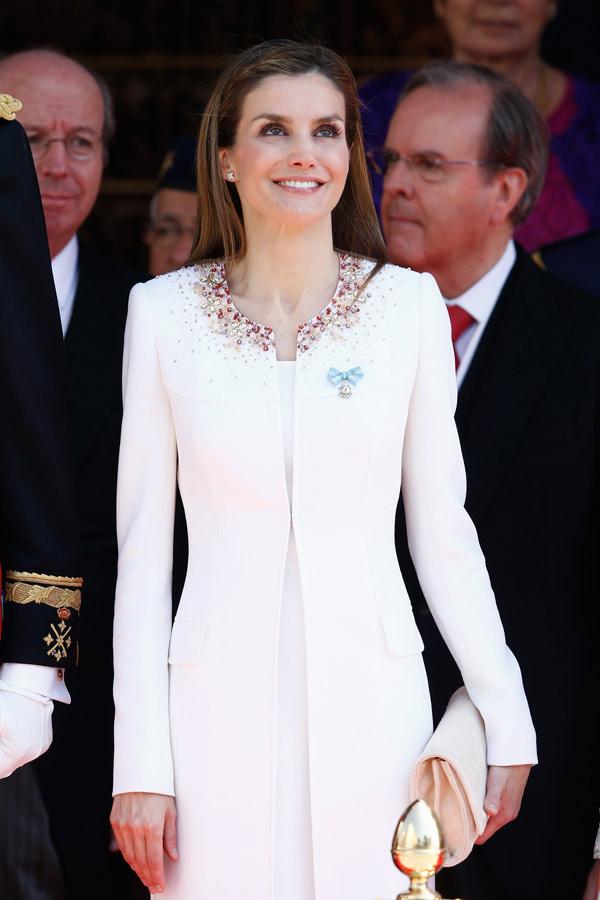 What to wear when you're getting crowned queen? That's got to be a stressful styling decision. It's not like you can grab your trusty shift and casually continue on your way to your coronation ceremony like it's #NBD.
Not to our surprise (she's basically like Kate Middleton's style twin) Princess Letizia of Spain, oh wait, we mean Queen Letizia of Spain accepted her new title at her coronation ceremony with her husband King Felipe of Spain wearing a classic cream shift dress that fell right above her knees with an tailored coat with an embellished collar to match! Royal dressing is certainly it's on art.
Article continues below advertisement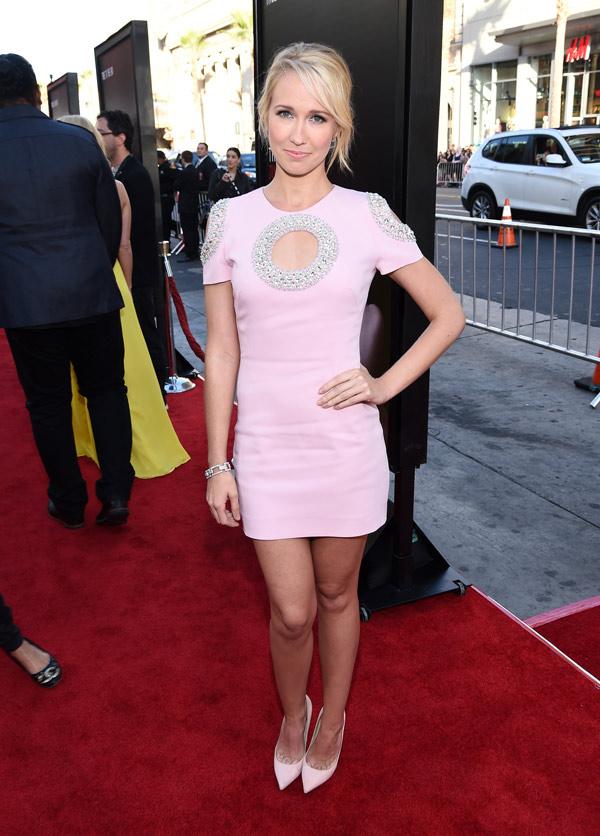 We don't know what's more adorable—the fact that Anna Camp can work a sparkly pink mini better than Barbie, or her recent Instagram love sesh with Pitch Perfect hottie Skylar Astin? This debate could take a while.
The Barden Bella wore an Azzaro pale pink mini with embellished circular cut-outs along the bust and shoulders and wisped her hair up into a relaxed updo for the premiere of the last season of True Blood. Maybe those a capella singers should consider this for their next onstage costume? 
Article continues below advertisement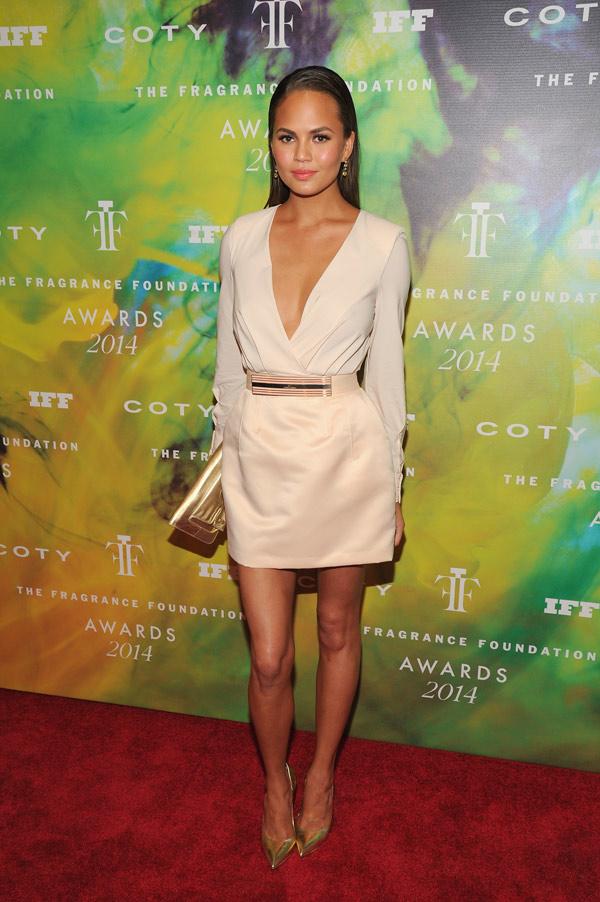 Chrissy Teigen has no problem with an exaggerated neckline—just check out her Cosmopolitan cover where she goes sans of a bra situation under her white blazer! At the Fragrance Foundation Awards, the model who is married to singer John Legend put her long, lean legs and décolletage into full view, working a sleeved and belted Elisabetta Franchi cocktail dress with slicked back hair and a metallic clutch. 
Article continues below advertisement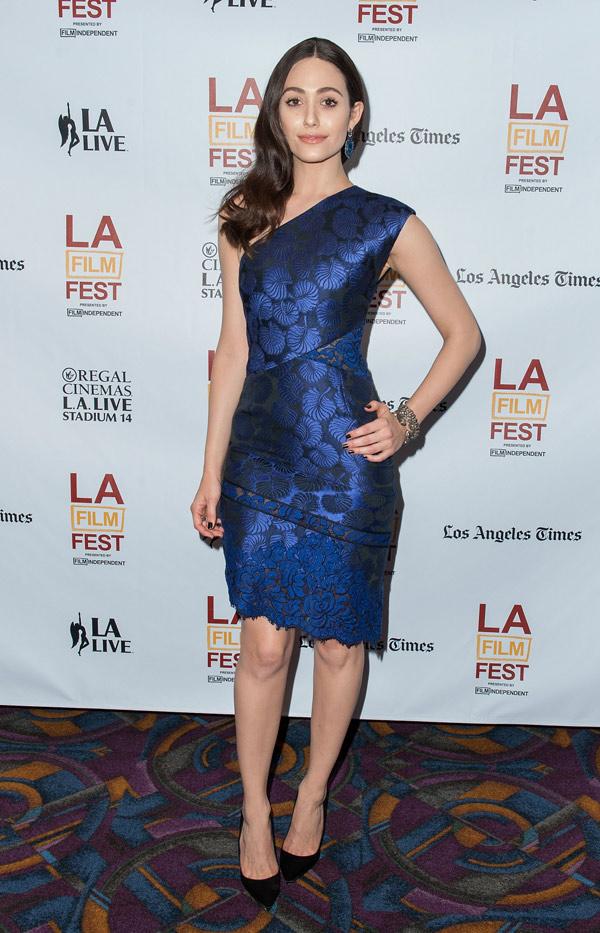 Emmy Rossum has a sweet spot for show-stopping navy blue J.Mendel dresses! At the Bulgari Decades of Glamour event back in February, the star showed up wearing a slinky silk number reminiscent of Kate Middleton's engagement photos.
Emmy went for a J. Mendel specialty again with a patterned one-shoulder design with asymmetrical panels and pretty lace at the Los Angeles Film Festival! She played up the classic look with sapphire-like dangly earrings and vintage-y bracelets. 
Article continues below advertisement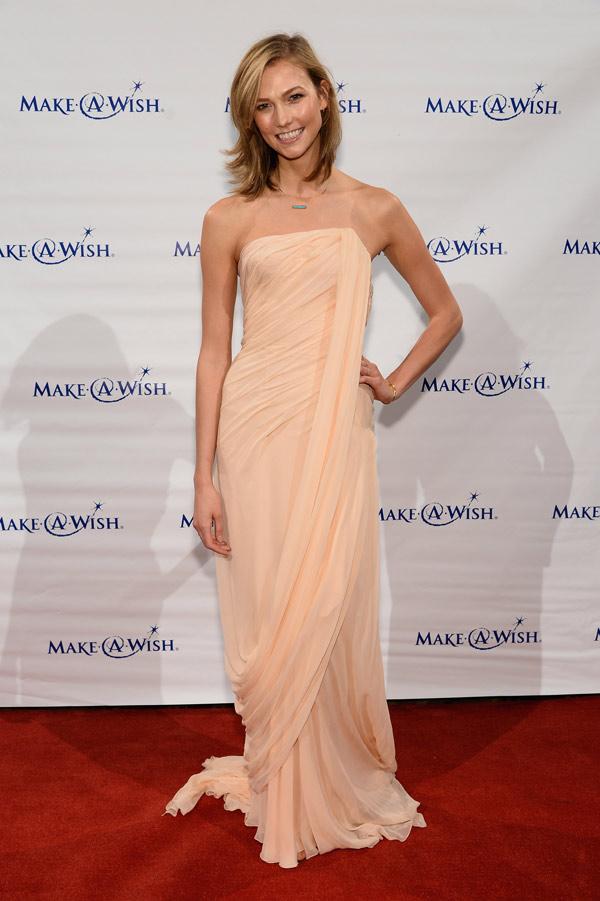 Karlie Kloss got all dolled up for the Make-A-Wish Metro New York Gala in a goddess-like silk chiffon gown by Donna Karan Atelier. The flowy, draped design, paired with a turquoise pendent on a delicate gold chain, was exactly what a June evening calls for!  
Article continues below advertisement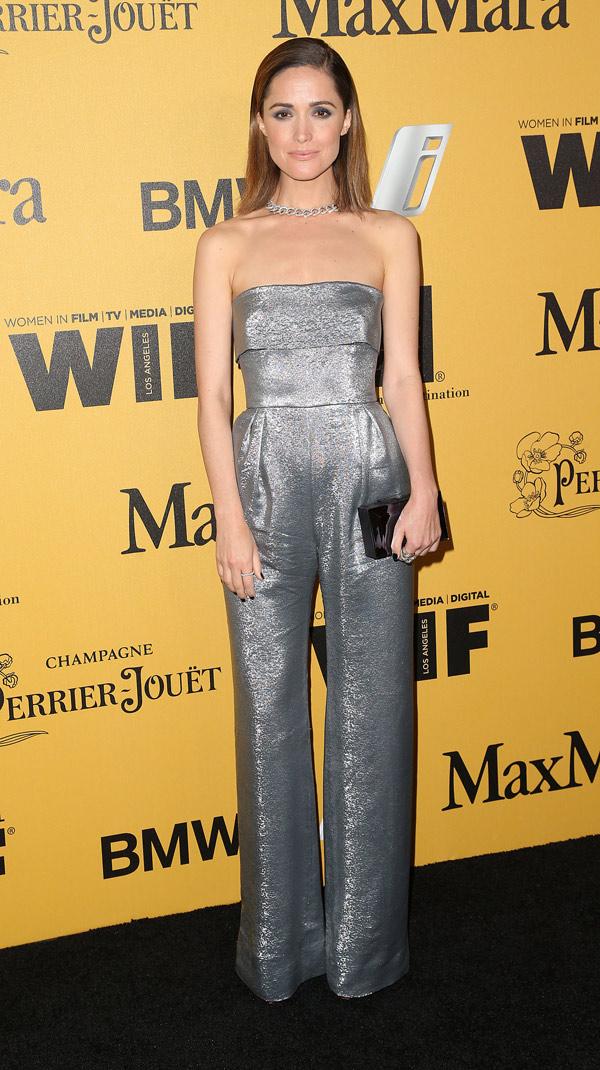 Celebs are savoring a silver metallic style moment this summer! Rose Byrne attended the Women in Film 2014 Crystal + Lucy Awards last night, along with a slew of Hollywood's leading ladies like Kerry Washington, in a Max Mara metallic silver jumpsuit. The clean-cut designer suit featured a tailored pant-leg and a strapless bodice, which Rose played up with a silver chain necklace. Earlier on in the week, Rose was spotted rocking a sequin deep-V dress in navy blue by the very same designer!  
Article continues below advertisement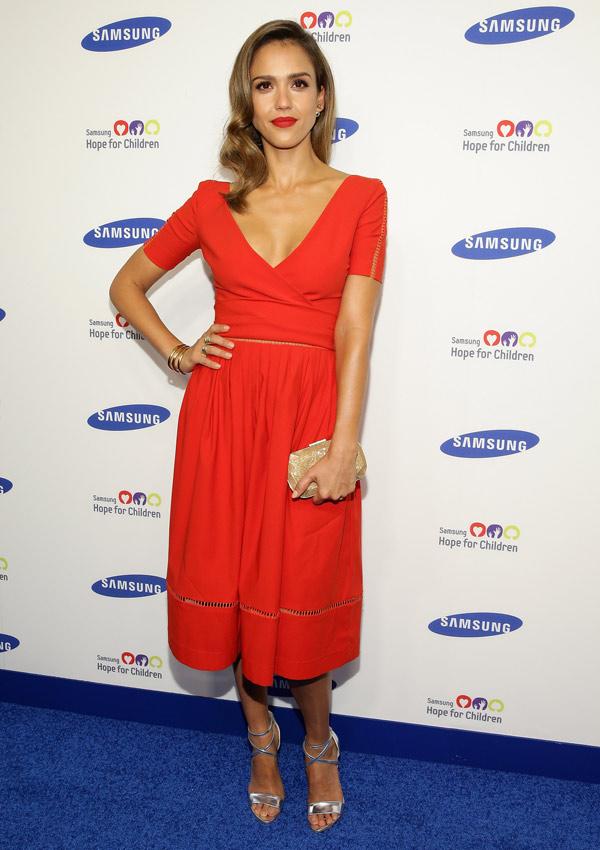 Every girl should own a red dress—and if you want to pick one that'll really stand out amongst the crowd, go for a ladylike look just like Jessica Alba. The star attended the Samsung Hope for Children Gala wearing an A-line Preen dress from the Fall 2014 collection. The dress featured a bit of sass with flirty cut-outs and a delicate perforation around the hemline. She made the look work with trendy metallic by donning a pair of silver Brian Atwood sandals. 
Article continues below advertisement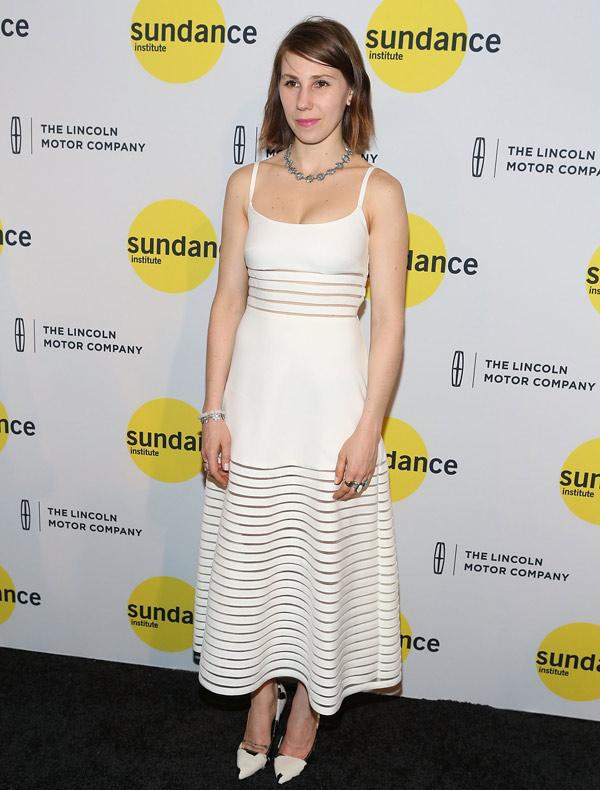 Girls' Zosia Mamet is quickly becoming one of the best-dressed young celebs in the biz. The star with the blunt bob, who is also a regular around New York Fashion Week, revived the slip dress when she wore a Crepe Ribbon number in cream by Cynthia Rowley to the Sundance Institute Celebration.
The moderately priced design (it retails for $279!) was complemented with animal print pumps, lots of stackable rings, and a bling-y choker that the 90s girl in you is obsessing over.  
Article continues below advertisement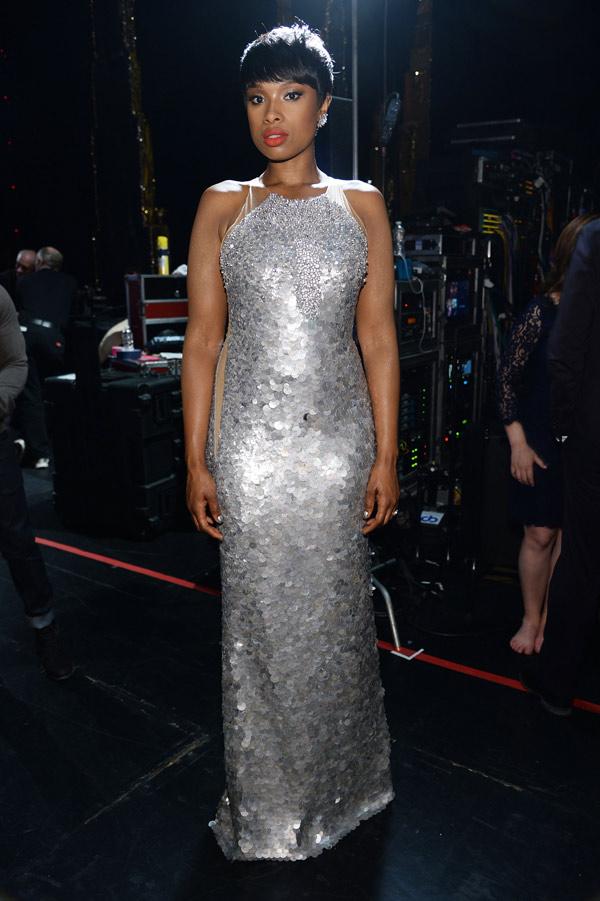 Jennifer Hudson couldn't have picked a better on-stage ensemble. The star stole the Tony Awards spotlight last night in a head-to-toe sequin gown by KaufmanFranco. The shimmery number featured nude mesh panels along the sides and a body-skimming silhouette that traced her curves perfectly. A dress like this doesn't need barely any jewels, so Jennifer went for stud earrings and the lipstick hue that will forever stay in style—crimson red!
Article continues below advertisement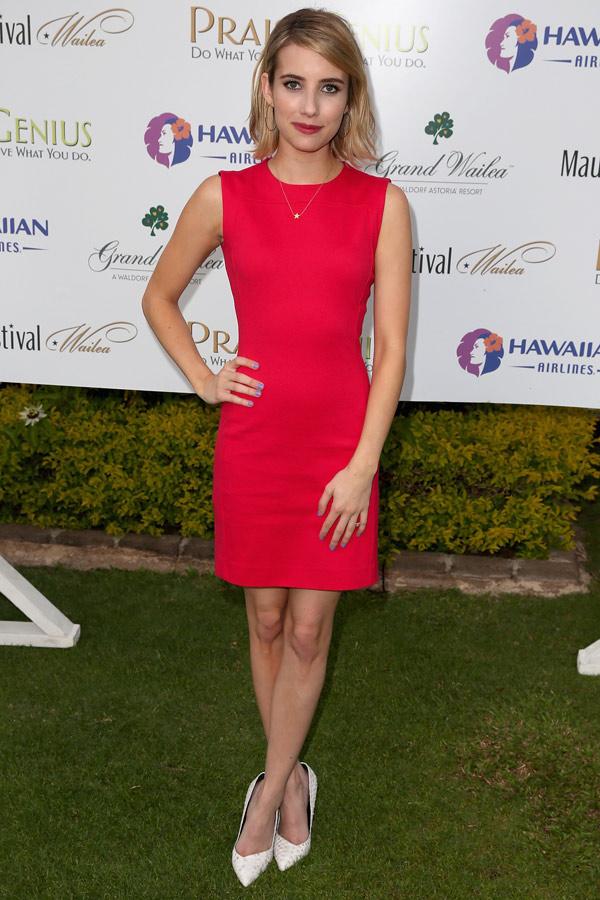 Make way for the Maui Film Festival—the celebs are bringing their very best looks. Emma Roberts showed up at the fest wearing a simple red sheath and white pointy-toe stilettos. Other than a pair of hoop earrings and a simple gold chain, Emma left the bling at home. But this isn't the only outfit that has people talking! The star was also seen wearing a matching crop top and skirt combo by designer Catherine Malandrino. We. Love. It.  
Article continues below advertisement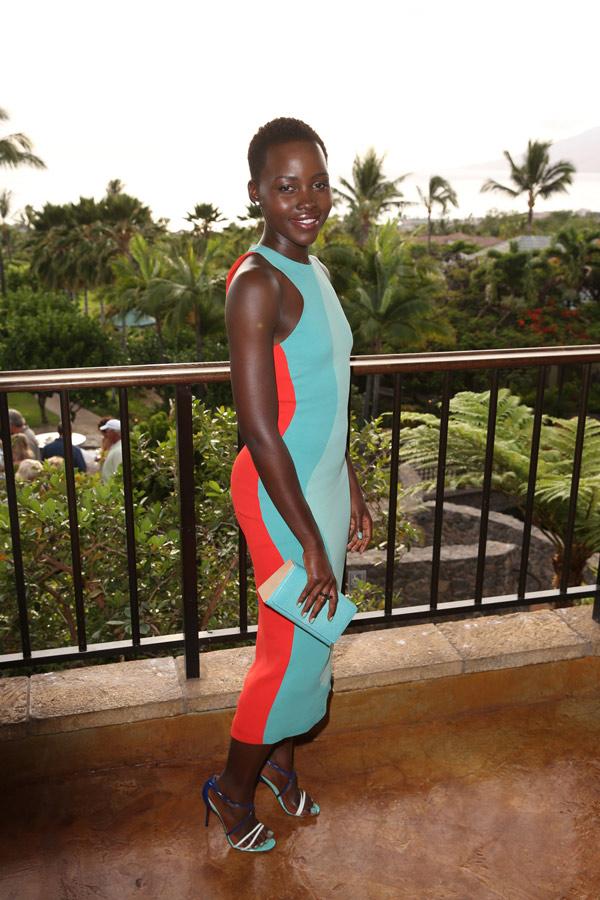 The snowy winter didn't stop Oscar winner Lupita Nyong'o from working a range of colorful designer creations, and now that the warm weather has arrived, Lupita is keeping up with her fashion-forward signature. While at the Maui Film Festival, the gorgeous girl rocked a formfitting mid-length sheath dress by Calvin Klein in the most beautiful, vibrant shades. Decorated with vertical panels of colors, the design shifted from a pleasant turquoise to a deeper blue to a neon orange along the sides. She showed her personality in the footwear department as well, working a pair of turquoise and royal blue strappy sandals!  
Article continues below advertisement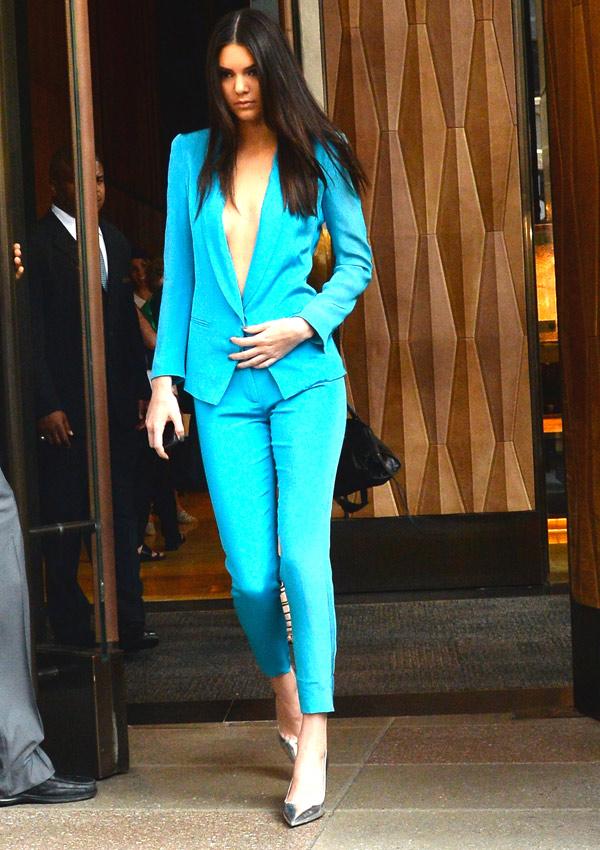 It's not naked like Rihanna's CFDA dress, but it's definitely a different state of sexy! Kendall Jenner attended the signing of her new book, Rebels: City of Indra: The Story of Lex and Livia, in a bright blue pantsuit that she seemingly wore without anything underneath the blazer. Are you brave enough to go braless in a structured suit? The new author's literary look (it's an editorial ensemble if we ever saw one, anyway) was complete with a sleek center-part and metallic silver pumps.  
Article continues below advertisement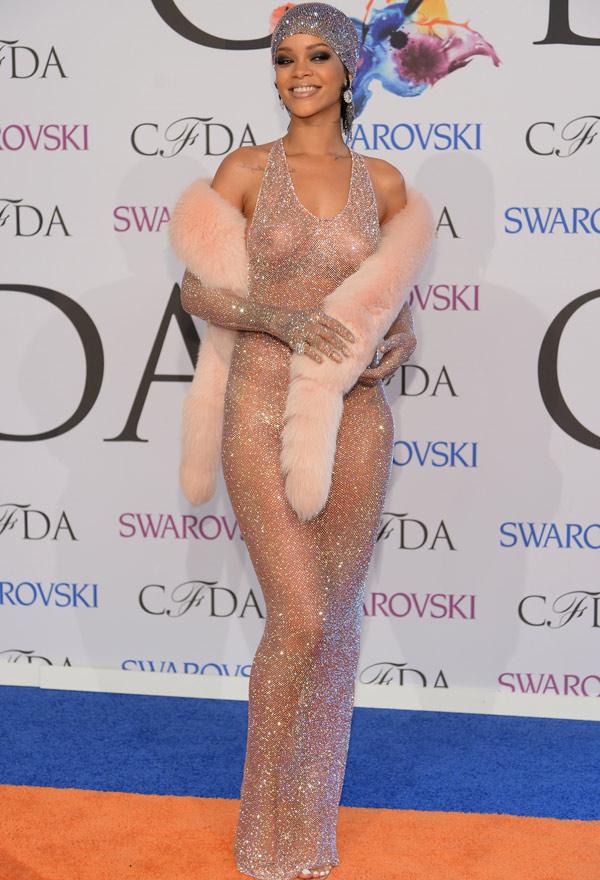 Rihanna was honored with the prestigious Fashion Icon award last night at the CFDA Awards for her influence on the world of style and her philanthropic work. So what did she wear? The look was typical Bad Gal RiRi yet no less surprising than ever. The star, known for her boundary-pushing ensembles and comfort towards showing a little skin on camera, accepted her award (and chatted with Anna Wintour, nonetheless) in a sparkly, barely-there nude gown (use the word "nude" almost literally) by designer Adam Selman. The see-through fishnet gown couldn't be missed, partly do to its sexy silhouette and the fact that it shines like a diamond.   
Article continues below advertisement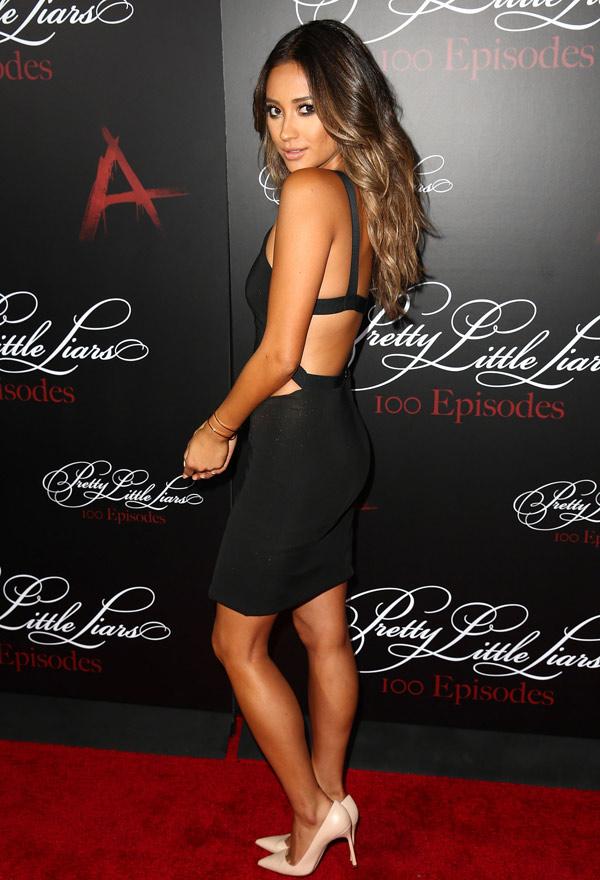 Pretty Little Liars just celebrated their 100th episode—which means there have been 100 episodes of the PLL girls looking absolutely perfect. The show has made an impact on the entertainment world with its creative approach to costume design (each girl has a flawless signature style that exudes their personality) and has even inspired an Aeropostale clothing collection. Shay Mitchell (you might know her as Emily) attended the celebratory event wearing a HOT LBD by Cushnie et Ochs that featured sexy cut-outs along the front and back of the bodice. She played up the sultry vibe with smoky eyes and beachy waves. The combo is a no-brainer. 
Article continues below advertisement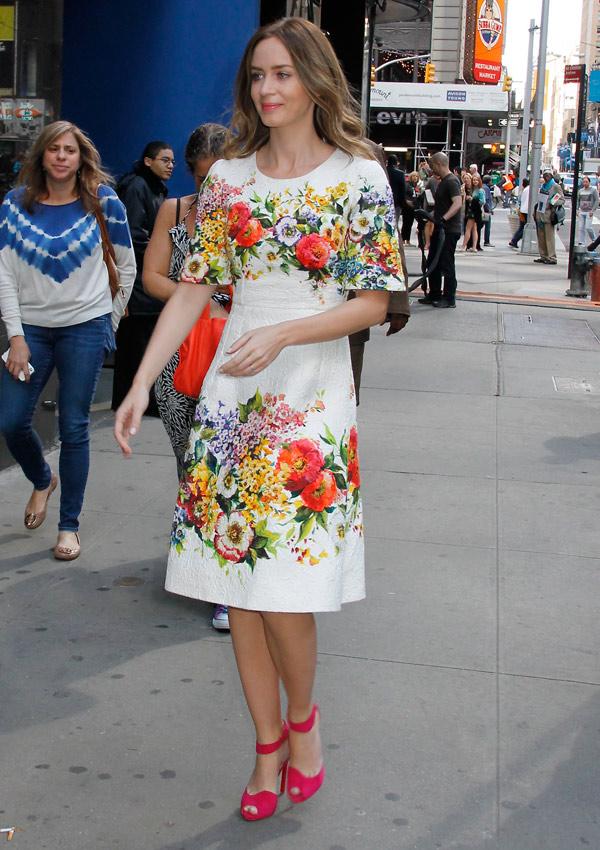 Just days ago, Emily Blunt attended three major red carpet premieres in three different countries, wearing three completely different outfits—all without looking one little bit jet lagged. We're talking fresh-faced, glowing, and as charming as ever. After that marathon of press for her new movie Edge of Tomorrow, you'd think she'd indulge in her sweats and book herself a massage for some R&R. Nope! Because Emily is superwoman. The star attended a segment on Good Morning America today, boasting (surprise!) yet another amazing outfit that flattered her flawless post-baby bod. The star stepped out in a Dolce & Gabbana floral A-line dress with hot pink strappy heels. Can you say garden party dream? 
Article continues below advertisement
Elle Fanning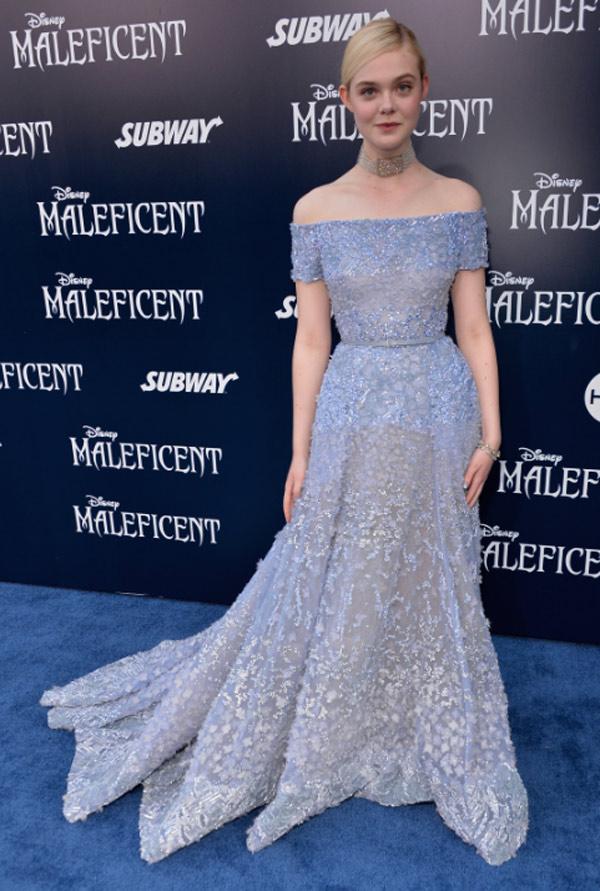 She's a long lost princess—and she dresses like one! Maleficent's Elle Fanning, a talented lady who plays the role of Sleeping Beauty opposite of Angelina Jolie in the upcoming Disney flick, stunned at the movie's world premiere in a blue Elie Saab off-the-shoulder gown with delicate beaded details. And instead of dangly diamond earrings (or a tiara!) Elle made the look her own with a statement choker and a minimal low-bun. 
Article continues below advertisement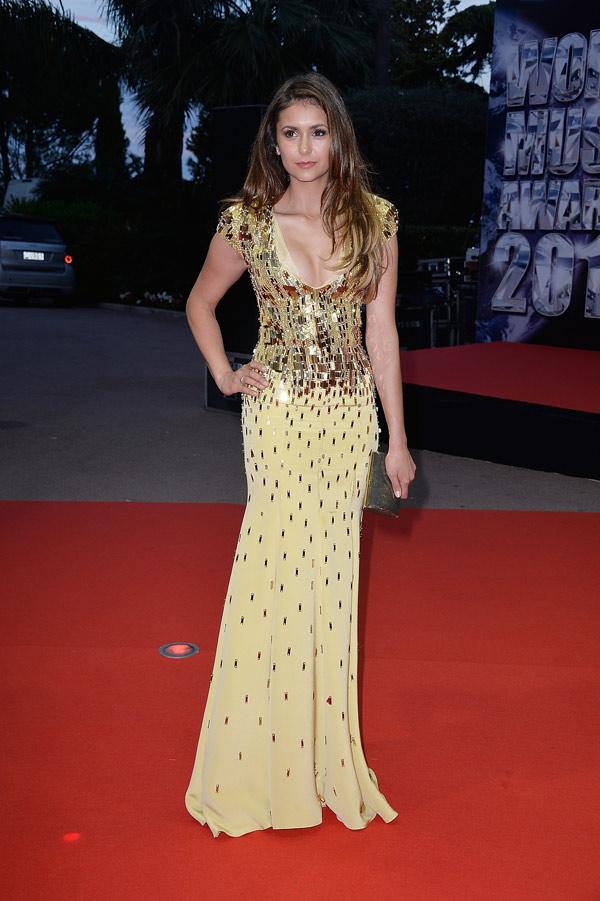 Vampire Diaries regular Nina Dobrev attended the World Music Awards last night glittering like gold! The celeb donned a sorbet yellow floor-length gown by Jenny Packham that every prom queen would be envious of. The short-sleeve bodice was heavily embellished with gold sequins and continued down the skirt of the dress, creating an ombre of sheen! It was a best-dressed event, as Miley Cyrus even rocked a few A+ numbers. 
Article continues below advertisement
Amanda Seyfried - Celeb Style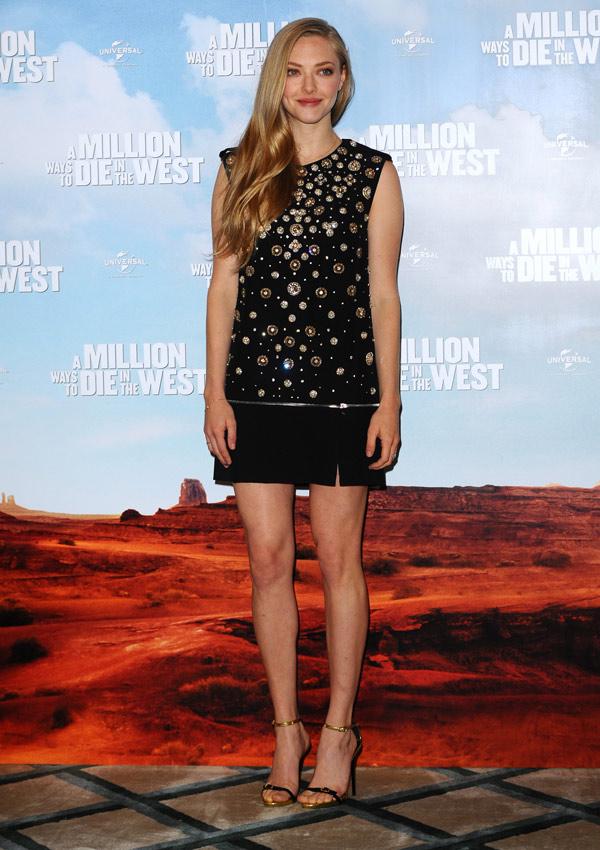 There's a million ways to wear a LBD—and we just happen to be quite fond of the way that Amanda Seyfried chose. The actress, who is dating hottie Justin Long, showed up to the premiere of her new movie, A Million Ways to Die in the West, in an embellished LBD in a shift silhouette. On top of the silver and gold clusters decorating the front of the LBD, the dress was accented with a silver zipper that gave it an overall edgy feel.
She wore her long blonde locks to the side and went for it in the cosmetics department with a bronzed smoky eye.
Article continues below advertisement
Alessandra Ambrosio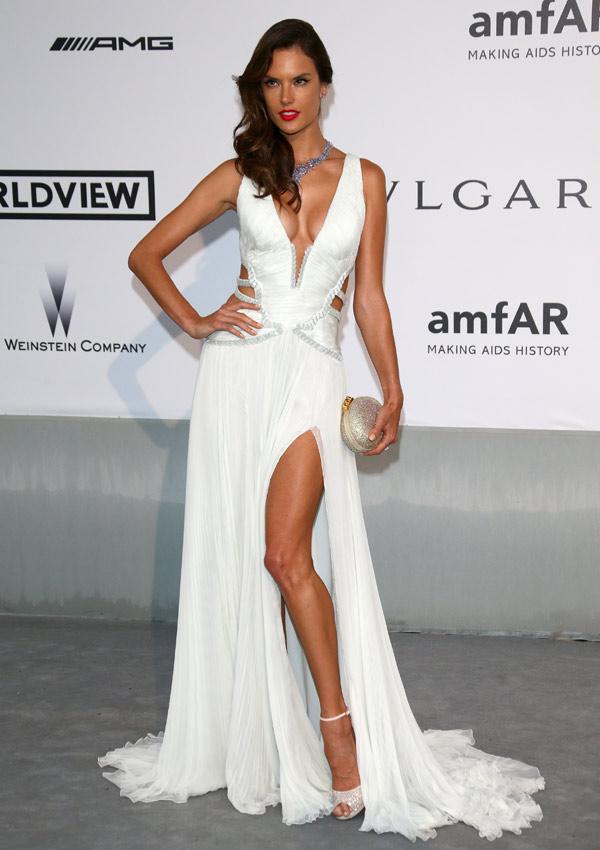 She's showing her midriff, her toned back, some leg, and giving the girls a moment in the spotlight with this dress! But considering she's a legendary Victoria's Secret model, we can assume Alessandra Ambrosio is more than comfortable showing off super sexy styles like this Roberto Cavalli gown she wore to the amfAR Gala in Cannes. 
Article continues below advertisement
Kourtney Kardashian - Celebrity Style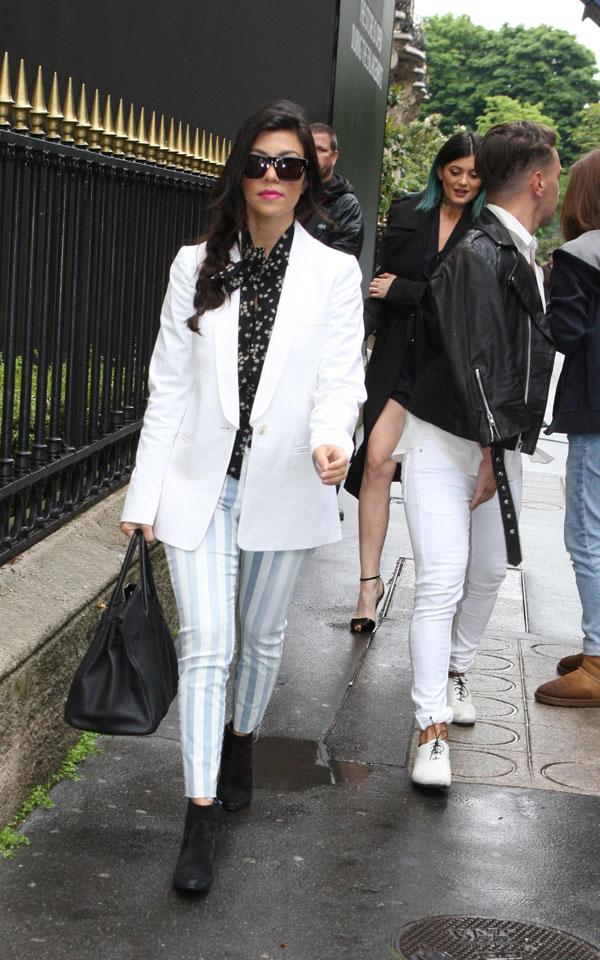 We already know this Kimye wedding is going to bring together a slew of picture-perfect outfits, but we didn't realize the days leading up to the much-anticipated affair were going to be soooo stylish. Kourtney Kardashian, who we could only assume would be a bridesmaid (maybe?), was seen wondering about the city with her family and friends wearing a mixed-print ensemble that, um, we are probably going to recreate in our down time. The star paired her pastel vertical stripe pants with a Starprint blouse by Sorella and a white structured blazer!  
Article continues below advertisement
Dakota Fanning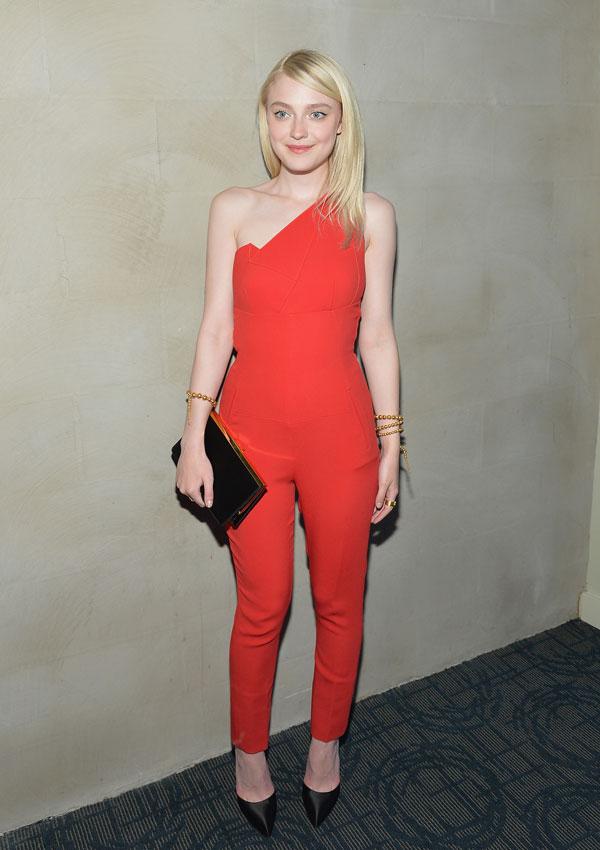 Not only did Dakota Fanning jump on the jumpsuit trend, but she did it in scarlet red and with only one shoulder! Can you say brave? The 20-year-old actress wore this little number, designed by Roland Mouret, to the Night Moves premiere in New York City, a movie starring Jesse Eisenberg and Peter Sarsgaard. So how'd she do her makeup with a look so bold? She went completely fresh-faced and let her creamy (and totally flawless) speak for itself. 
Article continues below advertisement
Taylor Schilling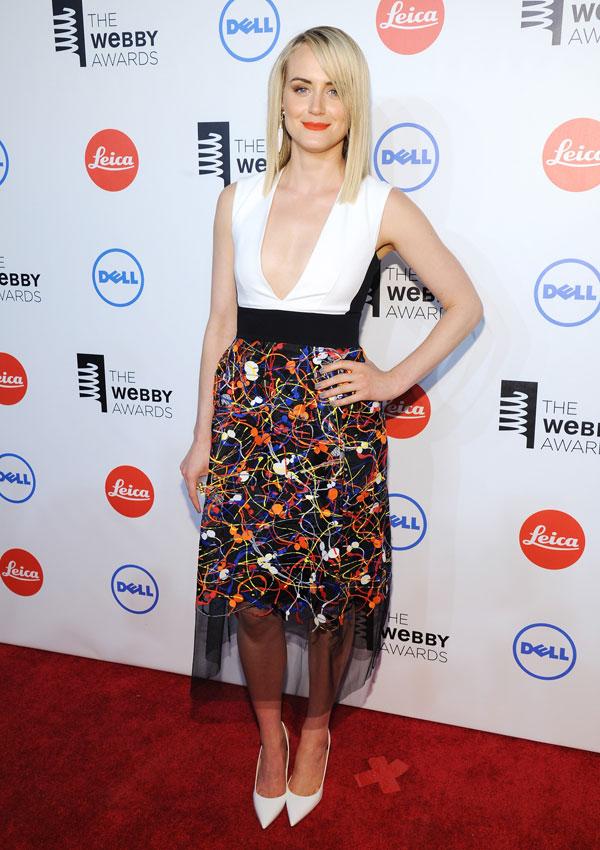 Taylor Schilling attended the 18th Annual Webby Awards in a Sportmax statement dress that was just as creative as it was sexy. The sultry deep-V design featured a bold paint-splattered skirt with a sheer black overlay. This particular designer has been making the red carpet rounds, as Rosario Dawson was also seen at Cannes rocking a similar artsy look. 
Article continues below advertisement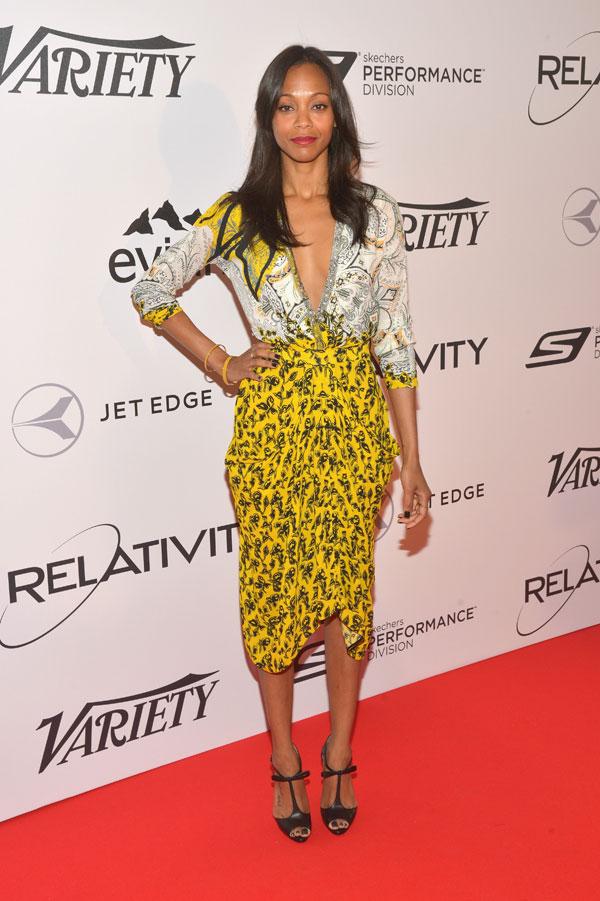 It started with Cannes' red carpet, and Zoe Saldana is keeping up the best-dressed trend. The actress rocked a draped deep-V multi-print dress by Etro at the Relativity at Ten luchenon. It's your summer dream dress, are we right? 
Article continues below advertisement
Shailene Woodley at the Divergent Premiere - Celebrity Style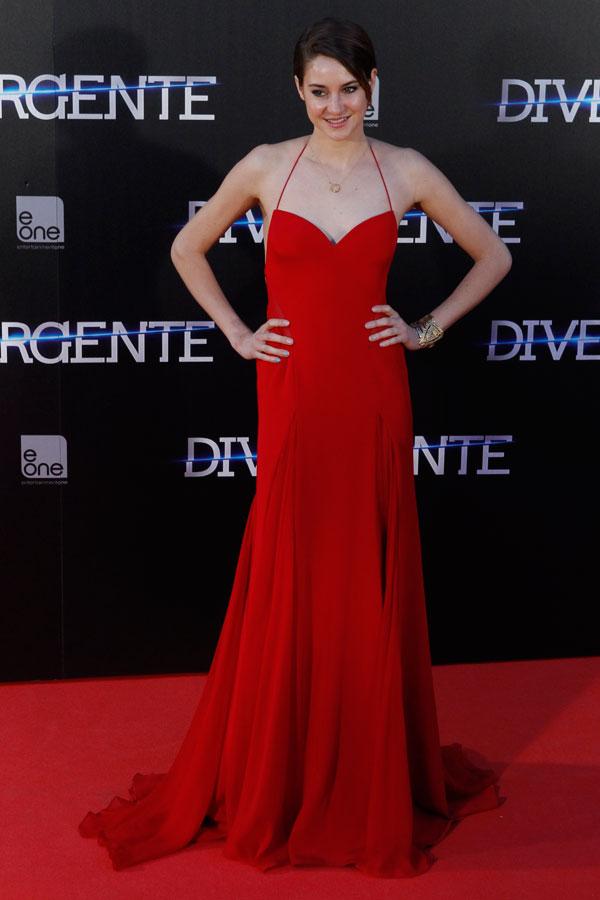 This Donna Karan Atelier moment is a prime example of why every lady needs to rock a red dress every now and then. Girl-of-the-moment Shailene Woodley took our breath away in this regal designer creation at the Madrid Divergent premiere.. The sleeveless design showed off her super fit arms and hugged her bod in all the right places. She accessorized the minimal look with a statement gold cuff and a delicate gold chain.
Article continues below advertisement
Victoria Justice in a Radiant Orchid Dress at the MTV Movie Awards - MTV Movie Awards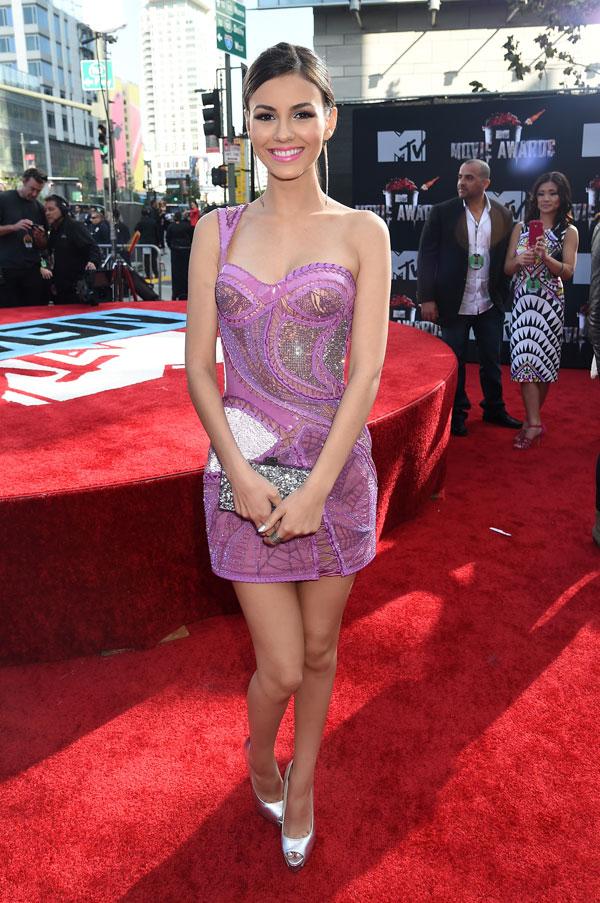 Victoria Justice wowed at the MTV Movie Awards in the Pantone Color of the Year, Radiant Orchid! The celebrity donned the hue in an Atelier Versace one-shoulder mini with intricate ruffles, a sexy corset top, and plenty of silver and gold sheen. She finished off her look with silver accessories and a bright pink lip. We LOVED it! 
Article continues below advertisement
January Jones in Topshop - Celebrity Style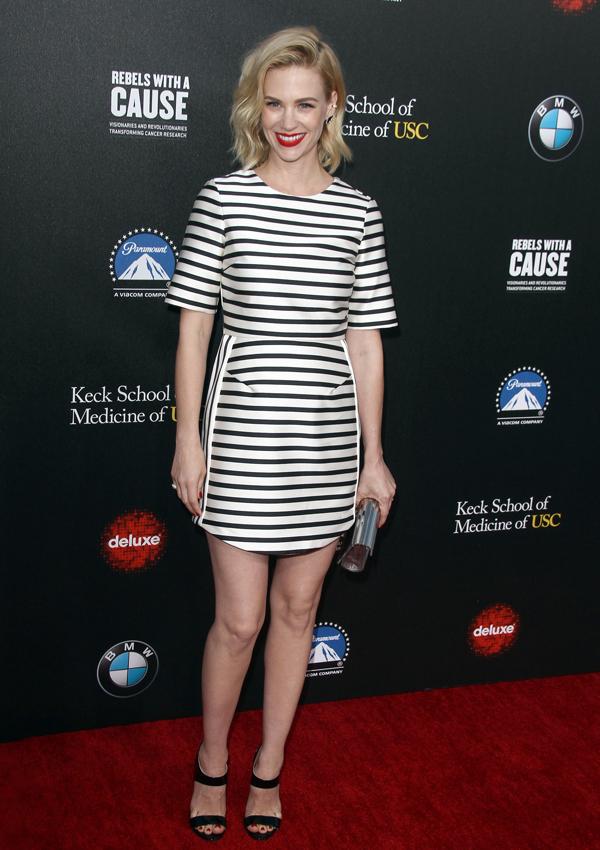 Here's a dress your bank account will actually allow you to covet. Mad Men's January Jones attended the Rebels With a Cause Gala in a chic black and white striped Topshop dress. It's reported that this little number retails for only $140, which is a steal when it comes to red carpet attire. And if you're feeling dress déjà vu, it's because Queen Bey was spotted the same exact frock earlier in the year. 
January finished off her minimal look with black sandals and a "Betty Draper" red lip. 
Article continues below advertisement
Jennifer Lopez Hot Pink Pants - Celebrity Style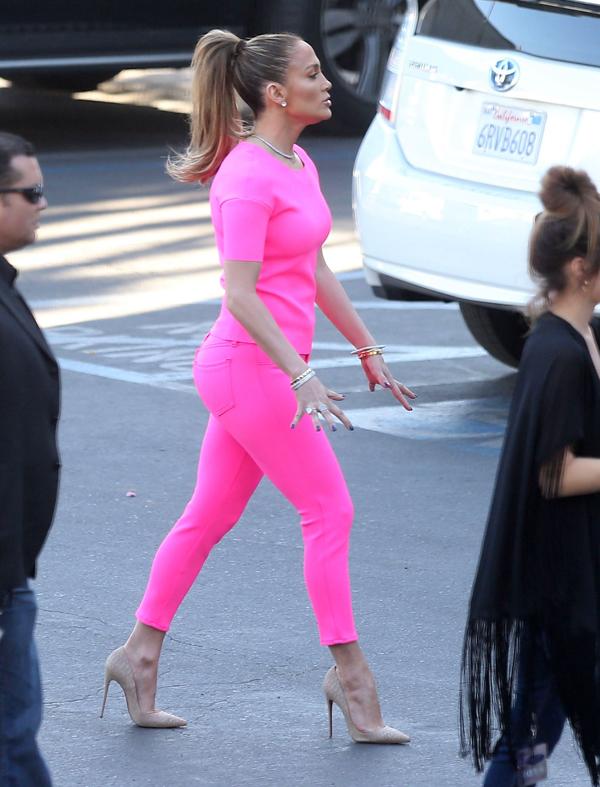 This girl likes her pink… A LOT! American Idol's Jennifer Lopez made her way to a judging session in a pair of cropped J Brand hot pink skinnies and a matching J Brand's Womenswear Auden top. To balance off the pretty look, JLo went for classic nude pumps and a bouncy ponytail. 
Article continues below advertisement
Tia Mowry in a Sequined Dress - Celebrity Style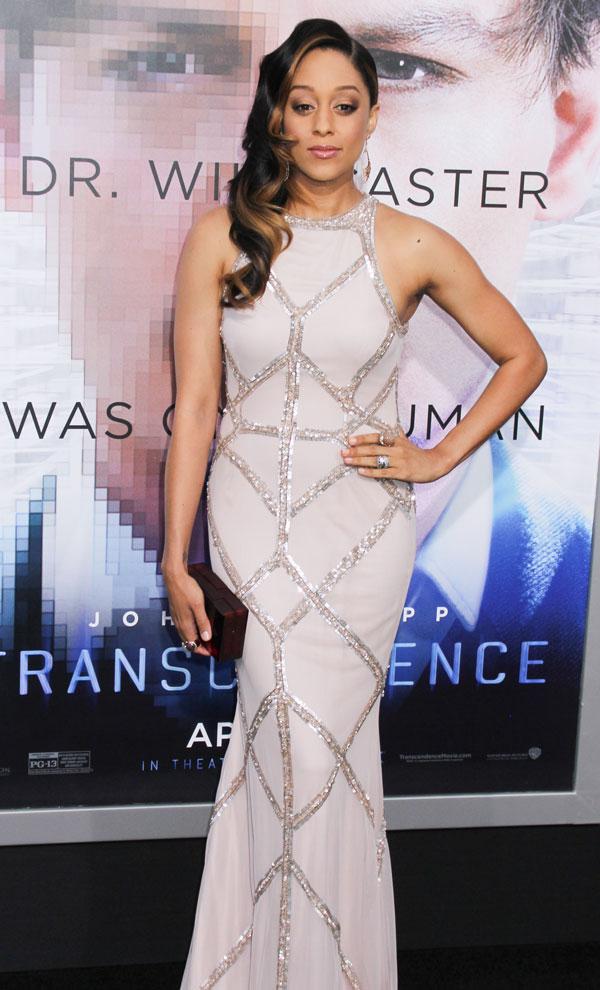 Tia Mowry-Hardrict got glam at the Transcendence premiere in Los Angeles, wearing a nude floor-length gown with a funky sequin design. Tossing her hair to the side with an impeccable wave, the Sister, Sister star looked like Hollywood red carpet royalty.  
Article continues below advertisement
Michelle Dockery Non Stop Premiere - Celebrity Style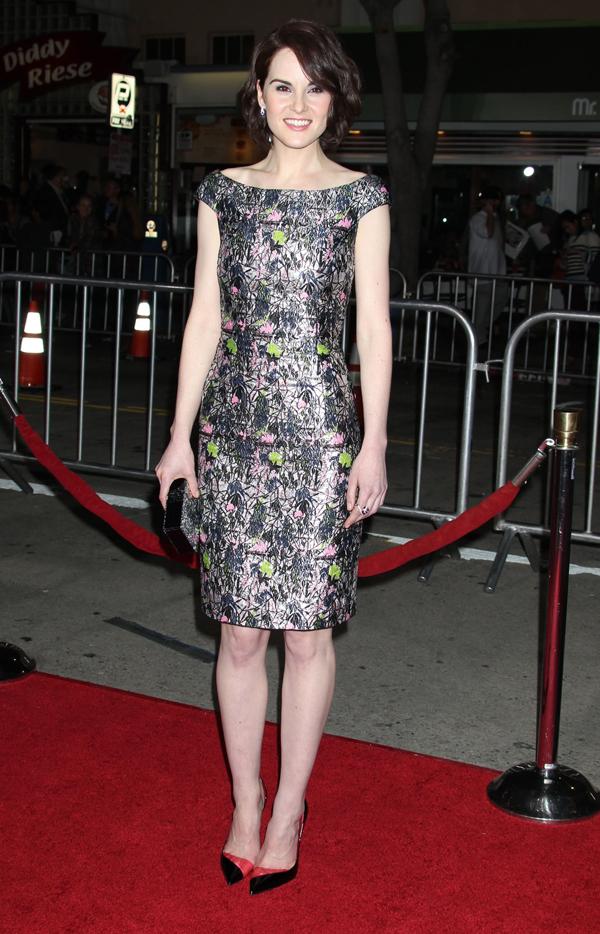 Michelle Dockery never does wrong! At the Westwood, California premiere of her new flick, Non-Stop, Michelle worked a fitted Christian Dior cocktail number in a captivating print. The pointy-toe heels sealed the deal!
Article continues below advertisement
Lea Michele Elie Saab - Celebrity Style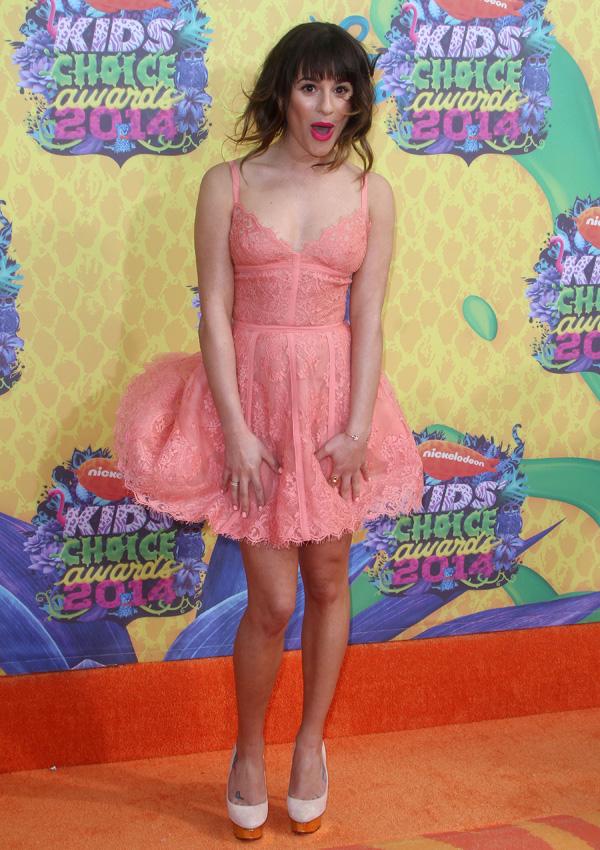 Lea Michele had a Marilyn moment in a peachy lace mini by Elie Saab at the Kids Choice Awards. With windblown hair, a neon pink lip, and stunner platforms with a metallic metal base, the Glee star looked like a true Hollywood icon.
Article continues below advertisement
Mindy Kaling in Topshop - Celebrity Style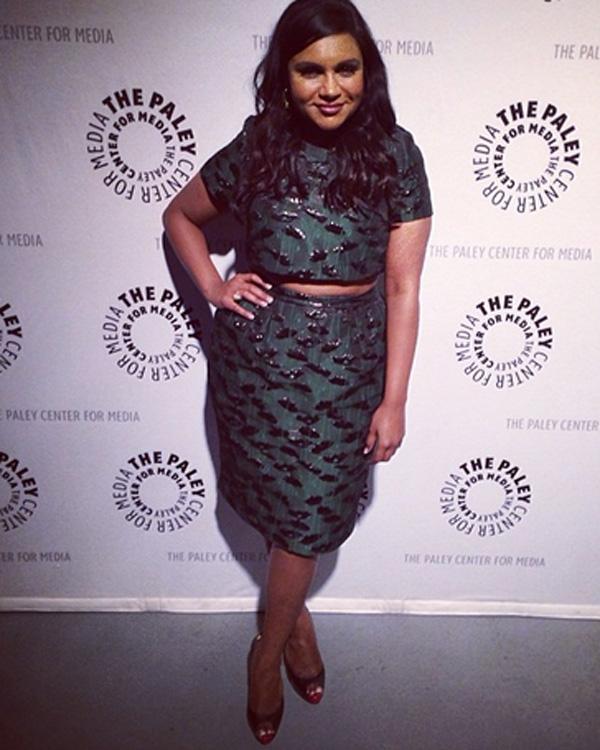 Need yet another reason to girl-crush over Mindy Kaling? It's not likely, but hey, we'll add a point to the forever-growing list. The Mindy Project star attended Tuesday night's Paleyfest events in a matching Topshop jacquard crop top and pencil skirt. This printed outfit is as thrilling as one of the celeb's rom-com tributes. And because Mindy's got real style, she gave the look a high-low balance with a pair of glam Louboutins and Jennifer Meyers jewels.
Article continues below advertisement
Cameron Diaz at the CinemaCon 2014 Event - Celebrity Style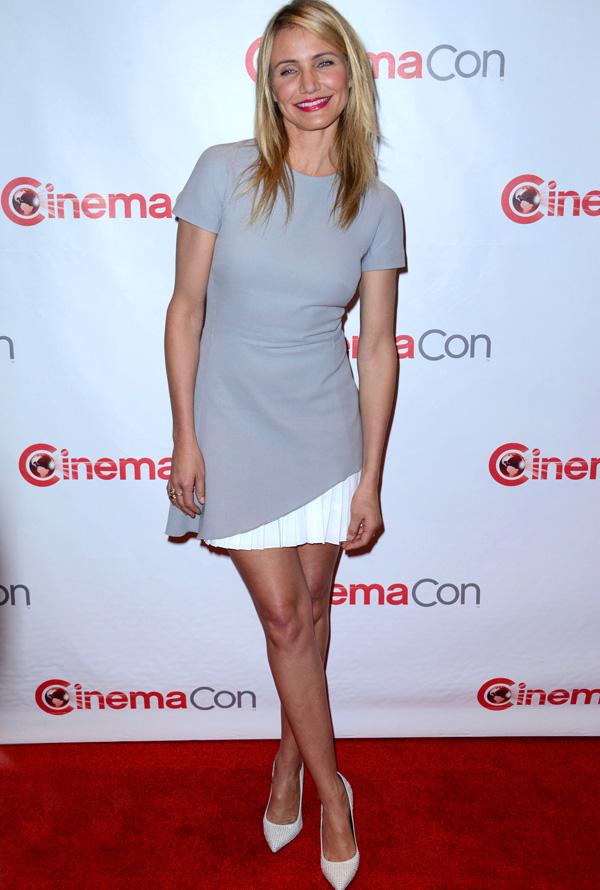 Can you say spring? Cameron Diaz's minimal outfit certainly felt like it. The always-witty star picked a minimal grey shift with an asymmetrical hem that displayed a white pleated panel. It was a fresh alternative to the basic silhouette—and it looked flawless with a bright pink lip. She finished the look with white pointy-toe pumps and a low-maintenance 'do. And guess who made this chic design? Our girl Victoria Beckham!
Article continues below advertisement
Selena Gomez at unite4: humanity Event - Celebrity Style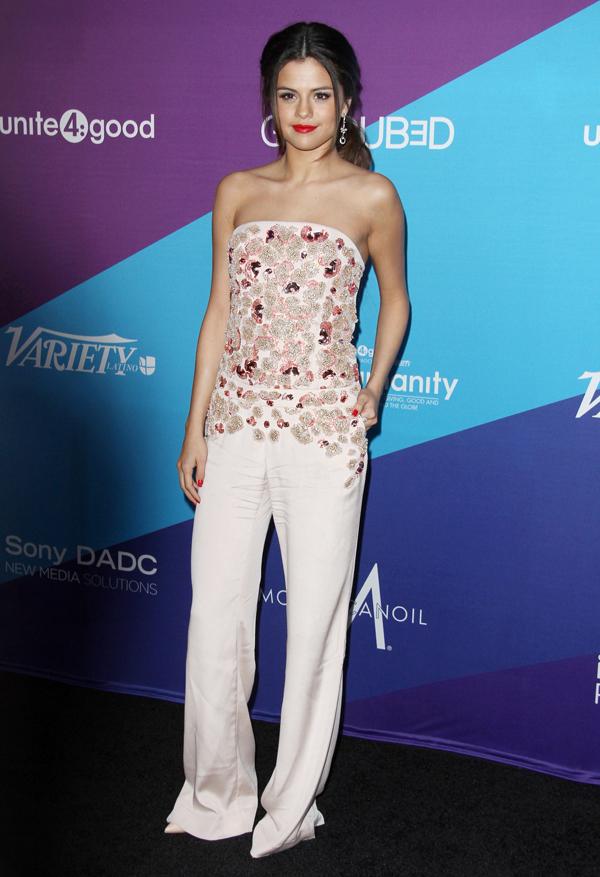 Margot Robbie isn't the only gal in H-Wood who knows how to work a jumpsuit. Selena Gomez looked absolutely stunning this strapless white jumpsuit at the unite4: humanity event in Los Angeles. The beaded embellishment (on only the front of the garment) gave the design a dose of feminine drama, and the tailored pants made her legs look super long and lean—not that she needs help in that department! 
Article continues below advertisement
Karolina Kurkova at New York Fashion Week - Celebrity Style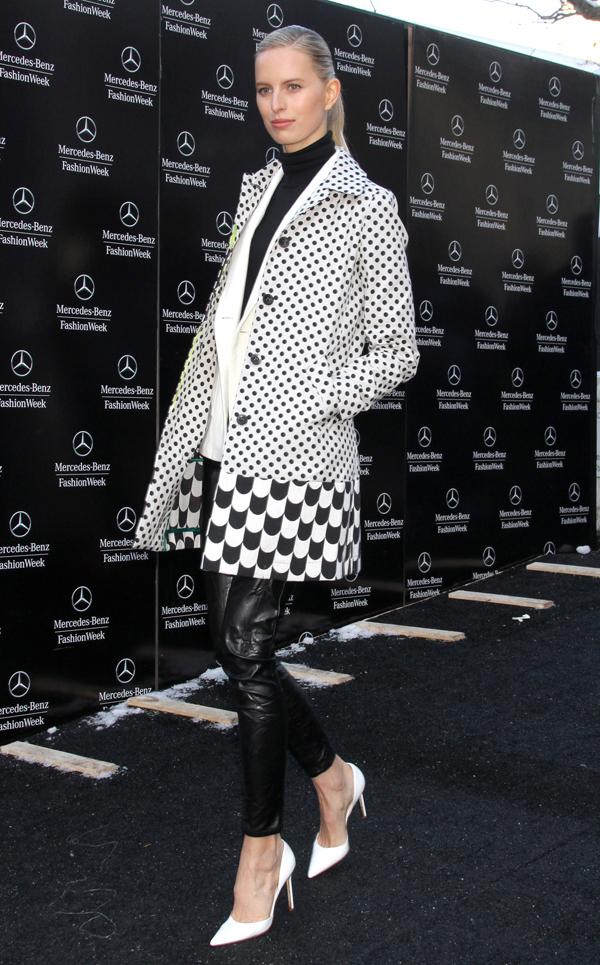 Karolina Kurkova attended the Desigual runway show during New York Fashion Week wearing leather skinny jeans and an unmissable black and white patterned coat.
Article continues below advertisement
Pregnant Kristin Cavallari - Celebrity Style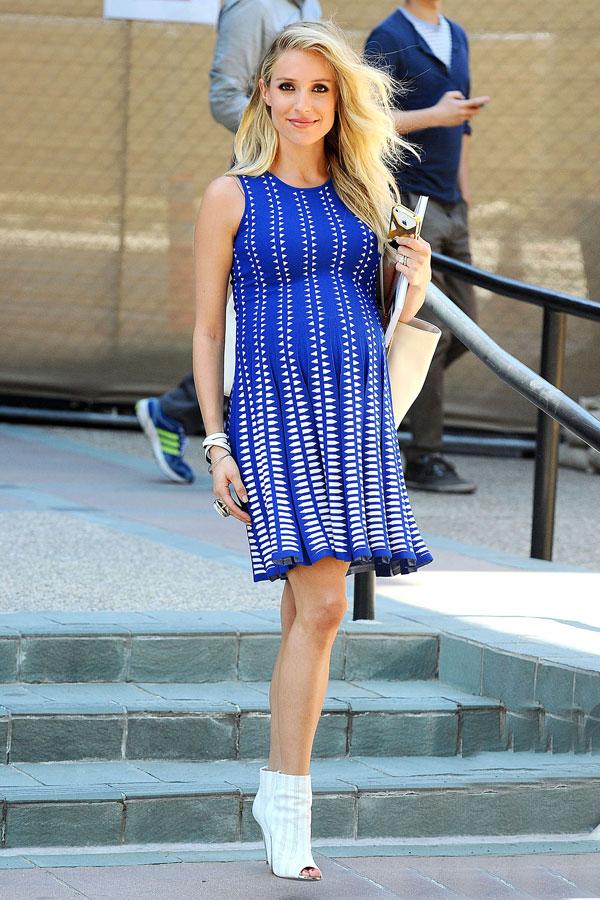 Maternity fashion meets McQueen in this dashing Kristin Cavallari look! The Fabulist host (with the gorge long blonde locks) stepped out of the E! offices wearing this pleated and perforated royal blue number by Alexander McQueen with her own Chinese Laundry white peep-toe booties. The color juxtaposition is bright, bold, and lets that baby bump shine. 
Article continues below advertisement
Sophia Bush at the Elle Women in Music Event - Celebrity Style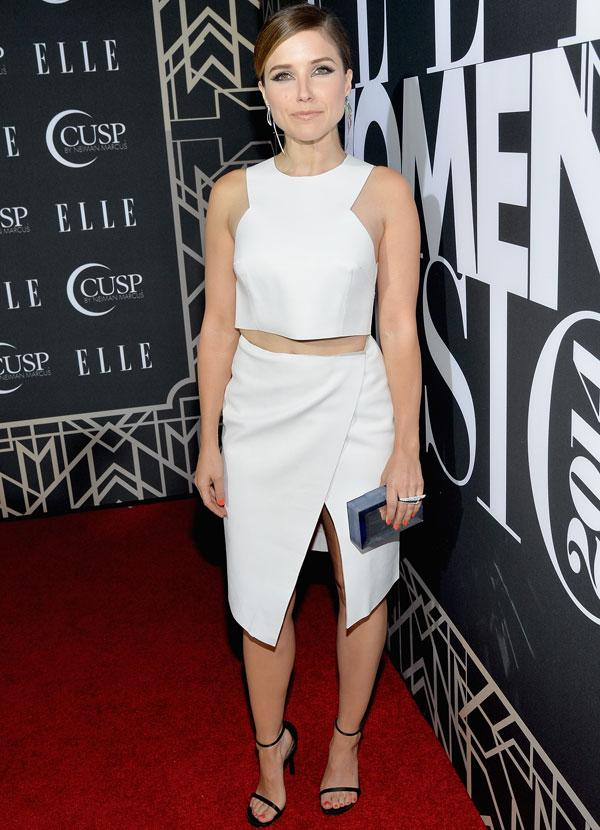 We can't get enough of these matching tank and skirt combos! Sophia Bush stunned in a crisp white ensemble, which consisted of a tailored crop top with a white pencil skirt with an envelope slit, at the Elle Women in Music Event presented by CUSP by Neiman Marcus. She gave the outfit contrast with sleek black sandals, dangly earrings, and a cocktail ring to squeal over. 
Article continues below advertisement
Jenna Dewan-Tatum in Peter Som for DesigNation Printed Pants - Celebrity Style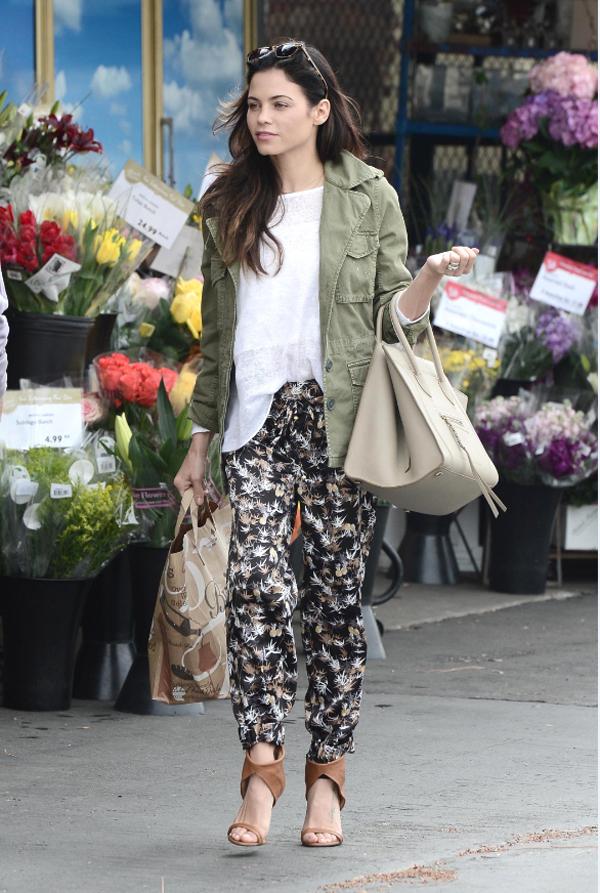 Wearing heels while running errands isn't something the majority of the world has perfected. But thanks to the inspiration that is Jenna Dewan-Tatum's outfit, we're one step closer. The actress rocked a "weekend wear" type of vibe with open-toed sandals, a white breezy tee, a military jacket, and Peter Som for DesigNation printed pants. So when you're down to one egg and two slices of bread and just have to get to the grocery store, slip on a pair of lounge-y pants (Jenna's are only $50 at Kohls!) and you'll be sure to look like a million bucks. 
Article continues below advertisement
Jessica Paré at the Mad Men Premiere - Celebrity Style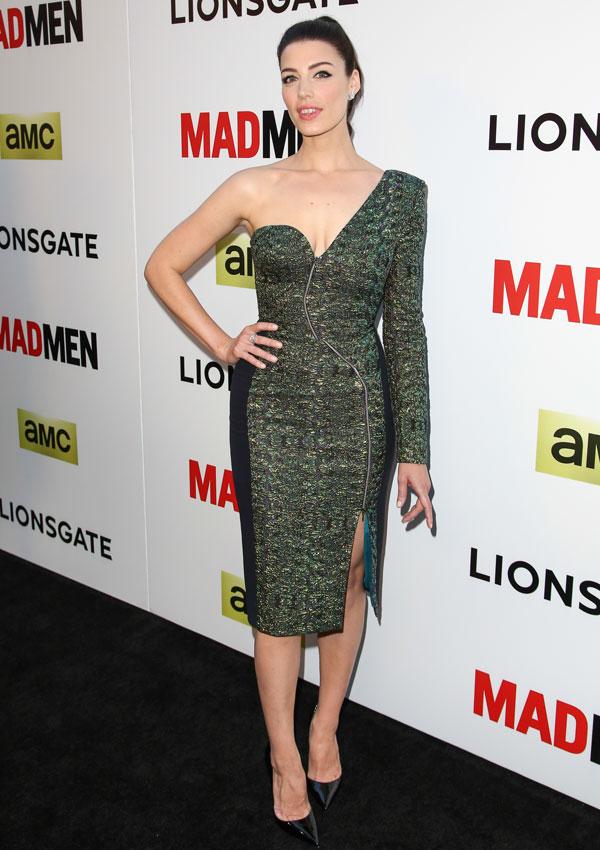 Megan Draper would approve of this one! Jessica Paré attended the 7th Season premiere of Men Men, wearing a one-shoulder iridescent creation by Antonio Berardi. The emerald green cocktail dress, which is decorated with black panels and a structured shoulder, is reminiscent of the glam, Hollywood-bound role she plays onscreen.
Article continues below advertisement
Carrie Underwood at the 100 Time Gala - Celebrity Style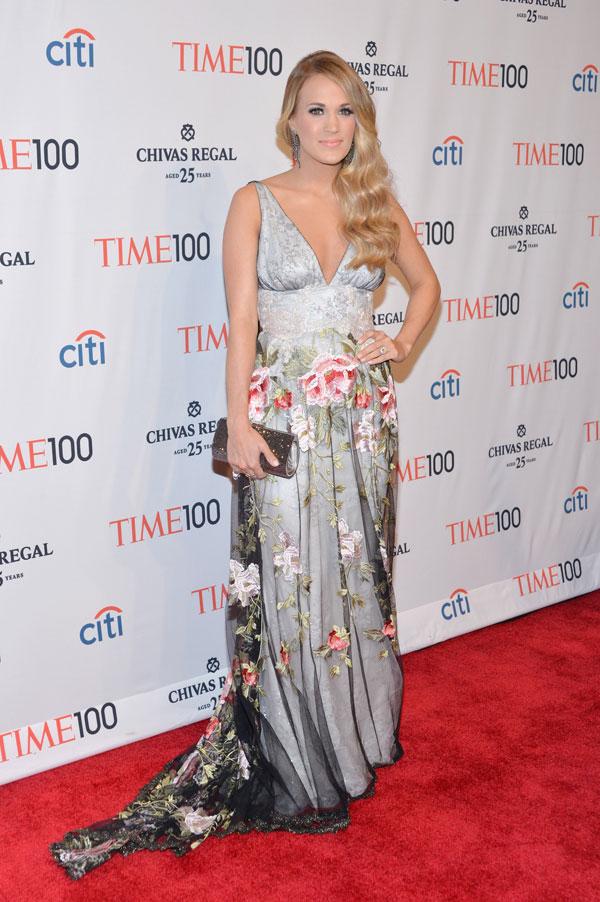 Carrie Underwood deserves a dozen roses for this style win! The country singer, who has won the hearts of millions with her heartfelt lyrics, attended the Time 100 Gala in a breathtaking Claire Pettibone gown with rose embroidered details and a deep-V neckline. The pick was very descriptive of Carrie, as she usually gravitates towards feminine colors and wonderfully flattering silhouettes. Carrie complemented her romantic dress with an Old Hollywood Glam blowout and Swarovski's gunmetal crystal New Power clutch.
Article continues below advertisement
Sophia Bush - Celebrity Style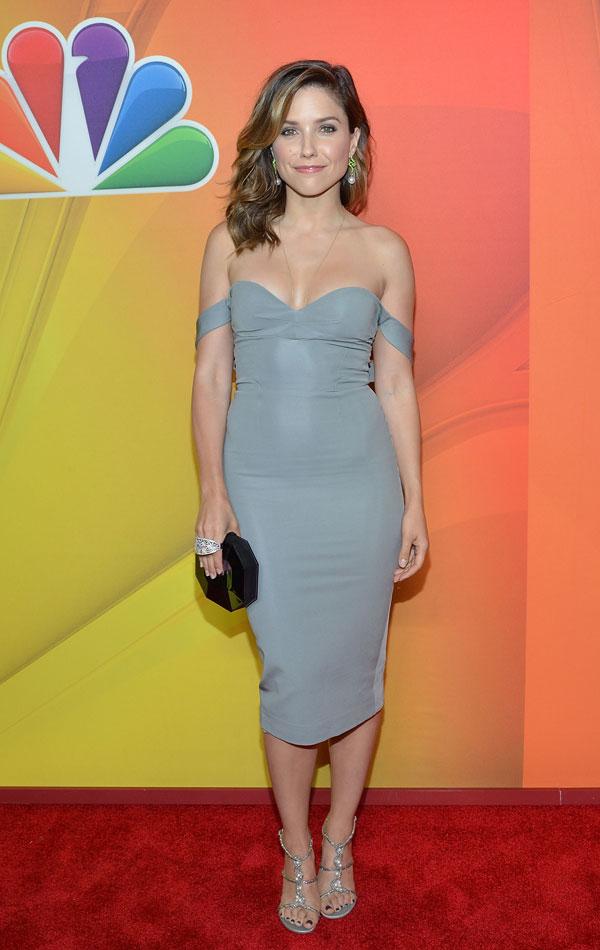 Yeah, we're obsessed with that dynamite dress, but THOSE EARRINGS are what we really want to talk about! Sophia Bush rocked a spot-on Cushnie et Ochs cocktail number while attending the NBC Upfront Presentation yesterday and accessorized the ensemble with bling to drool over. Seriously. The green snakes peaking out from her wavy 'do are designed by Jacob & Co. and feature a pretty dangling pearl. And instead of stackable rings (which are HUGE right now) she opted for a sparkling cuff ring by the same designer. 
Article continues below advertisement
Emma Watson at the Noah Premiere - Celebrity Style
Watch out, world! We've got ourselves a new red carpet style star. Emma Watson attended the Madrid premiere of Noah in a black and white jumpsuit by J.Mendel. She gave the minimal onesie an edge with a deep side part, accessorized with multiple mixed-metal clips. This movie tour could prove to be more stylish than Lily Collins' Mortal Instruments parade! 
Article continues below advertisement
Lupita Nyong'o in a Floral Dress - Celebrity Style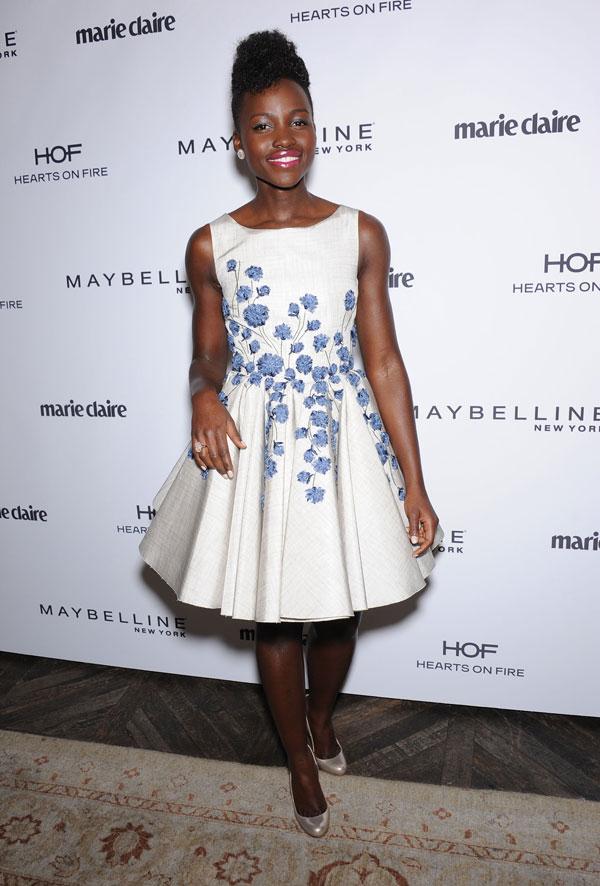 Of course Lupita Nyong'o would wow us with another A+ outfit. Of course she would! The Oscar-winner (aren't you so glad she snagged the title?) attending the Marie Claire Fresh Faces party in a girly-girl treasure of a dress by Giambattista Valli. The pleated and floral number, that falls right above her knee and creates an ultra-flattering silhouette, was basically made to be worn to a Hollywood garden soirée. 
Article continues below advertisement
Nina Agdal in bebe - Celebrity Style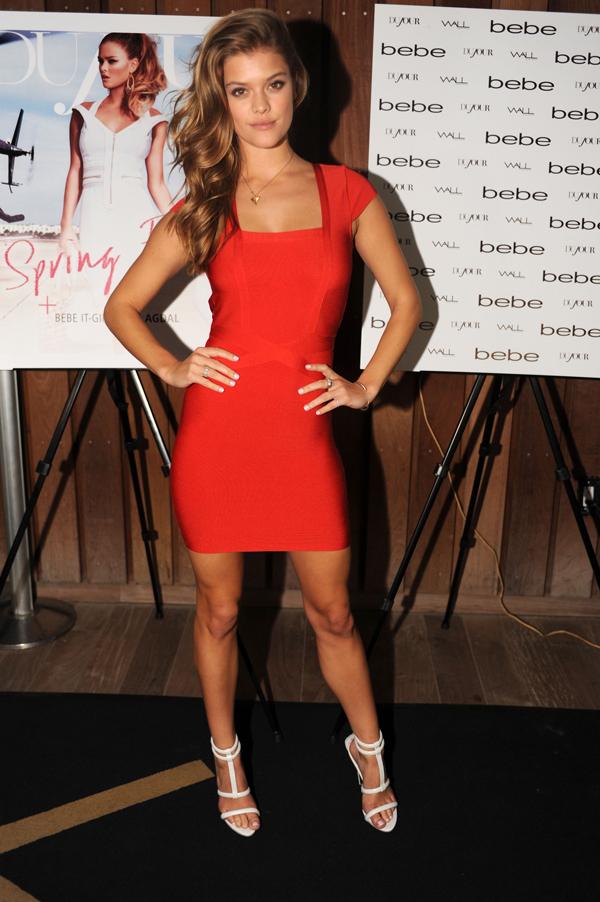 Who better to host a sunglass line release than a Sports Illustrated cover model? She certainly knows how to beach it! The always-gorge Nina Agdal attended the bebe sunglass and spring campaign release party in the brand's scarlet red Square Neck Sweater Dress and strappy white heels. The body-con silhouette sculpted her toned bod perfectly, while the red and white color combo highlighted her sun-kissed skin.  
Article continues below advertisement
Melissa Gorga Fashion - Celebrity style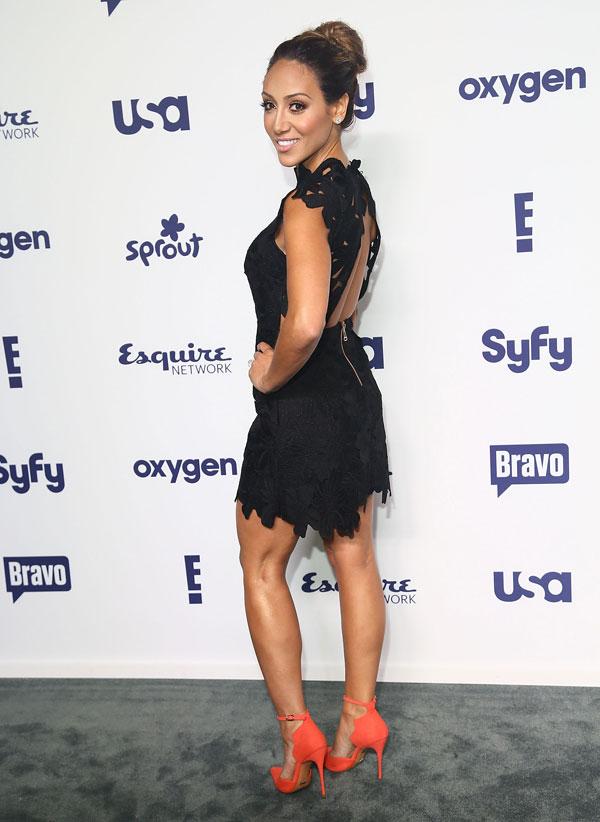 The Real Housewives of New Jersey's Melissa Gorga rocked the red carpet of the Bravo Upfronts in a super hot lacy LBD with an open back and AMAZING bright orange sandals. Yeah, so you get that we're obsesssed with the shoes... The polished ballerina bun contrasted the edgy hem of her mini in a creative, unexpected way. Melissa, the look couldn't be better!   
Article continues below advertisement
Miranda Kerr Animal Print Blouse - Celebrity Style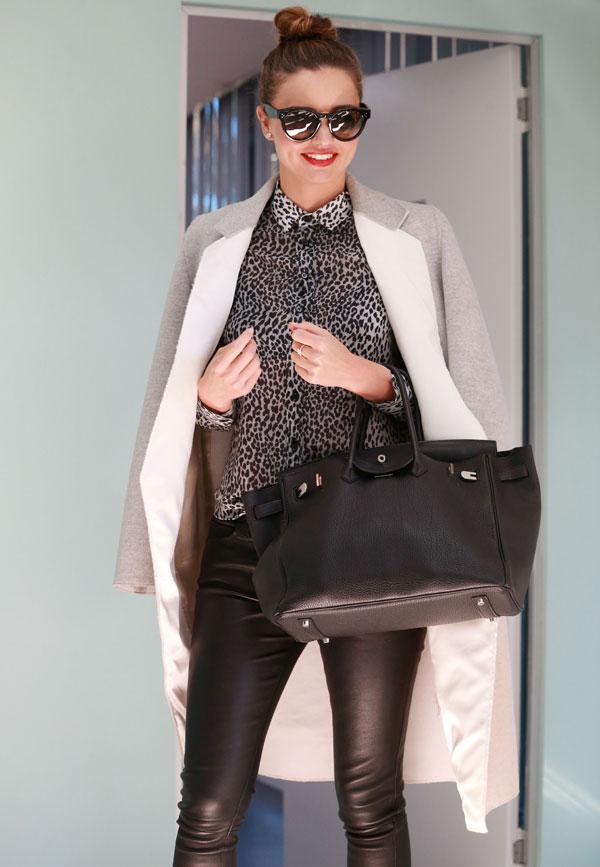 Miranda Kerr touched down in Sydney to visit her company Kora Organics and showed off an edgy approach to business casual dressing. The celeb rocked a pair of hot leather pants with a leopard-print blouse tucked in, giving the look a more polished feel. She added even more structure to the formfitting outfit with a tailored cream coat draped over her shoulders and a classic red lip. Take note! Instead of Hollywood waves, the Clear Hair Care spokesperson tossed her locks into a modern and carefree topknot.   
Article continues below advertisement
Malin Akerman at 2014 Global Green USA Pre-Oscar Party - Celebrity Style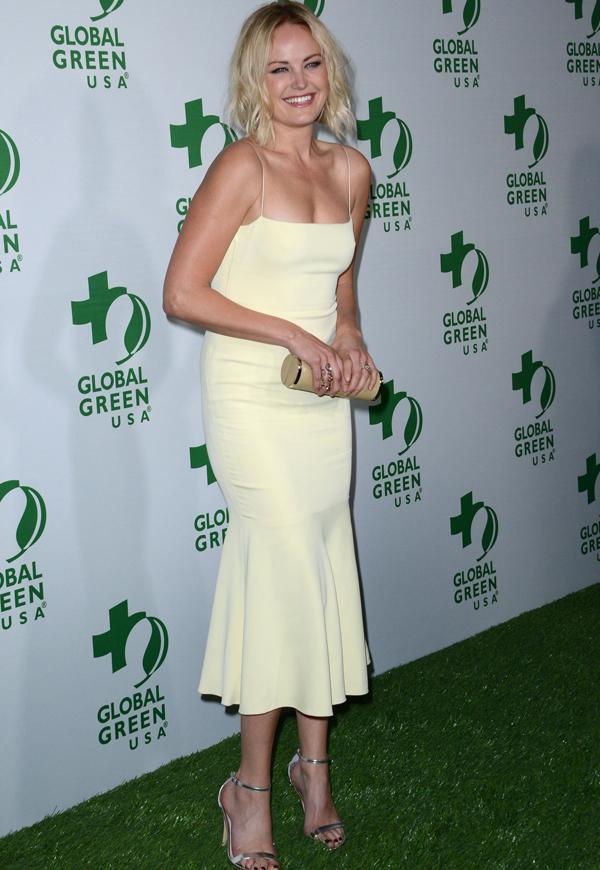 So it's a little 90s, but when it's by Wes Gordon and in a pastel yellow hue, (and in a mermaid silhouette!) all is alright. Trophy Wives' Malin Akerman attended the 2014 Global Green USA Pre-Oscar Party bringing spring with her in this refreshing and delicate evening dress. It fit her like a glove! She finished off the look with silver heels from ALDO.
Article continues below advertisement
Kate Middleton's Fashion at the ICAP Opening - Celebrity Style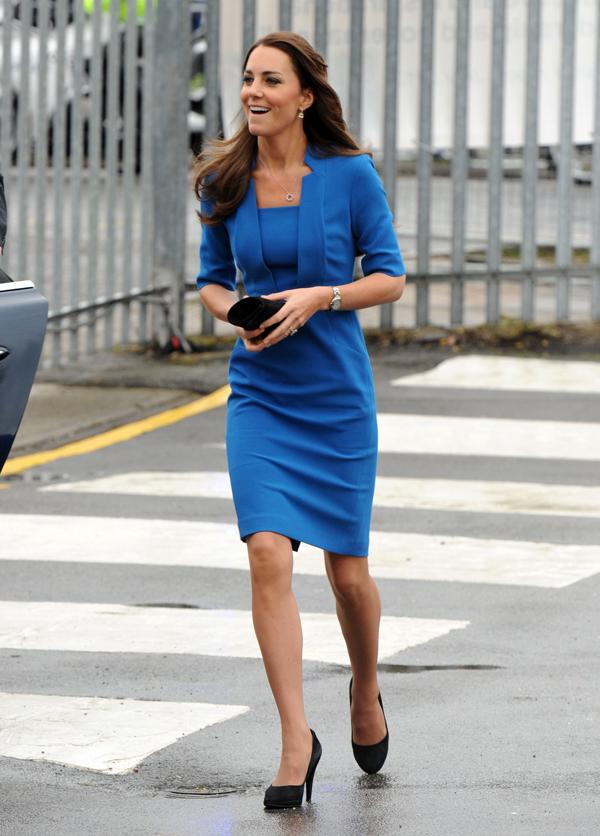 One undeniable fact about Kate Middleton's style? It's all things sophisticated. The Duchess of Cambridge attended the ICAP Art Room opening in classy blue sheath dress by LK Bennett. The tailored design fit like a glove!
Article continues below advertisement
Taylor Swift at the ACM Awards - Celebrity Pictures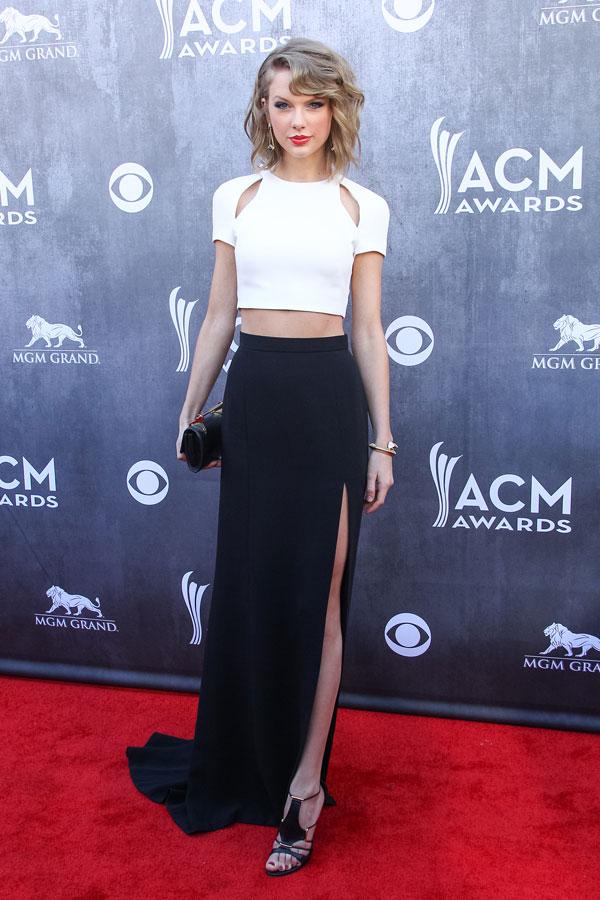 It's no gold sparkly mini, but it's still perfection! Taylor Swift showed up at the ACM Awards in a sophisticated (and trendy!) J.Mendel crop top and maxi skirt combination with a sexy high slit. The shortened blouse, complete with symetrical shoulder cut-outs, displayed even more skin than usual. T-Swift may have mixed things up in the fashion department, but she kept things classic with her signature red lip and curly long bob. 
Article continues below advertisement
Kate Middleton in DVF Dress - Kate Middleton Royal Tour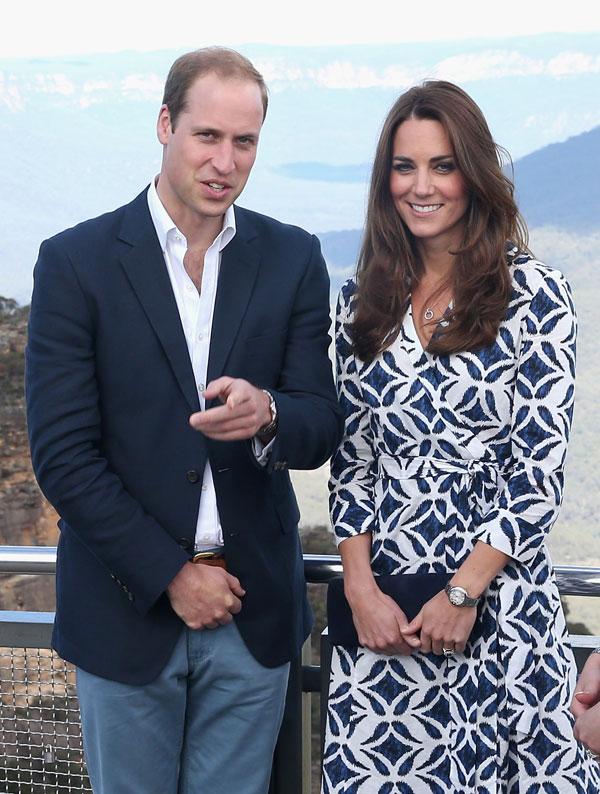 We know we posted about Kate Middleton's royal tour look yesterday, but in that DVF wrap dress, it's only fair that we let her steal the spotlight again. The Duchess of Cambridge attended an event held at Winmalee in Australia wearing a the designer's signature silhouette in a summery navy blue and white pattern and wedge heels that looked similar to the pair she rocked while playing volleyball earlier this year. Yes, you read that correctly. Kate Middleton is THAT fabulous and plays volleyball in wedges. And we know for a fact that we're not alone in our love for this look, as the dress is currently sold out and available for pre-order on DVF's site. Oh, the power of a princess.  
Article continues below advertisement
Rihanna Pretty in Pink Dress by Dior - Rihanna Dior Cruise Show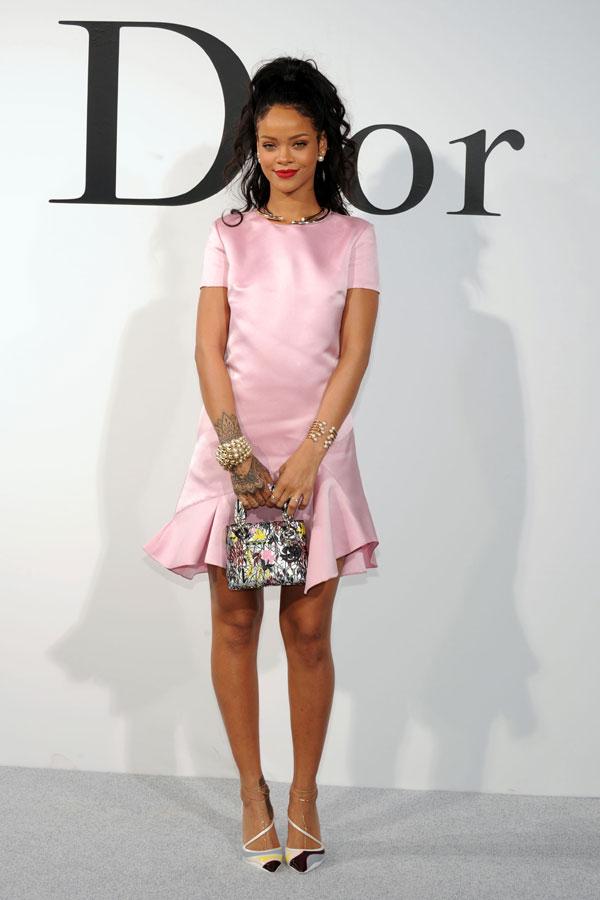 Well isn't this a contrast from her last OK! LOD outfit! From lacy wows to structured crop tops (that Met Gala look was un­real, wasn't it?) Rihanna is keeping the world guessing when it comes to her style preferences.
While attending the Christian Dior Cruise 2015 show in Brooklyn last night, the star made her much-anticipated appearance in a pale pink Dior shift dress accented with a series of sweet ruffles. Surprised at the girly approach? Bad Gal RiRi gave the look a pop with layered bracelets, multi-colored heels, and a mixed-media satchel. Much like her Met 'do, Rihanna rocked a tousled tendril look with a bold red lip. This look speaks to us. What about you? 
Article continues below advertisement
Jeannie Mai at the Star Magazine Party - Celebrity Style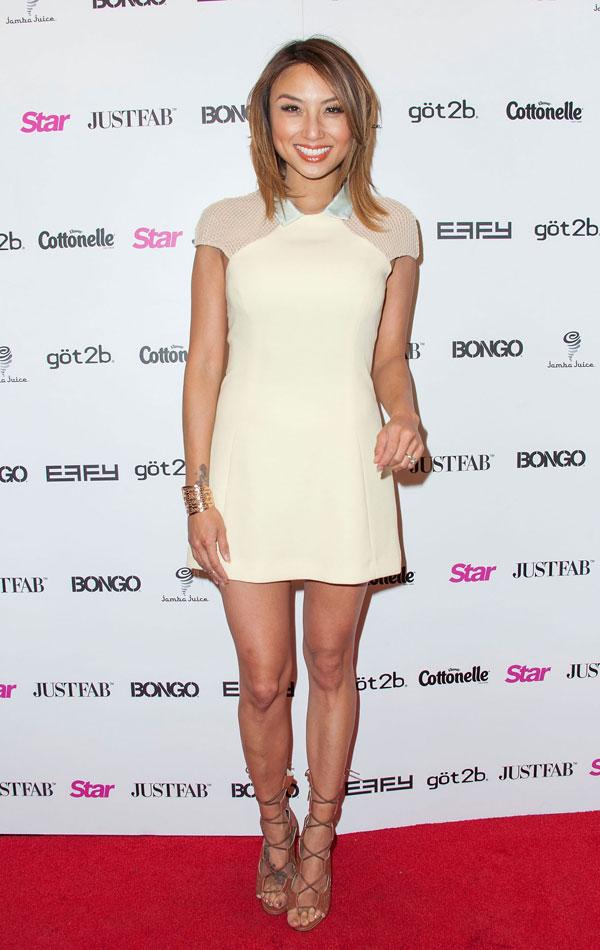 Jeannie Mai loves a mini dress! The TV personality wore a collared Charlotte Ronson mini dress to the Star Magazine Hollywood Rocks party in Los Angeles last night. The ensemble looked reminist of the 60s (she did have lace-up sandals on, after all), but the netted sleeves brought along a modern edge. The fashion guru didn't overplay the neckline with a statement necklace but chose a must-have gold cuff to complete the look.  
Article continues below advertisement
Marion Cotillard in Dior - Celebrity Style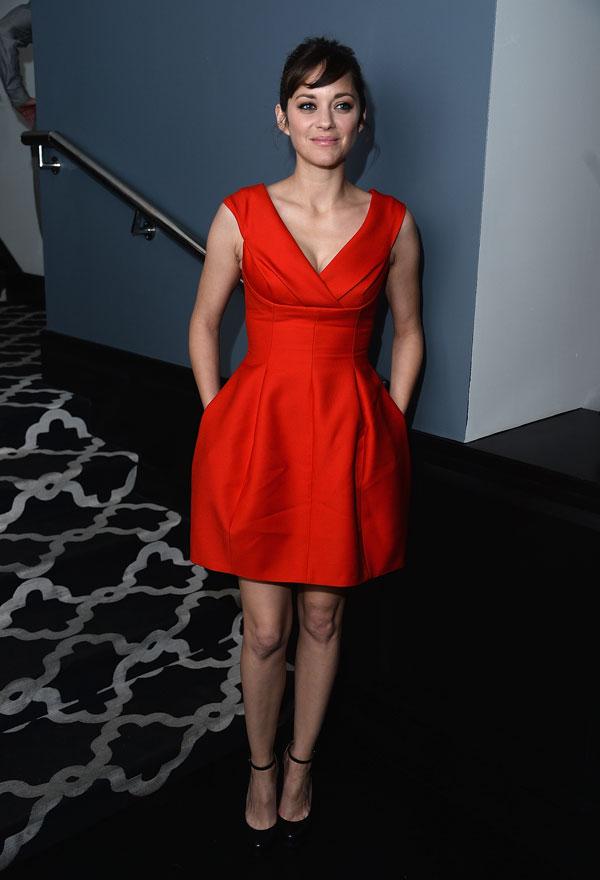 Whether the outfit is completely relatable (like your regular sundress) or something you'd only see in haute couture editorial shoots (um, hello Met Gala), the gorgeous Marion Cotillard makes the silhouette shine. The celebrity wore an elegant Dior A-line dress that hit right above the knee in a gorgeously rich red hue to the Immigrant after-party last night. The cut is so simple, but the fabric is incredibly luxurious and feminine. It's the little red dress of your dreams.
Article continues below advertisement
Sarah Hyland at David Letterman Taping - Celebrity Style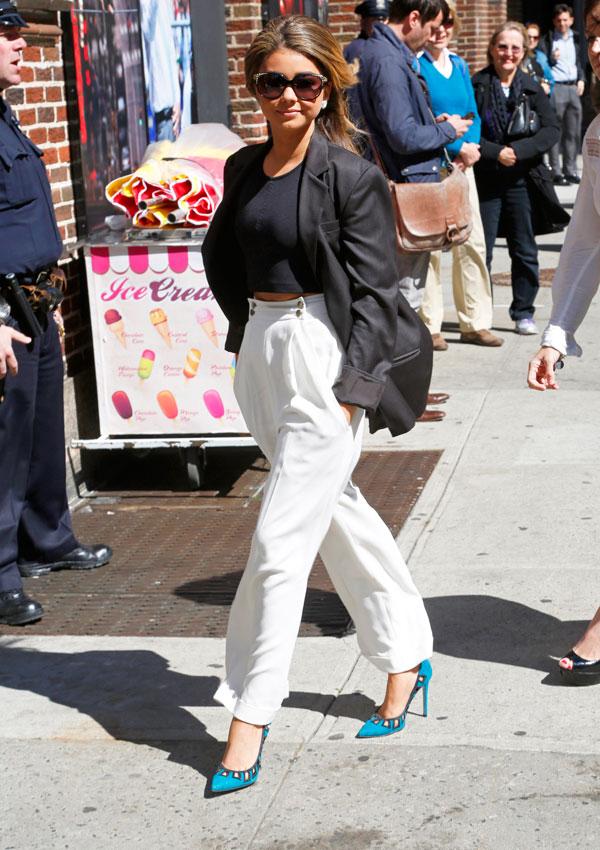 When you're going to wear a garment voluminous and flowy on the bottom, you keep it fitted and structured on top, right? Sarah Hyland aced that fashion test when she was spotted walking into a taping of David Letterman. Sarah wore a pair of white high-waisted trousers with a black crop top and gave the look a pop of color with teal heels with Swarovski crystals designed by Rene Caovilla. She topped it like a pro with a black trench that would send any girl frantically searching for its lookalike. 
Article continues below advertisement
Cobie Smulders Style - Celebrity Style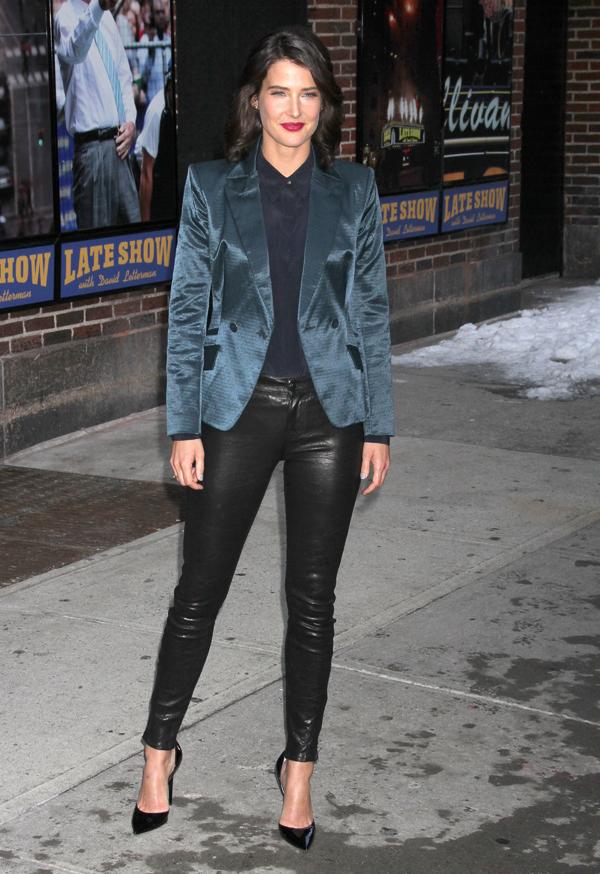 How I Met Your Mother's Cobie Smulders sizzled in a pair of hot leather skinnies by J Brand. She added a little red carpet sass to her edgy ensemble with a tailored tuxedo jacket.
Article continues below advertisement
Vanessa Hudgens in 90s Daisy Print Dress - Celebrity Style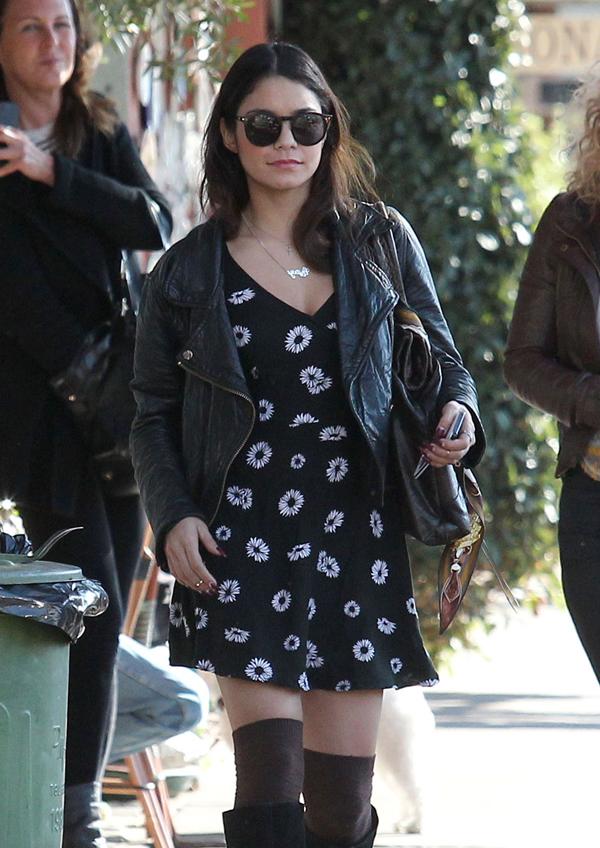 Vanessa Hudgens went 90s when she wore a daisy print sundress with knee-high socks and a cropped leather jacket.
Article continues below advertisement
Lea Michele's Romper - Celebrity Style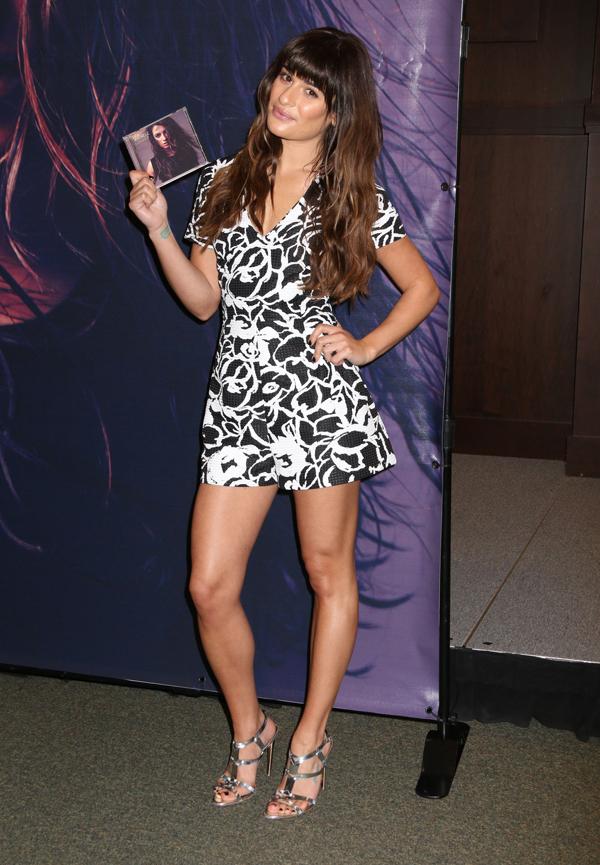 Showing her love for playful, flirty fashion, Glee's Lea Michele showed up to her Louder album signing in a black and white floral romper with strappy Rupert Sanderson sandals. 
Article continues below advertisement
Elle Fanning - Celebrity Style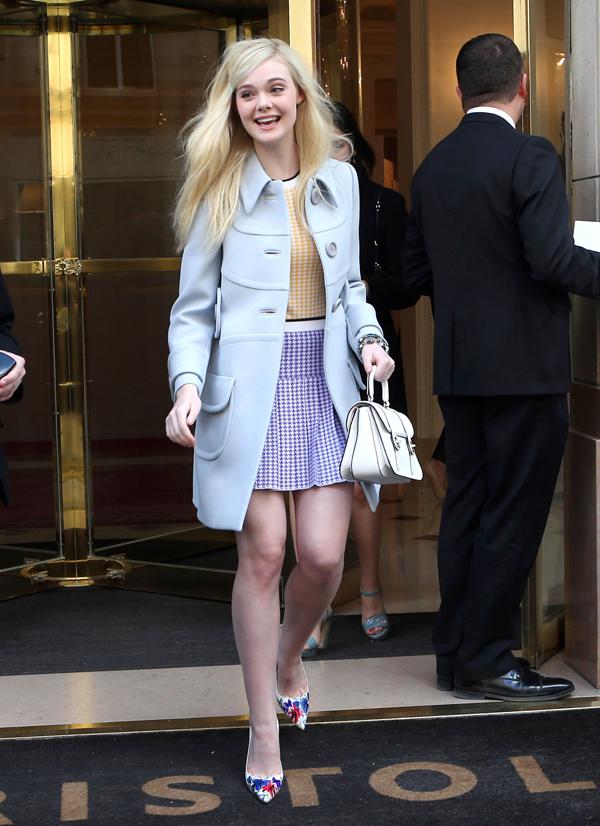 Spring is near! Elle Fanning's preppy pastel outfit proves it. Wearing a gingham pleated skater skirt, a pastel blue coat, and printed floral kitten heels, the 15-year-old actress set the tone for warmer-weather dressing. 
Article continues below advertisement
Kate Moss at Photography Exhibit in London - Celebrity Stye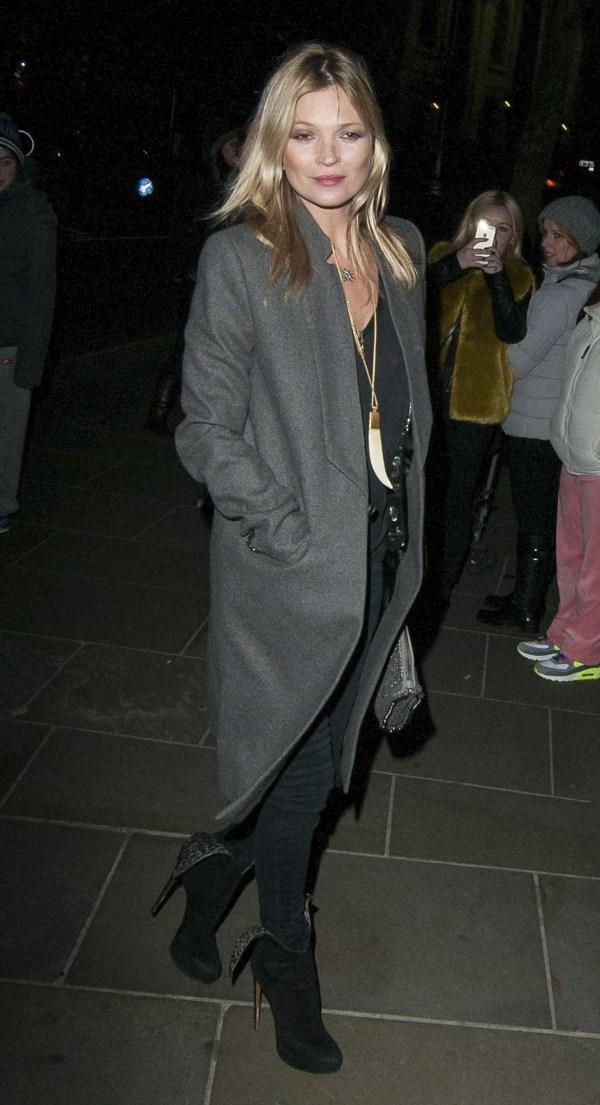 What's that around Kate Moss' neck? It's a tooth pendent necklace—one accessory that's a total A-lister must-have.
Article continues below advertisement
Emma Stone Studded Valentino Heels - Celebrity Style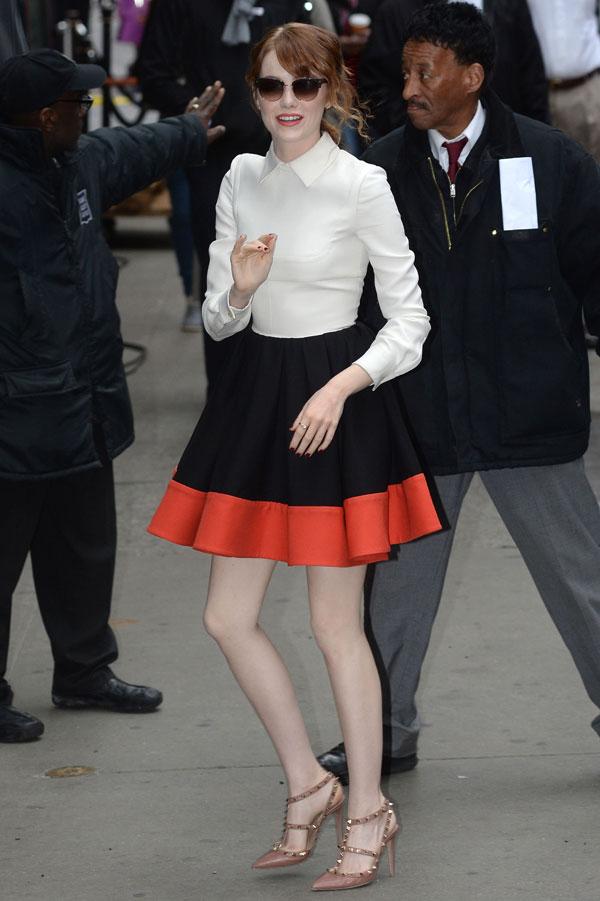 Here's yet another reason to envy Ms. Emma Stone. On top of being one of the best lip-synching stars we've ever seen and having a super hunky BF, The Amazing Spider-Man 2 actress has an unbelievable taste in shoes. The star ventured over to her Good Morning America segment in a pair of nude studded Valentino heels! We can't forget to mention her flirty black skater skirt with the scarlet red trim along the hem and that fitted tailored shirt, both of which complemented those pumps oh so well. Thoughts on Emma's outfit? We're in love!
Article continues below advertisement
Jordana Brewster - Celebrity Style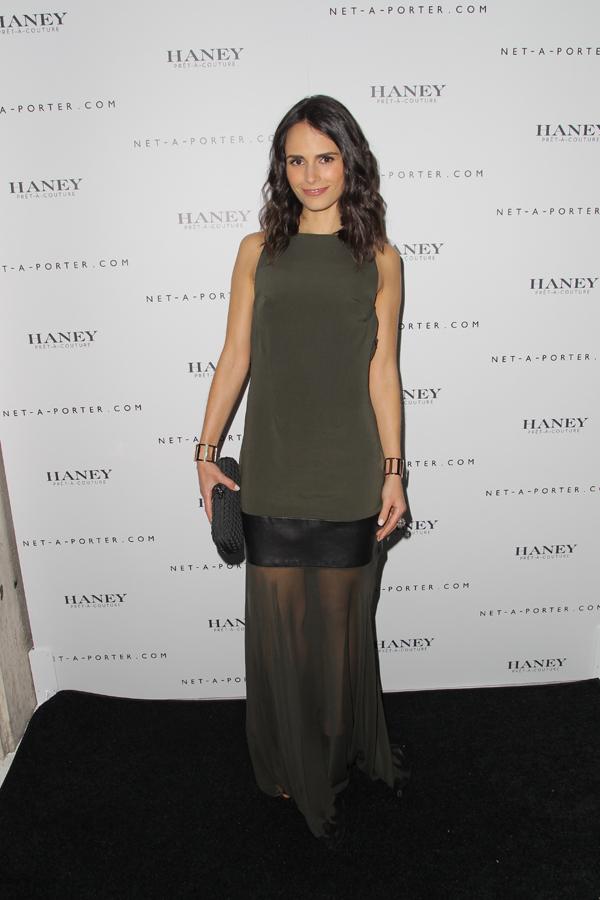 Jordana Brewster showed off a Haney PRET-A-COUTURE dress at the brand's launch party held at the "mmhmmm" lounge at The Standard in Hollywood. She gave the simple design a little sass with two gold cuffs on either wrist.
Article continues below advertisement
beyonce easter instagram - Beyonce Tumblr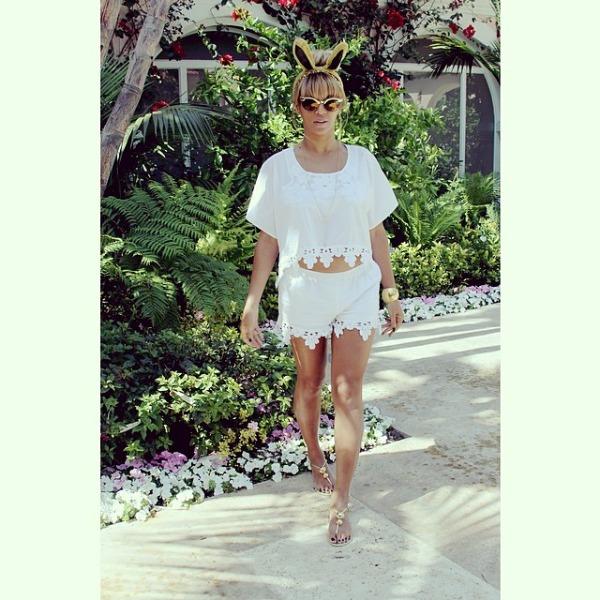 Beyonce uploaded an Easter outfit a day fashionably late, but she's Beyonce so she does what she wants. She wore a loose, breezy white crop top with matching scalloped shorts. Atop her glorious head, golden bunny ears and sunglasses. We want to hunt for eggs with you, Bey!
Article continues below advertisement
Olivia Palermo in Banana Republic Pants - Celebrity Style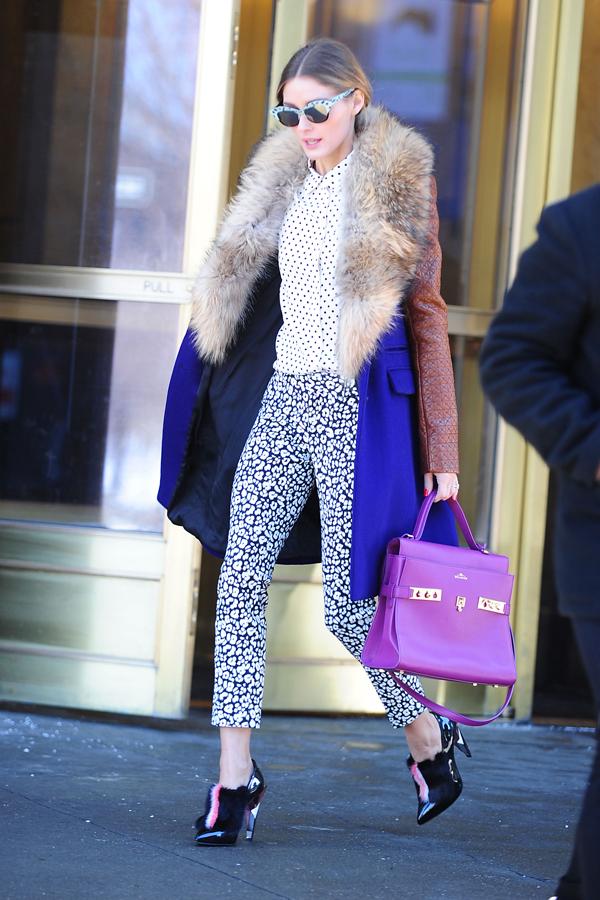 If you're out and about at NYFW festivities, you're bound to run into the lovely Olivia Palermo. The socialite/style star kept warm with fur but played with next season's animal print trend by rocking a pair of Banana Republic Sloan Leopard Print pants.
Article continues below advertisement
Anna Kendrick Red Lace Dress - Celebrity Style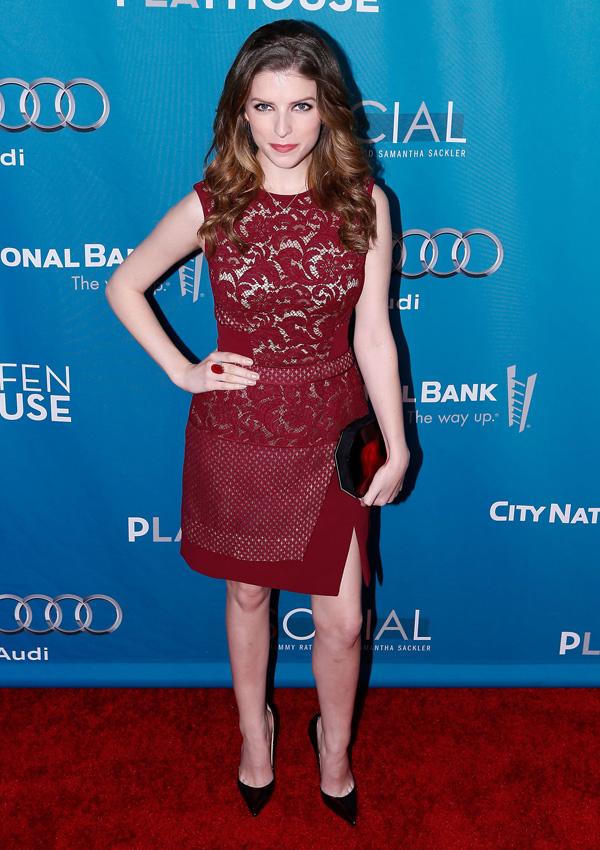 If there was ever a seasonal transition piece, this would be it! Pitch Perfect's Anna Kendrick attended the Geffen Fundraiser in a J.Mendel sheath dress with ornate burgundy lace details and a sexy slit. Defined at the waist, the dress was also decorated with a perforated panel and a faux-belt detail. She accessorized with dark pointy-toe pumps and a bold red lip to match. 
Article continues below advertisement
Olivia Palermo Style - Celebrity Style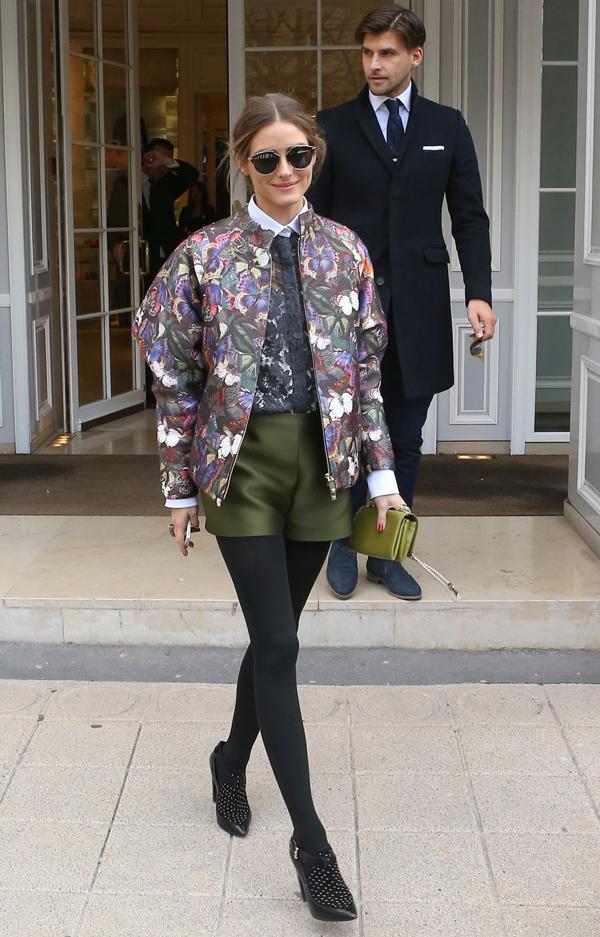 Some could argue that Paris Fashion Week is the most buzz-worthy style event of spring. With such emphasis put on Parisian style, editors, celebrities, and bloggers are only expected to up the ante when it comes to ensemble and accessory choices. Olivia Palermo did just that when she stepped out in Paris wearing a graphic-print bomber jacket with hunter green shorts paired over black matte tights. The outfit completer? Those Rebecca Minkoff studded black booties. What a win, Olivia. What a win. 
Article continues below advertisement
Kate Middleton in a Yellow Dress -Celebrity Style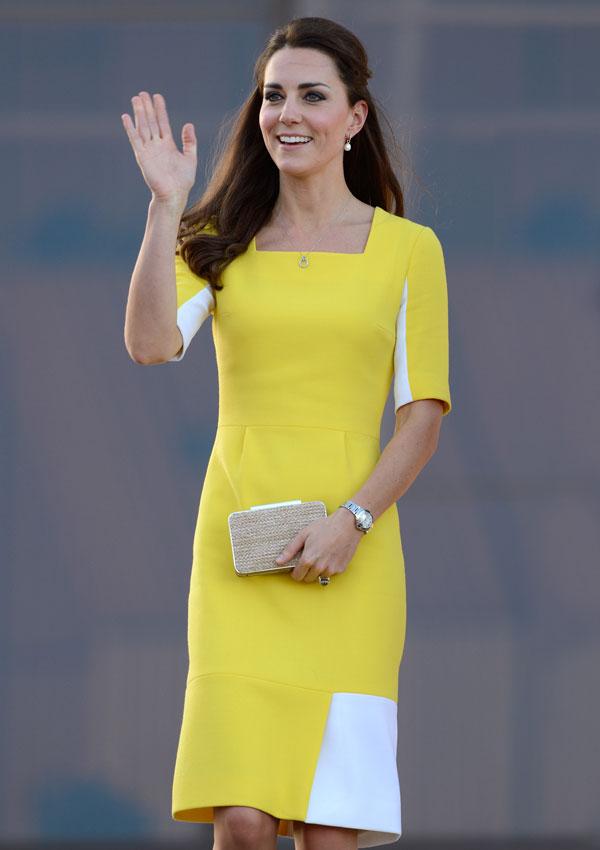 While Kate Middleton said Prince William thought she looked like a banana in this structured shift, we're 100 percent obsessed with her sunny choice. Not only does it fit her like a glove, but also the color complements her rich brunette locks like none other. The dress, which is reportedly a Rokasanda Ilincic design, features panels of crisp white fabric and mid-length sleeves. Kate finished off her ladylike look with nude pumps and minimal jewelry. 
Article continues below advertisement
Jamie Chung in Banana Republic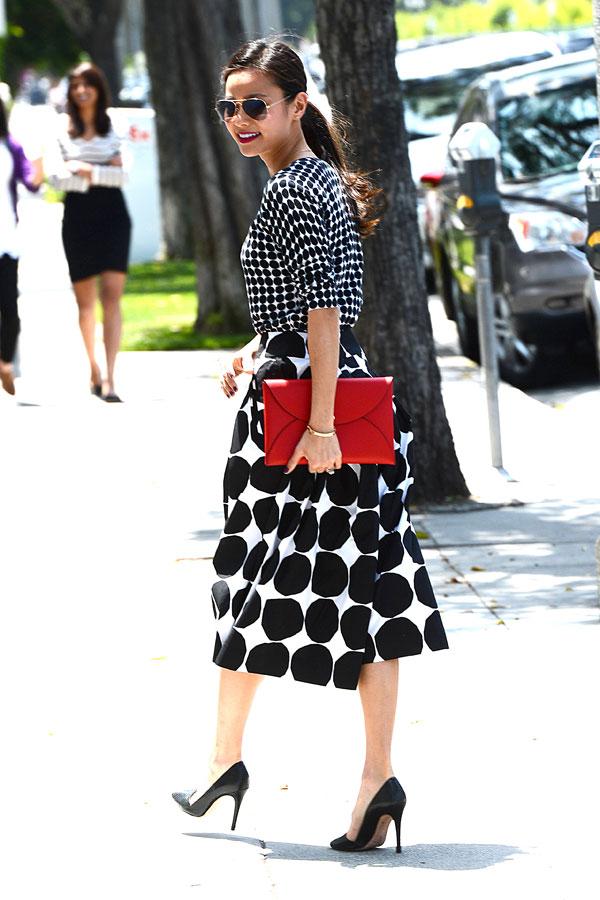 You know Diane Keaton's character from Because I Said So? She would have loved this perfectly pretty polka dot look on Jamie Chung. The celebrity style icon paired a geometric midi skirt (an item she recently told us she's obsessed with) with a polka dot pullover in a tinier print. The skirt and the sweater are both from Banana Republic's new Marimekko Collection (which is more than major) and individually retail for under $100!  
Article continues below advertisement
Cara Delevingne at the Chanel Show - Celebrity Style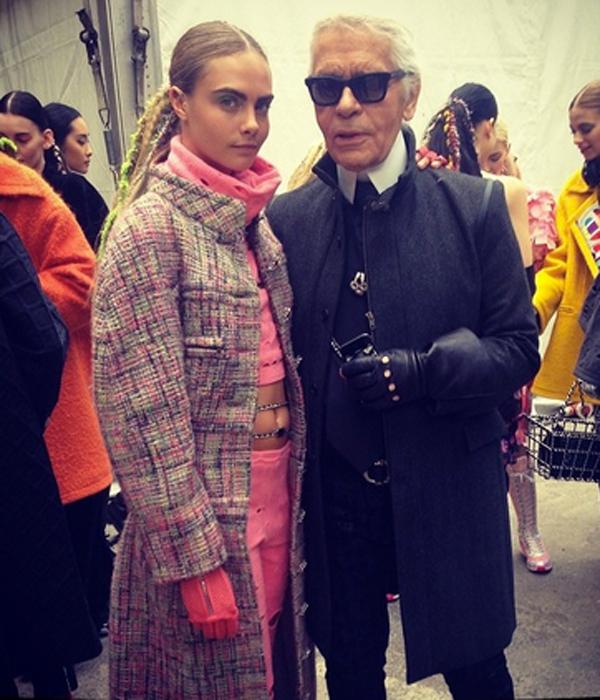 It's no surprise that Cara Delevingne was one of the featured models at Karl Lagerfeld's Chanel runway show during Paris Fashion Week. The stand-out model posed with the designer himself, showing off the house's Fall 2014 designs. That turtleneck crop top may turn heads, but the real object of our affection is that belly chain! Taking you back to '97, isn't it?
Article continues below advertisement
Taylor Swift Style - Celebrity Style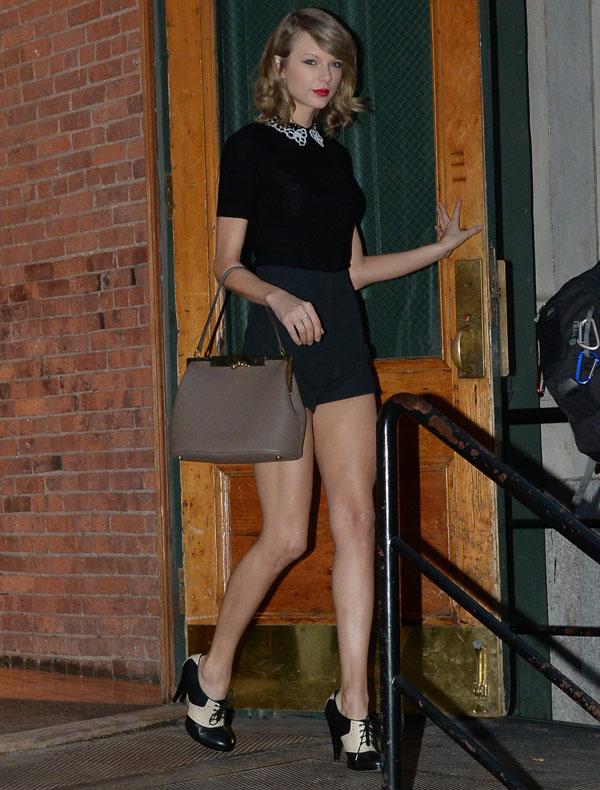 Taylor Swift has made a new home in New York City, and when she's not hanging out with one of her many celebrity besties, she's showing the Big Apple her signature style with some of the cutest outfits ever. The singer flaunted her toned stems in a pair of high-waisted black shorts, a short-sleeve sweater with an embellished collar, and a pair of black and white oxford heels. Try to recreate the preppy look for yourself—just don't forget your red lipstick! 
Article continues below advertisement
Kate Middleton Blue Dress - Celebrity Pictures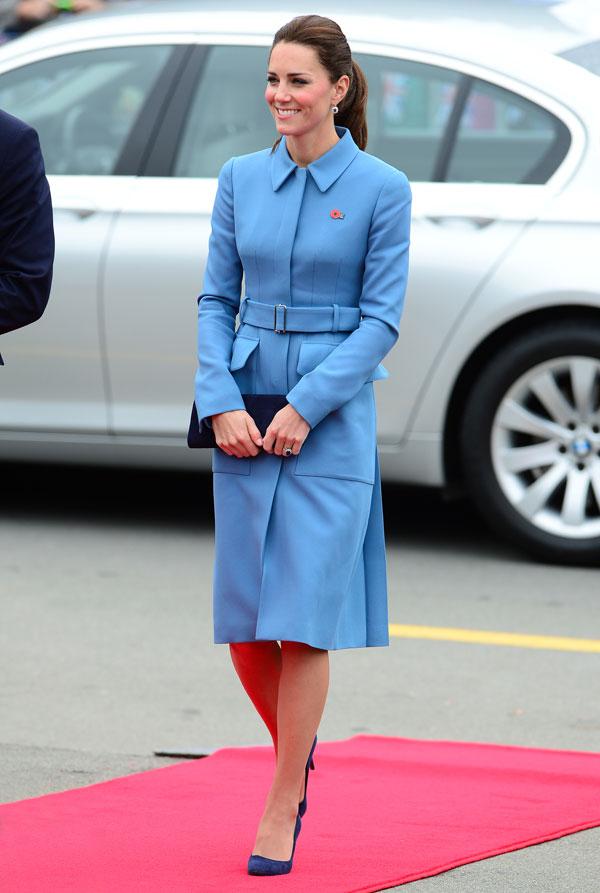 She's a classic beauty! Kate Middleton attended a wreath laying and commemoration in New Zealand, wearing a blue tailored coat with a utilitarian cinched waist. Keeping the look in the same color story, Kate paired her spring topper with navy blue pointy-toe pumps and an incredibly chic ponytail. 
Article continues below advertisement
Jennifer Lopez - Celebrity Style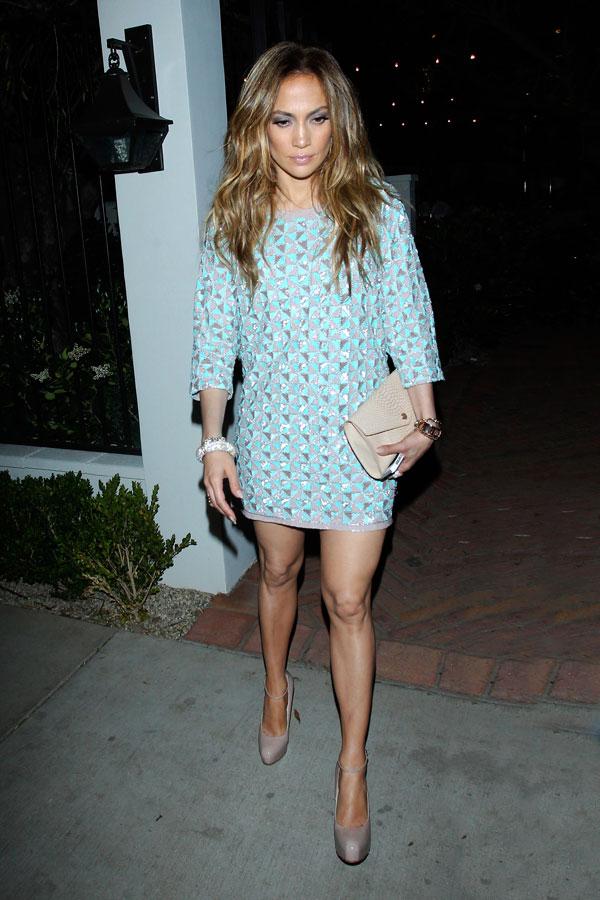 When it's not satin and covered in glitter, pulling off a mini dress is a whole lot easier. Jennifer Lopez's handled the silhouette well in mod teal and silver shift by Lorena Sarbu and nude platform pumps. The juxtaposition of the casual dress shape and the super sexy length is completely stunning. We wish we could rock a bedazzled sweatshirt in that mod print!   
Article continues below advertisement
Kristen Bell in Zuhair Murad - Celebrity Style at the Oscars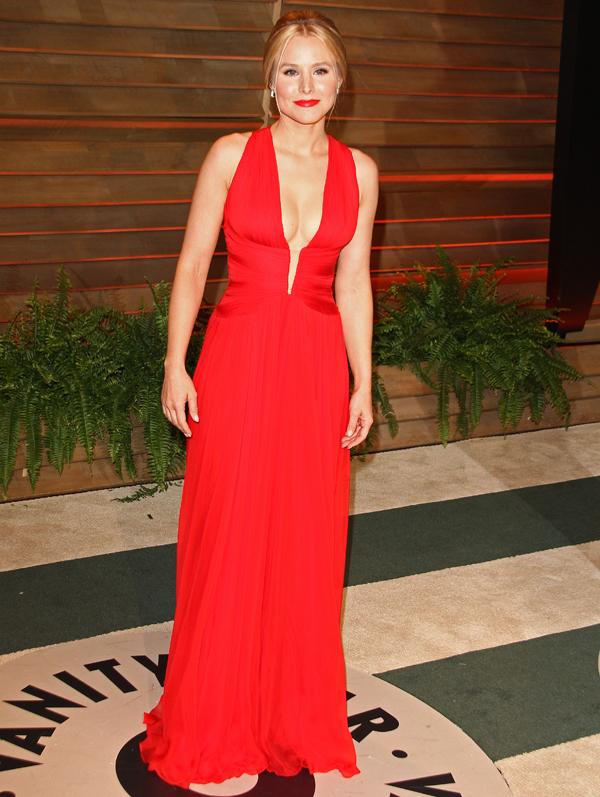 Wow! Veronica Mars' Kristen Bell looked smokin' HOT in a scarlet Deep-V evening gown by Zuhair Murad at the post-Oscars Vanity Fair party. With a bit of cleavage making an appearance and a cinched waist, this is one of the hottest looks the actress has ever worn. In this masterpiece, she could have easily been an American Hustle star. Kristen finished off her look with platform Brian Atwood's. What do you think of her ensemble? 
Article continues below advertisement
Emmy Rossum at the BVLGARI Decades of Glamour Event - Celebrity Style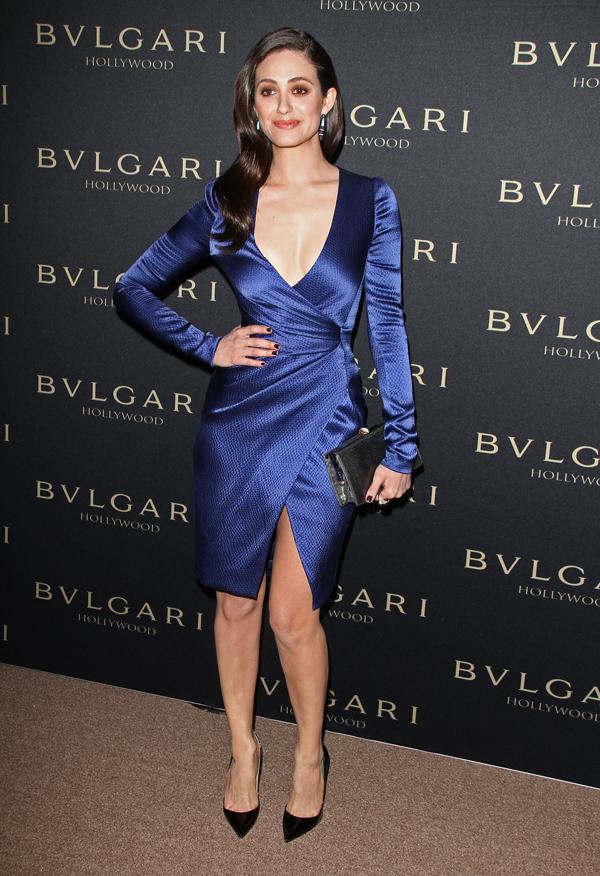 This is Emmy Rossum's color—and cut! The Shameless star stunned in a J. Mendel Deep-V dress at the BVLGARI Decades of Glamour event. With a sexy slit and a waist-cinching component, the navy blue satin design is a total win.
Article continues below advertisement
Lizzy Caplan Black Lace Jumpsuit - Celebrity Style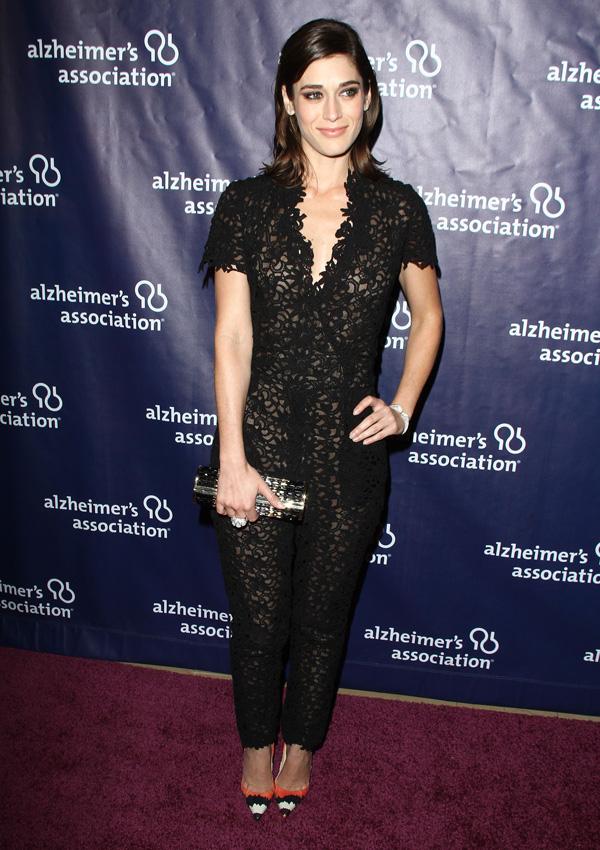 Tasteful, elegant, and totally on trend, Lizzy Caplan attended A Night at Sardis, an event to benefit The Alzheimer Association, in Los Angeles wearing a black Houghton lace jumpsuit. The short-sleeve number, which was tailored to her hot bod unbelievably well, was jazzed up with striped cap-toe pumps, an embellished clutch, and a sparkly cocktail ring.
Article continues below advertisement
Giada De Laurentiis in Navy Dress and Cheetah Shoes - Celebrity Style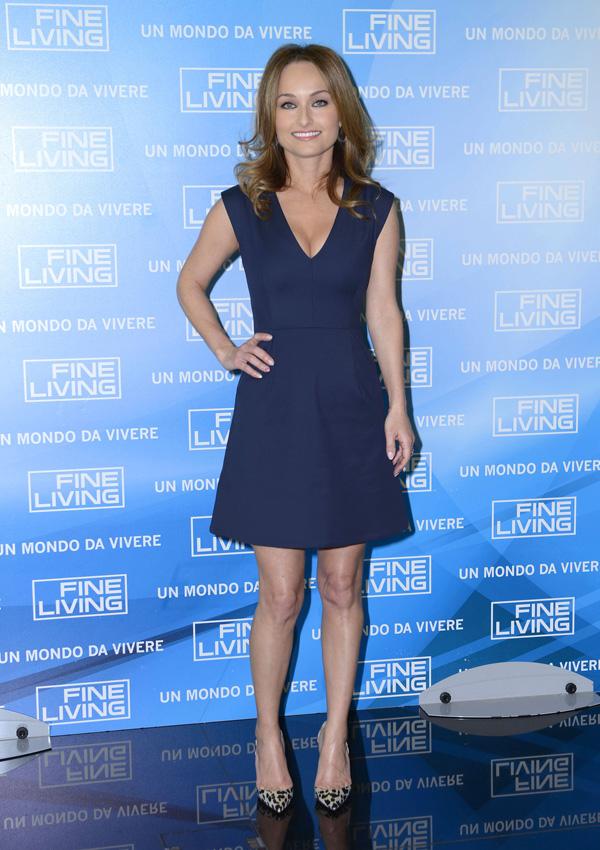 One of the best things about wearing a simple navy dress is accessorizing it up with statement shoes. At the Fine Living TV Channel presentation, legendary chef Giada De Laurentiis proved she can put together a mighty fine meal and outfit. The gorgeous girl rocked a minimal navy blue A-line silhouette and gave it a pop of print with cheetah pumps! Everything about this outfit is delicious.
Article continues below advertisement
Rihanna at the iHeart Radio Music Awards - Celebrity Style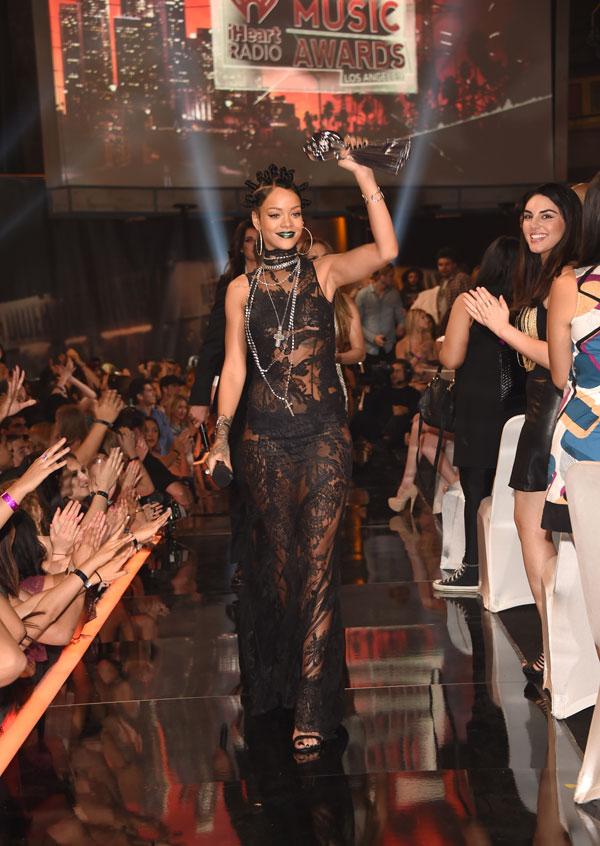 Sportin' something sexy isn't a new style statement for Rihanna! After all, she did post two completely topless photos on Instagram the other day. At the iHeart Radio Music Awards, Rihanna accepted four awards in a sleeveless Givenchy Couture dress made out of a see-through, lacy material. She made even more of a statement with a dark green bold lip and a rock star hairdo. No one does award shows like Bad Gal RiRi.
Article continues below advertisement
Elizabeth Olsen - Celebrity Pictures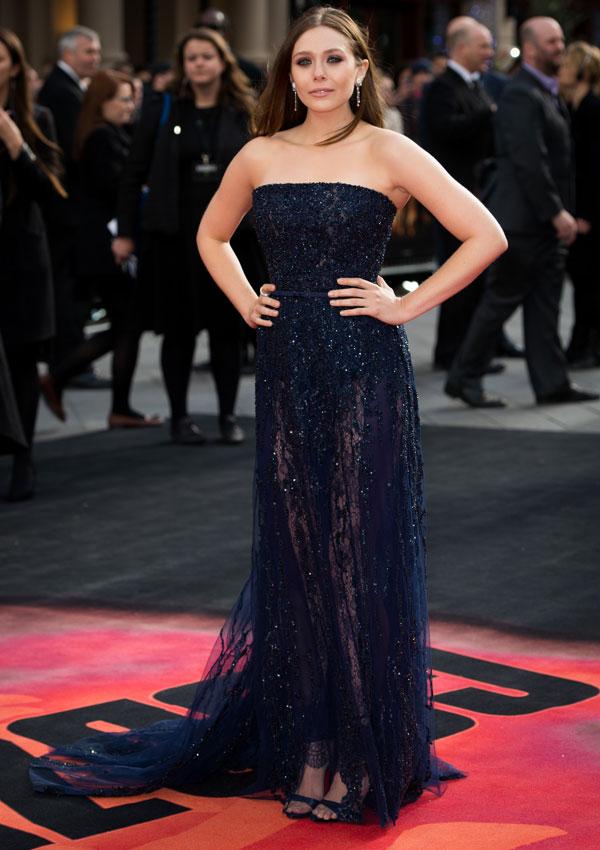 Gosh, the Olsen sisters know how to take a red carpet. The famous twins' little sis Elizabeth Olsen, who happens to be the female lead star of Godzilla, attended the film's premiere in a navy blue Elie Saab gown with a sheer skirt, glistening with beautiful beaded details. The strapless dress was reminiscent of Jennifer Lawrence's Dior look while promoting The Hunger Games: Catching Fire, but Elizabeth is definitely making the trendy see-through feature work, too.    
Article continues below advertisement
Michelle Dockery at the Paris premiere of Non-Stop - Celebrity Style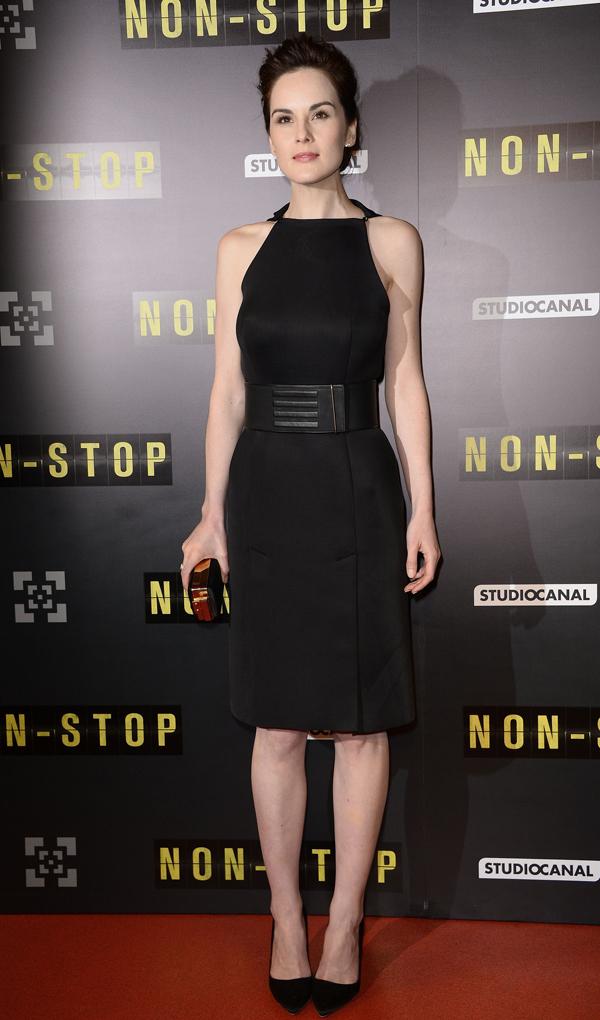 At the Paris premiere of Non-Stop, Downton Abbey star Michelle Dockery wore a luxe Lanvin LBD with a cinched waist. Gorgeous is an understatement.
Article continues below advertisement
Jame Chung at New York Fashion Week - Celebrity Style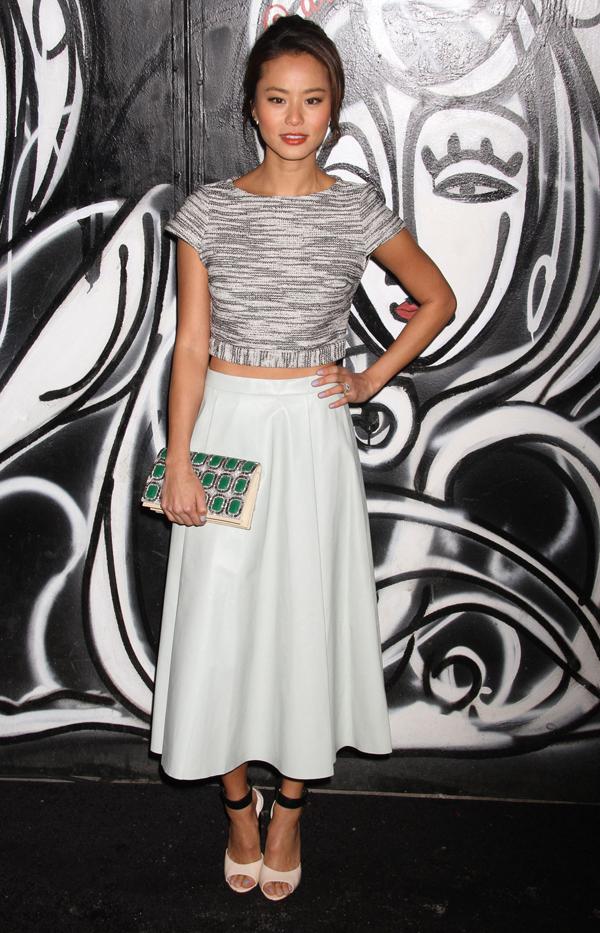 Jamie Chung wowed the Alice + Olivia crowd during the designer's New York Fashion Week presentation in a white midi skirt with a knit crop top.
Article continues below advertisement
Jennifer Lopez Style - Celebrity Style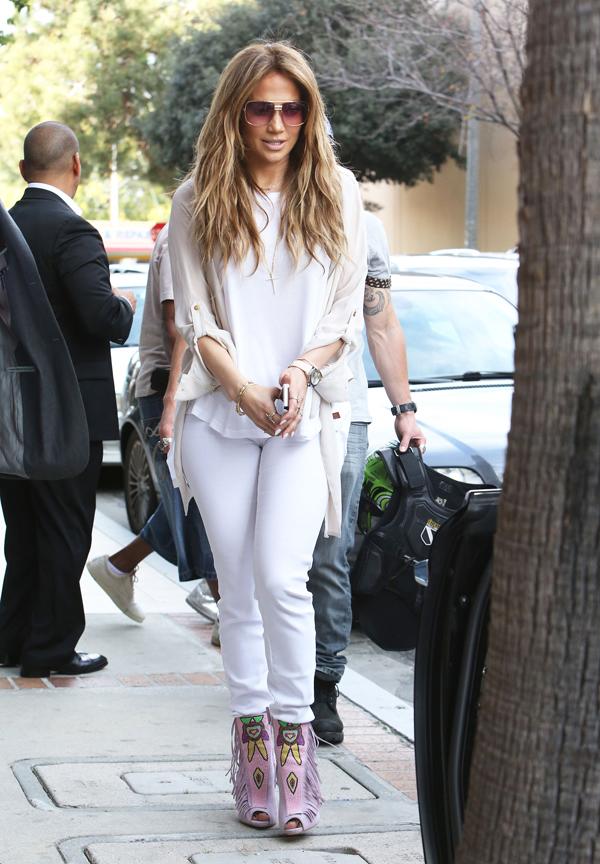 Get yourself a pair of purple fringe booties and you'll be set to recreate this outfit at home! Jennifer Lopez brought a pop of color to her casual white skinny jeans and cream cardigan combo with a pair of eye-catching statement shoes. Thanks to J.Lo, you've got that Sunday morning brunch look all figured out.
Article continues below advertisement
Heidi Klum at America's Got Talent Event - Celebrity Style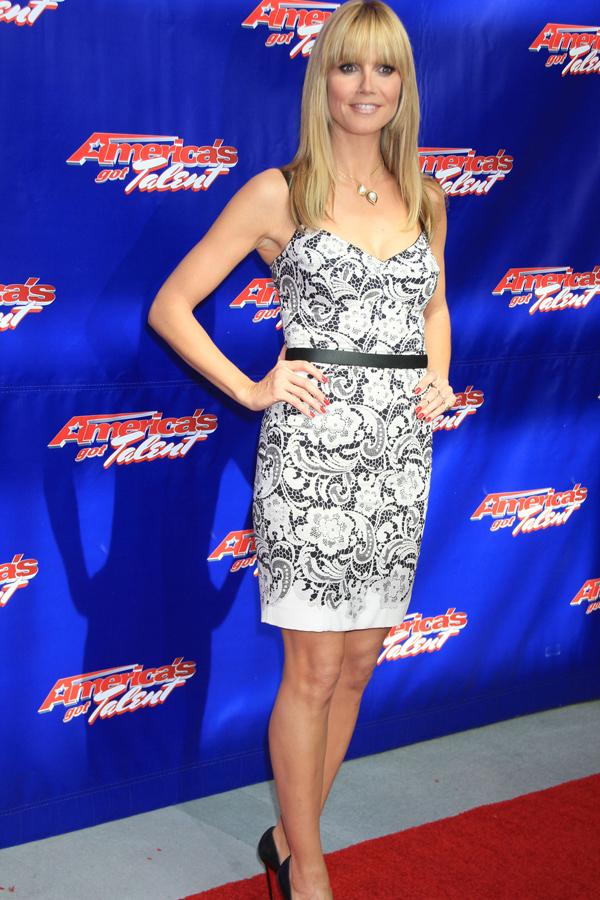 America's Got Talent—and so does Heidi Klum! The supermodel/media mogul rocked a flattering lacy mini by Dolce & Gabbana at a photo call event. While we were captivated by how flawless her figure looks in this DG creation, something else caught our eyes! The bold bangs are back! Are you into them?
Article continues below advertisement
Brie Larson at The Lego Movie Premiere - Celebrity Style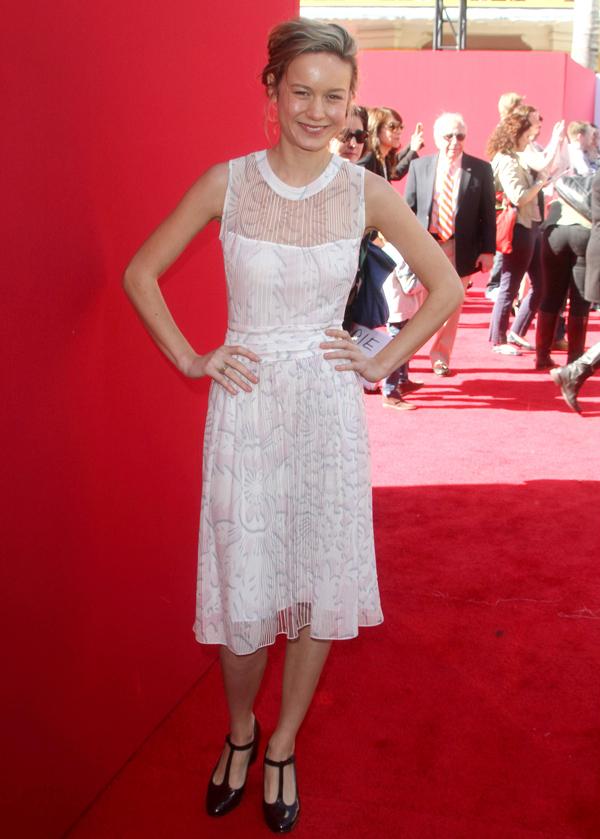 Clad in a feminine ESCADA dress, Brie Larson took The Lego Movie premiere with pure sophistication.
Article continues below advertisement
Pia Mia in a Royal Blue Jumpsuit - Celebrity Style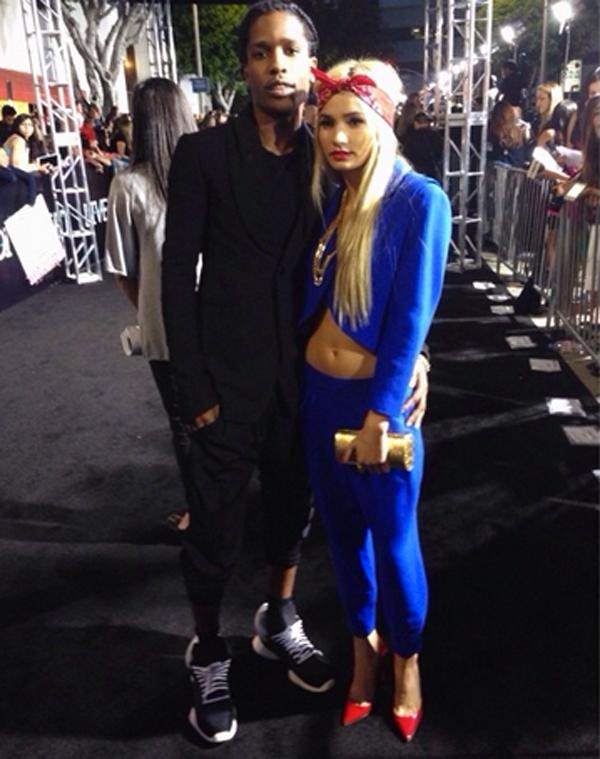 We wouldn't suggest wearing that blazer sans cami to the office, but it works for a movie premiere. Princess Pia Mia rocked a royal blue midriff-revealing pantsuit to the premiere of the much-anticipated Divergent. Because she couldn't ditch her signature look for a walk on the red carpet, Pia Mia tied up her long blonde locks with a cool bandana. She picked up the scarlet red hue again in her pointy-toe pumps and accessorized with a Inge Christopher 'Enoshima Minaudière' gold clutch. 
Article continues below advertisement
Frieda Pinto at White House Correspondents Dinner - Celebrity Style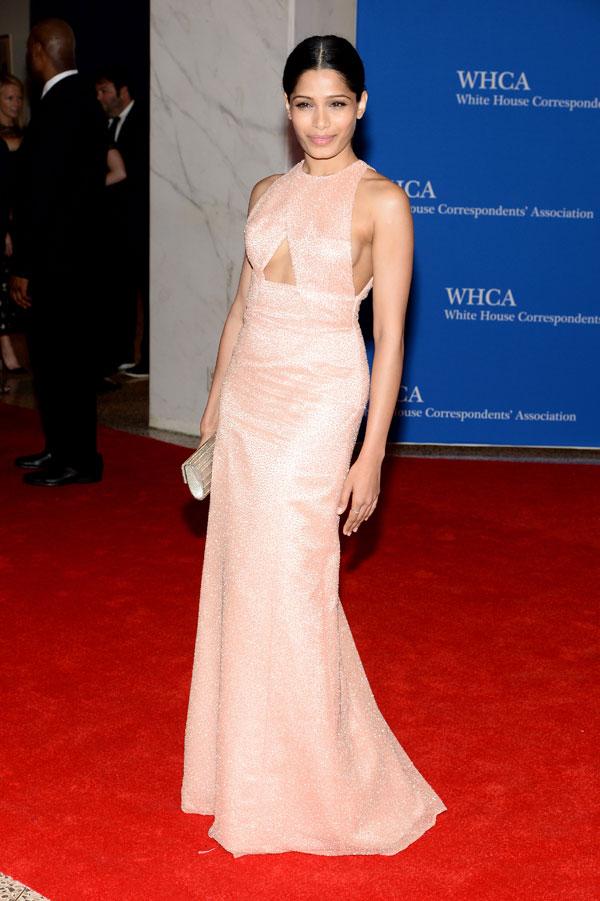 The White House Correspondents' Dinner brought high fashion and stylish looks to the table. One esteemed guest, Frieda Pinto, stunned in a pink metallic duchesse silk floor-length gown by Thakoon. The dress featured a sexy yet subtle cut-out detail at the bodice that Frieda flaunted without flaw. She kept the entire look sophisticated with a slicked back updo with a bold middle part.
Article continues below advertisement
Aubrey Plaza - Celebrity Style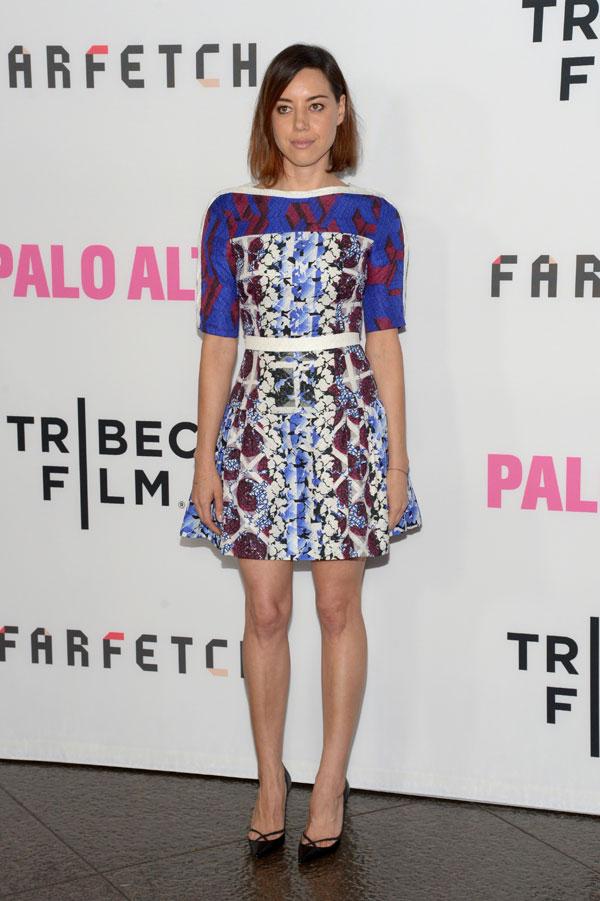 Date dress, office dress, day dress. The look Aubrey Plaza wore to the Los Angeles premiere of Palo Alto pretty much covers all the bases. The mixed-print design featured panels of geometric and floral motifs. Her tiny waist was accented with a white horizontal stripe, which led into an A-line skirt. It's pretty, professional, and deserves the praise. 
Article continues below advertisement
Leslie Mann at The Other Woman Premiere - Celebrity Style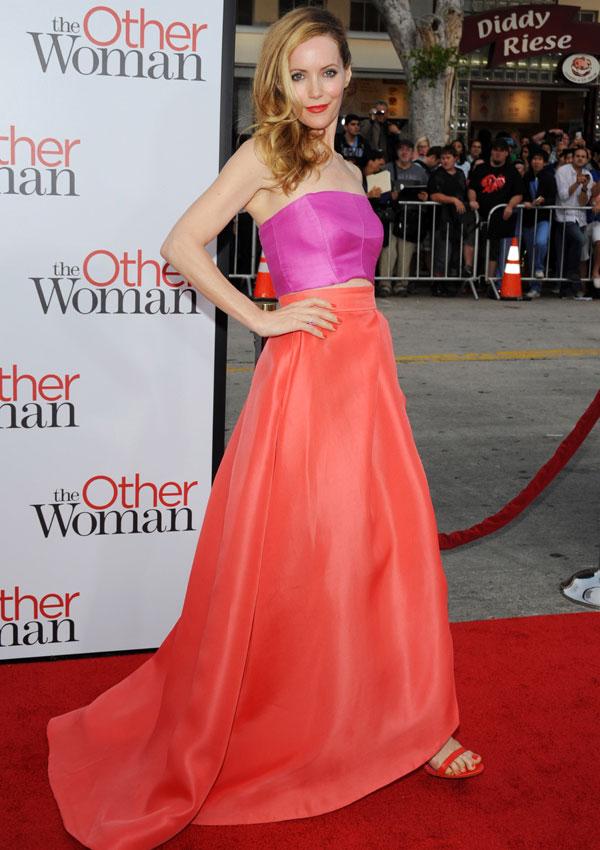 2014 is clearly the year for the red carpet two-piece. We're not referring to a bikini (although hey, never say never) but the crop top sensation that Hollywood has been heavily embracing. Leslie Mann played up the trend at The Other Woman premiere with a little help from Monique Lhuillier. The actress wore the designer's bright orange poppy silk gazar draped ball skirt with a silk linen gazar bandeau in spring's most popular color, orchid. She finished off the look with yet another eye-catching color—bright red lipstick! 
Article continues below advertisement
Alessandra Ambrosio Crop Top - Celebrity Style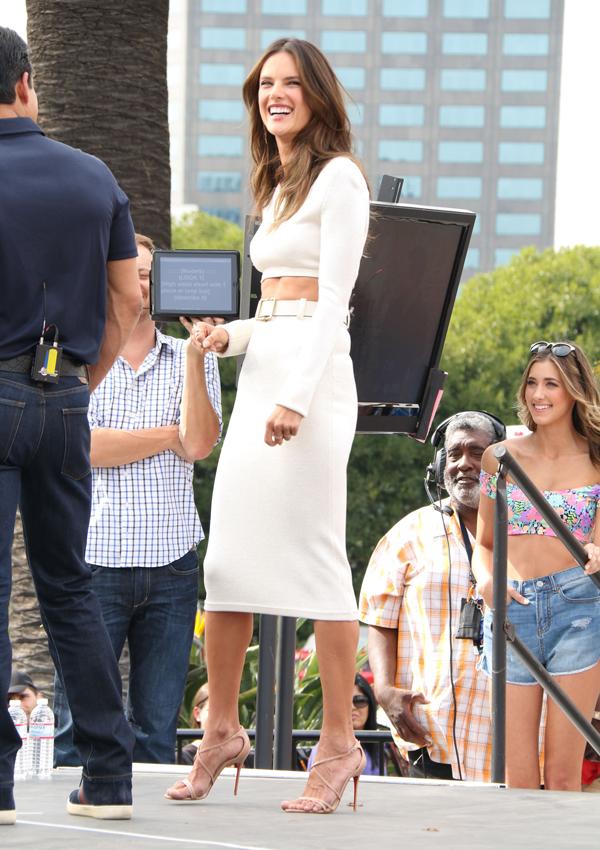 With a no-fat, flat tummy like that, crop tops are always a win! Victoria's Secret Angel Alessandra Ambrosio showed up to her Extra interview wearing a cream long-sleeve crop top with a matching body-skimming pencil skirt. She accessorized with nude strappy sandals and that VS beachy wave 'do. But she's not the only gal who's been sporting this stylish silhouette. Kim Kardashian, Krysten Ritter, and Kylie Jenner have all been spotted rocking similar ensembles!  
Article continues below advertisement
Kristen Bell on Jimmy Fallon - Celebrity Style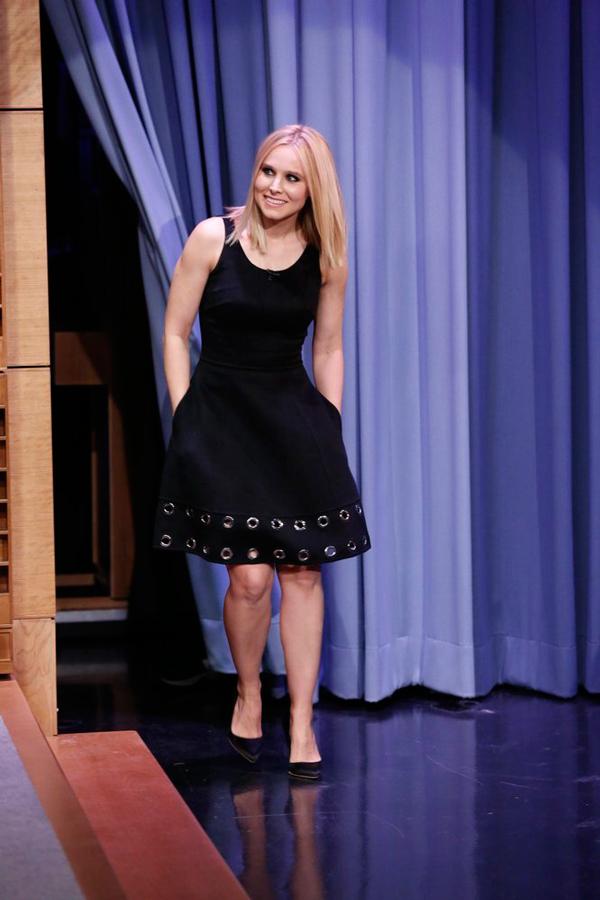 So you're wondering why an A-line LBD is considered daring? Check out that detail towards the hemline! Veronica Mars' Kristen Bell appeared on Jimmy Fallon's The Tonight Show wearing a flattering LBD with an edgy metal detailing along the hem. She finished off her sleek look (which included a darn sexy smokey eye!) with Rupert Sanderson pumps—the must-have shoe of the moment. 
Article continues below advertisement
Bella Thorne at DVF New York Fashion Week Show - Celebrity Style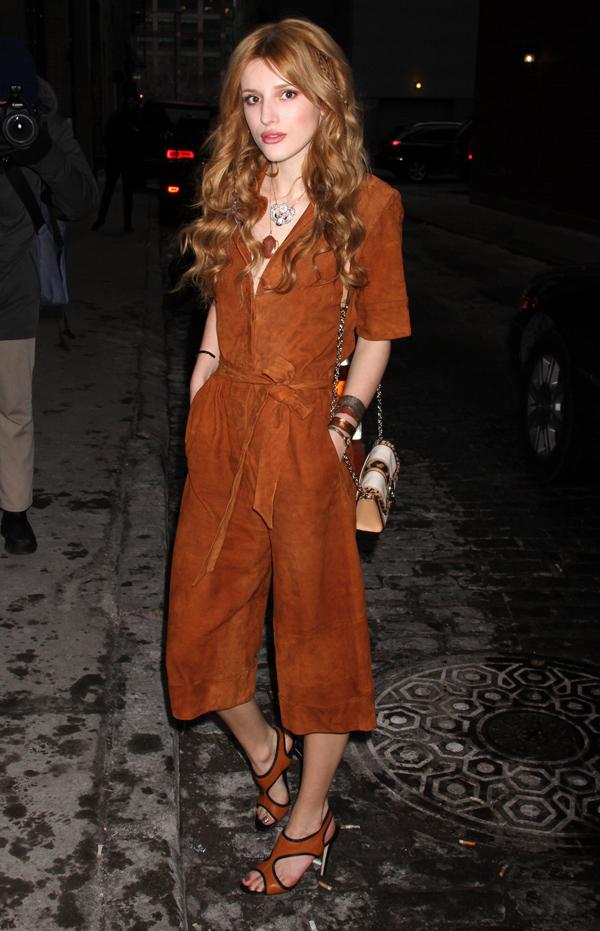 Bella Thorne celebrated Diane von Furstenberg's 40th anniversary of the wrap dress by wearing a suede jumpsuit with a wrap detail. She finished off her look with matching sandals and tons of bling.
Article continues below advertisement
Nicole Kidman at the Cannes Film Festival
Nicole Kidman started off her Cannes Film Festival tour like a royal, wearing an outfit that channels the character of her latest film project. The Grace of Monaco star posed elegantly in an off-white Altuzarra dress with crisp pleats and slits down the mid-length sleeves. The monochromatic look continued with a pair of white strappy heels, but the star finished off the ensemble like a queen with a dramatic red lip and delicate curls.    
Article continues below advertisement
Rowan Blanchard at Vampire Academy Premiere -Celebrity Style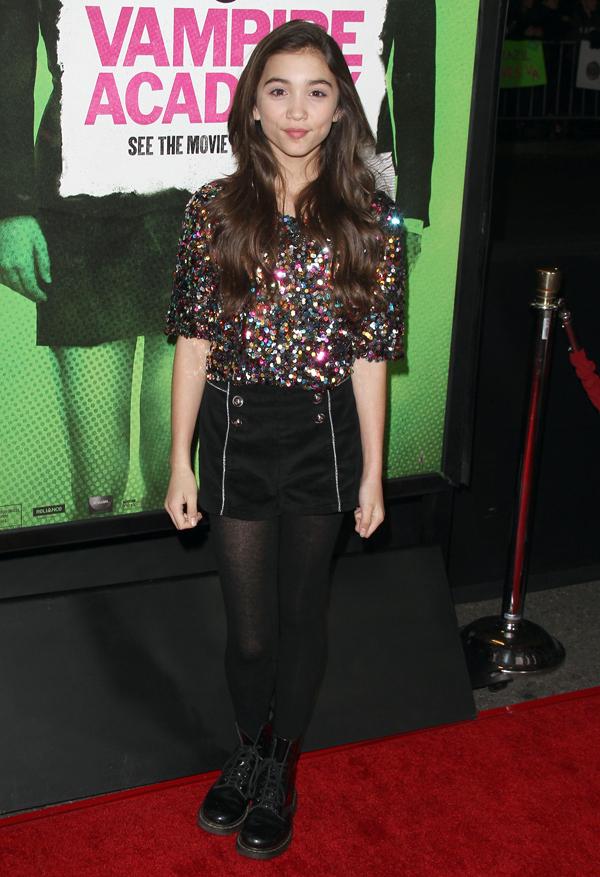 Guess which Girl Meets World star has got some style! Rowan Blanchard rocked a sequined blouse with a black mini skirt and edgy combat boots to the premiere of The Vampire Academy.
Article continues below advertisement
Katy Perry's Floral Dress - Celebrity Style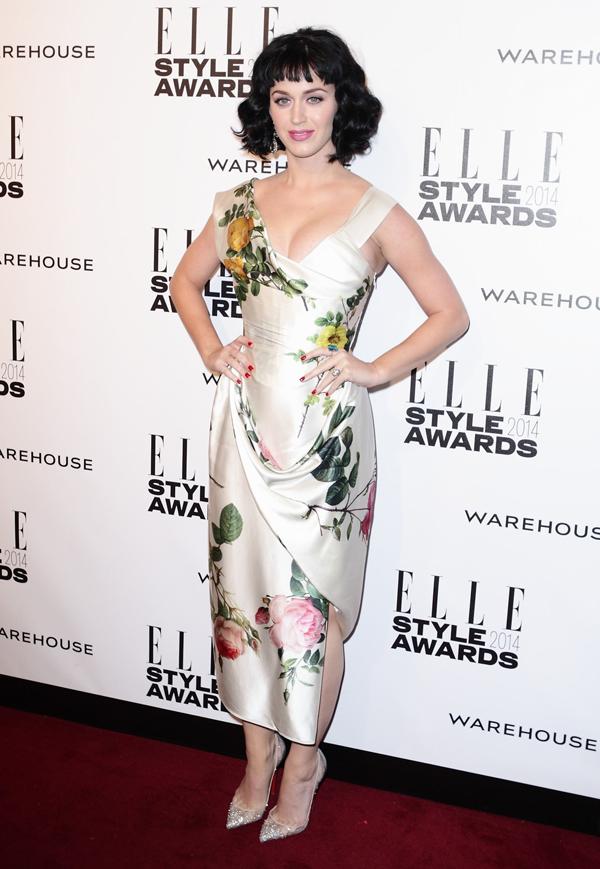 Katy Perry displayed her love for girly florals in a Vivienne Westwood asymmetrical gown with a major cleavage-baring factor at the Elle Style Awards.
Article continues below advertisement
Amber Heard at the 3 Days to Kill Premiere - Celebrity Style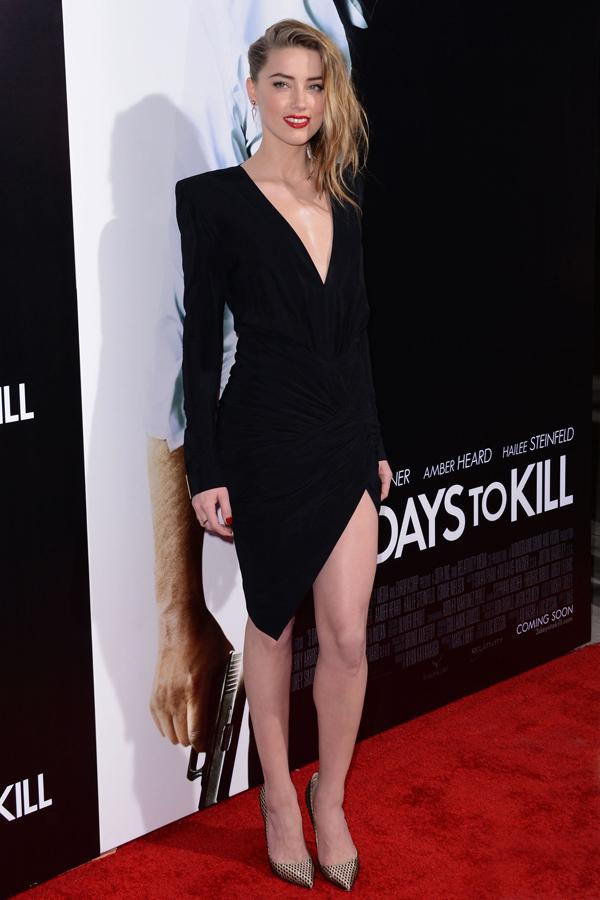 The newly engaged Amber Heard worked a sultry Alexandre Vauthier little black dress at the 3 Days to Kill premiere that she attended with fiancé Johnny Depp. The high-slit dress was all sorts of sexy with an equally bold plunging neckline. She finished her look with metallic heels and a red lip!
Article continues below advertisement
Kiernan Shipka in a Babydoll Dress - Celebrity Style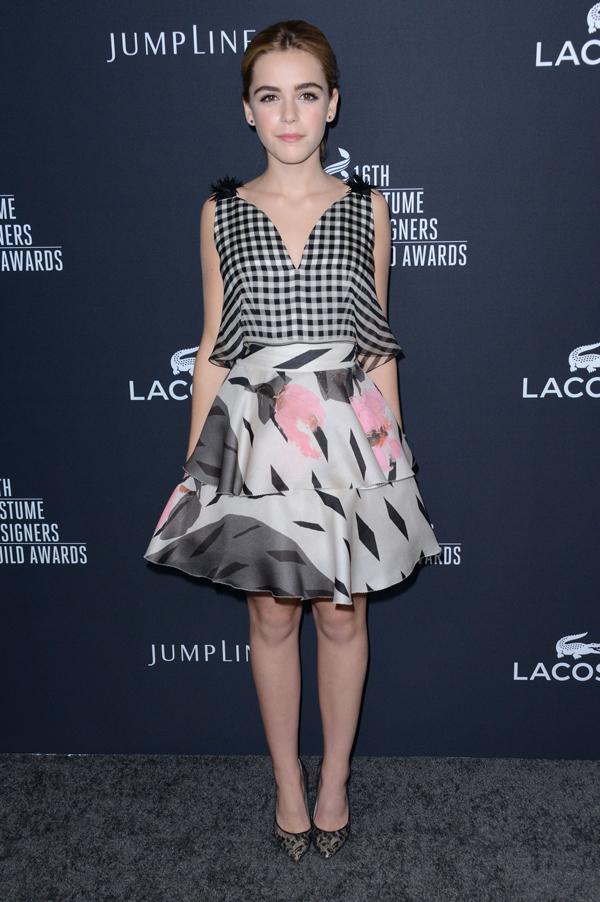 Mad Men's Kiernan Shipka looked all grown up in a mixed-print, gingham and floral dress by Delpozo at the Costume Designers Guild Awards, sponsored by LACOSTE. It's hard to imagine she started off her career in simple 60s shifts! With that being said, Sally Draper is one sophisticated and sweet style star!
Article continues below advertisement
Amy Adams in a Victoria Beckham Gown - Amy Adams at BAFTA Awards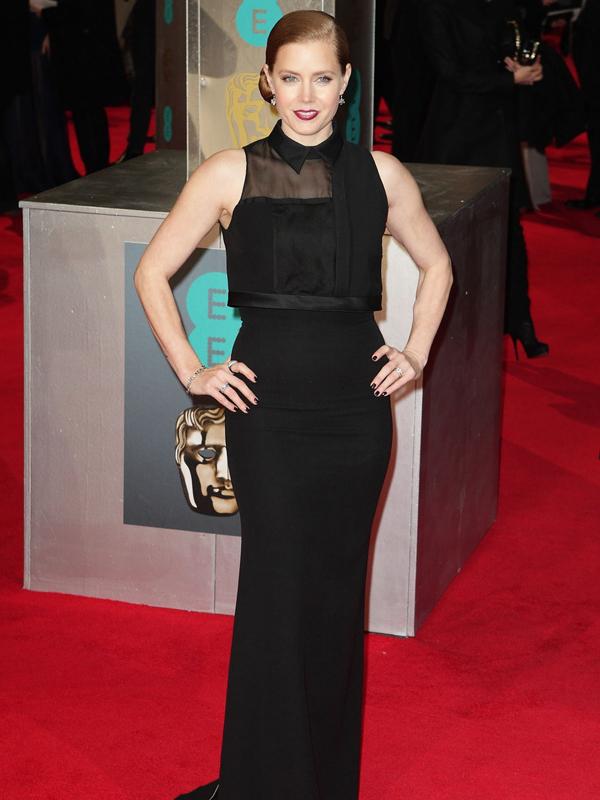 Giving her American Hustle Deep-V style a break, Amy Adams stunned on the red carpet of the BAFTA Awards in a collared and formfitting black Victoria Beckham dress.
Article continues below advertisement
Emma Roberts Lanvin Dress - Celebrity Style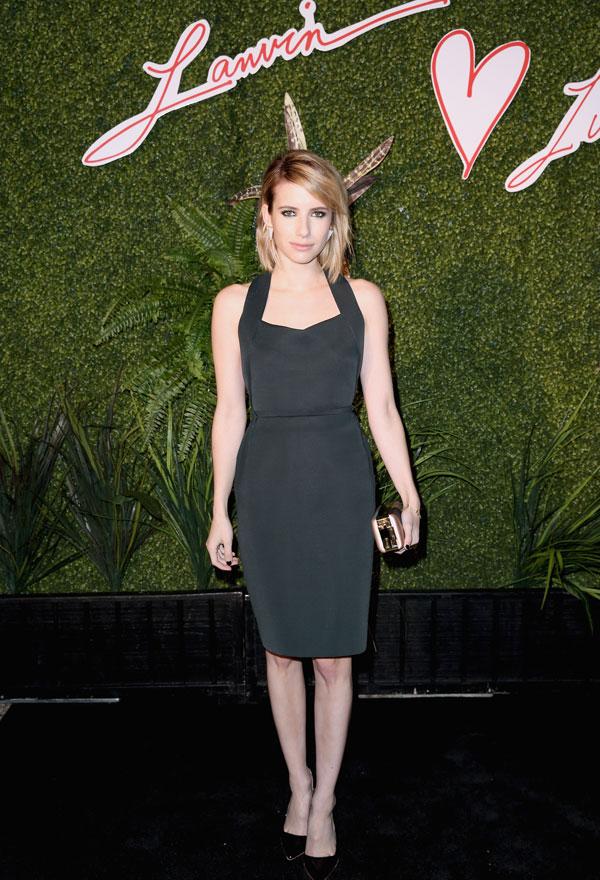 Be on the look out for Emma Roberts! With the release of Palo Alto at the Tribeca Film Festival, this young (and engaged!) style star will be popping up everywhere. At the Lanvin and Living Beauty Host an Evening of Fashion event, the actress wore a mid-length cocktail dress by the designer in a deep mossy green. While anyone would adore the flattering cut of the neckline, the back of the dress was where it really wowed. The design featured cut-out sides and a tasteful and thick T-strap that connected to the pencil-shaped skirt. She accessorized with black patent leather Elba pumps by Rupert Sanderson.
It's been hard to keep Lanvin off the mind. The designer actually dressed Kim Kardashian for her wedding cover of Vogue!
Article continues below advertisement
Kate Middleton at St. Patrick's Day Events - Celebrity Style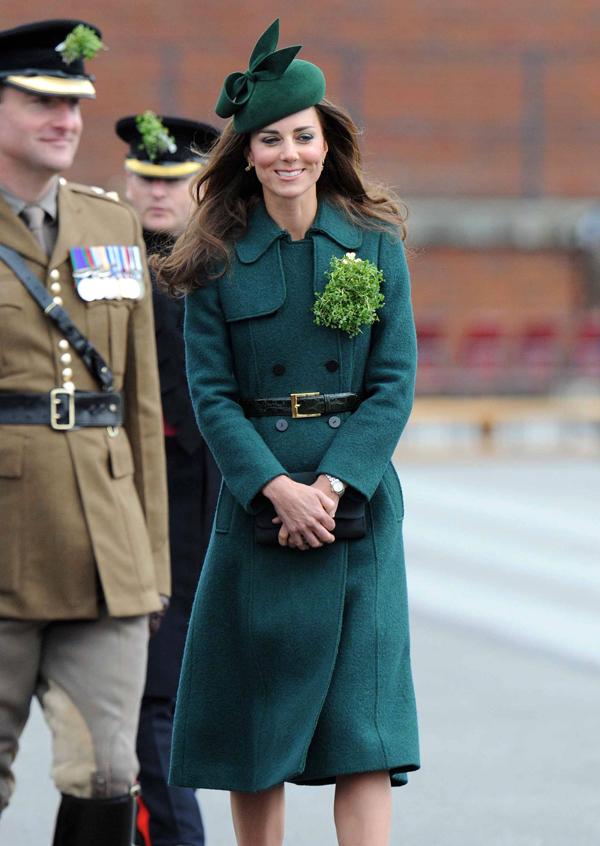 Kate Middleton attended the St. Patrick's Day celebrations held at Mons Barracks in England wearing an impossibly chic tailored coat belted at the waist. Gorgeous, eh? The Duchess of Cambridge kept up her style star reputation with a emerald green fascinator pinned over perfectly tamed locks. 
Article continues below advertisement
Kristen Bell on Ellen - Ellen DeGeneres Show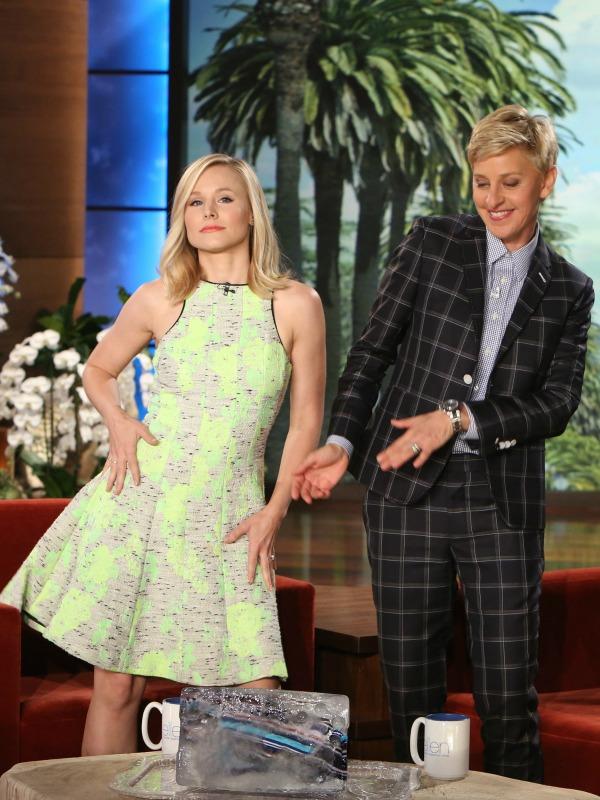 Kristen Bell is one of the best Ellen guests ever—maybe you remember the time she cried over a sloth? She is back on the show today, and rocking the cutest ever neon yellow dress with black trim. What a perfect spring frock!