STYLE
OK! Look of the Day: Kim Kardashian's Pale Pink Dior Crop Top and Body-Skimming Skirt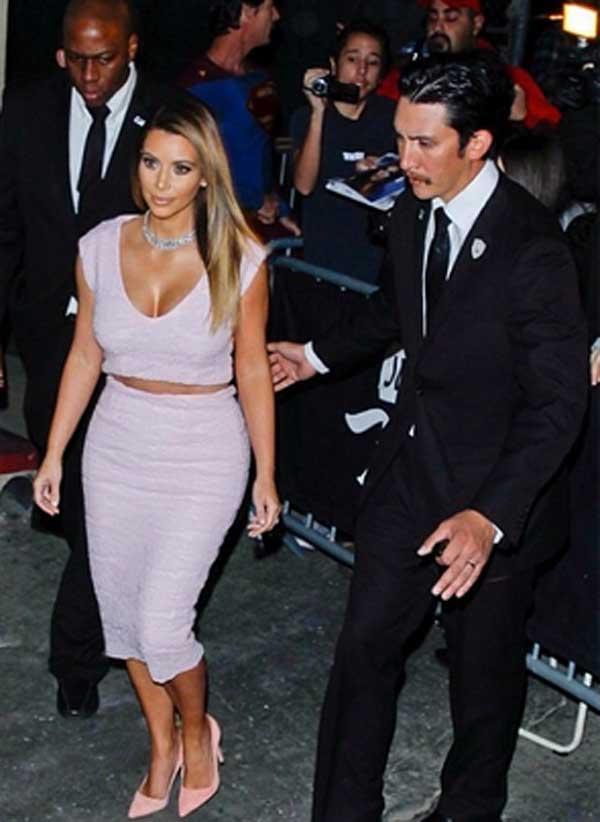 I've been known to rip of a pair of jeans to make them a little worn-in or even cut off the sleeves of a tee to make a tank. But cutting a Dior dress in half to make a crop top and a pencil skirt? That's all Kim Kardashian.
The reality star princess wore this pale pink (almost spring-y) outfit on Jimmy Kimmel Live while chatting about her upcoming nuptials, which apparently won't be taking place at Versailles but WILL be in Paris, and explaining why Rob Kardashian isn't a good babysitter.
Article continues below advertisement
Kim Kardashian's Winter Neutral Style
When I first saw this outfit, I'll admit I wasn't really that shocked at all. Gorgeous? Of course it is! But you know, Kim has been pretty much wearing some sort of crop top to every single one of her interviews. To come to her defense, the girl works the shortened blouses better than any other, but I've just come to expect the silhouette. It wasn't until after the OK! Editors started chatting that I checked her Instagram page and learned that this matchy-matchy outfit is actually the remains of a Dior dress cut in half. If Kim K was the one that made the ultimate decision to put cutting shears to the dress, maybe all that background in fashion design is coming in handy.
Get Kim Kardashian's Butt With These Exercise Tips
She accessorized with a pair of Manolo heels in a peachy shade and a statement Lorraine Schwartz necklace. I'm all about it.
What did you think of the outfit? Surprised to find out that it was a dress cut in two? Tweet @OKMagazine and leave a comment below.