PHOTOS
Rachel Lindsay Didn't Have Sex With Nick Viall In The Fantasy Suite Because Of Donald Trump?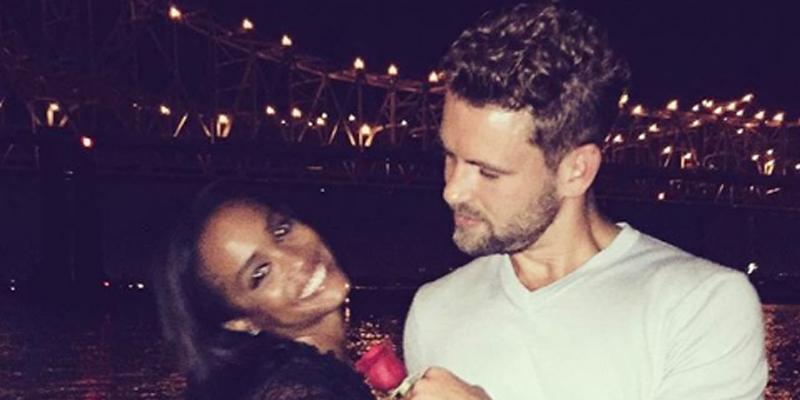 Donald Trump has been blamed for many things, but being the reason someone didn't have sex, might be a first. While speaking on the Bachelor Party podcast, Bachelorette star, Rachel Lindsay, revealed that any chance of her getting intimate with her ex and former Bachelor star, Nick Viall, while in the Bachelor Fantasy Suite, was ruined after Donald Trump won the 2016 presidential election.
Article continues below advertisement
"I was in Finland, jet-lagged. We missed our flight in New York. It was just a mess," Rachel said of her filming for the final three of The Bachelor while the election came to a close. "So I land, I can't go to sleep and I'm watching BBC. They're all like 'Hillary Clinton is going to win by this' and you can just tell everything changes. And you're like 'Oh great. It's going to be Trump?' No one can believe it. It was so bad."
She added, "I had my date the next day, and I couldn't get in the right headspace. I drank a lot. I passed out in the Fantasy Suite. This is my first time actually saying that. I just went to sleep. We had no talking that night."
Article continues below advertisement
Rachel then clarified that the silence was not because she and Nick were doing anything else other than getting some shut-eye. "I did nothing! I did nothing but sleep," she said. "I got my best sleep in the Fantasy Suite!"
Rachel then joked that because of Donald Trump's election, and her coping mechanisms (lots of alcohol), he may be to blame for her elimination. "Trump's the reason I got sent home," she joked. "Because I passed out in the Fantasy Suite!"
Article continues below advertisement
The Dallas lawyer was sent packing at the rose ceremony following her uneventful Fantasy Suite.
What do you think about Rachel's Fantasy Suite confession? Sound off in the comments!