PHOTOS
'RHOBH' Star Lisa Rinna Records Herself Dancing To Miley Cyrus In Her Bathroom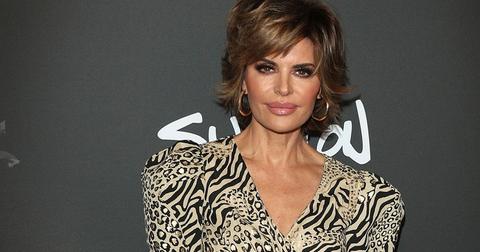 Lisa Rinna has made it known that she's the queen of dancing all over Instagram. The Real Housewives of Beverly Hills star graced her fans' feeds once again — this time she shook her groove thang to Miley Cyrus' hit, "We Can't Stop."
Article continues below advertisement
On October 14, Lisa, 56, rocked a white button down blouse and white trousers as she danced around her bathroom. She bought the look from her friend Lyndie Benson's Bleu Salt fashion line. "Well, couple things. I'm at my place, waiting to go do @Qvc I'm wearing my Bestie @bensonlyndie @bleusalt line and dancing to my @mileycyrus ? & I used videoshop that @bradgoreski told me about to make this video. IT'S A GOOD DAY!!!!!! ♥️♥️♥️♥️," Lisa captioned her quirky post.
Lyndie wrote on her pal's post, "You are everything. Who has friends this supportive ???? Raise your hand ?‍♀️ love you gorgeous."
Article continues below advertisement
Fans loved the reality star's wacky dance moves and commented their love. David Foster's wife Katharine McPhee hilariously trolled, "I'd pay good money to see you dance to one of my songs."
One follower commented, "?love your dances!?" while another wrote, "Your dance moves at killers! Enjoyed hearing Miley in the background. Keep those dance videos coming. It will put a smile ? on everyone face."
Article continues below advertisement
Last month, the mom of two shook her hips to Kanye West and Jamie Foxx's track, "Gold Digger," while rocking Kim Kardashian's SKIMs shapewear collection. "GET UP AND DANCE IN YOUR @SKIMS NOWWWWW!!!!!! I FU*KING LOVE THEM @kimkardashian ??????," the California native wrote beside the video. Lisa sported the nude SKIMs in her bedroom as she twerked and grooved.
The Days of Our Lives actress is known posting wild dancing snaps on social media. During New York Fashion Week in September, she shared a clip of herself dancing in a mirror before walking in Kyle Richards' NYFW runway show. "Getting My Runway on with a little @llcoolj this Sunday Morning," she captioned it. "And yes I am walking in a show!!!!! OMG." She wore a skimpy black bathing suit and danced to an old song.
Article continues below advertisement
What are your thoughts on Lisa's newest dancing video? Sound off in the comments below!