PHOTOS
Pregnant Teddi Mellencamp Asks Fans For Help Naming Her Third Child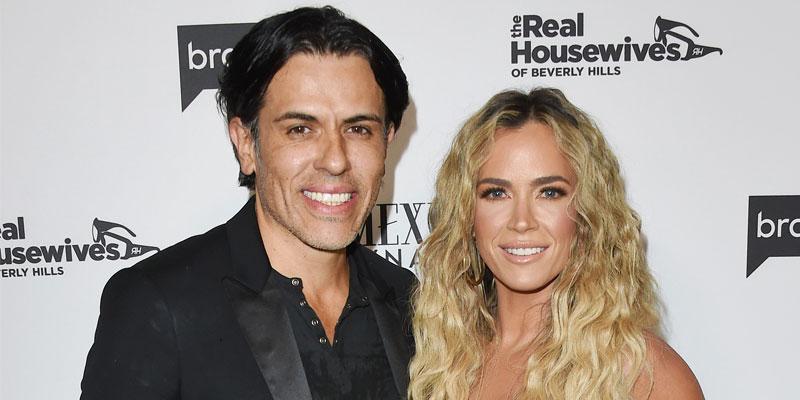 Teddi Mellencamp and her husband, Edwin Arroyave, are running out of time! The couple is preparing to welcome their third child in the upcoming months, but they're struggling to come up with a name for their baby-to-be. The Real Housewives of Beverly Hills star asked her fans on Instagram for their help and they were more than excited to pitch in!
Article continues below advertisement
Teddi, 38, shared a video of herself and Edwin, 42, asking her followers for their ideas. "We are on the struggle bus. We can not come up with a baby name," she began.
The reality star continued, "We want something unique, cute that goes well with the other kids' names..." The couple also shares children Slate, 6, and Cruz, 5. Edwin also has a daughter named Isabella, from his previous relationship. "Maybe a Spanish name so my mom can pronounce it right," Edwin hilariously chimed in. "That's up for discussion," the accountability coach replied.
Article continues below advertisement
Alongside the video, Teddi explained their dilemma in further detail in her caption. "I am almost halfway through my pregnancy and @tedwinator and I need your help! We cannot come to a decision on the name for our new baby girl. We want it to be one or two syllables, unique, and a good fit with the rest of the kiddos (whom we are no longer taking suggestions from after their last idea of calling her Pugsley). Comment any suggestions below. Who knows, you may name the newest addition to our family," she wrote.
Fans took the health guru's problem to heart and commented their thoughts. One fan suggested, per Edwin's advice, a Spanish name. "Belen: Means Bethlehem, Spanish name. It is one of my favorites," she wrote. Another user said, "Indiana. You can call her Indy. One wrote a variety of names, "Sloane, Scout, Lia, Shea, Charley!"
Article continues below advertisement
"I'm in my second trimester, 14 weeks," Teddi told Us Weekly at the time. The reality star initially kept her pregnancy a secret. "Everything's good and I'm in the clear, so I'm just starting to get to that point where I'm sharing with everybody," she said. "Plus now I have a bump, so there's not much more hiding I'll be able to do!"
Article continues below advertisement
What do you think Teddi and Edwin should name their baby? Drop your thoughts in the comments below!