PHOTOS
Meghan King Edmonds Defends Letting 3-Year-Old Daughter Aspen Take Melatonin Gummies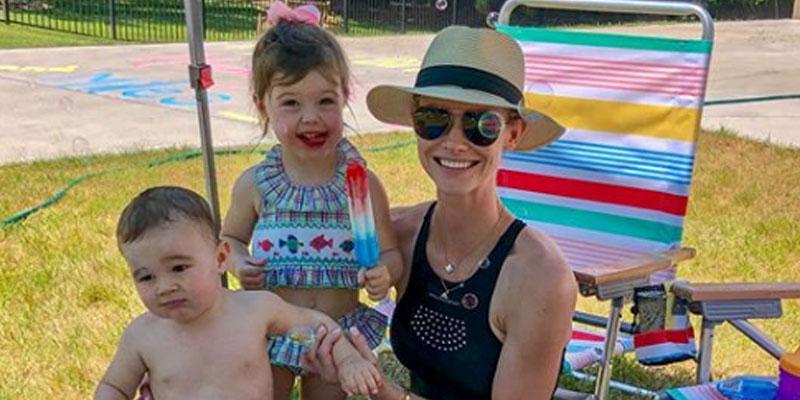 Meghan King Edmonds went to bat for oldest daughter, Aspen, 3, when the Bravo star defended her little one for chewing on a melatonin gummy.
Article continues below advertisement
The Real Housewives of Orange County alum released a statement about what happened. "It was a melatonin gummy for kids, not a sleeping pill and certainly not for an adult," she explained to People. "It is completely safe."
The Intimate Knowledge podcast host continued, "Aspen found the one little gummy in a little baggie while rummaging through my purse. She asked me if she could have it and since it was nap time I told her 'Yes.' In fact, the recommended dosage for this particular brand of melatonin for kids is two gummies and I let her have one." She mentioned that she got a lot of hate for posting the photo on her Stories. She told the publication that she did not delete her post, but it expired instead.
Article continues below advertisement
Meghan added, "I never deleted the post, it stayed on my Instagram Stories for the full 24 hours because nothing wrong or dangerous happened. Aspen was fully supervised by me the entire time and didn't take the gummy without my express permission."
MORE ON:
Meghan King Edmonds
The mother of three said she "felt compelled to give a full explanation to this silliness" due to the "parent police" being out in "full force."
Article continues below advertisement
"The post was cheekier because it's Instagram and that's what social media is about: a glimpse into our lives — not usually the full story," Meghan said. The Missouri native shares Aspen along with twin sons Hart and Hayes with estranged husband Jim Edmonds. In January, Meghan revealed during an appearance on the Juicy Scoop podcast that she still has four frozen embryos with the MLB player, 49.
"I don't know if I'm done having kids," Meghan began. "I'm 35; my kids are little. I could totally have another kid and I do love the idea of a nuclear family. However, my kids are a lot of work. They're young. And I need to get out of the weeds right now.
Article continues below advertisement
"So I couldn't say no, but it's not something I'm gunning for. I'm looking at my boobs and I'm like, 'How 'bout a boob job instead?' Honestly, I'm not making any kind of decisions about anything right now," she continued.
What are your thoughts on what Meghan had to say? Sound off in the comments below!