PHOTOS
Russell Simmons Praises Kimora's Mothering Skills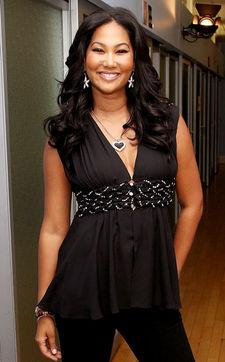 Russell Simmons doesn't let his split from Kimora Lee, who is mom to their daughters Ming Lee, 9, and Aoki, 6, get him down.
His Baby Phat ex, 34, welcomed a baby boy Sunday with boyfriend Djimon Hounsou, 45. Russell is certainly sending his best wishes.
What are his tips for an amicable split?
"You smile no matter what happens, and you keep smiling," Russell tells me. "During a marriage, they say you make a tremendous compromise. Men say all the time they just be quiet. You've gotta be quiet 24 hours. It's OK if you're separate and can be quiet, but it's a mess if you talk. You just learn to be a little bit accepting and promote tolerance and act and be tolerant yourself. Allow each other a little freedom, and faith."
Article continues below advertisement
The entrepreneur, 41, was thrilled to plan a surprise birthday party for Aoki at his Hamptons home last year.
"Ariel The Little Mermaid was the star of the party," he says. "She was in the pool and moving around the house. And all kinds of toys were in my backyard and all kinds of friends. They came from New Jersey and New York State and even from L.A. to surprise her. She came in from Paris."
Their older daughter Ming Lee helped out with ideas for the bash. Ming Lee is studying French and Italian.
"She loves yoga, she loves piano, she's a very cultured girl. She went to Africa and Paris with her mother. She's learned a lot about a lot to be so young."
He's proud of how Kimora is raising the girls.
"The thing that makes me most inspired is when there was some celebrity who was in the Hamptons and I just missed her. And they asked me, 'did I want to see her?' and I said 'I'll catch her later.' They said 'well, your daughter would like to see her.' And she's just one of those celebrities who runs around. They said 'well your daughter would love to see her.' I said 'would you like to see -- the name of this celebrity?'"
Article continues below advertisement
What celebrity?
"Doesn't matter. And she said 'no, no, I think she makes bad choices.' That's what Ming Lee told me. That to me reminded me that their mother has been doing such a good job with them because she knows what's a good choice already."
What does Russell love most about being a dad?
"The innocence is inspiring. The way young people think, you want to think like them so they teach you a lot. Having a child teaches you so much. That really is the best part of being a dad. You remember what's important in life."
Congratulations to Kimora, Djimon, Ming Lee and Aoki on the new addition to their family.