PHOTOS
Judge Grants Skai Jackson's Restraining Order Against Bhad Bhabie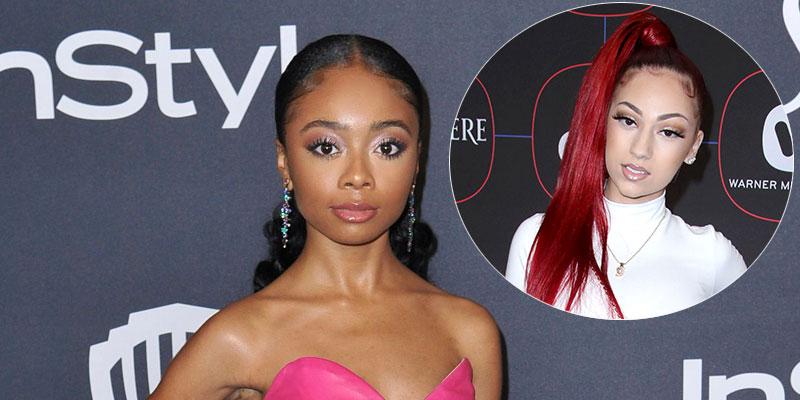 A judge granted Skai Jackson's request for a restraining order against Bhad Bhabie on Thursday, February 28. The actress filed legal documents after the rapper threatened to "kill" her amid their social media feud, and now there are measures in place to make sure the Disney Channel alum is protected.
Article continues below advertisement
Skai's restraining order request was granted by the Superior Court of California in Los Angeles. Bhad Bhabie — whose real name Danielle Bregoli — must stay 100 yards away from Skai and is not allowed to contact her in any way, People reports. A hearing date has been set for March 20.
In her filing obtained by the outlet, Skai, 17, revealed that she and Bhad Bhabie used to be friends, but that their recent bad blood has left her "fearful" of leaving her house and has caused her a "lack of sleep." Skai also believes that Bhad Bhabie is "very serious" about her intent to harm her.
Article continues below advertisement
The Jesse star attached Instagram direct messages in her court documents that highlight the increasing threats and harassment she's received from Bhad Bhabie. "You funny imma get to you don't worry. Oh God you better hide I find everyone you know me I pull up to studios houses all that s**t," Bhad Bhabie wrote in one message.
Skai attempted to deescalate the tension with her response. "You really tripping about something I didn't do… you know people stay starting stuff when it's not even true right? I'm good over here, and worried about my own self… no one said anything about you. I would love to see the DMs they said I posted. That's false," she wrote. "Shut your scary a** up. Imma get to you. Hide that's all imma tell you HIDE," Bhad Bhabie replied. "I'mma beat you like a dude when I see you," another one of Bhad Bhabie's messages read.
Article continues below advertisement
Bhad Bhabie doesn't seem too fazed by the latest development. "You can try to hate me for responding to bulls**t with more bulls**t but that's just who I am and I don't apologize for none of it. I been in this fake a** hollywood world for 3 1/2 years now and I've done ALOT when the whole world said I couldn't, but I refuse to become as fake as hollywood is. Y'all can play around on your finstas but I'll always say what's on my mind as cuz that's who I am. Go get your restraining order , Imma go get checks," she wrote on Instagram after the restraining order made headlines.
The whole feud began when Bhad Bhabie accused Skai of posting from a fake account and blocking her on social media. "The b***h is a huge fan! You're a whole fan! She's moving sneaky bro! Don't go post about me on your fake page, b***h. If you got something to say about me, post it on your page. Show me you f**king bold! The b***h got me blocked on Instagram, blocked on Twitter, all type of s**t. Like b***h, grow up!" she said on Instagram Live on February 24.
Article continues below advertisement
Bhad Bhabie was also convinced that Skai was purposely "liking" posts from men she is close with just to get under her skin. ""That s**t don't sit right with me. That s**t don't sit right with me at all! I don't like that s**t! You don't even know if I'm talking to dude or not. You just seen us on The Shade Room so now you wanna go run and like his pictures. B***h I'll kill you!" she fumed.