PHOTOS
Taylor Momsen, Jimmy Fallon Give Props To Topshop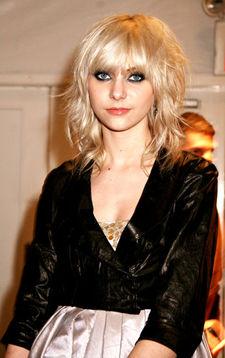 It's a British invasion during day one of the Topshop and Topman launch events held Tuesday at NYC's Balthazar.
The grand opening of the UK clothier that counts Ashlee Simpson and Estelle as fans coincides with Tartan Week.
"I love that it's so innovative," Gossip Girl star Taylor Momsen says moments after paps race to snap the shot of her getting out of a car. "Their shoes are ridiculously comfortable. It's so hard to find shoes that are really comfy, and every pair I put on are great."
Article continues below advertisement
Jimmy Fallon sneaks a photo-opp kiss from wife Nancy Juvonen.
"I really don't have time to shop at all, but I hear it's a good thing," the Late Night host says. "You get good deals."
Santigold steps up.
What was her most memorable April Fools' joke?
"I never do April Fools," the singer born Santi White, 33, tells me. "I'm not that clever about jokes. I'm always like 'oh!' And I never get anything. I'm the slowest – I'm gullible. I probably get jokes played on me all the time, but I don't remember which ones were April Fools."
New mom Michelle Monaghan can't get enough Topshop.
"I love that it's totally affordable, it's fabulous clothes and accessories. It's just so much fun to wear and the shop is great. The store's fantastic."
Emma Roberts confesses she's "really excited" to go to college in NYC. "I'm excited to start a new chapter of my life," Julia's niece says.
Emily Mortimer tells me she's obsessed with finding the perfect bra. "A good bra has eluded me," she says.
Perhaps Topshop has the answer.
Topshop celebrates its grand opening in NYC Thursday. Check it out at Broadway and Broome.
SEE MORE PHOTOS IN THE VALERIE GALLERY: