PHOTOS
Backstage Beauty: The Best Hair and Makeup Looks at New York Fashion Week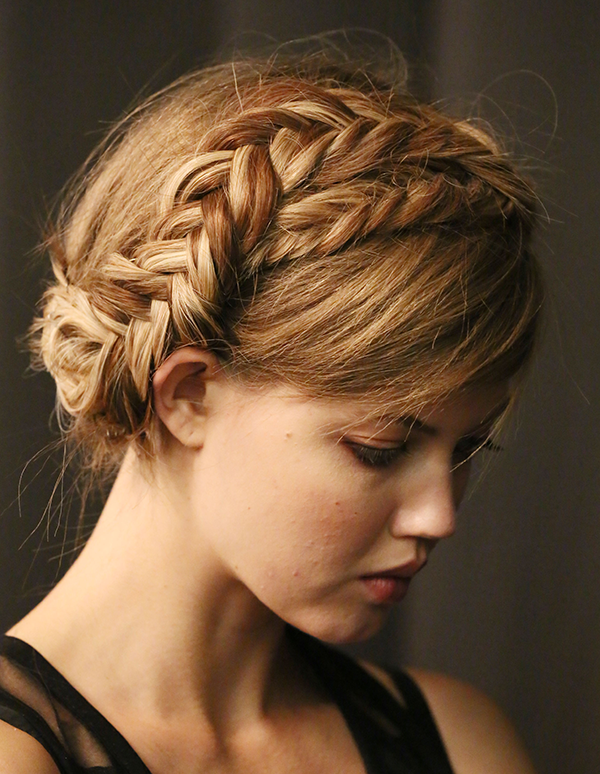 Standout lips, fun braids, and flawless faces were the main players at NYFW, along with textured, flowing manes. Check out our roundup of the most notable trends to try next Spring.
Article continues below advertisement
Lela Rose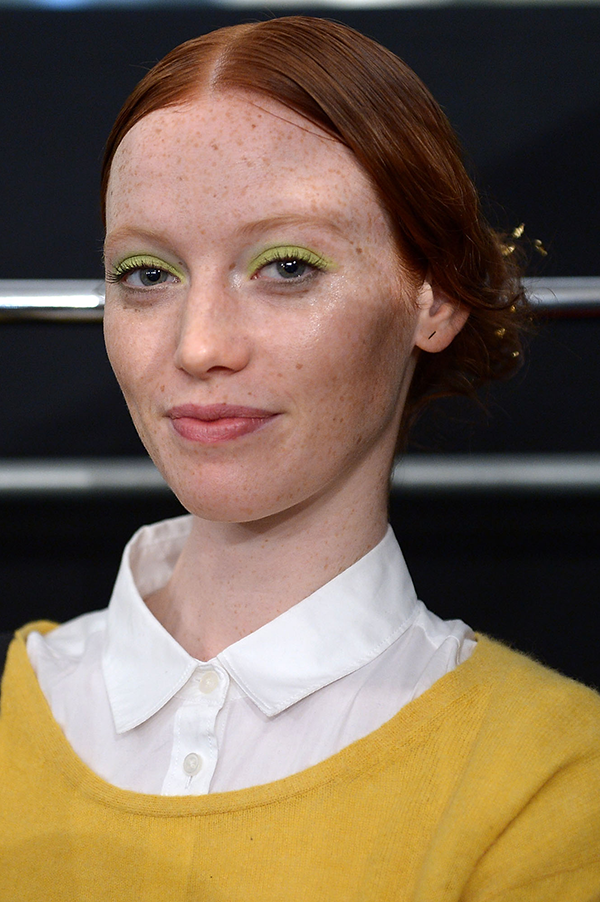 Say hello to spring with mint-washed lids. Beauty.com's Romy Soleimani used Stila Color Pigments in 'Light Show' and Stila Eye Shadow in 'Cha Cha' on the models and finished with Glamoureyes Mascara.
Rebecca Minkoff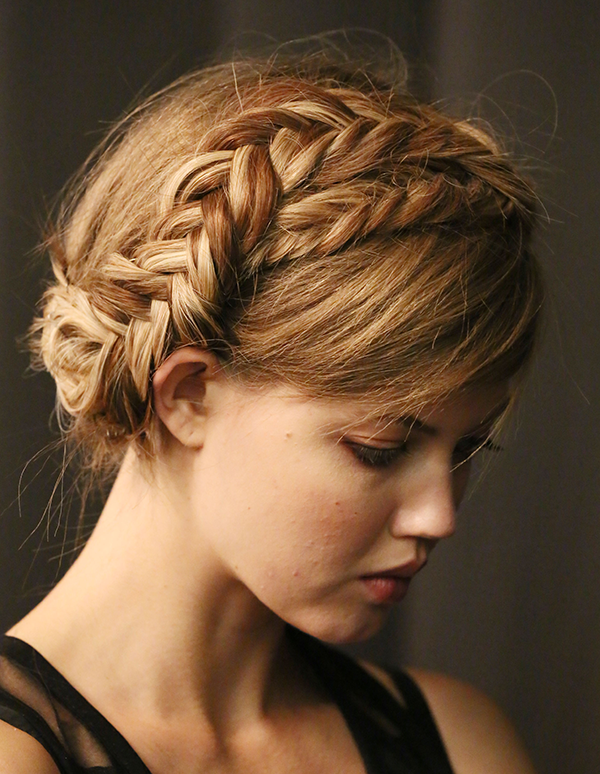 How sick are these Frida Kahlo-inspired braids at Rebecca Minkoff?! TRESemmé Stylist Jeanie Syfu created the textured style using the following products:
1. Prep damp hair with TRESemmé 24 Hour Body Foaming Mousse and rough dry.
2. Create a messy, zig-zag side-part from the hairline to the center of the nape and clip to separate.
3. From the heavier side, of the part take another zig-zag section behind the ear and clip, to create three separate sections.
4. Back-comb hair for texture and create a ponytail in each section behind the ear.
5. Tease lengths of hair and spray lightly with TRESemmé 24 Hour Body Finishing Spray.
6. Create a 4-strand braid with each ponytail and fasten with an elastic.
7. Wrap braids around the top of the head, tucking the end of the braids under and fasten with bobby pins.
8. Finish with TRESemmé Fresh Start Color Care Dry Shampoo for a matte, undone look.
Article continues below advertisement
DKNY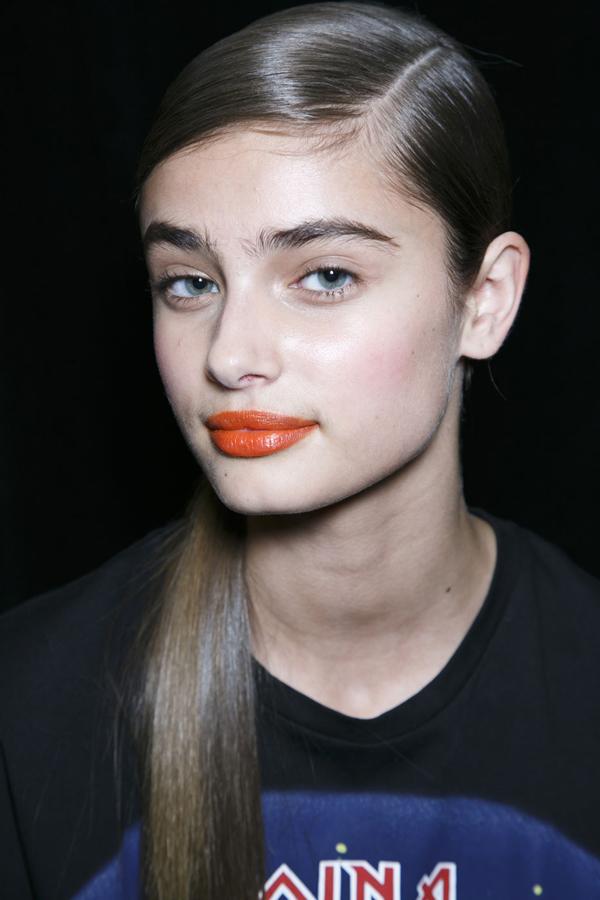 The makeup look at DKNY was focused around the bold orange lip. Makeup Artist Charlotte Willer mixed Maybelline Color Sensational Vivids Lipsticks in 'Electric Orange' and 'Neon Red' before applying and blotting to create the matte, stained finish.
Article continues below advertisement
Mara Hoffman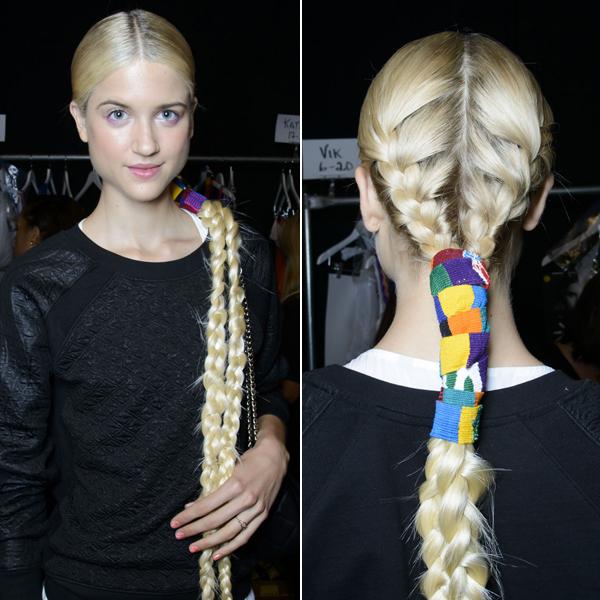 Ladies: If you haven't noticed, braids are in for spring. CATWALK by TIGI Global Creative Director Nick Irwin took them one step further for the Mara Hoffman show, exaggerating them with extensions down to the floor. While you might be concerned about tripping with this length, you can still rock the look with your own hair—here's the step-by-step:
1. Prep hair with ample CATWALK by TIGI Curlesque Strong Mousse, working it from roots to ends while creating a defined center-part from hairline to nape.
2. Starting with the left side of the head, gather hair and begin french braiding directly behind the ear, securing the end with a small elastic. Repeat on the right side. TIP: Use a bit of CATWALK by TIGI Session Series True Wax on tips of fingers to keep bits from escaping.
3. Using a colorful woven belt, bind the two braids together in a small section at the nape of the neck and pin in place, tucking away the ends.
4. Spray the crown and hairline with CATWALK by TIGI Your Highness Weightless Shine Spray for added shine.
Article continues below advertisement
Chadwick Bell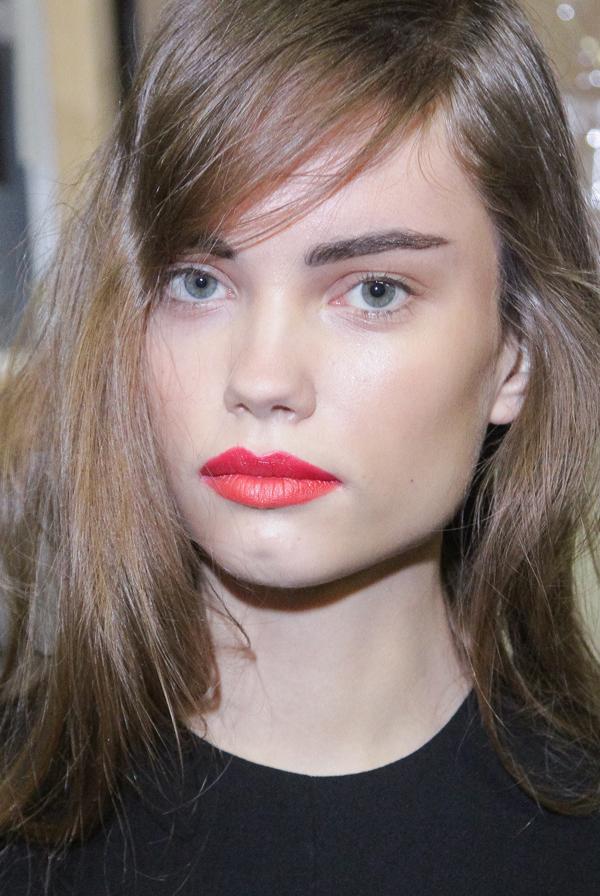 There's just something about a bright, two-toned lip that makes us excited for warmer weather. Makeup Artist Daniel Martin applied NYX's Xtreme Lip Cream in 'Absolute Red' to the top lip and lined it with the NYX Slim Lip Pencil in 'Hot Red,' sharply defining the Cupid's bow and outer edges. Next, Martin applied NYX's Matte Lipstick in 'Indie Flick' to the bottom lip and lightly dusted it with NYX Single Eye Shadow in Hot Orange.
Article continues below advertisement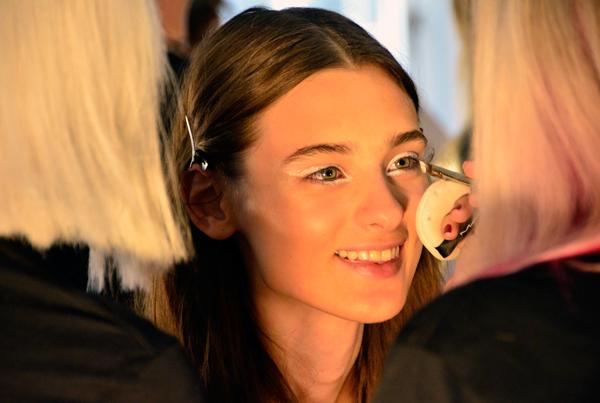 When you wanna be a little grunge and a little boho, line your eyes (and the inner corners) with Maybelline's Studio Color Tatto 24HR Cream Gel Shadow in 'Too Cool' like Alice Lane did on the models at the Tibi show.
Article continues below advertisement
Nicholas K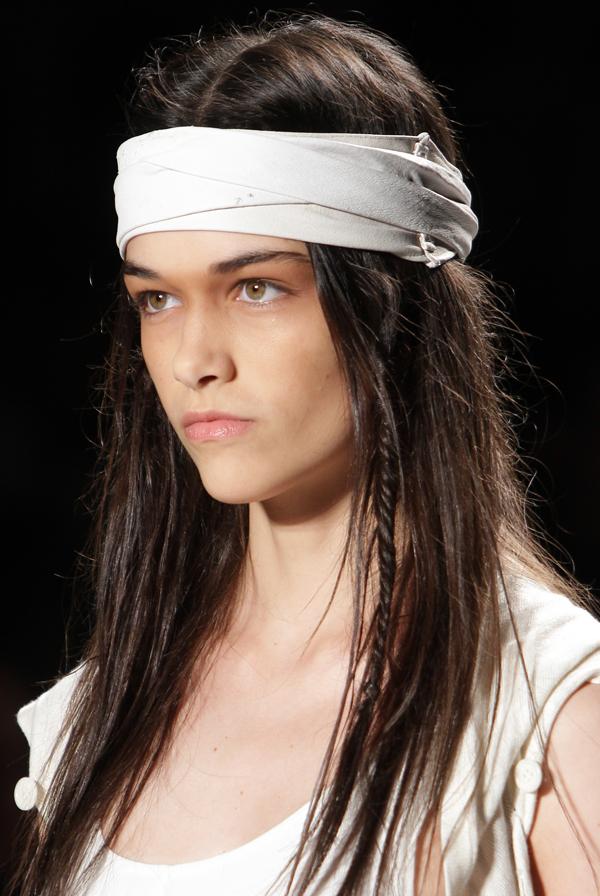 Roughed-up mini braids underneath a neutral turband = instant "dowtown girl" status at Nicholas K.
Article continues below advertisement
Libertine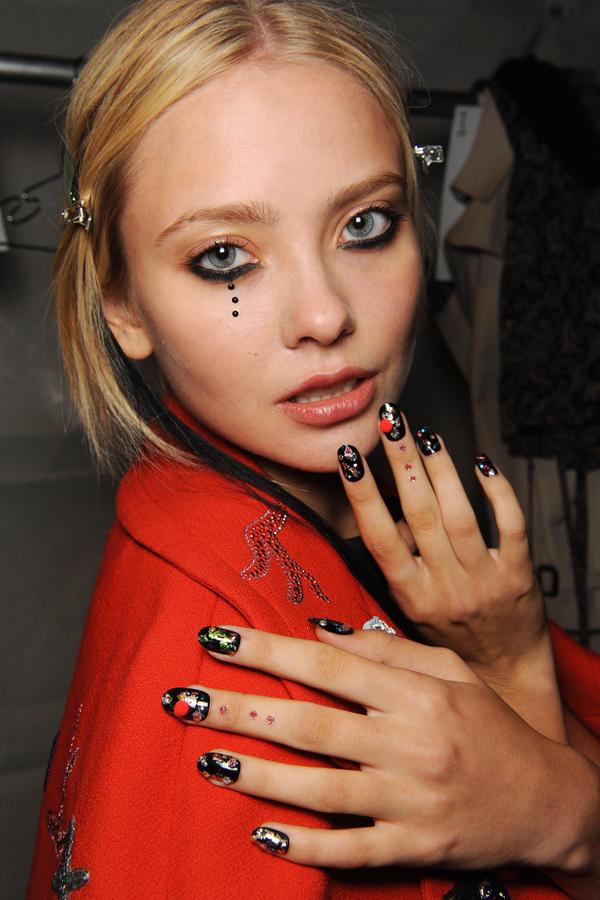 Backstage at Libertine, butter LONDON's Global Colour Ambassador, Katie Jane Hughes created an embellished eye using the following products:
Apply butter LONDON WINK Eye Pencil in 'Union Jack Black' on the bottom lash line and smudge with your fingers to add a rock n' roll edge. Use butter LONDON WINK Mascara in Union Jack Black on the lashes and the WINK Mascara in Brown Sugar on the brows to create subtle definition. You can also apply Vaseline on the lids of the eyes to add a glossy effect. Next, add three black crystals right below the right eye.
Article continues below advertisement
Phillip Lim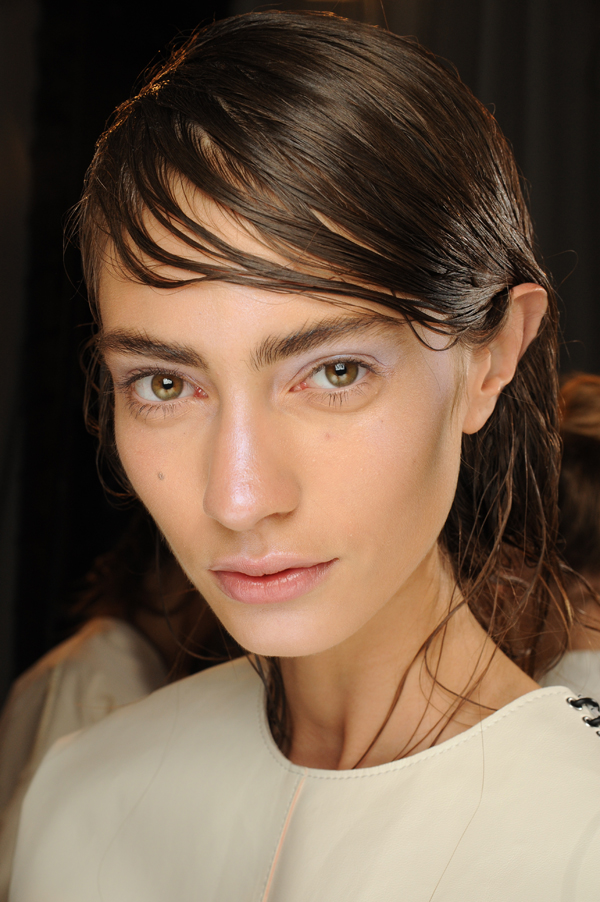 Phillip Lim's hologram shades inspired Makeup Artist Francelle Daly to create iridescent eyes paired with translucent skin for the designer's show. Daly said of the beauty look: "It's very ethereal. It's a healthy glow in a futuristic way, like a 'future perfect' day at the beach."
Get the Look: Mix NARS Pure Radiant Tinted Moisturizer with 'Copacabana' Illuminator and apply all over the face. Then use the iridescent, icy-blue side of 'Iceland Duo' shadow from NARS on the eyes.
Article continues below advertisement
Jill Stuart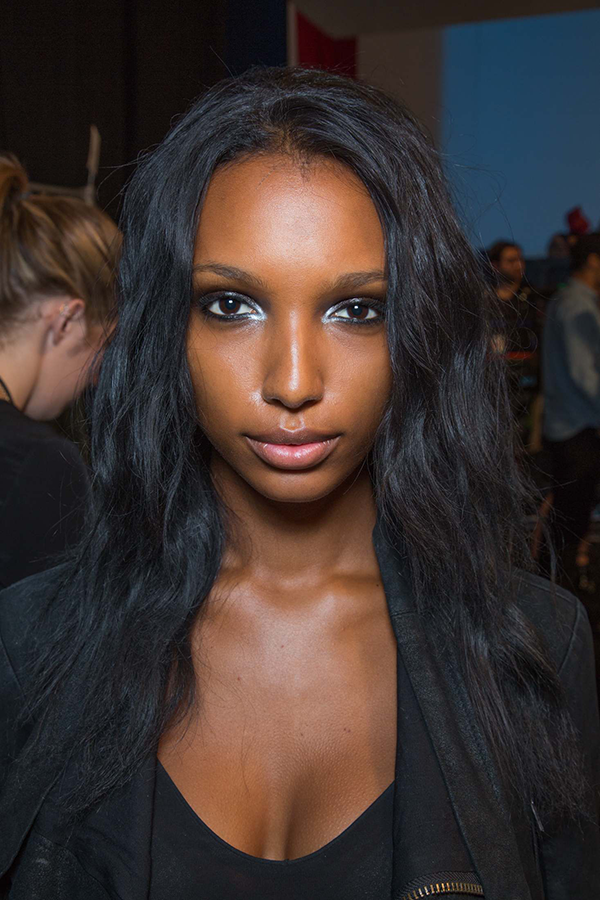 Legendary Hairstylist Odile Gilbert created the rock 'n roll, beachy, holiday hair for the Jill Stuart show, which was hands down one of our faves.
Get the Look: Prep hair with Kérastase Mousse Bouffante and rough blow dry. Then, create a middle part with a slight zig-zag at the front hairline and curl hair in sections (at the mid-lengths) with a 1 ½" barrel curling iron. Brush out the curls using your fingers and spray Kérastase Powder Bluff throughout the style. Finish by fluffing up the hair Kérastase Laque Dentelle.
Article continues below advertisement
Nicole Miller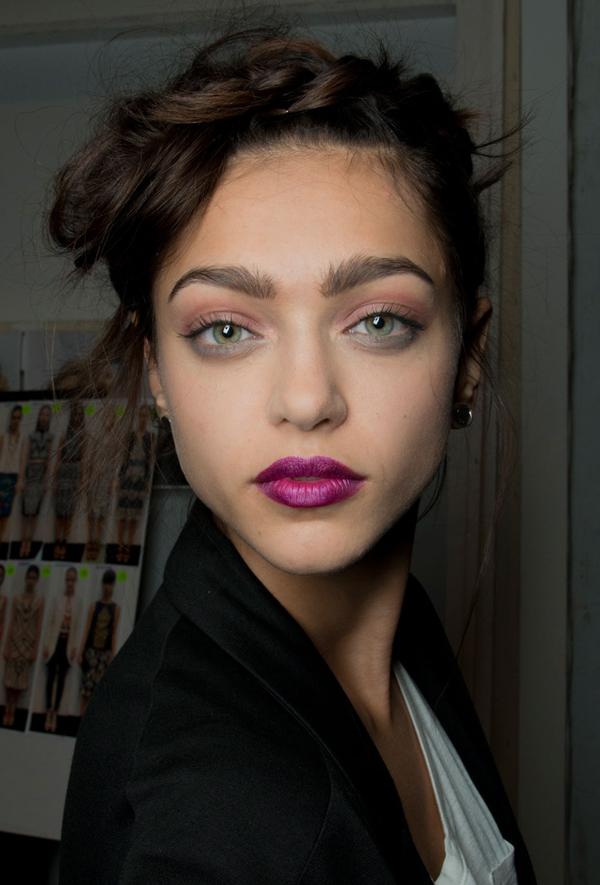 I DIE for this lip. So vibrant, so Parisian-inspired, so it's fitting Makeup Guru James Kaliardos channeled "The days of Marie Antoinette" for it. To recreate the plum pout, use MAC Vino Lip Pencil over the entire lip, slightly overdrawing the line to create a full, luscious effect. Then, apply MAC Pro Violetta Lipstick over the liner to intensify and perfect. Finish with MAC Pro Matte Mixing Medium to set.
Article continues below advertisement
Naeem Khan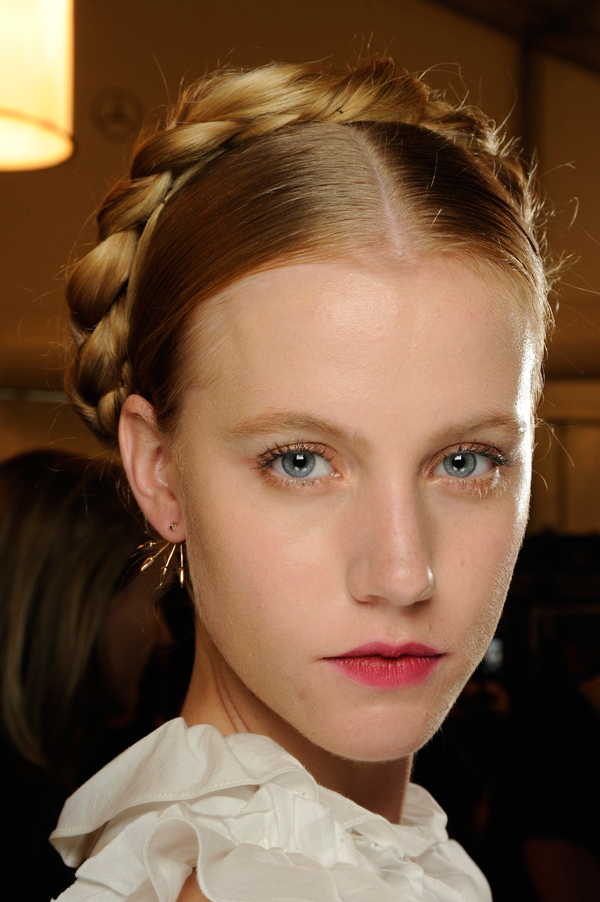 Well Frida braids were certainly a reoccurance backstage and on the runway this NYFW. We saw them at Rebecca Minkoff and then again at Naeem Khan. Sally Hershberger created the look for the show
Get the Look:
1. Dampen hair and apply a mousse throughout, then rough dry the hair with a hair dryer.
2. Spray Sally Hershberger Plump Up Collagen Thickening Mist throughout to add texture.
3. Next, create a strong center-part and divide hair in half. Then, create two ponytails on side of hair and braid tightly.
4. Wrap braid around the crown of the head and hold in place with bobby pins.
5. For added shine, spray strands with Sally Hershberger Hyper Hydration Super Keratin Spray, then tame flyaways with Sally Hershberger Major Body Volumizing Style Boost.
Article continues below advertisement
Christian Siriano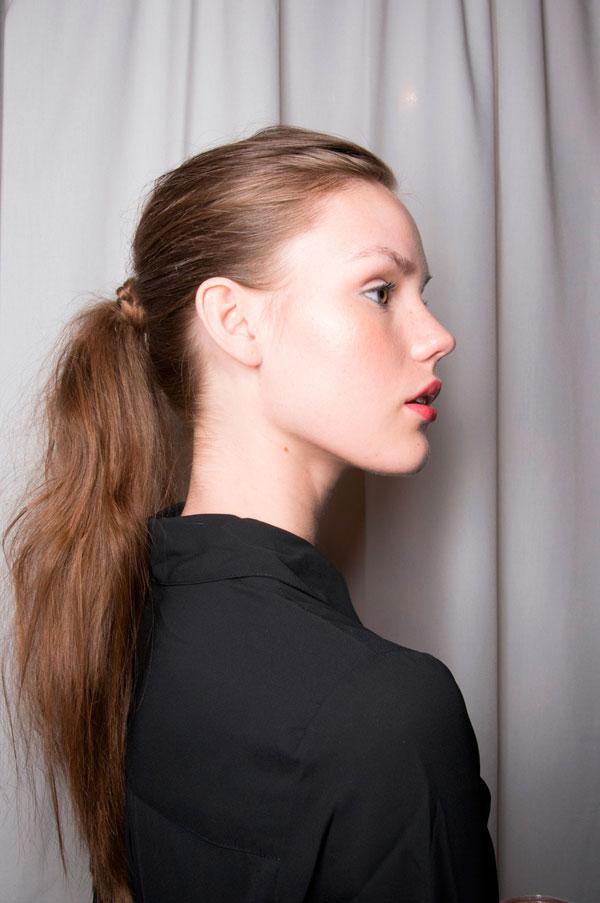 But why wouldn't we talk about the wonder that is the Christian Siriano Spring 2014 ponytail? It's texture and volume give it a "lived-in" fun feel.
Get the Look: Prep your roots with Sebastian Professional's Volupt Spray. Apply the Mousse Forte to the rest of your hair and pull it back into a ponytail. Shift your strands into "S" shapes and clamp down the strands in a straightener. Take the Sebastian Microweb Fiber to tease the pony and separate the sections.
Article continues below advertisement
Rodarte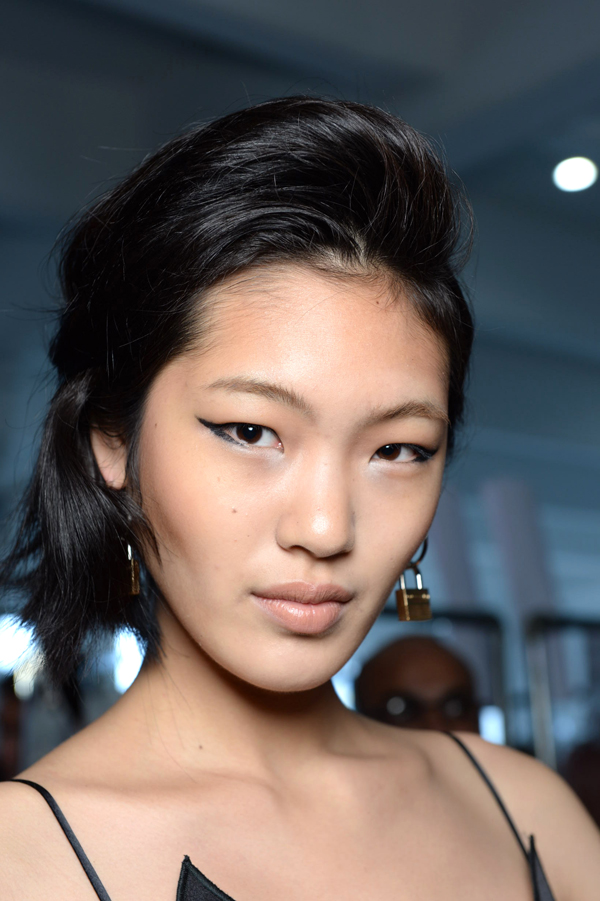 Sooooo, the beauty look at Rodarte for SS'14 was pretty badass. James Kaliardos for NARS Cosmetics created the look saying: "The eye makeup is precise and striking, accenting the graphic lines of their collection."
Get the Look: Line eyes with NARS Via Veneto Larger Than Life Eyeliner in Black. Apply NARS Valley Eye Paint over the line. Finish with NARS Larger Than Life Lengthening Mascara and grow brows with NARS Oural Brow Gel. Line lips with NARS Biscayne Park Satin Lip Pencil.
Article continues below advertisement
Charlotte Ronson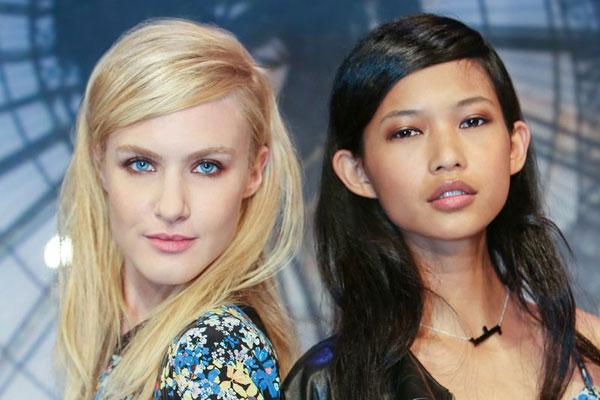 A seriously chic side-part is essential for this look that the Charlotte Ronson girls rocked during the star-studded presentation. Rafe Hardy, Artistic Creative Director for Sexy Hair described this look as "A Paris girl comes to New York."
Get the Look: Spritz in Style Sexy Hair Spray Clay into hair and then create a very deep, chic side-part. Take a curling wand and curl large sections of twisted hair. Run your fingers through the hair to deconstruct the textured curls. Finish by spraying Healthy Sexy Hair Soy Touchable Hair Spray into your hair.
Article continues below advertisement
Oscar de la Renta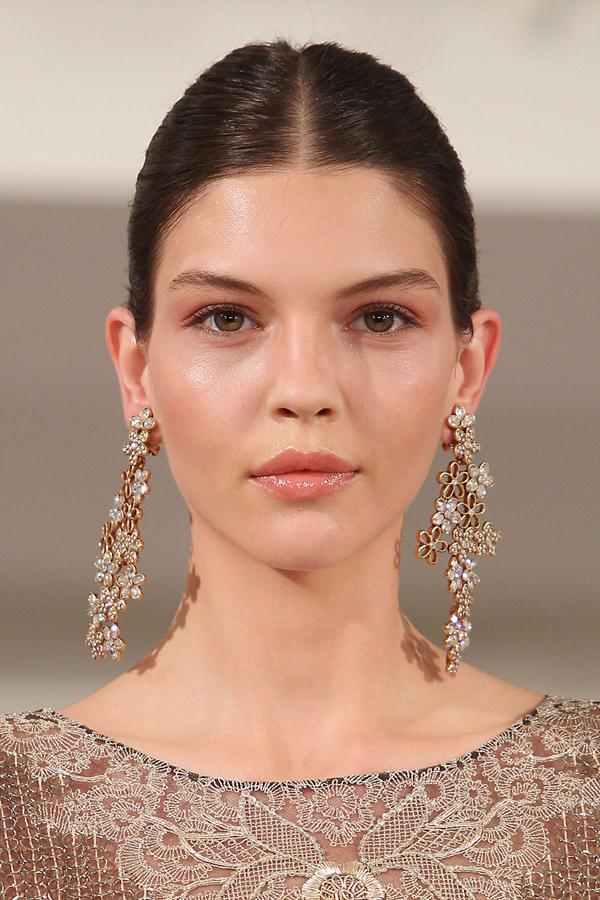 Revlon Global Artistic Director Gucci Westman painted subtle plum eyes and glossy peach lips on the models for the Oscar de la Renta's Spring/Summer '14 show at New York Fashion Week and the result was breathtaking. Westman said of the look: "The clothes in Oscar's collection this season have a '50s vibe that made me think of that kind of polished beauty that's iconic and cool. It's not a precise, retro look, but rather overall peach and coral tones paired with really luminous skin and a soft purple and brown eye."
Get the Look:
Revlon PhotoReady Primer, Shadow + Sparkle in Metropolitan (Primer Shade ONLY)
Revlon ColorStay Shadowlinks in Cocoa, Candy, Plum
Revlon Illuminance Cream Shadow in Not Just Nudes
Revlon Lash Potion Mascara in Blackest Black
Article continues below advertisement
Honor and Zac Posen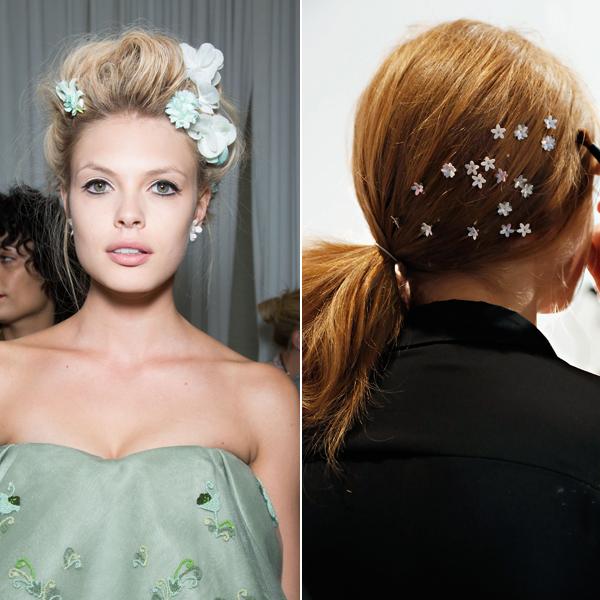 Arguably two of the prettiest hairstyles we saw at NYFW. Florals? For Spring? Groundbreaking. Try Mia Beauty's Hair Stickers in Mini Silver Flowers to recreate the flirty cascade of gems seen at Honor (right) and follow the steps below to rock the romantic 'do Odile Gilbert crafted for the Zac Posen show (left).
1. On damp hair, apply Kérastase Mousse Bouffante at the roots to create volume all over, then rough blow dry, using fingers to create more volume at the crown of the head.
2. Liberally spray dry hair with Kérastase Powder Bluff and Laque Dentelle for a rough, matte texture.
3. Curl hair using a one-inch curler set and pin with bobby pins.
4. Remove the curlers and run fingers through the hair to separate the curls.
5. Starting with the front pieces, take two to three-inch sections of hair to create pin curls using a finger-wrapping technique, and secure withpins. Continue this all around the head, building the curls on top of one another.
6. Pin in flowers and spray with more Powder Bluff and then Laque Dentelle for texture and to keep the look in place.
Article continues below advertisement
Jenny Packham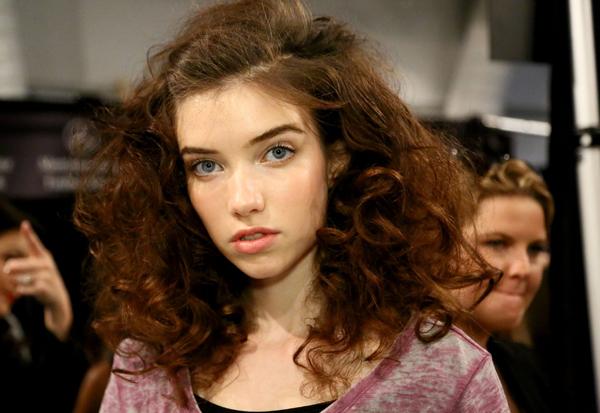 #BigHairDontCare was the motto backstage at Jenny Packham! The beauty look was inspired by the 1975 cult classic film Picnic at Hanging Rock and the hair was complemented by glittery eyes that makeup artist Talia Shobrook applied to give the girls a hint of naughtiness. Shobrook used a silver eye glitter that was specially made for the show, but for a similar look, try Laura Mercier Caviar Stick Eye Colour in Sterling.