PHOTOS
Zayn Malik & More Celebrities Who Got Tattoos In Honor Of Their Exes & Regretted It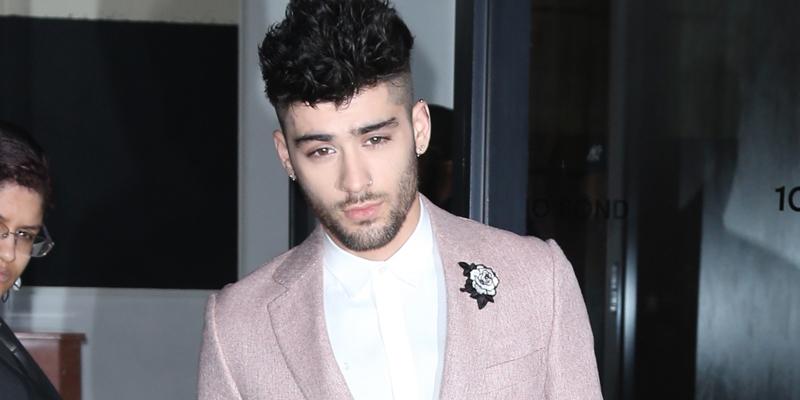 Sometimes, when in the heat of a romance, you tend to do crazy things. Like get tattoos which last the rest of your life, whether or not your relationship does! Zayn Malik is the latest celebrity to learn that running to the tattoo parlor to ink your body with an homage to your partner is not alway so cute in the long run. Check out his tattoo and the tattoos of other celebs who have made a permanent tribute of their ex on their body and come to regret it.
Article continues below advertisement
The singer just got a tattoo of Gigi Hadid's eyes on his chest in January. As in two months ago. And now they're over! Surprisingly, many fans are concerned over what he's going to do about the tattoo now.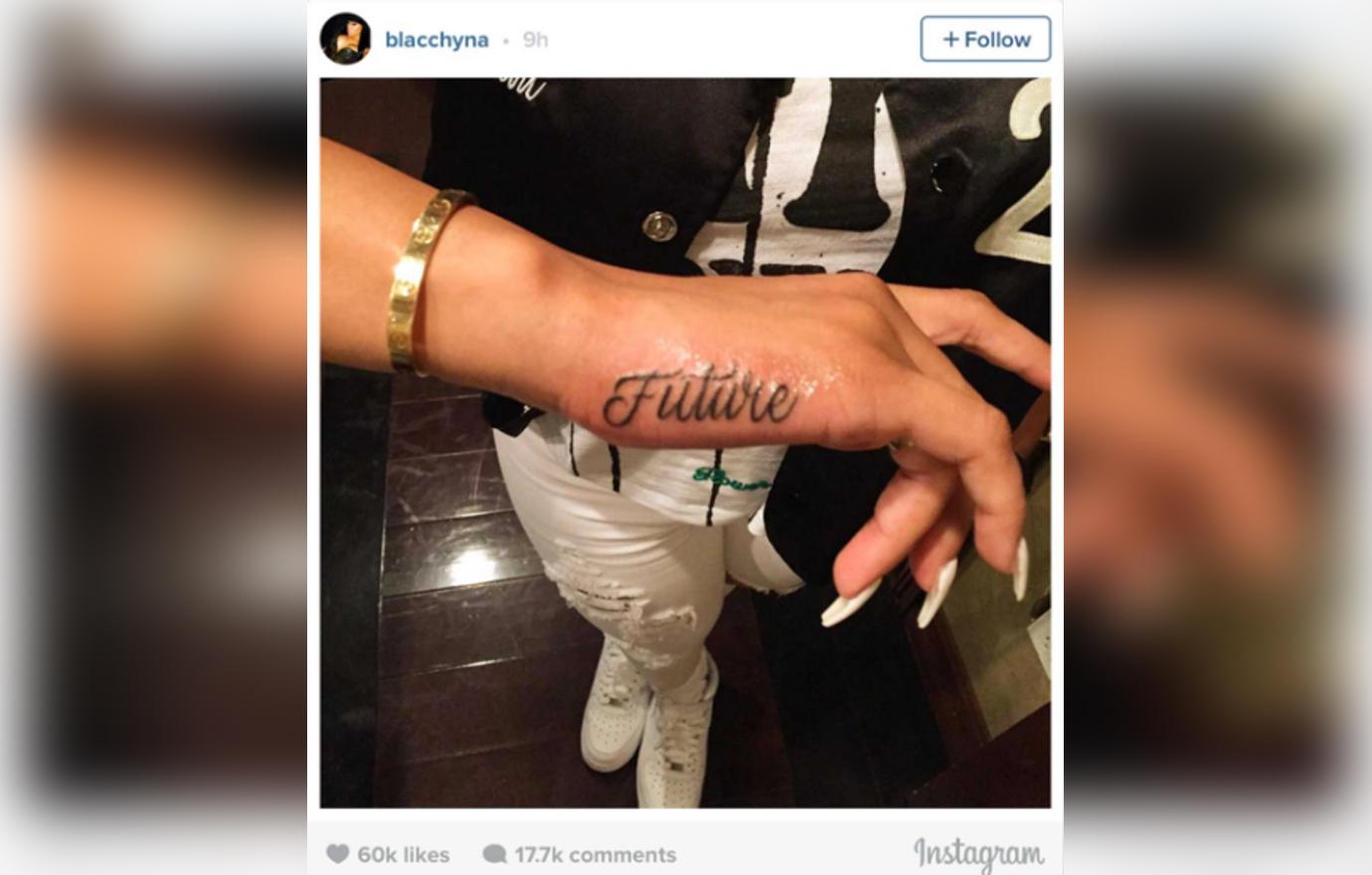 Now this is a bit confusing. Blac Chyna got a tattoo of rapper Future's name on her hand, apparently believing they were in a relationship. Long story short, he didn't feel the same, and described himself as single. So much for that. She later covered the tattoo with her daughter's name, Dream.
Article continues below advertisement
Poor Tyga. The rapper got a tattoo of Kylie Jenner's name on his inner arm during their relationship back in 2015. Years later, she is in a relationship with another rapper and has his baby. No word on whether or not Tyga has covered the tattoo.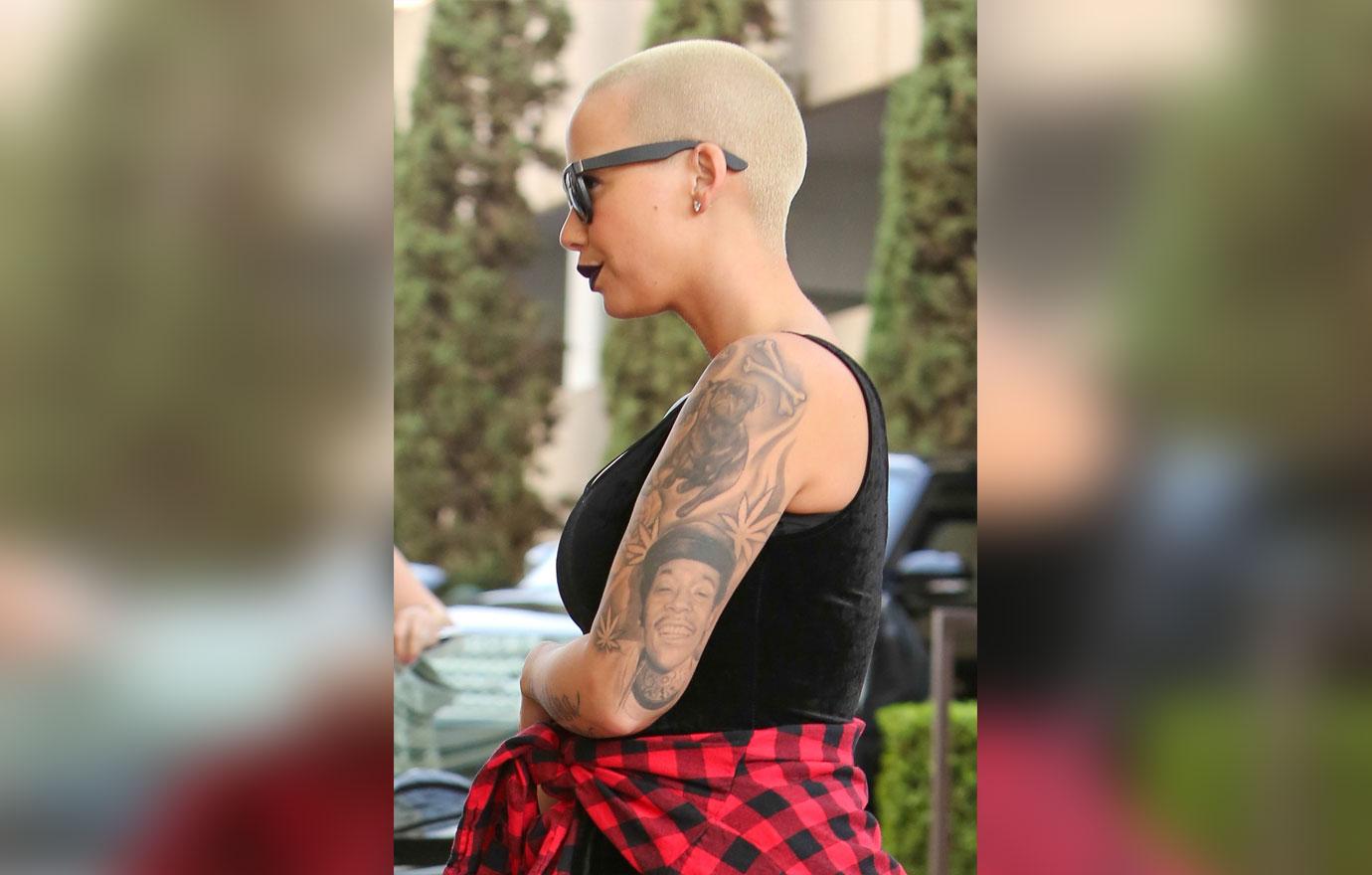 Amber Rose proclaimed her love for ex-husband Wiz Khalifa by getting his face inked on her arm. A couple of years after their split, she had his face transformed into that of her idol, Slash!
Article continues below advertisement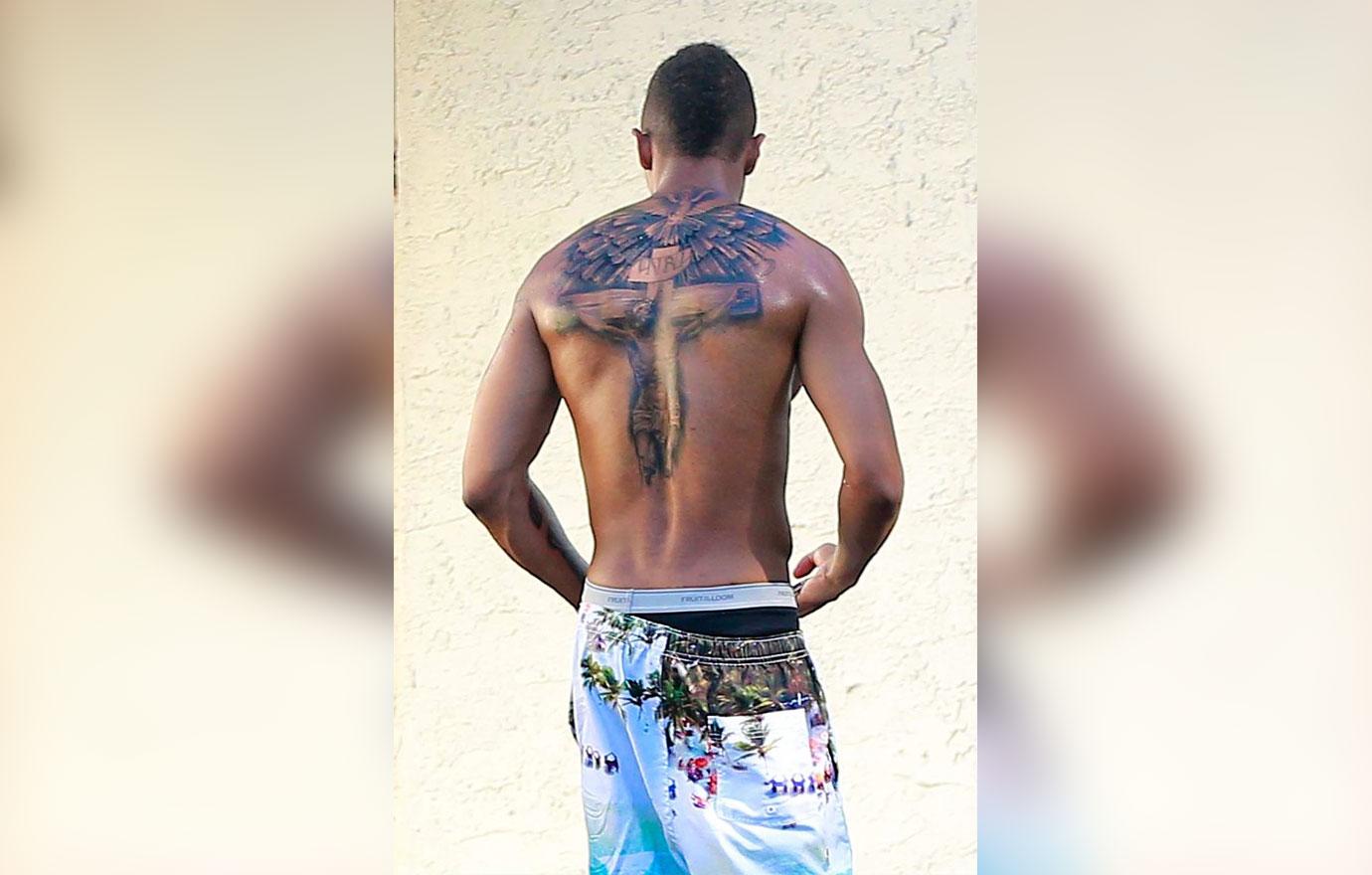 He wasted no time! Months after splitting from Mariah Carey, Nick Cannon covered her name up with a giant crucifix.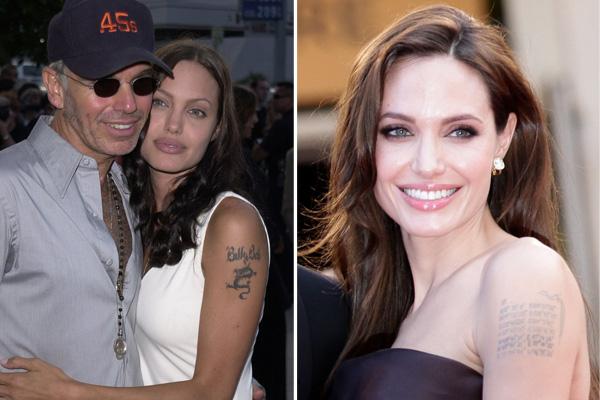 During Angelina Jolie's rebellious days, the actress got her then-husband, Billy Bob Thornton's, name tattooed on her shoulder. After their divorce in 2003, Jolie removed the tattoo and replaced it with the coordinates of her family's birth locations. Anything is better than Billy Bob!
Check out nine other celebs who didn't think before they inked!
Article continues below advertisement
klum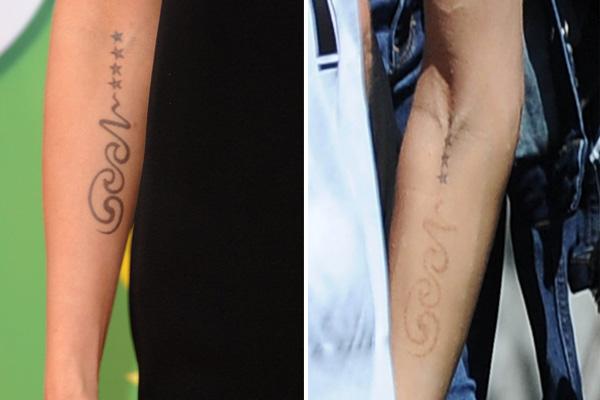 On Heidi Klum and then-husband Seal's fourth wedding anniversary, the couple got tattoos of each other's name. When then the 7-year marriage came to an end in 2012, so did her tattoo!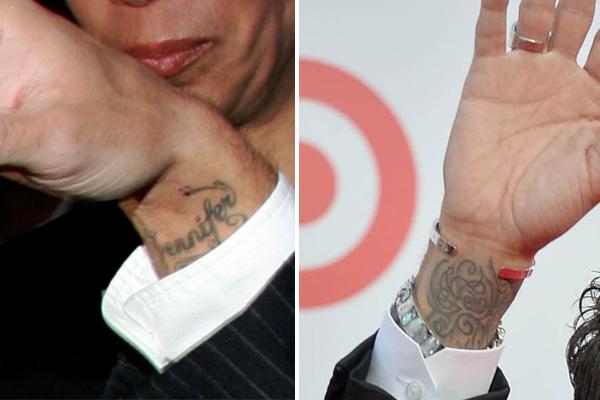 Article continues below advertisement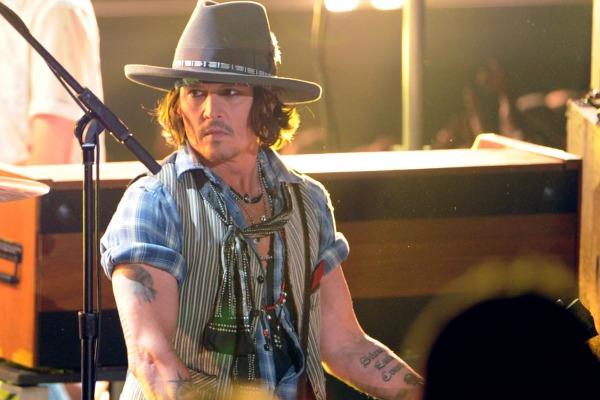 When Johnny Depp was madly in love with Winona Ryder in the early '90s, he tattooed "Winona Forever" on his right shoulder. When the duo split, the actor just removed the last two letters, reading "Wino Forever." Who wouldn't love wine forever?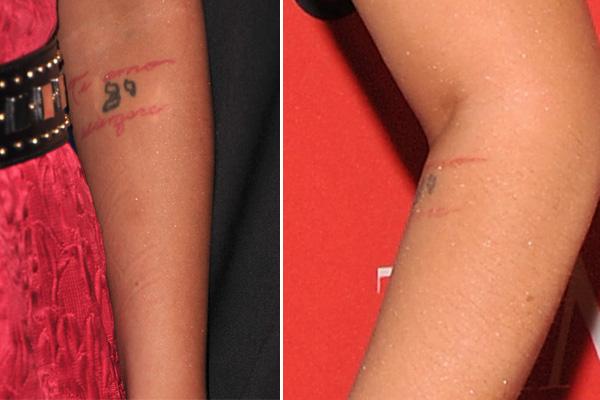 The marriage may have not taken long to end, but the tattoo did! Although Christina Aguilera split with her ex husband Jordan Bratman in 2010, her tattoo didn't show signs of removal until 2013.
Article continues below advertisement
kathy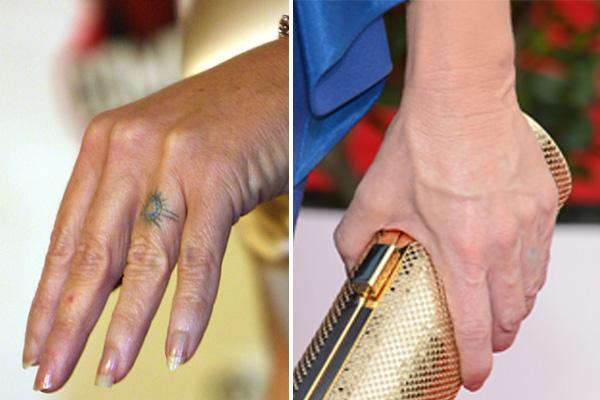 Love doesn't last forever, but tattoos do! Kathy Griffin explained in 2012 that she tried to laser off the tattoo of a wedding ring on that finger from her marriage to Matt Moline. "I have one tattoo on my whole body like an ***hole and it's a f***ing wedding ring and I'm divorced," she said.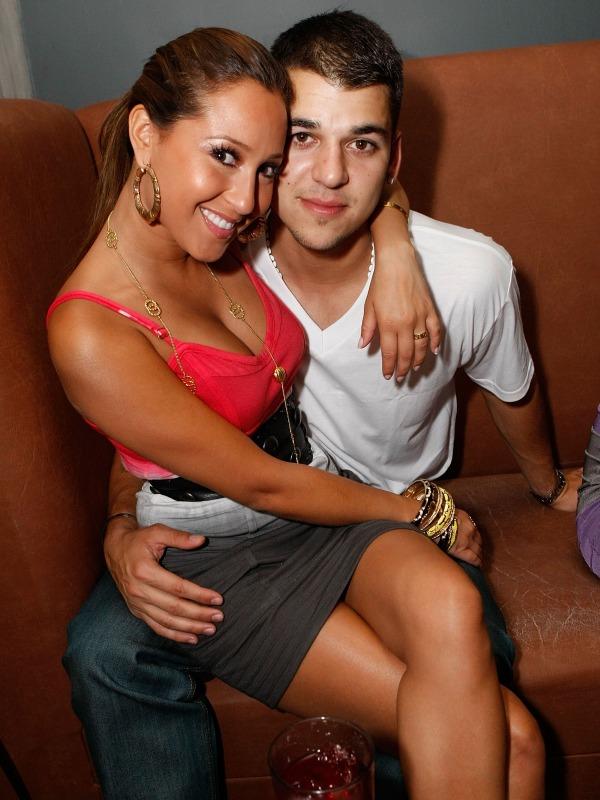 Rob Kardashian's tattoo of ex fiancé Adrienne Bailon's name on his ribs was quietly covered with other artwork. But the same can't be said for Adrienne! Rob's ex appeared on television to showcase her removal. That must have been awkward…
Article continues below advertisement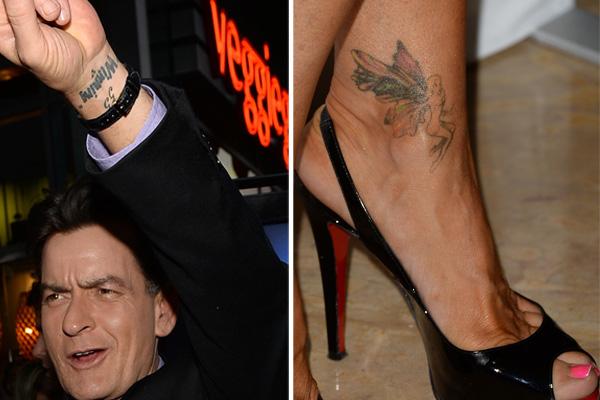 Charlie Sheen and Denise Richards' toxic marriage ended in divorce, but what happened to their moniker tattoos? Sheen covered "Denise" with "Winning" (obviously), while Denise Richards covered her "Charlie" tattoo with a fairy.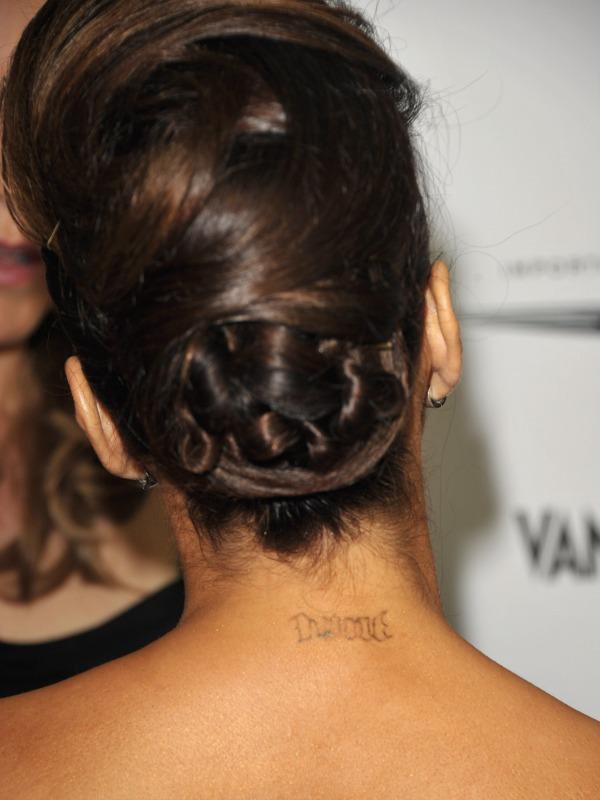 When Eva Longoria tied the knot with basketball player Tony Parker in 2007, she got his jersey number tattooed on the back of her neck. The tattoo may have faded, but the reminder is still there!
melanie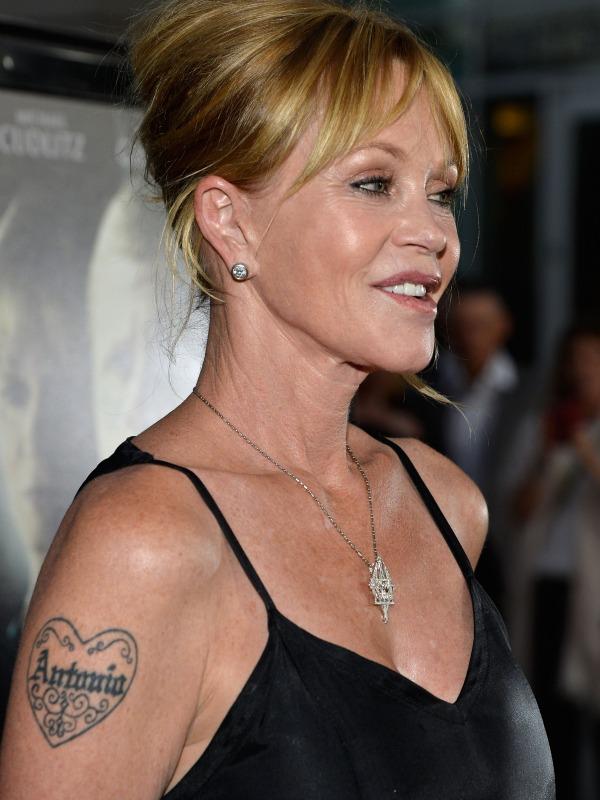 What's the best way to get over an ex? Laser off the evidence! Months after Melanie Griffith and Antonio Banderas' called their marriage quits, her "Antonio" heart tattoo on her right shoulder was barely visible.