REALITY TV
Watch 2 'Bachelor' Contestants LITERALLY Fight Over Time With Arie Luyendyk Jr. — 'You Need to Back the F**k Up'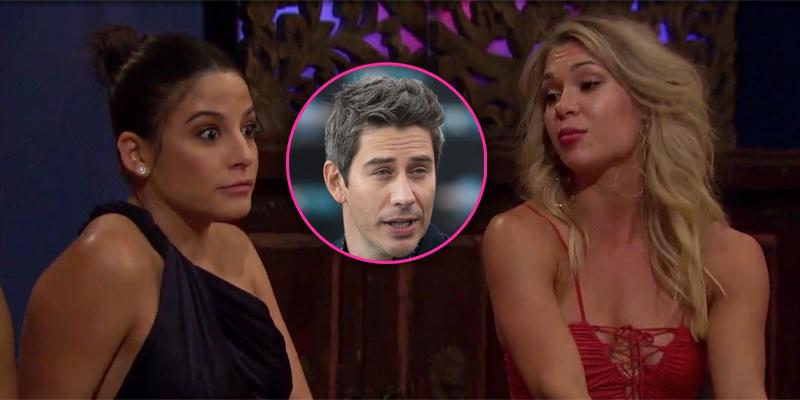 Get ready for the first catfight of Arie Luyendyk Jr.'s season of The Bachelor.
In a sneak peek of Monday night's episode, Bibiana and Krystal get into a heated argument during the cocktail party, after Krystal interrupts Bibiana's alone time with Arie despite already having had her own time with the bachelor.
It's only Week 2 and the drama has arrived. Tonight's all-new episode of #TheBachelor is NOT to be interrupted. Be there at 8|7c on ABC.pic.twitter.com/EbwqOGyUvD

— The Bachelor (@BachelorABC) January 8, 2018
"The audacity to interrupt — out of all people — the girl who's been waiting around to talk to Arie," Bibiana says during an interview before she's shown confronting Krystal.
Article continues below advertisement
"You already had time with him earlier," she explains to Krystal as the two sit inside the house alongside their fellow contestants.
"Well, I only literally had two minutes with him," the fitness coach starts to say before Bibiana interrupts her by criticizing her high-pitched tone of voice.
"Honestly, I think that when you learn to speak to me like a normal human being and not with a fake tone, then I can actually respect you and listen to what you have to say," Bibiana says. "But if you really think that I'm going to fall for this little … imitates her. You have to be kidding me."
"I meant it as no disrespect," Krystal explains. "When I came in to check on you, I asked if you had enough time."
"To check on me? Baby girl, it's not about checking," Bibiana responds. "If I'm trying to talk to my man, you need to back the f**k up. That's all I've got to say."
Krystal then explains that she didn't mean to upset any of the women by asking for more time. However, it was too little too late for Bibiana, who wants no part of Krystal's "apology."
"You already did upset me. I really think at this point, nobody's going to respect your time," Bibiana says. "You just dug a big a*s hole for yourself."
To see how it all goes down, click the video above!
The Bachelor airs Mondays at 8 p.m. ET on ABC.