REALITY TV
Dorinda Medley Is Ready To 'Put Up A Fight' Against Andy Cohen, Says She Will Leak Stories About Him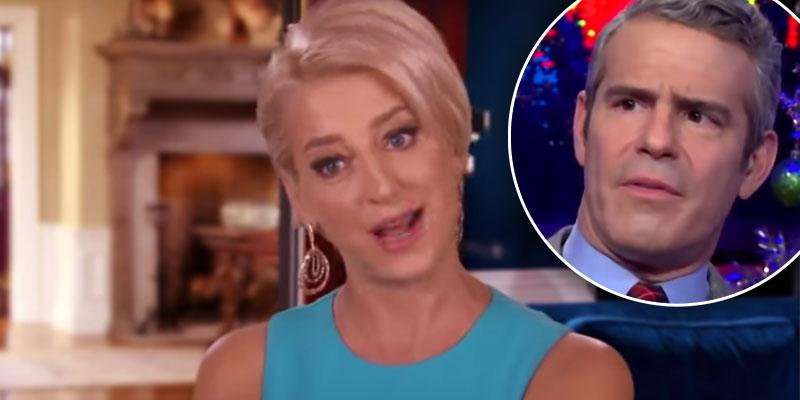 Dorinda Medley is ready to put up a fight against her ex-boss Andy Cohen.
The 55-year-old is warning the Real Housewives executive producer that she will leak stories about him in response to him leaking stories about her, a source tells OK! "Dorinda was shocked to see Bravo trying to smear her as a "nasty drunk" after she was fired from The Real Housewives of New York. As if getting fired wasn't painful enough, now she is seeing nasty leaks to the press that are all lies," the insider reveals.
Article continues below advertisement
'REAL HOUSEWIVES OF NEW YORK' SET TO FILM REUNION IN-PERSON WITH ANDY COHEN
According to the source, the blonde beauty "isn't going to take this lying down" and "will put up a fight."
"If Andy wants to play dirty, then so will she," the insider shares. "Dorinda has been a main cast member since season 7 and knows everything. She knows how Andy and the producers manipulate the ladies to get them to drink and fight, she knows all about how they are encouraged to attack each other and just how fake the entire show is."
Article continues below advertisement
On August 25, Medley told her Instagram followers that she was leaving the reality show after six seasons. However, the Massachusetts native was fired, sources previously told OK!, adding "the show has gotten too old and stale."
"What was once fun is now a bunch of rich old white ladies complaining about their lives that most people would kill for. Overall ratings for the series has been steady but numbers in the younger advertiser demo are not good and only getting worse. Ramona is the oldest at 63 years old and is fighting for her life on the show," an insider revealed.
"Meanwhile, Luann looks like a baby at 55 years old compared to Ramona, but it is feared her storyline has come to a natural end and it is time to replace her with new blood too," the source added.
FIND OUT WHICH 'HOUSEWIVES' ADMIT TO HAVING 'WORK DONE' IN NEW MUSIC VIDEO — 'NEW NOSE, WHO DIS?'
"Luann was demoted from a full-time cast member to being a 'friend' on the show once before. After that humiliation, she's not as scared as Ramona. Outside the show, Luann has her cabaret shows and a life. If she gets fired again, she will be OK," the source revealed. "It is Ramona everyone is worried about. This show has become Ramona's entire life, she would be lost without the show and they paycheck. Being on TV is her identity."