REALITY TV
OK! Exclusive: Trista & Ryan Sutter Talk Tips For The Bachelor Star Chris Soules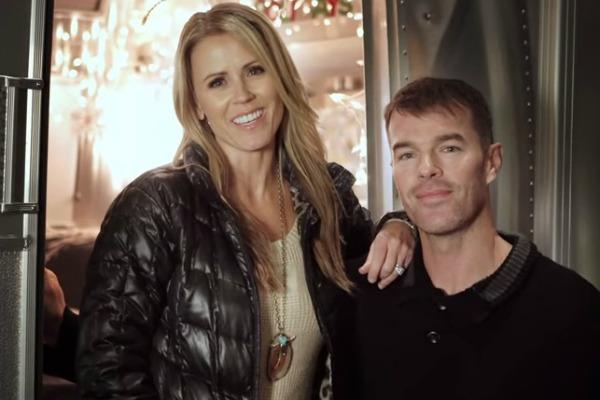 With the holidays right around the corner, The Bachelorette's Trista and Ryan Sutter want to give back to important people who are often overlooked. And no, we're not talking about Chris Harrison! The couple is teaming up with Coffee-mate to surprise night shift employees who sacrifice time with their families during the holidays.
The reality stars opened up exclusively to OKMagazine.com on why surprising these employees mean so much to them and their tips for The Bachelor's Chris Soules!
Article continues below advertisement
OKMagazine.com: Tell our readers about the video and how you surprised night shift employees.
Trista Sutter: We've partnered with Coffee-mate to bring a little taste of home to the night shift workers. We were really excited about partnering with them because we know firsthand how it is to have to sacrifice for the night shift. Ryan works 48-hour shifts at the fire station. We've been dealing with that ever since we knew him. We wanted to be able to surprise these guys and bring a little holiday spirit to their lives.
OKMagazine.com: How can all viewers relate to the video?
Ryan Sutter: I think everyone has experience with people working the night shift whether they know it or not. You've got policemen, paramedics and firefighters. The fact is the world doesn't stop at 5:00 when everyone else fights traffic and goes home. Those people have a very important role. A lot of times people overlook all of these really hard working people who are making things go during the night. This is our attempt to say, 'Hey, let's recognize those people for a moment, show them that we appreciate them, show them that we do know that they're there.' It's sort of an opportunity to expose that element that not many people realize exist.
Article continues below advertisement
The Bachelor 2015 Spoilers: 6 Things We Know About Chris Soules And The New Season
OKMagazine.com: What are some thoughts on the upcoming season of The Bachelor with ? Will you be tuning in?
TS: I will be tuning in. I am a loyal fan and I literally just watched a promo for it. I'm really excited for it. He's the closest thing to what I always hoped for, that they'll pluck someone out of obscurity. He has a farm, it's not that these girls are going on the show to go move to L.A. and start a career in movies with Chris. He's going to get back to his family and his roots and bring a girl back to his life. I'm really excited to see what happens this season.
OKMagazine.com: Trista, you've been the bachelorette and you have also been one of the ladies competing for the bachelor's heart. What are some tips you could give Chris and the women?
TS: Enjoy it, it's a once in a lifetime opportunity and for me. Luckily, it ended up in a dream come true. I hope that for him just being honest with himself, have fun with the process. For the girls, remember anything and everything you say can and will be used against you!
Article continues below advertisement
OK! Exclusive: Trista Sutter's Love Advice For New Bachelorette, Andi Dorfman
OKMagazine.com: What is your secret to having a successful relationship and marriage following the show?
TS: There are a lot of factors that go into it. We try to enjoy life and have fun together. He's my best friend and I love hanging out with him. We have the shared value of our family being priority. We moved to Colorado, which was a big step in helping the success of our relationship. Instead of focusing on all the opportunities that are coming our way, we decided to really focus on our relationship so that helped a lot regarding where we started. Trust, respect, commitment, faith and love. All of the big things. Marriage Boot Camp didn't hurt!
OKMagazine.com: Do you have any family traditions for the holidays?
TS: There is one tradition that I love and it's baking Christmas cookies. We have family in Germany and then family in the Midwest. In the past, we've had cookie decorating contests. We'll get on FaceTime and see who decorated the best cookies.
RS: Because of where we live, high up in the Rocky Mountains, there is usually snow on Christmas. More times than not we're the destination for other people's Christmas traditions. Our families try to make it out here if possible... We'll go decorate a Christmas tree out in the wilderness. It's kind of a historic Christmas tradition.
Article continues below advertisement
TS: Me too!
OK! Magazine: Why Do All the Stars of Marriage Boot Camp Reality Stars Want To Double with Brad & Angelina?
OKMagazine.com: Is there anything else you would like to discuss about the video?
TS: I'm just really excited to share the video. I got teary and got chills because these people were so touched and I felt so honored to be part of it. There was a security guard Mario and he said last year he had a Christmas miracle, his daughter was born, and this year the surprise from us and Coffee-mate was his Christmas miracle. It felt really good to be able to be part of this.
What do you think of Trista's tips for Chris? What should the duo get each other for Christmas? Tell us in the comments below or tweet @OKMagazine!