ROYALS
Meghan & Harry Backlash — Trump Slams Duchess, While Palace Creates Distance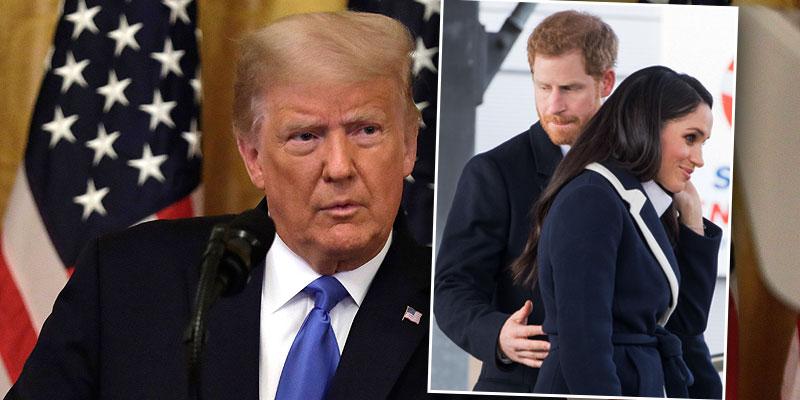 Prince Harry and Meghan Markle are taking a lot of heat these days! Their video clip broadcast as part of the Time 100, the magazine's annual list of the world's 100 most influential people, didn't exactly yield the results they hoped for.
After telling Americans to get out and vote in the forthcoming election, the Time 100 appearance created a political firestorm for the pair.
It didn't take long for President Donald Trump to weigh in, saying he wasn't a fan of Meghan's and wished her 36-year-old husband luck with his new wife, saying "he's gonna need it." The pair hinted their support for Joe Biden and called the upcoming election the "most important" of our lifetime.
Article continues below advertisement
Many have seen this as a thinly veiled attempt by the former royals to get their fans to vote Trump out of office. Harry, however, admitted that he was not eligible to vote in the US election in November and that he never voted in the UK because royals are meant to be politically neutral.
The pair have been slammed by some viewers, who said that politics is not their place.
UK columnist Piers Morgan shared his opinion, saying: "Prince Harry poking his woke nose into the US election & effectively telling Americans to vote against President Trump is completely unacceptable behavior for a member of the Royal Family."
Article continues below advertisement
PRINCE HARRY, MEGHAN MARKLE AND ROYAL FAMILY FACE FINANCIAL NIGHTMARE
Although law does not explicitly forbid members of the royal family from voting, the expectation is that royals remain apolitical and never participate in elections. However, it seems like Harry and Meghan have been forging their own path with their new move to the US.
The Duchess met with feminist powerhouse Gloria Steinem last month for a "backyard chat," where she expressed her excitement at seeing a woman of color on the Democratic ticket: Kamala Harris.
As OK! previously reported, Meghan and Harry are off to a new start. The pair hopes their new multi-million Netflix deal will help them rebrand themselves to make it as Hollywood stars.
"It was too tempting to resist," a source told UsWeekly of the opportunity, adding that the couple is hoping this new endeavor will be a "way of rebuilding their reputation," since leaving the royal family in March.