STYLE
5 Tricks For Nailing the Metallic Makeup Trend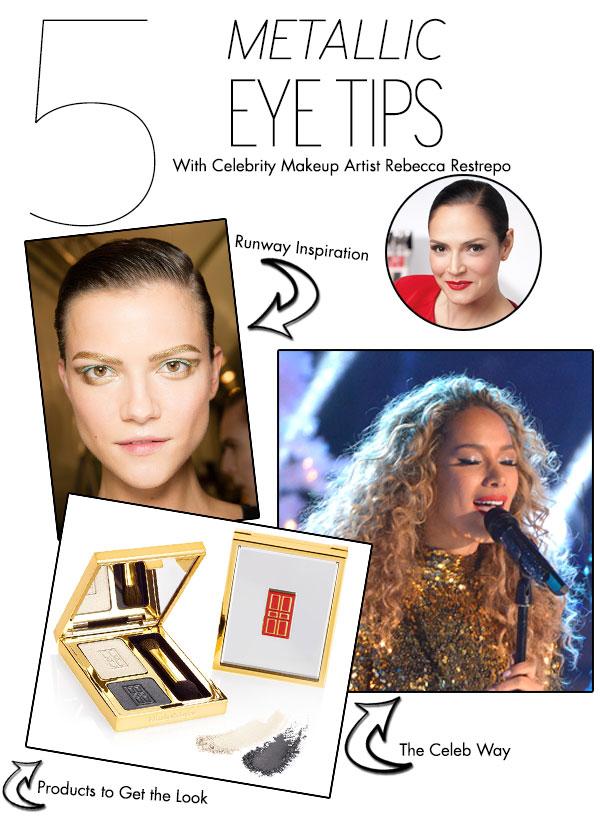 Elizabeth Arden Global Makeup Artist Rebecca Restrepo reveals her best tips to try the metallic trend without looking like tinsel exploded on your face.
Fake a Tan in the Dead of Winter
1. Concentrate on the Inner Corners
For Leona Lewis' performance at the Christmas Tree lighting, I used the white shade of Elizabeth Arden's Beautiful Color Eye Shadow Duo in 'Black Tie' on the inside corners of the eye to the middle lid, and a little along the bottom lashes to the middle of the eye for a modern look.
Article continues below advertisement
2. And the Center of the Eye
In addition to applying metallic shades to the inner tear ducts, try adding gold shimmer to the center of the lid (as seen on the models at Jason Wu's Spring 2014 show). Just make sure you keep the rest of the face natural or matte.
3. Balance the Accents
The best way to balance metallic accents is making sure that there are elements of definition like several coats of black mascara or a dark eyeliner like a black, brown, navy, purple or emerald green to anchor all the high shine.
4. Glittery is In, Frosted is Out
Makeup looks modern when it has a glittery metallic effect, as opposed to a frosted one.
5. Choose the Best Shades for Your Skin Tone
For fair skin, silver and golden-pink metallic looks best. Medium skin tones look great with light gold and soft coppery metallic. Olive skin tones look best with gold and bronze metallic. Dark skin tones look best with rich copper and pewter tones.