STYLE
Check Out This Delicious Cinco de Mayo Recipe From 'Chopped' Star Aarón Sánchez and Ortega!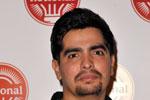 This year, make your Cinco de Mayo fiesta one vegetarian foodie friends can enjoy by whipping up a dish that's filled with leafy green goodness and a pop culture twist. Don't know how to complete said party planning task? Chopped star and celebrity chef Aarón Sánchez is the culinary guru I would suggest turning to for such a cardinal cooking question.
OK! News: Trying Pressed Juicery's Green Juice
The celeb chef partnered with Ortega for their Mexican Meals Made Easy campaign and came up with a few recipes that are just perfect for the festive holiday, including a vegetarian taco option that I recommend any veggie-lover to try. After trying it out and eating every single crumb with a smile plastered across my face, my opinions on this scrumptious meal had to be shared. Yes, it was good. I made the pic below!
Article continues below advertisement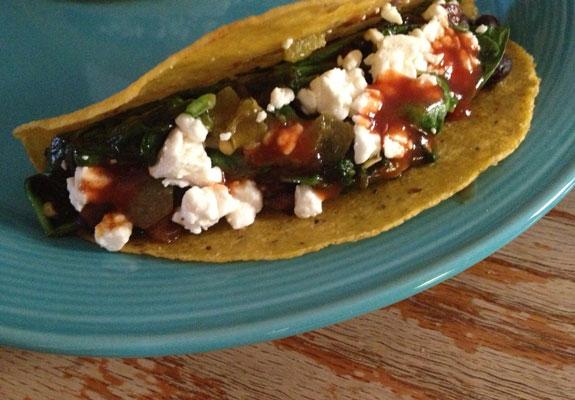 Aarón Sánchez's Ortega Spinach, Caramelized Onion and Black Bean Tacos:
Ingredients:
3 tbsp vegetable oil
1 large yellow onion, thinly sliced
2 tbsp ORTEGA Taco Seasoning (or 40% Less Sodium Taco Seasoning)
1⁄4 cup water
1 can (15 oz) ORTEGA Black Beans, drained
2 garlic cloves, minced
1 10 oz package fresh spinach leaves, washed
1⁄4 tsp salt
1 can ORTEGA Diced Green Chiles
8 ORTEGA Taco Shells (any variety)
Article continues below advertisement
Crumbled feta cheese
1 bottle ORTEGA Thick & Smooth Taco Sauce (any variety)
1. In a large skillet, heat half (1 and 1⁄2 tablespoons) of the vegetable oil over medium heat. Add the onion and cook, stirring now and then, for 10 to 12 minutes, until the onions are a rich brown. While the onions cook, heat the beans in a small saucepan.
2. Stir the taco seasoning and water into the onions, and cook for 1 to 2 minutes more to thicken. Spoon the onions into a serving bowl and set them aside.
3. In the same skillet, increase the heat to medium-high and add the remaining oil. Cook the garlic in the hot oil for 10 seconds, just until it's fragrant, then add the spinach leaves, a handful at a time, stirring and adding more as it wilts. Sprinkle with the salt and diced green chiles and continue to cook until the spinach is tender, 3 to 4 more minutes.
4. To serve, mound beans, spinach and onion in taco shells or Fiesta Flats and top with crumbled feta and taco sauce.