STYLE
Drew Barrymore Launches New Cosmetics Line, Flower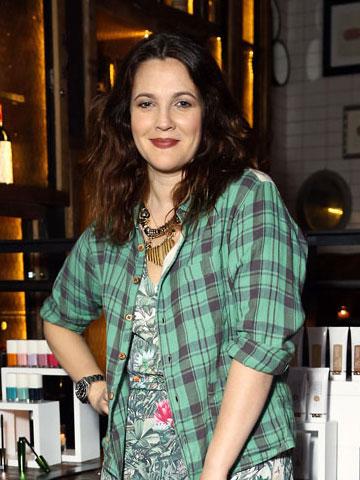 Article continues below advertisement
So when I caught up with the actress at the launch event for her new cosmetics line, Flower by Drew Barrymore, I clearly had to ask her about all of the beauty looks she's rocked throughout her career...
Check out what Drew had to say about movie makeup, motherhood, and where she actually applies her lipstick. (Oh, and P.S. she also just came out with a wine, Barrymore Pinot, and it's damn good.)
OK!: What is that amazing lip color you're wearing?
Drew Barrymore: Chocolate Lily. It's funny when we developed this color I had no idea I would want to channel inner '90s and it works perfectly for that. I knew when we designed our Toffee lip liner—which I'm also wearing—then I knew. I used to do lip liner from here-to-there and everywhere in between!
OK!: What's your favorite makeup look you've ever worn in a movie?
DB: I immediately channeled this weird movie I did called Mad Love. EDITOR'S NOTE: NOW THIS IS WHERE I LITERALLY ALMOST FELL OVER FREAKING OUT THAT SHE CHOOSE MY FAVORITE, WHICH I OBVI EXPLAINED TO HER AND SHE COULDN'T GET OVER THE COINCIDENCE EITHER. CLEARLY A BESTIES BONDING MOMENT. It was a lot of raccoon-y eyes and a lot of lips.
Article continues below advertisement
OK!: Why did you want to do a makeup line?
DB: I rarely put my name on anything because I'm incredibly leery of the culture, after 35 years. I don't want to do a lot of things, and I haven't—it took me like a year and a half to sign with COVERGIRL. We got to know each other and have the best relationship now and they made me co-creative director. So I happened to come across two endeavors that changed my life and they started to intersect to the point that I was like oh my God I never do anything and now look at the things I'm doing. Timing is everything. I think I've realized I'm so into life and I have no interest in fantasy lately and that I just want to do the things that you actually do in life which is drink wine and play with makeup. It took years in the making to make both of these brands.
OK!: How has motherhood and marriage changed you?
DB: It's nice to come home to my husband now. Film is like a torture world, where you come home and you're all screwed up from your character. So it's nice to come home in a great mood and work on beautiful things.
OK!: What's your beauty routine?
DB: I love to wear my lipstick on my cheeks and I love to highlight the corners of my eyes. I also wash my face as often as I can because it keeps my skin clear.
OK!: Do you use anything specific to wash your face?
DB: I use gentle products and facial wipes on-the-go.
Flower by Drew Barrymore is available at Walmart stores and Walmart.com.
Check out our Instagram pic with Drew at her event @ok_mag! What do you think of Drew's makeup line? Would you wear it? Leave a comment or tweet us @OKMagazine!