STYLE
Emily Maynard Talks Beauty, Motherly Advice, TV, and More!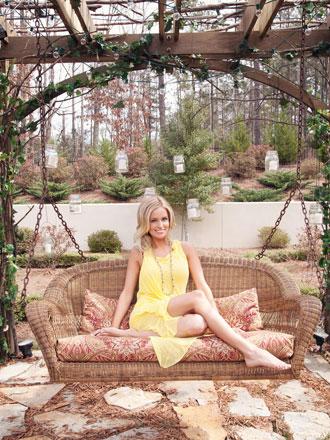 Emily Maynard is a celebrity fashionista, a role model mom, and a former Bachelorette star. Let's face it—she's a gal to pay attention to. She now has her own fashion and beauty blog AND is a designer for a super cute jewelry line. Do we have a new style guru?!
We caught up with the celeb and talked trivia! Check out our interview with the always-gorgeous Em below! You'll get the low-down on her favorite show, beauty products, and more!
Article continues below advertisement
Emily Maynard: Oh gosh, my mom's given me so much good advice. I think the best piece was it's better to be home alone than be home and wish you were alone. That's really helped me in a lot of relationships and not settling for anything less than, you know, what is perfect for me.
OK!: What advice do you give Ricki?
EM: We have this saying that we speak flowers not fire. So you know it's kind of silly, but I've said it to her since she was really little, and I try and remind her of that—especially now that she's in first grade and the girls are already starting to you know get a little catty.
Article continues below advertisement
OK! News: Style Pop Premieres Tonight!
OK!: What's on your bucket list for this summer?
EM: Well I'm going to Ethiopia on a trip with a line called Live FashioABLE, and they make scarves. A guy named Barrett from Nashville set up women in Ethiopia with their own businesses, and the scarves they make are beautiful. I'm just really excited about that. All the proceeds go back to them the women in Ethiopia.
OK!: Favorite perfume or fragrance?
EM: I go back and forth between Tom Ford Black Orchid and Kai.
OK!: What's your favorite TV Show?
EM: Homeland. I am Homeland-obsessed.
Have you ever visited Emily's blog? Tweet @OKMagazine and leave a comment below.