STYLE
Emma Watson: My Pixie Haircut Sparked "Lesbian" Rumors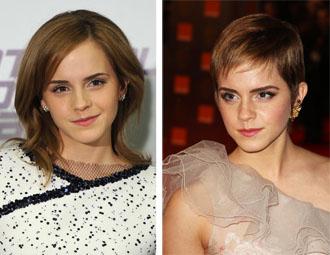 Although Emma Watson admits that cutting all her hair off made her feel more "liberated," she doesn't mean it signified any big secret about her sexuality. The Harry Potter star has just revealed that people assumed she was gay after she swapped her long, luscious locks for a cute pixie cut back in November 2010.
OK! GALLERY: EMMA WATSON SHINES AT THE MY WEEK WITH MARILYN PREMIERE IN THE UK
"I had journalists asking me if my haircut meant I was coming out, if I was a lesbian now," Emma told The Independent. "That haircut did make me realize how subjective everyone's opinion is. Some people were crazy for it and some people just thought I'd lost my s**t."
Article continues below advertisement
And you know what, we like her cut! She joins the ranks of Halle Berry and Michelle Williams as one of the few women who could pull off a cropped cut. Don't you agree?