STYLE
Former 'Bachelorette' Trista Sutter's Healthy Lifestyle Makeover!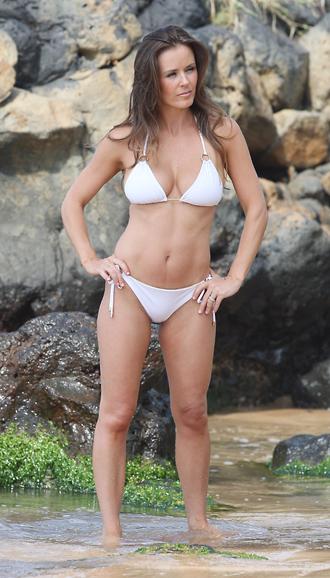 Trista Sutter has always had a Bachelorette-worthy bod, but as a mom of two, she's had weight ups and downs. In fact, she admits getting her body back after baby became more difficult after each child — that was until her kids (Max, 4, and Blakesley, 2) actually helped her achieve her healthiest lifestyle yet (which still allows her a cupcake cheat!). The self-proclaimed carboholic, 39, says, "Now that I have my kiddos as an inspiration in the kitchen, it makes it much easier to eat healthy."
Article continues below advertisement
OK! NEWS: TRISTA AND RYAN SUTTER CELEBRATE BLAKESLEY'S SECOND BIRTHDAY!
What are your tricks to staying in shape?
Three things — eating in moderation, doing sit-ups and push-ups before bed, and taking Ab Cuts a daily supplement of healthy oils. It's about a healthy balance, staying active and knowing that whatever you put in your body, you will have to burn off if you don't want it to set up shop.
What's your diet like?
I still enjoy breads and sweets, but I try to eat in moderation now. My diet is full of fruits, meats and dairy — berries, burgers, smoothies, grilled chicken, yogurt and deli meats. I could definitely improve in the vegetable intake department.
How do you find time to work out?
I hold myself accountable by working out with a trainer and getting in an hour of interval training. I also take advantage of any time I can work out at home with DVDs when the kids are napping or with their daddy Ryan Sutter.
Article continues below advertisement
OK! NEWS: TRISTA SUTTER: "I DON'T GET JERSEY SHORE"
What is you typical day like?
I wake up with my human alarm clocks known as Max and Blakesley Sutter. They are up between 6:30 and 7 a.m. and we turn on Dora or Diego, then it's breakfast, playtime, lunch, more playtime. Scattered in there is working on my children's line for VintageCoutureinc.com, taking the kids to school or karate or swimming, getting a workout and a rare shower in, and just enjoying life in the mountains. Then dinner, baths, books and bed!
TO GET MORE ON TRISTA'S HEALTHY LIFESTYLE MAKEOVER, PICK UP THE NEW ISSUE OF OK! ON NEWSTANDS NOW!