STYLE
Get Rachel McAdams' Cool Topknot From the 'To the Wonder' Screening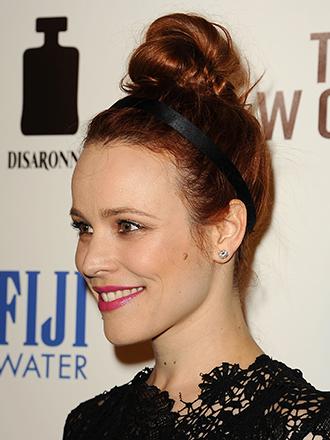 I'm all about a fun topknot, as does Mark Townsend (clearly). Dove's Celebrity Stylist created Rachel McAdam's flirty look for her To the Wonder screening, saying: "I love a topknot and I am so happy this trend is sticking around; they are young, cool, and super modern."
Photos: 15 Signs You're Watching a Nicholas Sparks Movie
To keep a topknot looking chic and polished (instead of like you just left the gym) follow these easy steps:
Article continues below advertisement
I started by spraying the Dove Refresh+Care Invigorating Dry Shampoo on Rachel's dry hair, focusing at the root. This dry shampoo is amazing at giving you a clean scalp and also amazing texture.
Next, I raked a dime size amount of Dove Color Care Leave On Conditioner through Rachel's newly dyed hair to condition and add lots of shine before gathering her hair just in front of the crown of the head and pulling it into a ponytail.
I sprayed Sally Hershberger Genius Spray Wax into the ponytail to give the hair rich texture and then twisted the hair around the base of the ponytail, tucking the ends under the knot to hide them away and then secured with 12 bobby pins. I always make an X with two bobby pins when securing, and I always spray dry shampoo on them for extra security (the starch in the dry shampoo sticks to the pins and gives them a matte finish and creates a little extra friction with the hair for tighter hold).
When the knot was secured, I pulled out some flyaway hairs to soften the hair around the knot. To add to the look, I used a strip of black satin as a headband.
Photos: Spring's Hottest Beauty Trends
What do you think of this fun, headbanded look? Would you try it at home? Comment below or on Twitter @OKMagazine!