STYLE
Got to Have Reese Witherspoon's Glam Sunglasses? Here's What You Need to Know!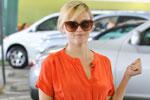 When Reese Witherspoon goes to the grocery store, she does it right. And just so you know, I'm not talking about the healthy food and flowers that are no doubt filling the brown bag in her hand. With a figure like that, she's probably not snacking on cookies and chips before dinner.
OK! News: Get Jamie Chung's Super Sleek Curls
Watch: What's on Danielle Fishel's Wedding Registry?
The movie star has officially mastered the art of dressing for daily errands. As much as I love an orange dress, I'm not here to talk about that aspect of the ensemble. The topic is Reese Witherspoon's adorable shades. The celeb is wearing a pair of Jacquard DITA sunglasses. Aren't they the perfect shape for her face? All the colors mesh so well! We could go on for days and days. It turns out that Reese isn't the only fan of this brand. According to a report by WWD, Dita Von Teese will be appearing in an ad for the brand. Do we see a new trend on the horizon?
Article continues below advertisement